Yummy ideas for gingerbread, cookies and cake pops. 'Tis the season to munch! Holiday desserts kids (and kids-at-heart) will love! Eat up our yummy Christmas party ideas for festive gingerbread houses, tasty cookies, sweet li'l reindeer cake pops and tons more ways to bake up holiday fun.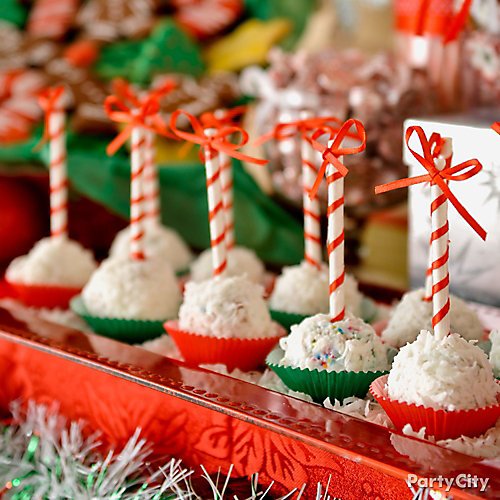 Idea 1: Create a festive cake pops display
Dress up a side table with a pretty display of beribboned cake pops on a holiday tray. Cake pops are a great addition because of the multitude of available flavors and ways to decorate. Serve these sweets in mini candy cups and decorate the cake pop sticks with red ribbon. Don't forget to make enough tiny desserts for guests to gobble down during the party too.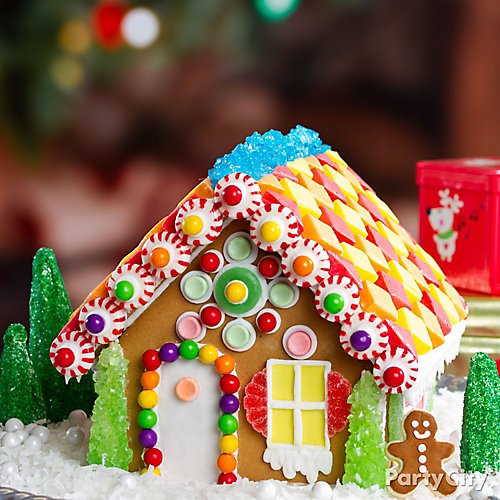 Idea 2: Decorate a candy-rific gingerbread house
Since a pre-baked gingerbread house eliminates baking, use the extra time to get creative while decorating! Use candy not included in the box like Starbursts® as roof tiles, rock candy "trees" and Sixlets® or mini gumballs for Christmas lights. Add a mini gingerbread boy to the cute scene – or add a few for an adorbs family! Nom nom!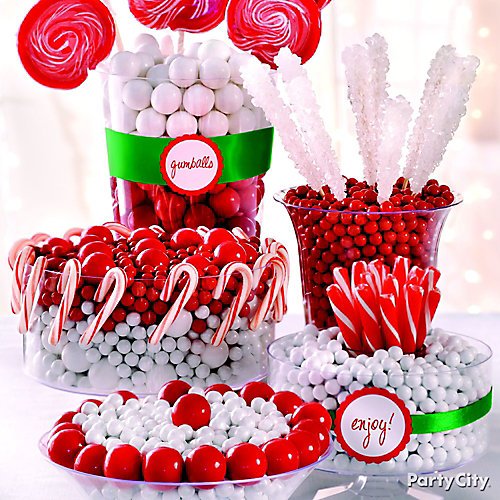 Idea 3: Gumballs and chocolates and peppermint candy, oh my!
A candy buffet creates a spirited atmosphere that puts "visions of sugar plums" in the minds of your guests. Rock candy, gumballs, Sixlets® and candy sticks are a great starting point for building a holiday display. Arrange the candy in bowls and jars, then add some festive flair with ribbons and labels. Your guests will be saying ho-ho-ho in no time!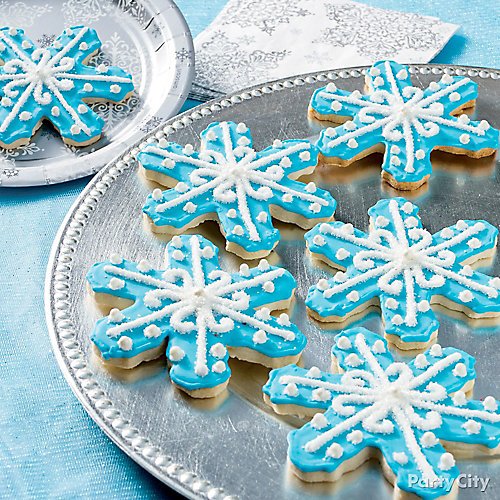 Idea 4: Be cool with frosty snowflake cookies
The holidays are the perfect excuse to try your hand at decorating cut-out sugar cookies. It's fun and easy to do! You'll need a decorating bag with tips, icing color and some sprinkles and sugar pearls. Use white cookie icing to make fun patterns on your snowflakes - keep them uniform or have no two be exactly alike!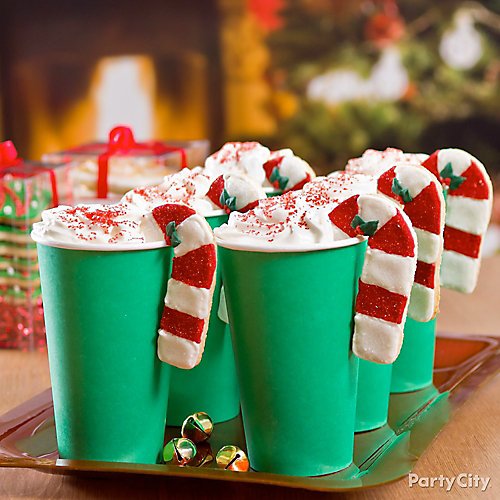 Idea 5: Cocoa + cookies = holiday treat perfection!
Surprise your guests with something to nibble on while they enjoy their cocoa! Set out cups of hot chocolate with candy cane cookies on a bright red platter for a cozy holiday treat. Add some jingle bells to the tray before carrying it out and party guests will know that a treat is headed their way!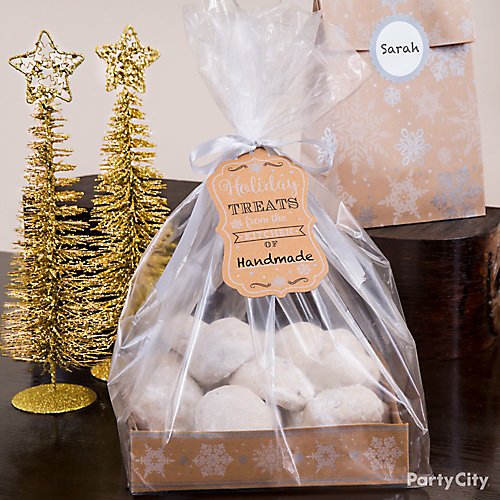 Idea 6: Make your holiday deliveries look dashing
In the mood for a snowball fight? Engage in a friendly exchange by bringing "snowball" pastries—like powdered donuts or powdered cookies—to a holiday party. A kraft tray box with a snowflake print makes it easy to share or deliver these tasty treats. At the cookie exchange, you'll be able to spot how many people have indulged in your holiday morsels by spotting the leftover white at the corner of their mouths. Yummy!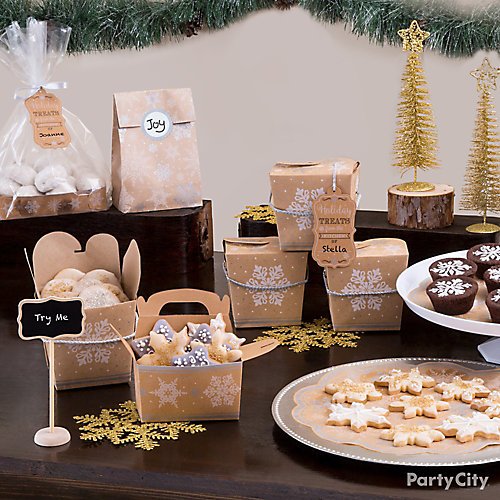 Idea 7: Get crafty with rustic charm at a cookie exchange party
Sharing a plate of freshly baked cookies is a welcomed way to spread holiday cheer. Kraft boxes make it easy to festively deliver your baked goodies or style them for a tasty cookie buffet. Add chalkboard signs and gold doilies or platters to give the rustic tablescape a polished look!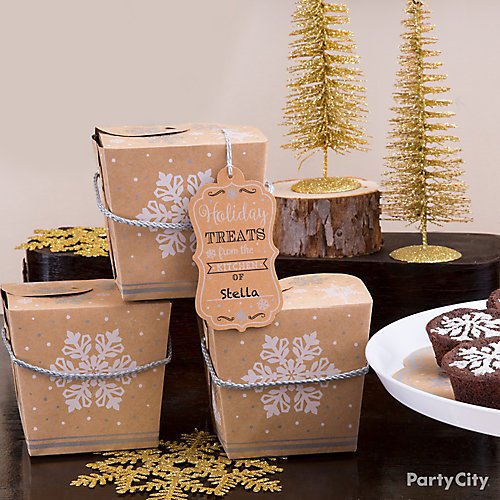 Idea 8: Pack favorite holiday goodies in darling boxes!
Brown paper packages become favorite things when used for cookie exchanges or delivering holiday treats! Arrange these boxes into a focal point at a holiday cookie exchange or party. Place the recipe of the treat on a tag so your guests will be able to re-create the merry morsel all year long!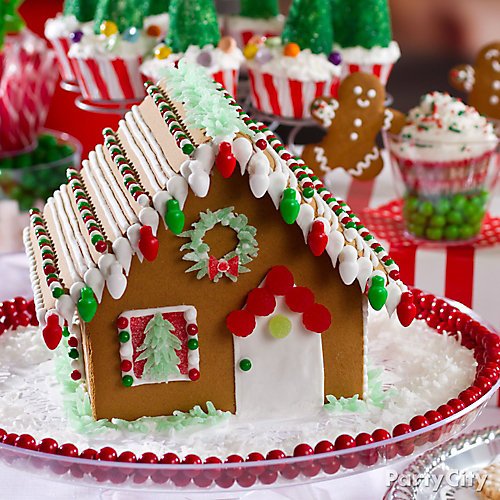 Idea 9: Dust your gingerbread house with delightful snow!
Make spirits bright with a delightful (and scrumptious) gingerbread house! Skip the hassle of baking with a pre-baked gingerbread house kit and jump right into the decorating fun. The easy-to-use kit comes with three types of candy, icing and decorating bags so party guests of all ages can create a mouthwatering masterpiece. Make it look more magical by placing it on a cake stand with a red Sixlets border and shredded coconut "snow."