Everyone's a winner with Cars cookies!
Give the racers a special treat at the finish line with these Cars cookies featuring Lightning and Mater. Zoom over to the Winner's Circle Cookies How-To below for the decorating details using icing, Cars decorations and chocolate Sixlets® candies. Make a winning display with a Lightning-red platter and yellow jelly beans.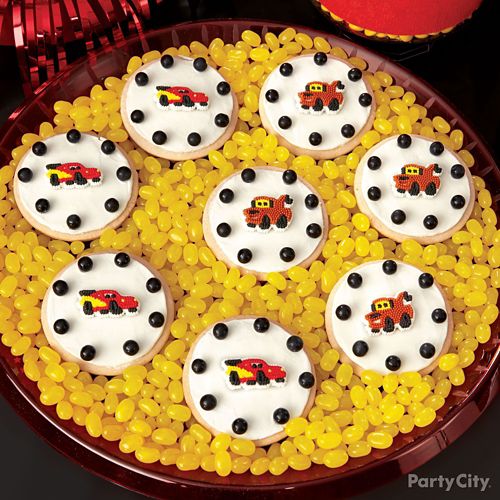 How-To
Ingredients:
Favorite round cookies
about 31/2 in. diameter
4.5 lb. White Ready-To-Use Decorator Icing
Cars Icing Decorations
Black Sixlets® Chocolate Candies
Supplies:
1) Ice cookies
Use spatula and white decorator icing to ice cookies smooth.
2) Decorate cookies
Position Cars icing decoration in center of each cookie. Position black Sixlets® around edge of cookie.
3) Serve and enjoy!
Arrange your treats on a candy-rific platter of jelly beans for an awesome display.