Put the pedal to the metal for Cars brownies
Focus. Speed. Brownies! Create this chocolaty treat for your Cars crew with fudgy brownies, icing and Candy Melts®. Cruise on over to the Cars Racing Light Brownies How-To below for the decorating details.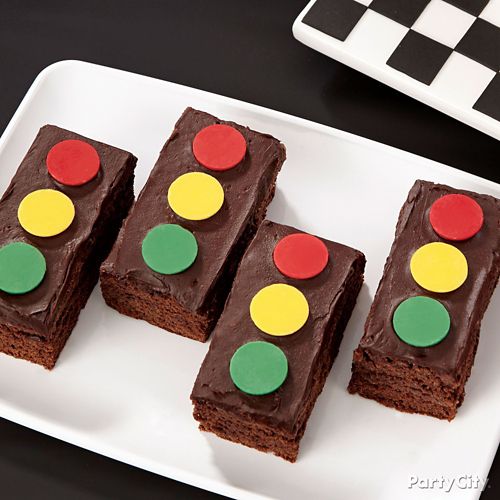 How-To
Ingredients:
Favorite brownie recipe or mix (3 batches used)
Corn syrup
Red Candy Melts® Candy (2 oz. makes 20 treats)
Yellow Candy Melts Candy (2 oz. makes 20 treats)
Dark Green Candy Melts Candy (2 oz. makes 20 treats)
Supplies:
11 in. x 15 in. Sheet Pan
Cooling grid
Knife
Plastic ruler
9 in. angled spatula
1) Make brownies
Prepare batter following recipe directions. Bake and cool brownies. Cut into rectangles, each 4 in. long x 2 in. wide.
2) Ice brownies
Add 2 teaspoons corn syrup to chocolate ready-to-use icing for easier spreading consistency. Use spatula and chocolate icing to ice brownies smooth.
3) Decorate brownies
Position one each red, yellow and green Candy Melts candy wafer on each brownie for the final touch. These brownie treats will fly off the tray faster than you can say "Ka-chow!"