Treat your birthday boy and his friends to a racetrack-inspired party room with Cars decorations and tableware. With our ideas for party games, treats and decor, everyone's sure to vroom home happy!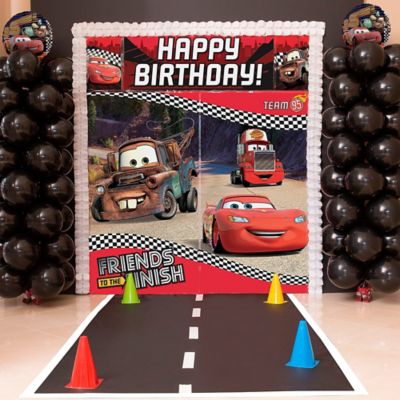 Idea 1: Create a winning photo backdrop!
To create a tow-riffic race track party backdrop, start with a Cars scene setter and add a white paper garland. Tie together layers of latex balloons and add a Cars balloon on top. To create your own DIY race track, lay down a black table cover, use white duct tape for the dotted line, and secure the track with black duct tape.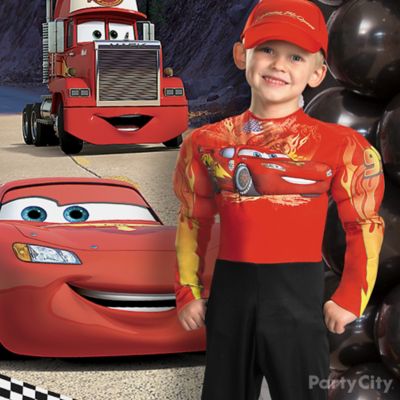 Idea 2: A special birthday costume is a first-place look!
The birthday boy can dress up like Lightning McQueen for his special day! This muscle jumpsuit makes him look tough and ready for a big celebration. Top off the look with a baseball cap to match. Ka-chow!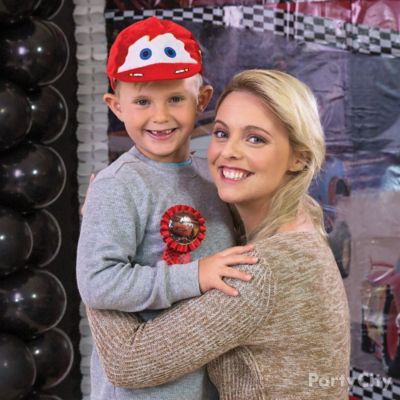 Idea 3: Make him feel like a Grand Prix winner with Cars accessories!
The birthday star will feel like a pro racer in cool Cars accessories! A Cars party hat and award ribbon is a fun and easy way to rev up any outfit he's picked out for his birthday.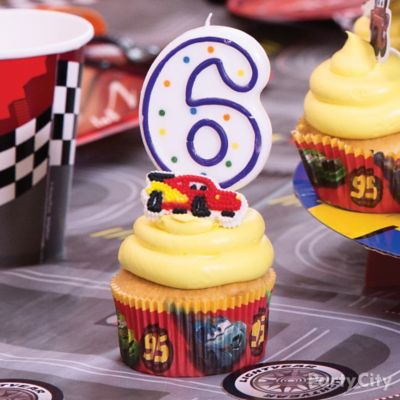 Idea 4: Give the lead racer his own unique cupcake!
Give the whole crew their own special treat with Cars cupcakes! Bake up some cupcakes using your favorite recipe in Cars baking cups, then place them across the decorated table so each racer will have a treat waiting for them when they pull in for a pit stop. To make the birthday boy's cupcake even more special, place a numbered candle on top to show off how old he's turning today, then light it up so he can make his wish!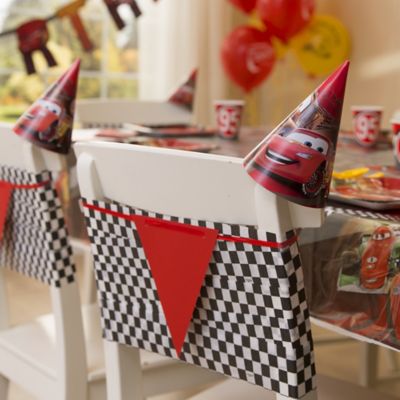 Idea 5: Checkered streamer + red pennants = winning chair DIY!
Wave the checkered flag and call the kids over! These fun chair decorations will make everyone speed to the table. Wrap a checkered streamer around each chair, then add a pennant from a red pennant banner to catch their attention. Dot the corner of each chair with a paper hat for the little racers to strap on as they take their seats. Race on!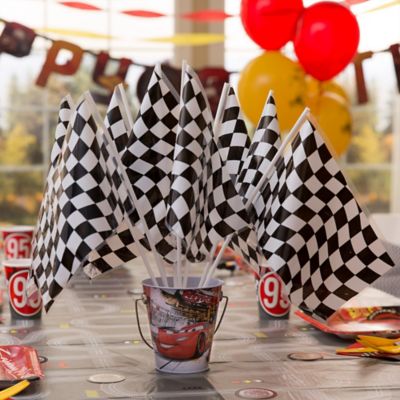 Idea 6: Add checkered flags for a World Grand Prix touch
DIY this easy-peasy table centerpiece! All you need is a little container (like this Cars favor pail) and as many checkered flags as there are party guests. You can fill the container with paper shred so the flags don't budge. The birthday boy's friends can each have their own to take home at the end of the celebration!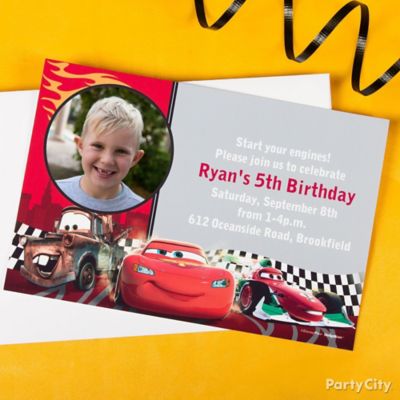 Idea 7: Create a custom photo invite to rev everyone up!
Bring all of the race car fans together with Cars custom invitations! Inscribe a fun message from Lightning McQueen like, "Start your engines, it's Ryan's 5th birthday!" next to a photo of the birthday champ. The invites will be ready to ship within five days, and they're perfect for saving in a scrapbook.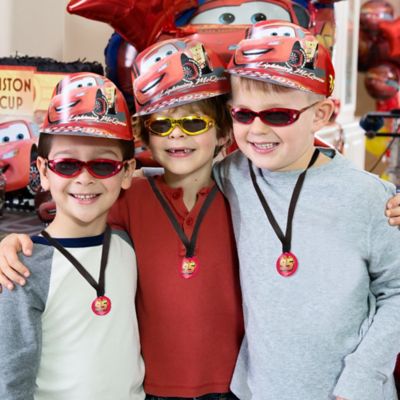 Idea 8: Hand out fun dress-up favors to the birthday star's pals!
Make all of your party racers feel like winners! Everyone will have big smiles when you hand out Cars dress-up accessories like party hats, award medals and sunglasses!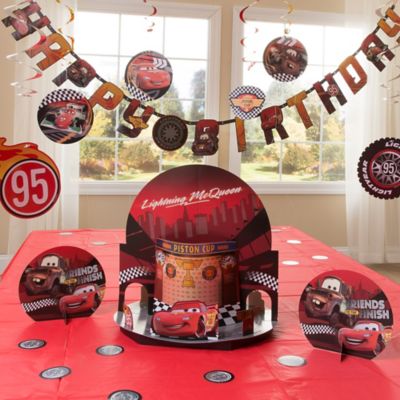 Idea 9: Themed table decorations give the green light for fun!
Don't throw a party without these Cars table decorating essentials! Accent a big birthday letter banner with metallic swirls featuring Lightning McQueen and Mater. Place centerpieces on the party table and ka-chow! the birthday boy and his buddies are in for a tow-tally great time!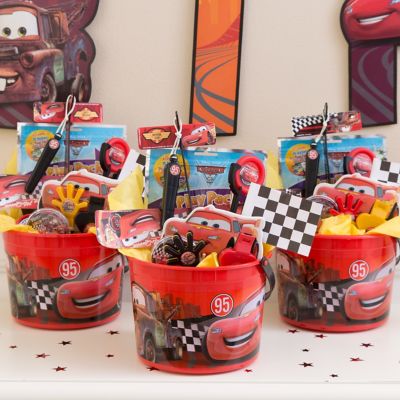 Idea 10: Hand out toy-filled Cars favor buckets to your crew!
Create high-octane fun for your team of race-car lovers with Cars favor buckets! Fill the buckets with crinkle paper shred, then arrange Cars goodies like hand clappers, gliders and flags.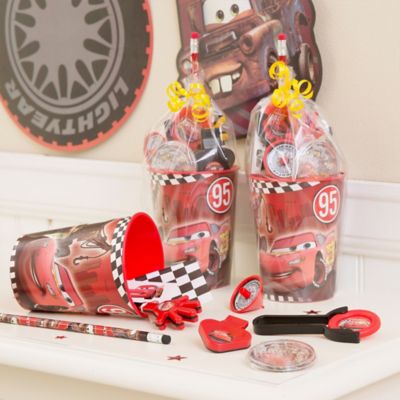 Idea 11: Make Cars party cups do double duty as favors
Create Cars favor cups that your li'l racers won't get tired of! Fill Cars party cups with paper shred and favors, then slip the cup inside a clear bag and tie shut with curling ribbon. After they play with all the Cars goodies, they can reuse the BPA-free plastic favor cups as drinking cups!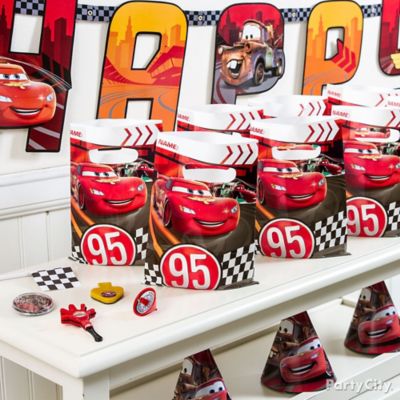 Idea 12: Make Cars favors in a flash with a favor pack!
Be faster than fast when it comes to making fun favor bags for your star racer and his friends with a Cars favor pack! Favor kits will prepare you with enough toys and goodies for eight guests. Just slip the favors into Cars favor bags and set them by the door for guests to grab as they speed home!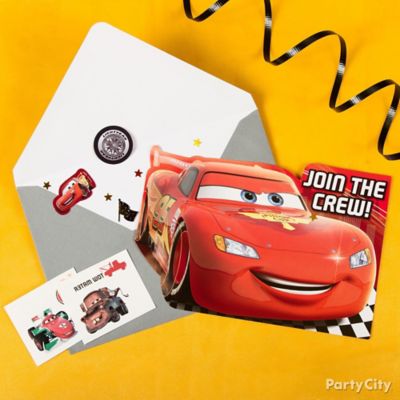 Idea 13: Thank You Note with Photo Idea
They're sure to love a deluxe Cars invitation with a sparkly touch! Just sprinkle confetti inside each envelope before sealing.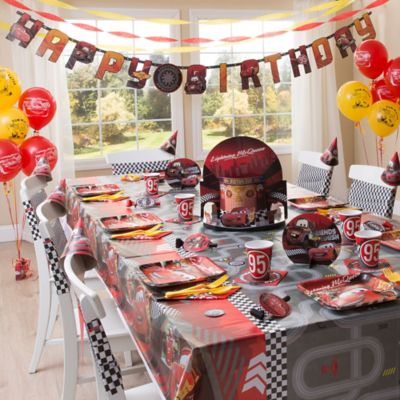 Idea 14: Decorate the party room from top to table!
You don't need to be a pro to set up a World Grand Prix party zone! All you need are a few well-placed streamers, balloons and an awesome birthday banner to rev everyone's engines. We like red and yellow balloons with cool checkered flag accents.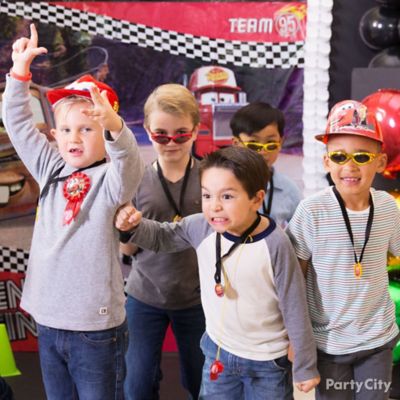 Idea 15: Have a photo booth for cool Cars party pics!
You have a tow-riffic photo booth, so hand out sleek racing gear and snap some pics! From Cars hats, medals and cool sunglasses, the birthday boy and his racing pals will have a blast play racing and making pit-stop power tool noises. A photo booth with wearables is a winning combination!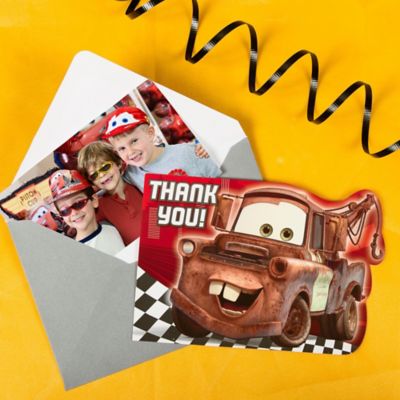 Idea 16: Send thank you notes with a photo finish!
Make your Cars thank you notes extra-special by including a photo of the party fun! Guests will love having a memento from the party to remind them of the zoomin' time they had.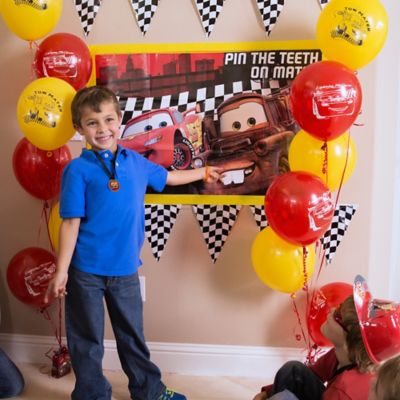 Idea 17: Let the little racers help Mater!
Partiers can enjoy life in the fast lane with this Cars party came, a fun take on Pin the Tail on the Donkey that uses stickers instead of pins. Have the kids don the included blindfold and try to stick the teeth on Mater. Git-r-done!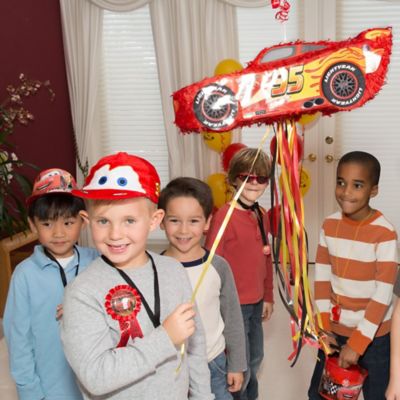 Idea 18: Start a race for candy with a Cars pinata!
Get the pit crew geared up to go with a Cars pinata filled with goodies! Let them take turns pulling strings until they find the one that releases the treats inside.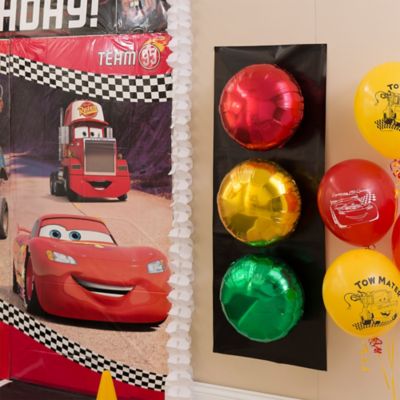 Idea 19: Ready, Set, Go with a DIY Stoplight!
Here's an awesome prop idea that you can make yourself! To create the oversized stoplight, cover a piece of poster board with black gift wrap, then place red, gold and green foil balloons on the front.