Tow-tally awesome marshmallow pops!
Whip up these snacks faster than you can say, "Ready, set, GO!" Make a yummy tub of treats with marshmallows, blue food color spray, Candy Melts® and Cars icing decorations. Speed over to our Cars Marshmallow Pops How-To below for tips on assembling these blue bites starring Lightning and Mater. Give them a Grand Prix-worthy display with a clear container, chocolate drops and a racing-stripe streamer.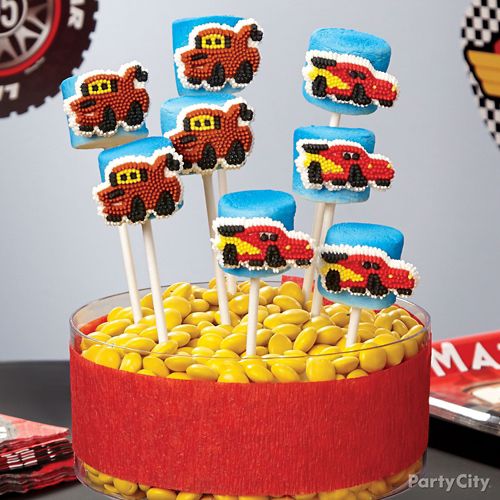 How-To
Ingredients:
Large marshmallows
Blue Color Mist™ Food Color Spray
Cars Icing Decorations
Blue Candy Melts® Candy
Supplies:
8 in. Lollipop Sticks
Craft foam block
Microwave-safe bowl
1) Spray marshmallows
Insert lollipop stick in marshmallow. Spray marshmallow with blue Color Mist food color spray. Let dry in craft foam block, about 5 minutes.
2) Attach icing decorations
Melt blue Candy Melts candy in microwave-safe bowl according to package directions. Attach icing decoration to marshmallow with a dot of melted blue candy. Chill until firm, about 3 to 5 minutes.
3) Serve and enjoy!
Pop your treats in a cute container and let everyone grab one for themselves!