Create a treat-filled trophy tower!
It's time to take a break from the track and pull in for some Cars cupcakes. Zoom over to our Cars Cupcake Tower How-To below for the details on decorating with Cars baking cups, decorating icing and sugar sprinkles. Give your treats a Grand Prix-worthy display with a cupcake tower featuring Lightning and Mater!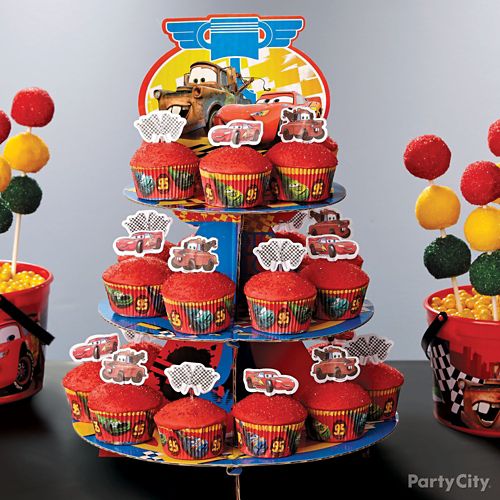 How-To
Ingredients:
Favorite cupcake recipe or mix
4.5 lb. White Ready-To-Use Decorator Icing
Red-Red Icing Color
Red Sugar Sprinkles
Supplies:
Cars Baking Cups
Cars Treat Picks
Cars Treat Stand
Standard muffin pan
Cooling grid
9 in. angled spatula
1) Make cupcakes
Prepare batter following recipe directions. Bake and cool cupcakes in baking cups.
2) Ice cupcakes
Tint white decorator icing red.* Use spatula and red icing to ice cupcakes smooth. (*Red icing deepens over time, so it's a good idea to tint icing one day in advance, using a little less icing color. When you're ready to ice the cupcakes, your icing should be the perfect shade of red to match Lightning McQueen!)
3) Decorate cupcakes
Sprinkle cupcakes with red sugar. Insert pick.
4) Serve and enjoy!
Assemble treat stand according to package directions. Position cupcakes on stand for a vroooming display.