Add a Lightning finish to these flag treats
They'll speed to the table for these checkered flags! Learn the easy icing technique to make the flag pattern from this Cars Crispy Rice Treats How-To. Lightning McQueen icing decorations add the finishing touch to these yummy bites – now take a victory lap!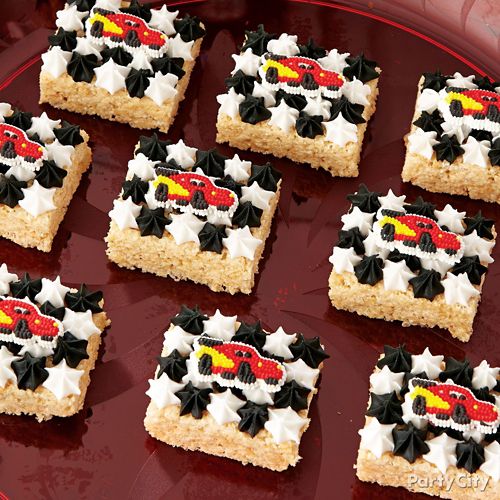 How-To
Ingredients:
Vegetable pan spray
Favorite crisped rice cereal treats recipe (two recipes used)
White Icing Pouch with Tips
Black Icing Pouch with Tips
Cars Icing Decorations
Supplies:
11 in. x 15 in. Sheet Pan
Knife
Plastic ruler
1) Make cereal treats
Spray pan with vegetable pan spray. Prepare crispy rice cereal treats mixture following recipe directions. Press mixture, 1 in. high, into prepared pan. Let cool and unmold.
2) Cut treats into rectangles
Use knife to cut treats into rectangles, each 2 in. x 21/2 in..
3) Decorate treats
Use white and black icing pouches with star tip to pipe alternating color stars on top of treats. Place icing decoration on top of each and serve up on a platter for your party guests to grab as they race by!