What's a birthday party without cake? Since Marvel Studios' Captain Marvel is new to the Marvel Cinematic Universe, it can be tough to find Captain Marvel cake ideas. The search is over! Get the details on our classic birthday cake inspired by the Captain Marvel star, and learn how to make Goose the cat cake pops. Once you're inspired on the baked goods front, check out our Captain Marvel birthday party ideas to plan the rest of your party!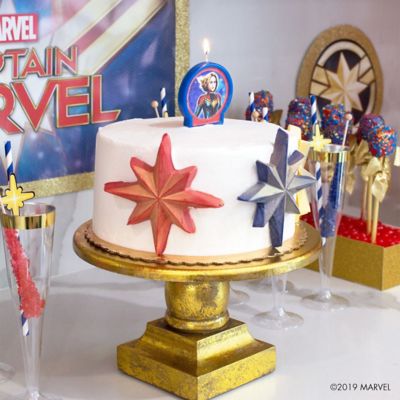 Captain Marvel Stars Cake
Frost a layered cake with smooth white buttercream. To create the stars, we melted blue and red Wilton candy melts and poured them into a North Star chocolate mold. Once set, we removed the stars from the mold and sprayed them lightly with Wilton edible gold spray to give them that metallic sheen.
Finish it off with a candle so they can make a birthday wish. A Captain Marvel candle is the obvious choice, but you can browse all birthday candles for sparklers, cake toppers and number candles. You're all done!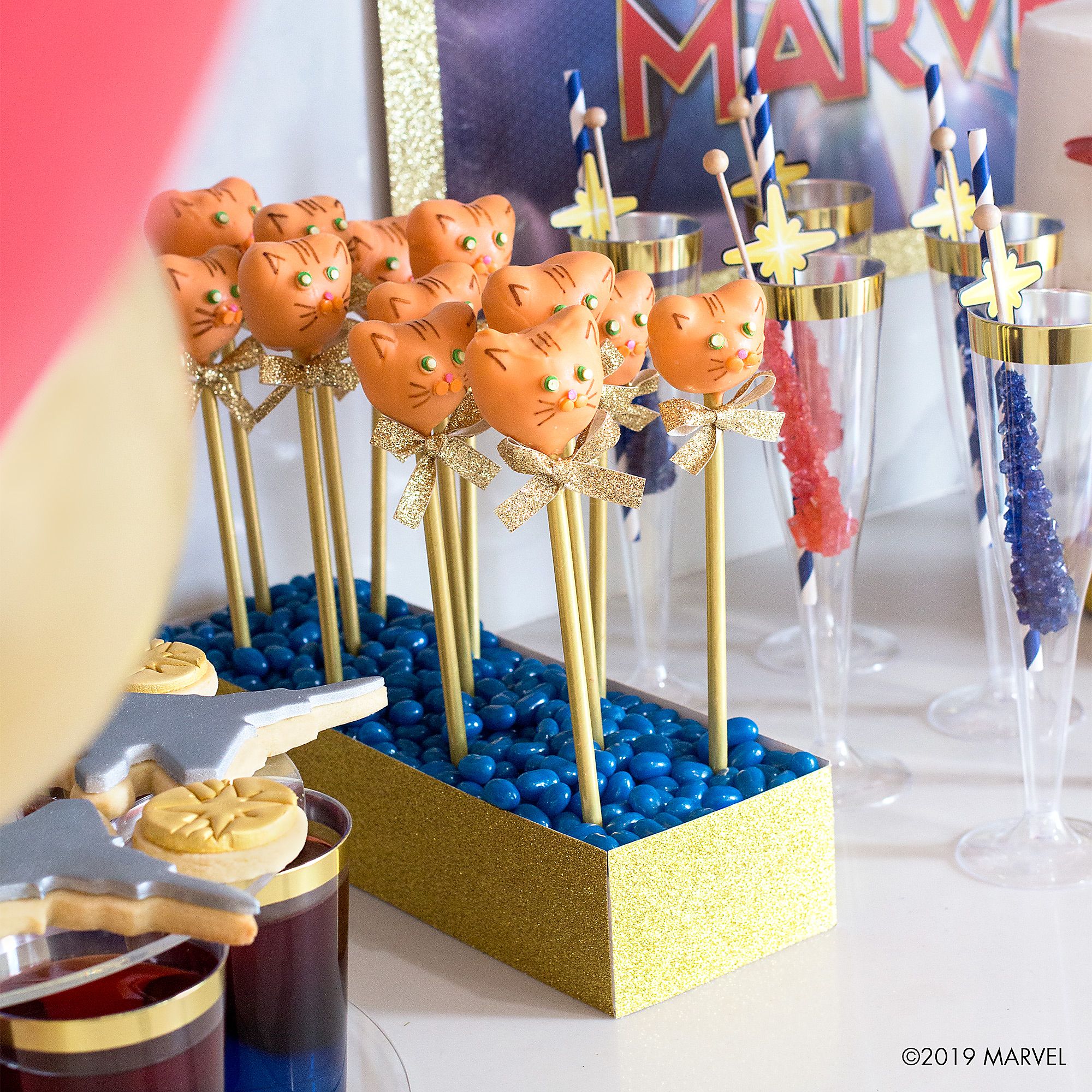 Goose the Cat Cake Pops
Goose is definitely a fan favorite, so why not invite the lovable cat to your party in the form of these adorable cake pops?
You can make your own cake pops by mixing cake crumbs with icing, using a cake pop maker, or relying on our favorite time-saving hack: using donut holes instead. Whichever route you choose, we have everything you could need in terms of Cake Pop supplies.
What you'll need:
Donut holes or cake pops
Orange Candy Melts
Chocolate chips
Toothpicks
Small round sprinkles for details (We used green, yellow, orange and pink)
FoodWriter Edible Marker
Gold paper straws
Gold ribbon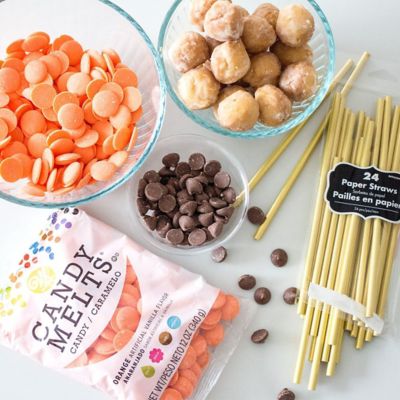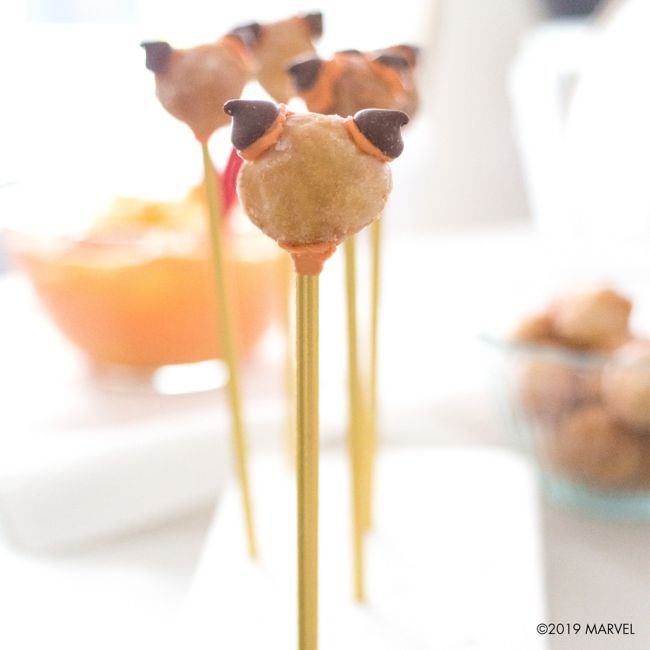 Step 1: Form the cat ears
Melt orange Candy Melts according to package instructions. When your Candy Melt wafers are completely melted, dip the tip of your straw in the melted chocolate and press it into your donut hole. Repeat with all donut holes.
Next, add on the ears—they're shaped with chocolate chips. Dab on a little Candy Melt to act as "glue" to hold these on. Allow the cake pop ears a little time to set in place.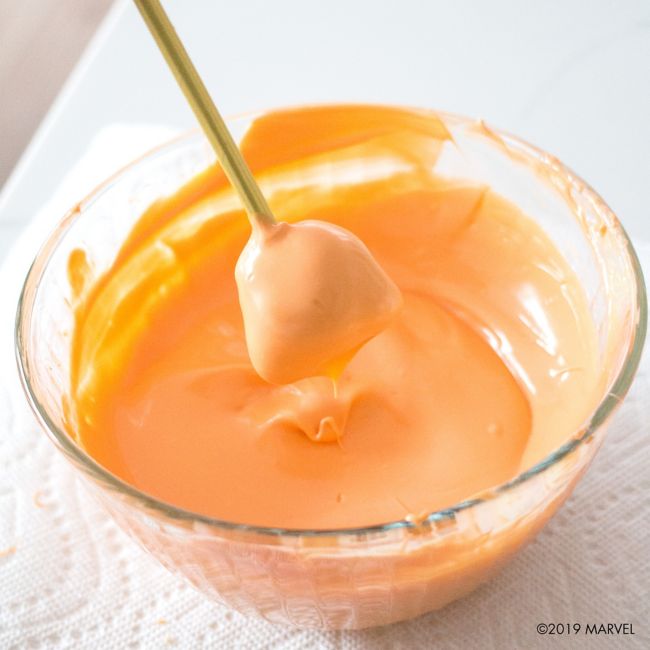 Step 2: Dip your cake pops
Dip your cake pops in the orange Candy Melt. To remove the excess candy coating, tap your wrist as you hold the pop over the bowl. Be gentle! We don't want any cat heads slipping into the chocolate.
Step 3: Refrigerate
Use a Styrofoam block to hold your cake pops upright. Place them in the fridge for 10 minutes or until the chocolate has hardened.
It's tempting to pull these out early, but you *must* resist the temptation! Decorating will be much easier (and look more professional) if you make sure the first layer has hardened.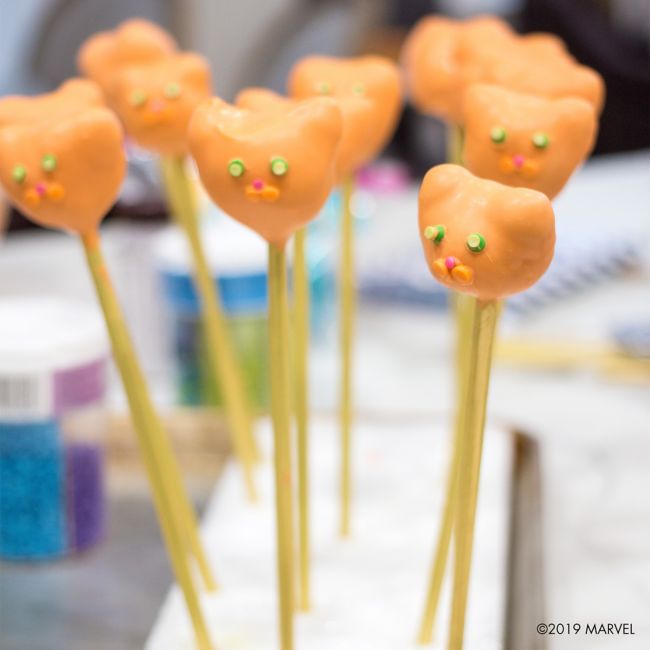 Step 4: Add facial features
Grab a toothpick and dip the tip into the Candy Melts. Using a tiny bit at a time, attach small round sprinkles to create Goose's facial features. We used green and yellow sprinkles for the eyes, pink sprinkles for the nose, and orange sprinkles for a 3D effect on his cheeks.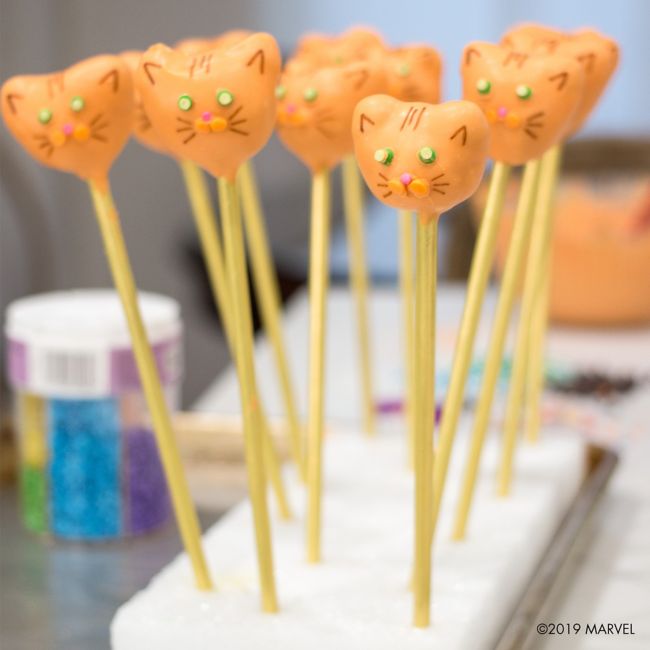 Step 5: Whiskers and stripes
As long as your orange outer shell is properly cooled, this next step is a breeze. It's time to add those cute extra details that make these really special. Use a Wilton FoodWriter Edible Marker in black or brown to draw in stripes on the top of the head between the ears, ear detailing and whiskers.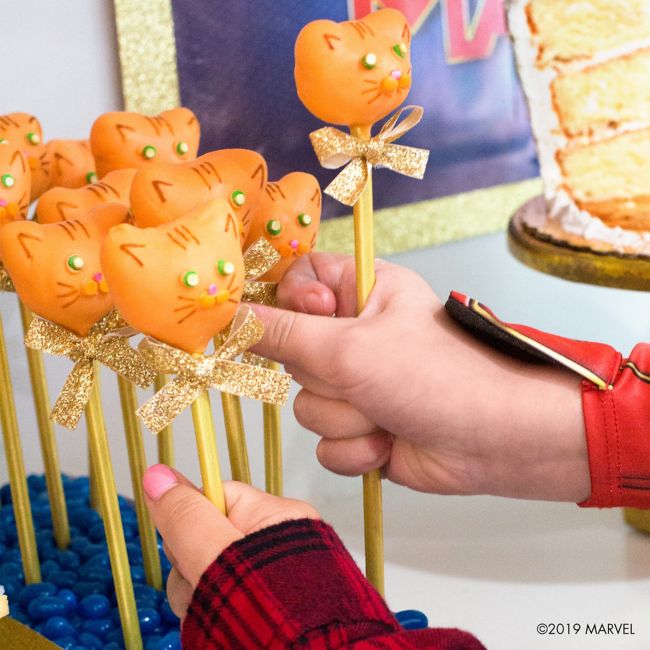 Step 6: Finishing touches
Here kitty, kitty! Since this is a special event, help Goose look extra dapper by tying little bows out of gold ribbon onto your straws.
Glue glittery gold cardstock to the outside of your Styrofoam block to create a faux box. Cover the white foam with candies in your party colors (we used dark blue candy drops) and your cake pops are ready to display on the treat table. Purrr-fect!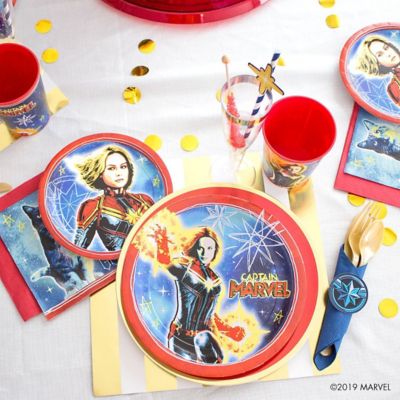 Serve it up on Captain Marvel tableware!
You know what's the best part of making an incredible birthday cake? Eating it!
Or, wait, maybe that's the wrong answer. Maybe the best part is seeing your little one smile with their friends as they chow down. Yeah, that's the one.
Serve up your Captain Marvel birthday cake on matching plates with utensils in coordinating colors. Shop all Captain Marvel party supplies!