Put them under your spell and keep the frightful fun going without the scary sugar crash. We've compiled a list of candyless treats that'll help you claim the title of Hallow-queen or Hallow-king!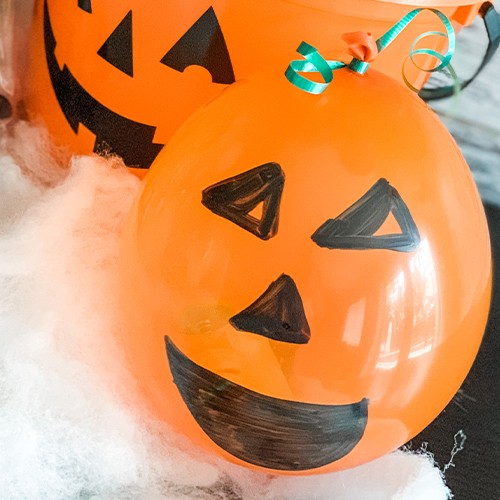 Idea 1: Goodie Filled Popable Pumpkins
Pumpkins both big and small with light up with joy and excitement when they crack these treat filled balloons open! Create jack-o-lanterns filled with small treats like stickers, tattoos, mini glow sticks and spider rings. Don't forget to give your pumpkin a personality by drawing a scare-tastic face on it!
Supplies:
Green Curling Ribbon
Orange Balloons 15ct, 12in
Halloween Spooky Basket Kit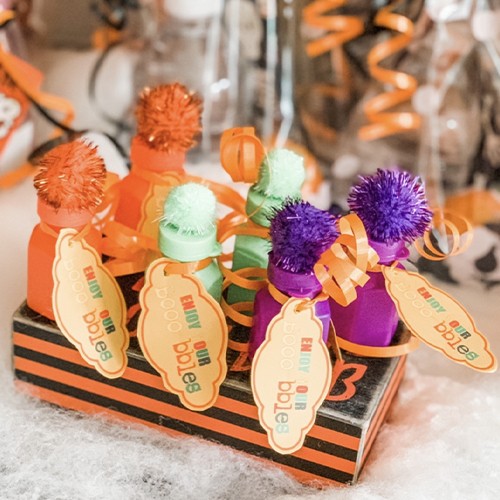 Idea 2: Booo-bbles
BEWARE! These boo-bbles are sure to make your ghosts and goblins smile!
Supplies:
Mini Bubbles 12ct
Orange Curling Ribbon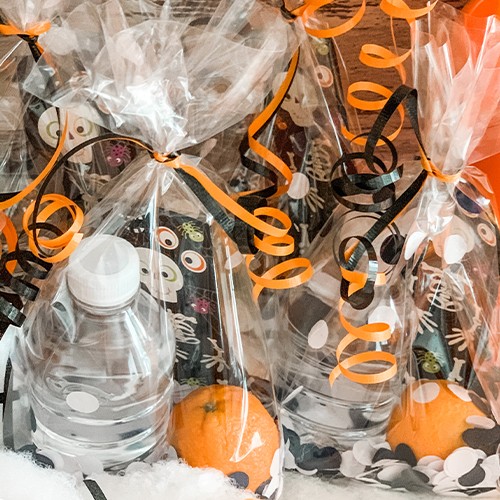 Idea 3: Fang-tastic Healthy Treat Bags
Little critters will love sinking their fangs into these. Put clementines, water bottles and some fun Halloween stickers into a treat bag and you got the perfect healthy snack.
Supplies:
Medium CLEAR Plastic Treat Bags 25ct
Black & White Dots Tissue Paper Confetti
Orange Curling Ribbon
Black Curling Ribbon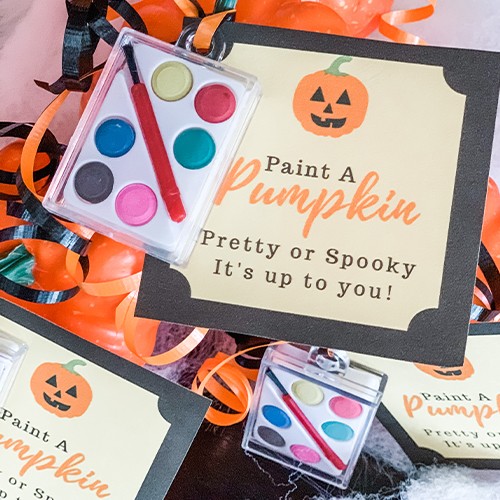 Idea 4: Paint Your Own Pumpkin Kit
Let's give 'em pumpkin to talk about! These DIY Paint Your Own Pumpkin Kits can be sent home or used as an at-party activity. Paint the season's favorite friend pretty or spooky. We opted for artificial pumpkins so the memories of your party can carry on for years to come! These kits make eek-tactic gifts for schools that have a "no treats" policy.
Supplies:
Favor Paint Sets 12ct
Orange Curling Ribbon
Black Curling Ribbon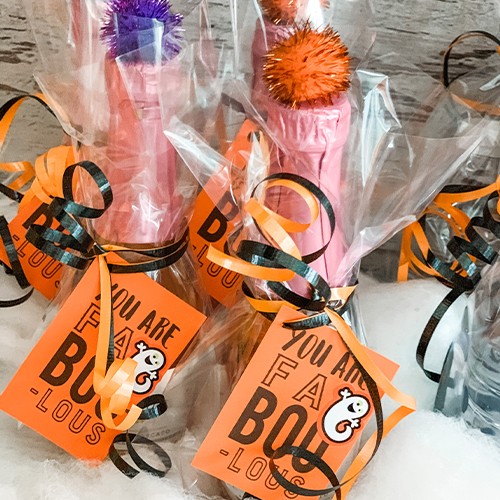 Idea 5: Bubbly Boos
Trick or treat your Fab-boo-lous guests with these bubbly spirits! Pop a bottle of champagne or "hallow-wine" into a treat bag and celebrate the season with your favorite witches!
Supplies:
Small CLEAR Plastic Treat Bags 25ct
Orange Curling Ribbon
Black Curling Ribbon
Halloween Fun Stickers 36 Sheets
Idea 6: Light the Night Glow Sticks
Light up the gourd-geous night with glow sticks. A simple, fun, and easy way to help stay safe and seen shining bright while trick or treating.
Supplies:
Neon Doodle Glow Sticks 5ct
Orange Curling Ribbon
Black Curling Ribbon