Take a red and white twist on decorating for the holidays. A candy cane theme offers a minty-fresh approach to decorating! When Christmas comes around the corner, peppermint becomes the flavor of the season. From Christmas tree decorations to the neighborhood cookie exchange, candy canes have a presence in nearly every holiday custom. Take a refreshing approach on the iconic holiday candy with our candy cane Christmas decorating tips and treat recipe ideas. Your door, entryway or table will brim with all things merry and bright!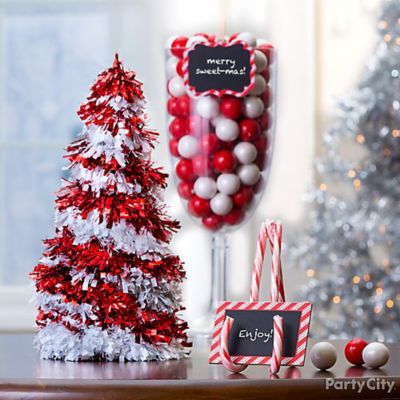 Idea 1: Craft a sweet and festive placeholder out of treats!
A candy cane place card holder is an easy way to make your holiday gathering both formal and festive. All it takes to make this sweet sign is gluing three candy canes at the top and spreading out the hooks, allowing it to stand like an easel. It's holiday picture perfect!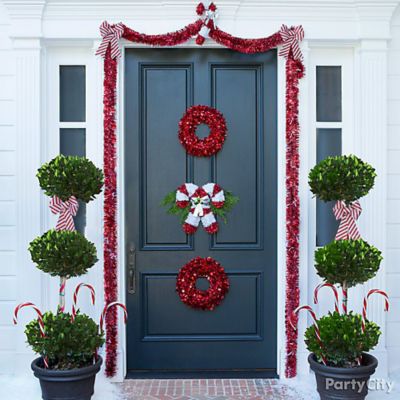 Idea 2: Dress your outside door in holiday brights!
Greet the season and your guests with festive decorations on your door. Candy cane decorations—on the door and in porch planters—offer a sweet nod to the iconic colors of the holiday red and white. Red tinsel wreaths, a shimmering garland around the door frame and striped bow accents are the finishing touches that make your entrance merry and bright.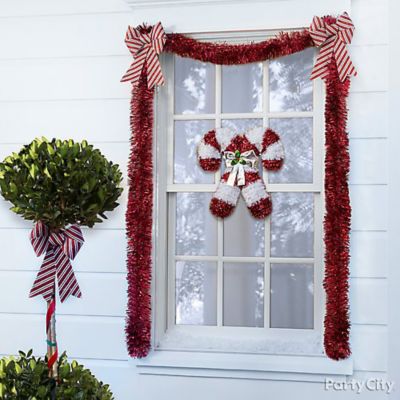 Idea 3: Sweeten your Christmas window decorations
Give your windows the holiday treatment. Hang up a pair of tinsel candy canes for a look that's brightly shining during the day and into the night! For a festive finishing touch, line edges of your windows with tinsel garland and attach striped bows to the window corners.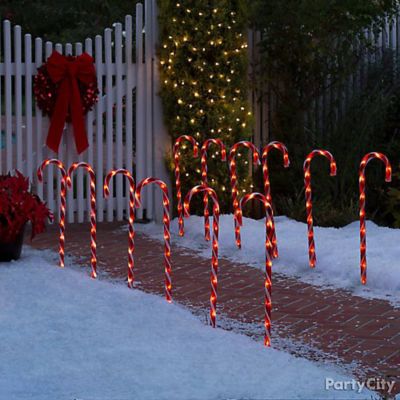 Idea 4: Shine the holiday lights on Candy Cane Lane
You've heard of deck the halls, but don't forget the walkway! Create your own Candy Cane Lane by placing lighted candy cane yard sticks along the walkway. They are battery operated, so there's no need to worry about wires or strings. The spirited display brings to life the whimsy of the magical season!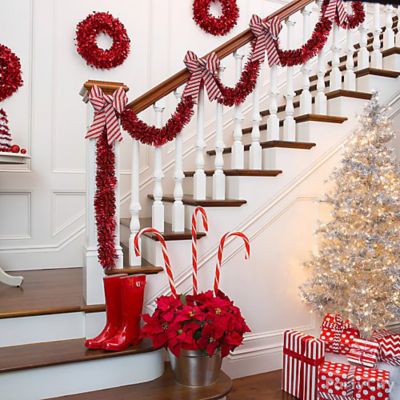 Idea 5: Create a holiday stairway of candy cane stripes
The holidays are a time to step up the decorating, especially when it comes to the staircase. For a stylish yet simple twist on decorating in red and white, drape a red garland along the railing and accent the top of each swag with a striped bow. For an elegant look, make sure to leave enough length at the beginning of the banister to create a flowy drop.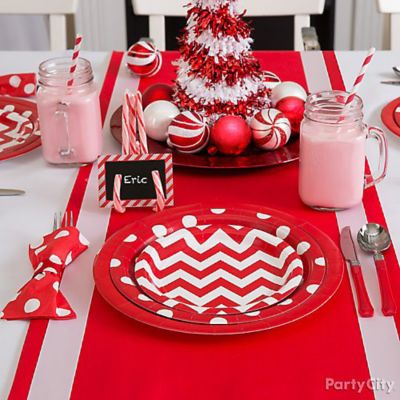 Idea 6: Get your table ready for your guests and the feast-ivities!
Trim your table in the dashing duo of red and white—without the holiday stress! Chevron and dots make it easy to create a merry setting. The napkins are easy to get creative with—wrapping utensils in a napkin bow works perfectly with your candy cane theme. A candy cane placeholder next to the plate setting and a centerpiece made up of a tinsel tree and ornaments are simple touches that add a festive impact.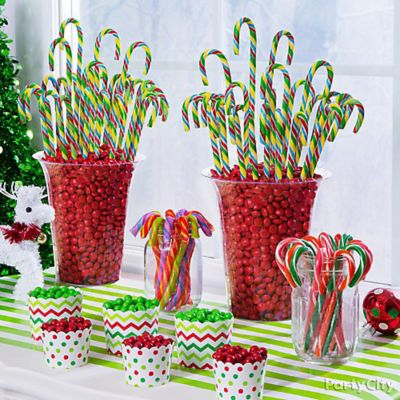 Idea 7: Nibble on the cheery colors of the yuletide season
They're made of sugar and spice, but not all are red and white! Put the merriment of the season on display with brightly colored candy canes, lollipops and jelly beans. Clear bowls of varying shapes and heights add depth to arrangement of the kaleidoscope hues.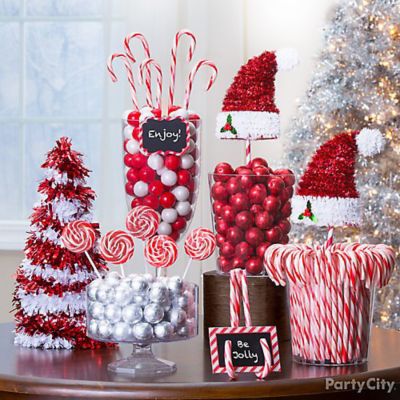 Idea 8: Top off a candy buffet with Santa's hat decorations!
Save room on your table for a candy buffet that's sweet to eat and to display! Place candy canes or lollipops in the middle of plastic pedestal bowls filled with chocolates and gumballs. Shimmering tinsel trees and sparkling Santa hats are simple ways to dress up a candy buffet for the holiday season.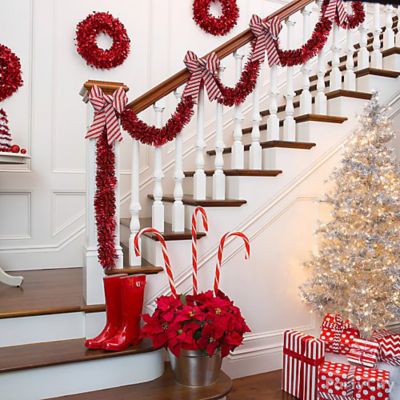 Idea 9: Set up a merry and bright entryway tablescape!
Merrily greet your guests with a playful arrangement on the season's classic colors. Tinsel trees in stripes and solids add variety to a simple color scheme, and a candy cane marquee sign keeps your arrangement looking festive. Keep a candy cane jar at the ready for visiting guests—it's a small touch that highlights the spirit of the giving season.