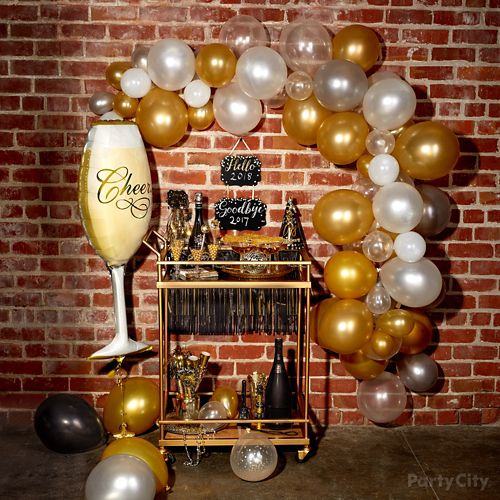 Make a Bubbly Balloon Garland!
Sidle up to the bar cart for a toast! To make it Pinterest-worthy, cut several long pieces of our plastic balloon strip (the strip has nifty holes to hold your balloons). You can easily create a masterpiece using gold, silver, white and clear balloons in mini 5" and 9" sizes (get 1 pack of each). Use a small hand-pump, or upgrade to an electric pump if you want to also fill the floor with balloon fun. Tape the strip to the wall or hang from plastic wall hooks. Position the balloons so they look like they're bubbling out of a balloon in the shape of a champagne bottle or glass. A super-fun DIY idea, and you can use any colors you wish.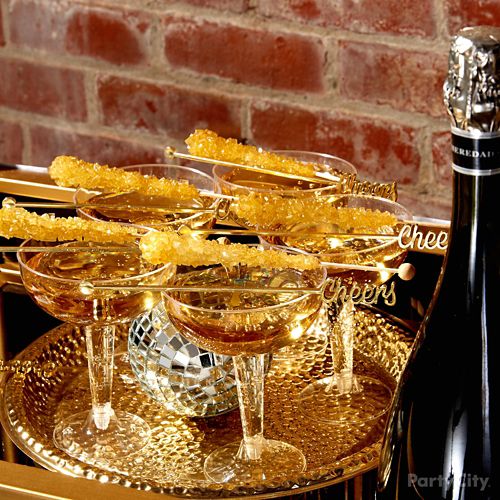 Add glam
Fill up the extra space in your bar cart with fun, eye-catching objects! Try some of our faves: mini disco balls, noisemakers, signs, black fringe, party hats, candy in mini flutes, gold trays, or party beads! Then trade cocktail straws for rock candy to add a touch of extra sweetness. Guests will love watching the rock candy dissolve into their drink of choice.