They'll dive into this muddy chocolate Blaze cake!
Find out how to make this super-cool Blaze cake with a muddy hill and mini monster trucks! Top it with friendly faces from the Blaze show in the form of colorful birthday candles. Whether you want to go all out or steal a few aspects of this fantastic cake, the how-to below has all the details.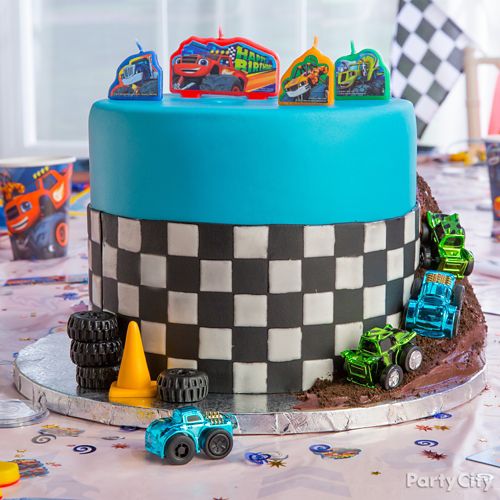 How-To
Supplies:
White, blue and black fondant
Truck toys
Decorating dough
Brown frosting
Fondant cutter
1) Place your first layer
Create a smooth surface for your "sky" by draping a large piece of blue fondant over your cake and then trimming the bottom edge.
2) Layer to make a flag
Smooth a long piece of black fondant around the bottom of the cake for the base of your checkerboard flag. Cut out squares of white fondant and place them in a checkerboard pattern over the black.
3) Create "hills"
Cut up pieces of chocolate cake and build into the side of your cake as a hill. Use lots of chocolate frosting to "glue" the cake to the cake board and to keep pieces of cake together.
4) Build cones and tires
Use edible decorating dough to create a pile of tires and a traffic cone.
5) Position monster trucks
Place toy trucks going up your chocolate hill so they look like they're racing towards the top!
6) Don't forget the candles!
A birthday party isn't complete without a wish, so carefully press Blaze candles into your top fondant layer.