Dapper decorations for a New Year's drink
This Black Tie champagne is the bee's knees! Celebrate in style with this dashing New Year's drink recipe. See how we made it below, and then serve up your drinks in gold-rimmed champagne flutes that are clear, so you can see the bubbles rising!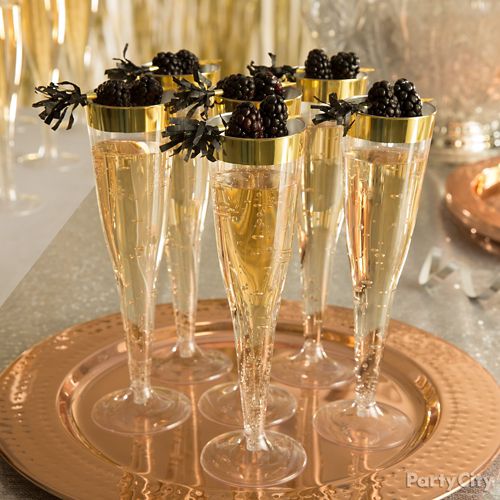 How-To
Ingredients:
Champagne of choice
Orange liqueur
Fresh blackberries
Supplies:
Champagne flutes
Black frill picks
1) Pour and garnish
We simply mixed in a dash of orange liqueur for a bright taste to wake you up at midnight! For these flutes, you'll need four ounces of champagne and ½ ounce liqueur per drink. Balance your blackberry garnishes and serve immediately.
2) Prepare blackberries
For six drinks, wash 12 chilled blackberries and pat dry. Carefully pierce blackberries onto frill picks and set aside.