Trip the lights fantastic with epic ideas for glow sticks, drinks & more. Bright ideas for wearables, drinks and decorations! Turn out the lights, flip on a black light and see what glows! Welcome your party people with a table of glow-in-the-dark wearables like glasses, glow sticks, hats, 'staches and beads. Serve glow-in-the-dark drinks made with tonic water and use bright neon glasses and pitchers. It's easy to have a blast creating a cool party experience with white decorations that glow in the dark such as containers, paper shred and paper lanterns.
Jump To: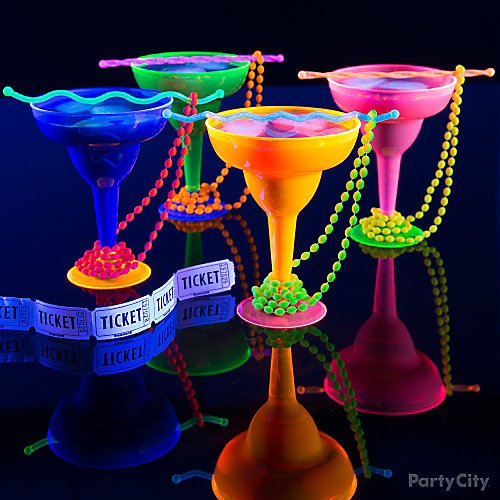 Idea 1: Brighten the party with drinks and beads
Glow ice cubes, glow drink ware and neon beads make for a clever black light party drink. Start off by freezing tonic water to make black light ice cubes. Then put your signature cocktail in glow margarita glasses garnished with neon swizzle sticks and beads around the base of the drink. If this is the signature cocktail, have a few drink tickets so everyone gets to try.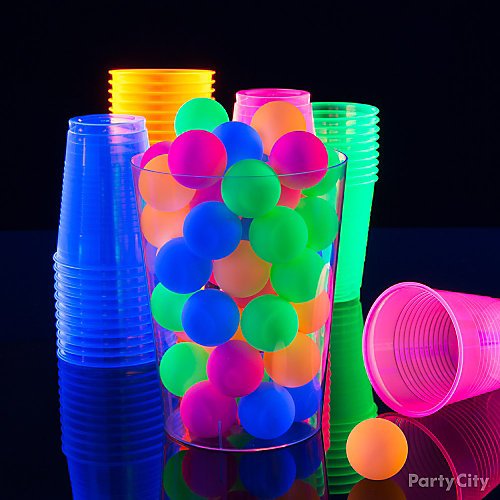 Idea 2: Play glow-in-the-dark beer pong!
Fill a container with black light glow-in-the-dark ping pong balls and you have a colorful centerpiece that doubles as a fun activity. Play "glow pong" with any beverage. Set up a pyramid of neon cups on the far end of a table and whoever gets a ball in gets the drink or makes their opponent drink!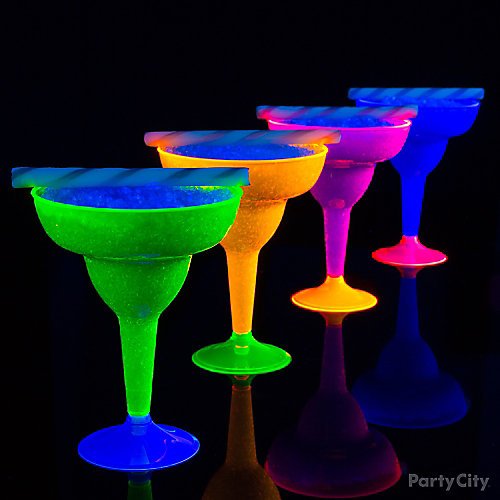 Idea 3: Black light blue margaritas with glowing candy sticks!
To make this margarita, toss ice in a blender with two parts tequila, one part triple sec, one part lime juice and one part blue Curacao liqueur. Blend, pour and garnish the glasses with white candy sticks. They glow in black light!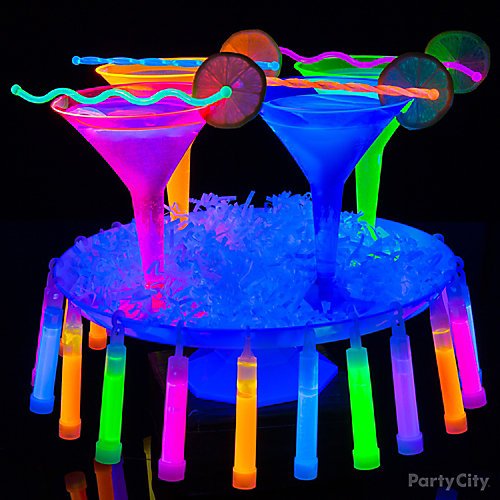 Idea 4: Serve Glow-Tini glow-in-the-dark martinis!
Use neon bright martini glasses and black light for this gorgeous Glow-Tini cocktail idea. Use your favorite gin and tonic martini recipe and display them on a white stand with white paper shred. Be sure to get the type of glow stick that has an open "hook" on the end, and you can easily hang them around the rim of the cake stand.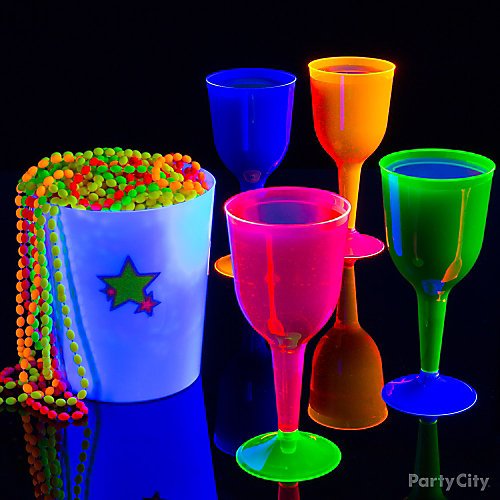 Idea 5: Serve interesting wines in blue, pink and orange!
Interesting colorful wines are the perfect pairing for a neon bright black light bash! Serve bubbly sparkling wines or champagnes in interesting hues to match your glasses. Try a pink moscato, a daring Spanish blue or other fruit wines. Use plastic glasses with removable bases to mix and match your drinkware.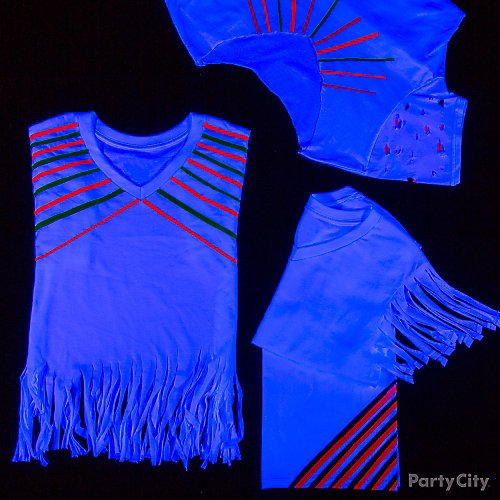 Idea 6: Decorate T-shirts with duck tape
Greet party peeps with white T-shirts and a let them cut away with scissors and decorate with different colors of duck tape to make a style statement. We used pink, green and orange duck tape. Everyone will have something to wear under the black light!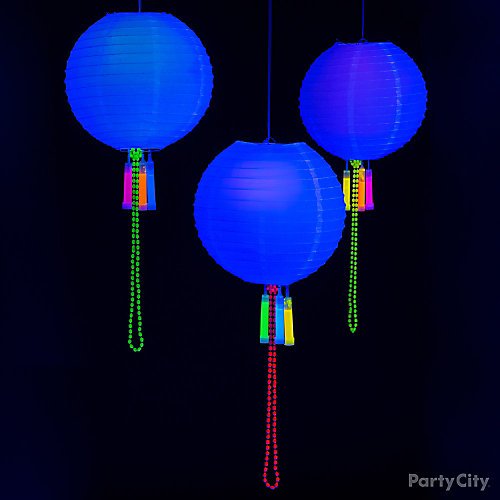 Idea 7: Create luminous lanterns with glow sticks and black light!
White paper lanterns + black light + glow sticks = magical party room. Get the type of glow sticks that come with open hooks and you can hang them inside paper lanterns. Add a string of beads to create an exotic bo-ho look. They'll rave about your luminous lanterns!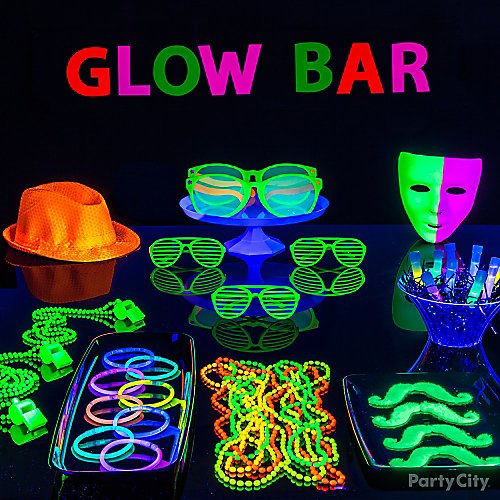 Idea 8: Set up a table of gear and glow sticks!
Have a selection of glow-in-the-dark wearables for everyone to mix and match. Giant shades, shutter shades, mustaches, bracelets, beads, whistles and all types of glow sticks look cool on display and double as excellent favors for your party people.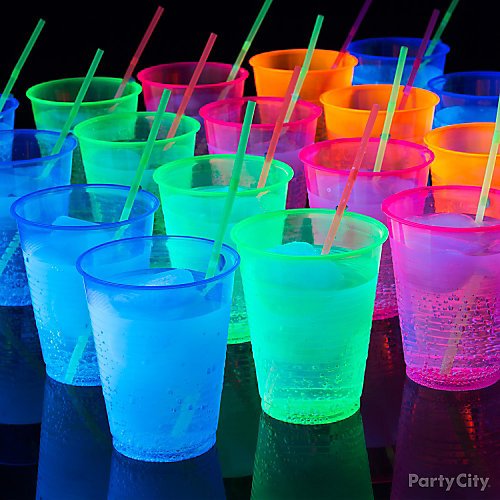 Idea 9: Best black light party drink idea for kids, tweens and teens!
Serve bubbly mineral water or soda in neon cups. Just pick your favorite soda or sparkling cider and toss in some ice cubes. Neon straws in contrasting colors add to the eye candy effect.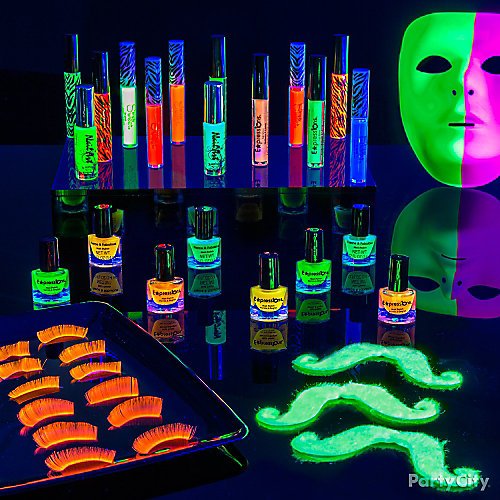 Idea 10: Your party peeps will ♥ a makeup station!
Paint your lips before you paint the town! With all the colors of glow nail polish, lip gloss, lashes and mustaches, there's something black light ready to fit everyone's personality.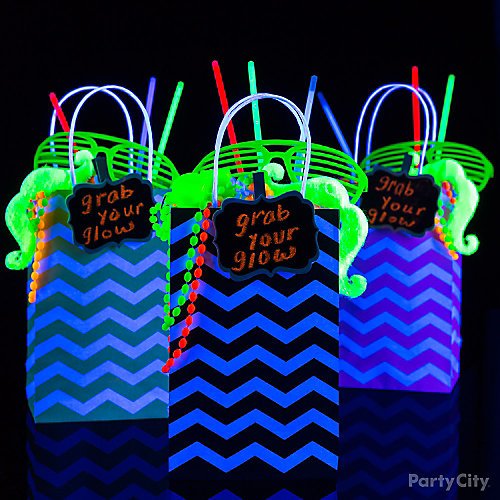 Idea 11: Put out favor bags for guests to fill up!
Create some cool favor bags by adding clip-on chalkboard signs and writing something fun like "grab your glow". Set the empty bags, the white stripes glow under a black light, out on a wearables table so guests can fill them up with their favorite black light party stuff like glasses, mustaches, beads and glow sticks. They can easily take home their gear at the end of the night.