Throw a party that's fit for your fashionista-in-training! We've collected our favorite Barbie birthday party ideas for your little lady so she can celebrate in style. With invites, favors, games, and decorations, we've got you covered.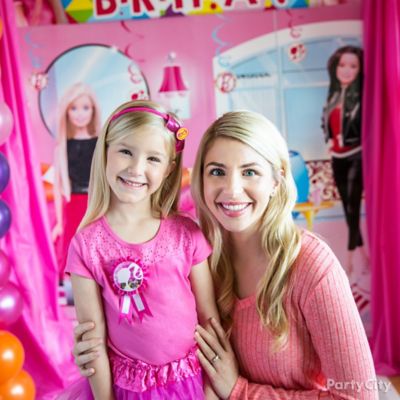 Idea 1: An outfit that is tutu cute!
Let your little fashionista rock her confidence in a special Barbie birthday outfit. With a pink tutu, sequin bow headband, and an award ribbon, she'll feel like a star.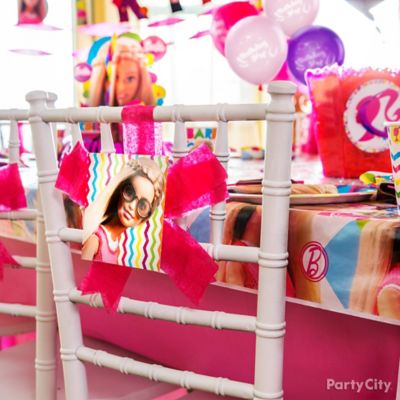 Idea 2: Take a break in custom-decorated chairs
Invite creativity to the table! Give each chair a little flair with an easy chair decoration. Use streamers to create a pink bow for each chair. Attach a Barbie swirl decoration cutout to the front each of flower and your fun and fashionable chairs are complete! For a party of 8, be sure to pick up two packs of swirls so you have enough cutouts. Use extra decorations around the party room.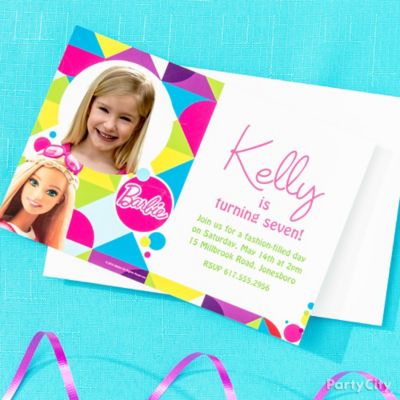 Idea 3: Gather your girls with personalized custom invitations
They'll be sure to save the date when they see these photo invitations. Customize your Barbie invites with fun messages and photos of the birthday girl. Invites are ready to ship in five days and make a perfect scrapbook keepsake.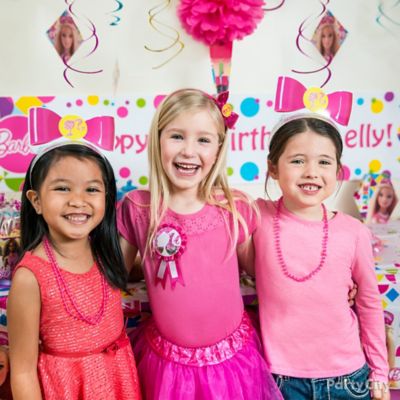 Idea 4: Share bow-tiful love with the besties!
The birthday girl can't dress up alone! With pink Barbie bow headbands, all of her BFFs can participate in fashionable fun. Have a variety of Barbie accessories on hand for all the little fashionistas to choose from.
Idea 5: Stock up on the essentials
Deck out a perfect party room in no time! All you need for a fabulous Barbie table is a few must-have decorations, like a table cover, centerpiece and swirl decorations. Or pick up a decorating kit with everything you need for instant chic.
Idea 6: It's time to strike a pose!
It's time for each little lady to show off her confidence in fashionable and fearless fun! With boas, sunglasses, and headbands, they can choose their own path down the catwalk and show off their own personal style.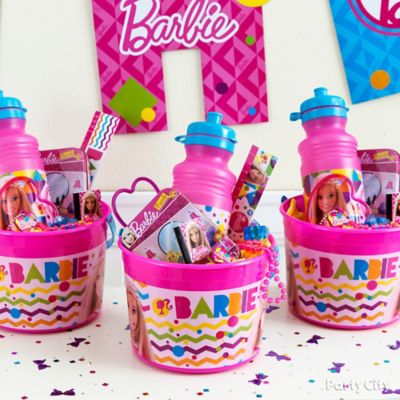 Idea 7: Go all out with a bucket full of favors!
The kids made the birthday fashion show a total hit, so send them home with tons of favors as a thank you. Just fill the plastic buckets with tissue paper and Barbie party favors and you're all set! All the goodies will ensure the fun continues long after the girls go home.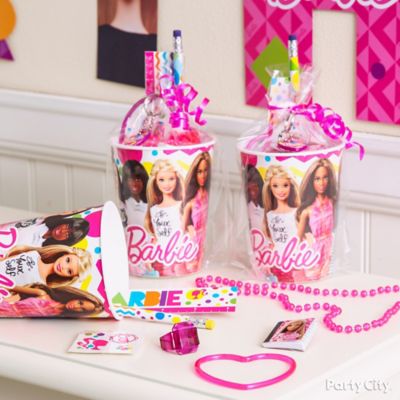 Idea 8: Cute favor cups!
Send each little lady home with a hug, a smile, and a perfect party favor cup! A kit that includes reusable Barbie cups and fun favors is an easy way to put together take-home goodies that they'll all adore.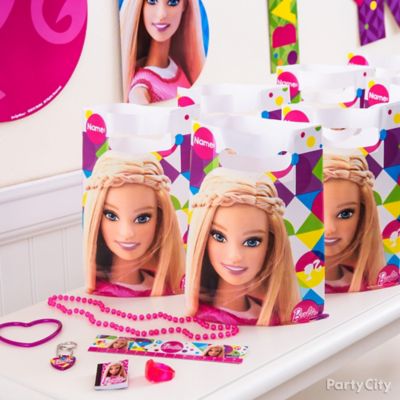 Idea 9: Snap together favors for the girls
Speed up the party prep process with a Barbie favor pack. With bags and goodies for the birthday girl and her BFFs, these favor bags are perfect for fashionistas who are always on the go.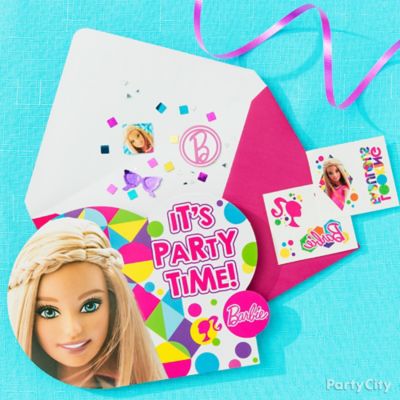 Idea 10: They'll love a VIP party pass
Make their invitations suitable for VIPs. Slip a Barbie tattoo in the envelope, and tell the kids to wear them on the day of the party as their VIP Party Pass — it's sure to get them excited for the big day!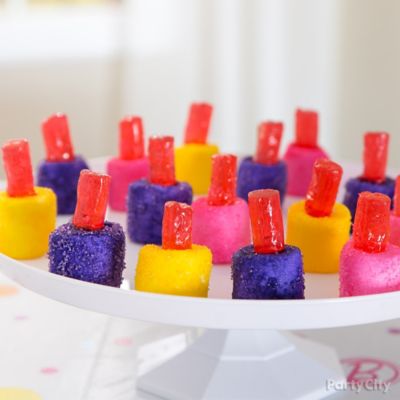 Idea 11: Nail polish treats that are fab
Girls love things that are fun and fashionable, just like these nail polish treats! Grab a bag of large marshmallows, spray them with shades of color mist, roll in sugar, and top with rectangular hard candies to make them look like bottles of nail polish. Simple, sweet, and stylish!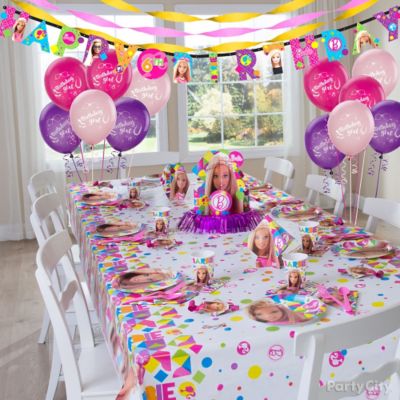 Idea 12: It's a fashion explosion!
Decorate like a pro! The birthday girl and her besties will love this colorful party room and super cool table. Dress up the place-settings with Barbie accessories and add blowouts for a little extra fun. Mix and match your own decorations or choose your favorite Barbie kits and decorate the party room in a snap!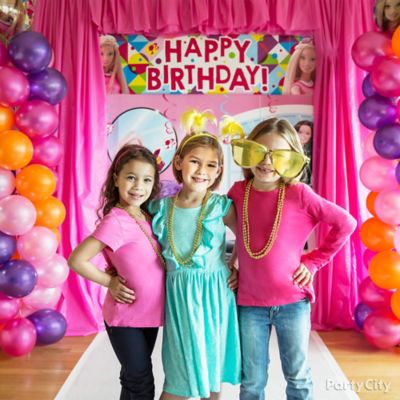 Idea 13: Host a fashion show!
It's time to walk the catwalk — and snap some pics! With giant sunglasses, head boppers, beads, and bow clips, they can strut their confidence in style! Use the Barbie scene setter as a backdrop and host a fashion photoshoot of the girls with silly accessories. Not only will you get cute pics, but the girls will love imagining they're in a real fashion show.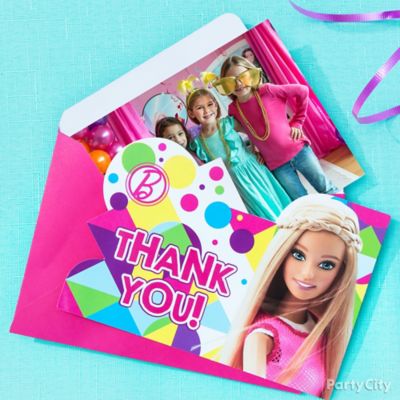 Idea 14: Thank the kids with a photo
The girls made the day a total success, so send them a thank you note and picture from the party. It's a super fun keepsake that your guests and even their parents will treasure.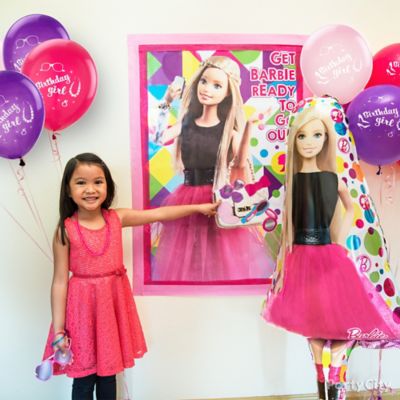 Idea 15: Play the add the accessory game
Help Barbie get ready for the big day! This cute twist on the classic Pin-the-Tail game will have the girls giggling in no time. To make the game part of the decorations, border it with light and hot pink streamers and a balloon bouquet for a fun and stylish look!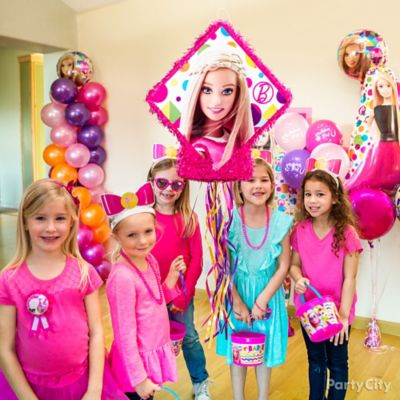 Idea 16: Their smiles will shine brighter than a diamond pinata
Barbie and pink go together like parties and pinatas! Fill this diamond-shaped Barbie pinata with either candy or Barbie-themed favors, and have the girls pick a ribbon to see which one releases all the goodies. When they drop, have them collect favors in Barbie favor buckets!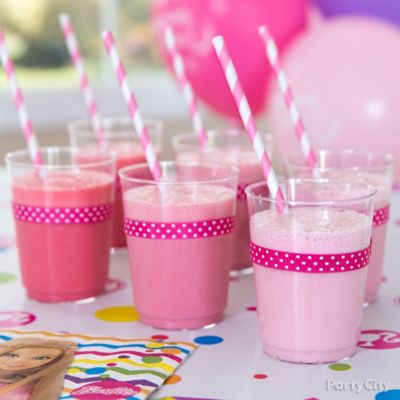 Idea 17: Pretty-in-pink drinks!
Strawberry smoothies in shades of pink look perfect when paired with Barbie tableware! Create an ombre effect by adding strawberry Italian soda syrup to create increasingly darker pink hues. Serve your smoothies in clear cups with pink striped straws. We added a cute polka dot ribbon around the cups for an extra hint of style.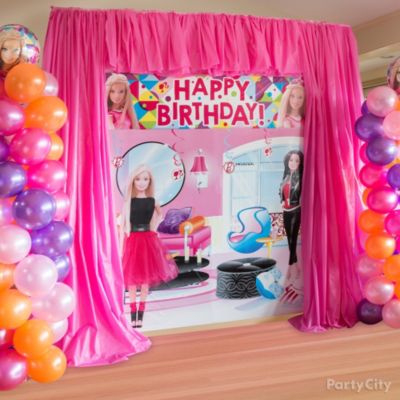 Idea 18: Roll out the runway
Make a fashion runway fit for fashionistas — it's easy with just a few materials! Start by putting up the Barbie scene setter on the wall. Then use three pink table covers over it, gathering at the top, like real curtains. Cut the middle table cover near the top to reveal the scene setter. Then set balloons on both sides and roll out a white table cover on the floor to create the catwalk. All that's left is getting your camera ready for the fashion show!