Design a balloon centerpiece
Bring your own style to the table with a DIY Barbie centerpiece. To make this you'll need a few materials and a little creativity. Just follow our simple How-To. Your Barbie girl will think this DIY centerpiece is fab!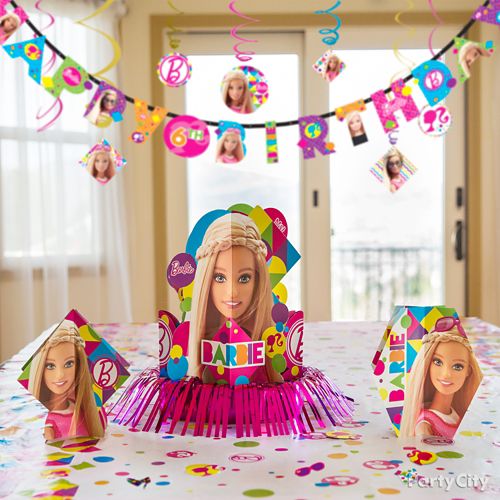 How-To
Supplies:
2 Bright Pink Plastic Scalloped Containers
1 pack Barbie Swirl Decorations
2 Barbie Foil Balloons
2 Gold Balloon Weights
1 pack Yellow Crinkle Shred
OR 1 Barbie Centerpiece Kit (includes all supplies listed above)
1) Inflate Balloons
Inflate the two foil balloons. Helium is recommended to keep the balloons floating above the party table.
2) Attach Balloons to Weights
Tie one balloon to one balloon weight and repeat for the other balloon weight.
3) Add Balloons to Containers
Place one balloon with weight into a pink container and fill the container with shred. Repeat for the other set.
4) Add Cutouts and Complete
Attach a Barbie cutout to the outside of the container with tape to finish the look.