Have friends or family over this summer for some friendly competition when you throw a Backyard Olympics Party. Assign each friend or couple a color, and have them dress in their team color. You can find color coordinated accessories like hats, glasses, and bandanas at Party City. Party City even carries the games themselves. Have your guests play games like washer toss or ladder ball to win prizes.
I created a fun awards table for a backyard Olympics party using supplies from Party City. I covered the table with a silver table covering, then draped a gold table covering around the edge of the table to look like bunting. I layered a silver pennant banner over the gold bunting. Finally, I taped a tissue torch to the center of the table decor.
Supplies:
Plastic Table Covers - blue, green, black, yellow, red, silver and gold
Silver Mini Create Your Own Silver Pennant Banner
Gold and Silver Round Balloons
Gold Satin Round Balloon
White Streamers
Tissue Torch
Ladder Ball Game
Jumbo Trophies
Award Trophies
Award Medals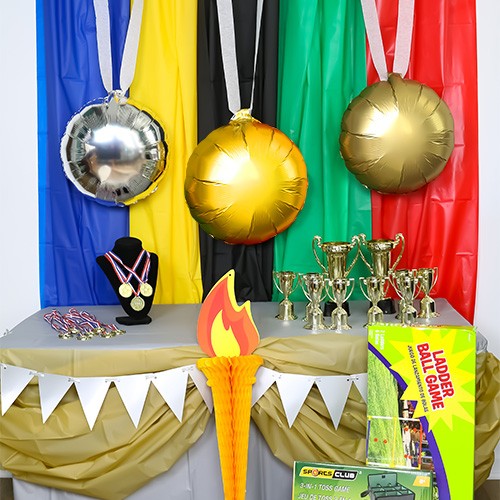 I love to create colorful backdrops for any party tables, whether they are food tables or award tables like this one. I hung table coverings in the five colors of the Olympic rings behind the table. This is a quick, easy, and inexpensive way to add color and drama to your party decorations. I hung three Olympic medal balloons in front of the backdrop.
To make the Olympic medal balloons:
Purchase a gold foil balloon, silver foil balloon, and a gold satin balloon -- but DO NOT have Party City inflate the balloons with helium. Ask them if they have extra straws used for inflating air-only balloons.
Insert the straw into the neck of the balloon and blow the balloon up. Be careful not to over inflate the balloon. Remove the straw and the balloon will seal itself.
Cut a length of white streamer to serve as the ribbon of the medal.
Fold the neck of the balloon over the midpoint of the streamer and tape the neck of the balloon to the back of the balloon.
Hang the streamer in a V to look like an Olympic medal.
Repeat for the other two balloons.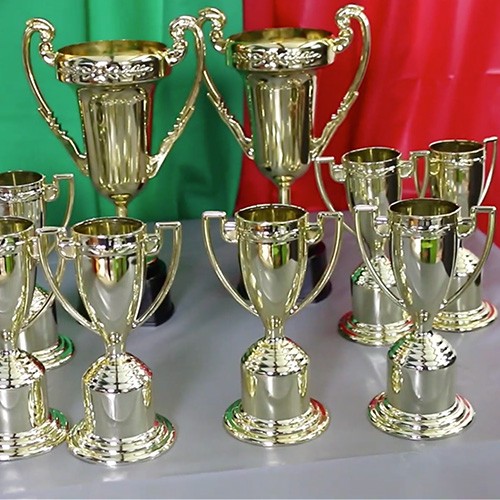 Finally, I displayed the medals and trophies that guests can win on the table. The winners of each game earn a medal for that game. The team that wins the most games overall is awarded the large trophies. All other teams get a smaller trophy.