I don't know about you, but I am missing the beach so much this year. So I thought, why not create a luau in my own backyard? I didn't let the Oklahoma winds stop me, either!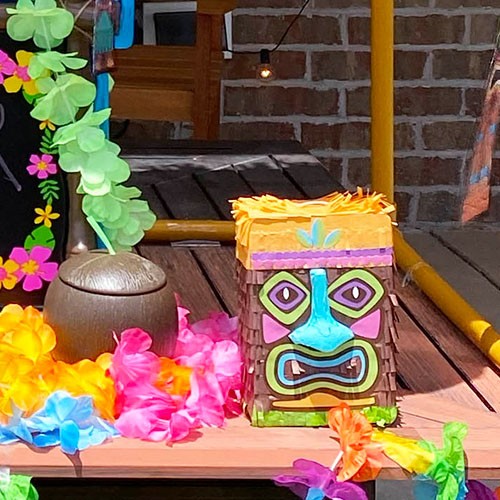 Party City items you will need:
Tiki Hut Deco Kit:
Hula Girl Yard Sign
Tiki Bar Hut
Tiki Flower Garland
Hibiscus Paper Lanterns (5 ct)
Tiki Chalkboard Sign
Tiki Pinata Decoration (2)
Flower & Leaf Maile Lei Accessories
Rainbow Flower Leis (6 ct)
Coconut Cup with Straw (2)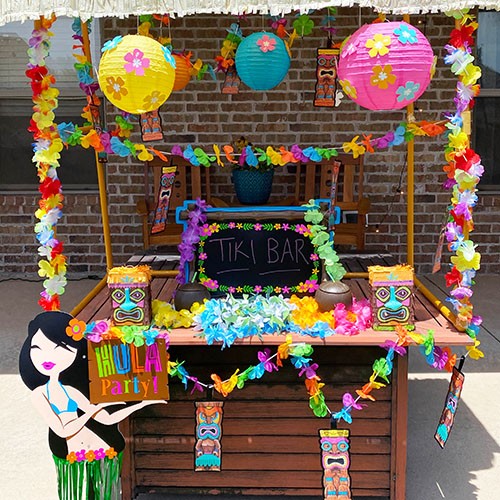 Here's how to set up the decorations:
1. Build Tiki Bar Hut. Place on an outdoor table.
2. Insert Hula Girl Yard Sign into grass.
3. Use Tiki Flower Garland to drape across the back horizontal bars of the Tiki Hut and the front bar, then wrap flower garland around front vertical bars.
4. Hang Hibiscus Paper Lanterns (make sure you stick the flowers to the paper lanterns before hanging to make them even more festive) from inside Tiki Hut.
5. Using chalk or a chalk marker, write "TIKI BAR" or whatever you like on the Tiki Chalkboard Sign. Place Tiki Pinata Decorations beside the sign.
6. Use Rainbow Flower Leis and Flower and Leaf Maile Lei Accessories to decorate table and hang on Tiki Chalkboard Sign (or feel free to wear instead!).
7. Place Coconut Cups with Straws (filled with Luau punch) for guests to enjoy!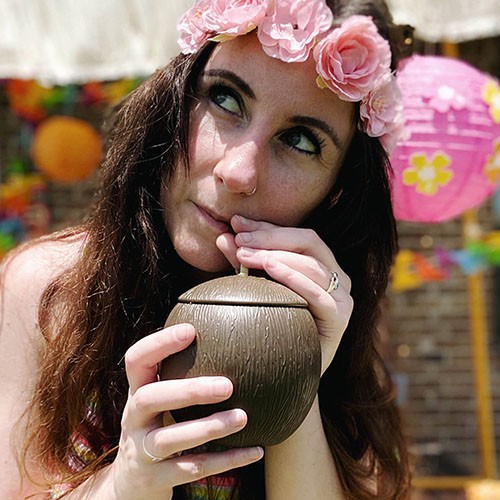 How to make Luau Fruit Punch:
1. Fill ⅓ of coconut cup with frozen fruit of choice (I used mixed fruit).
2. Top off with your favorite prepared fruit punch.
3. Enjoy!