Instead of planning a trip, how about creating a chill island vibe on your own patio? Staycations are trending, and we have your easy-breezy party style guide for a fully relaxing retreat with your favorite people. If you're craving a break from adulting, we can't think of an easier way to experience "island time" than with on-trend recipes for creative cocktails and new ideas for light, refreshing bites.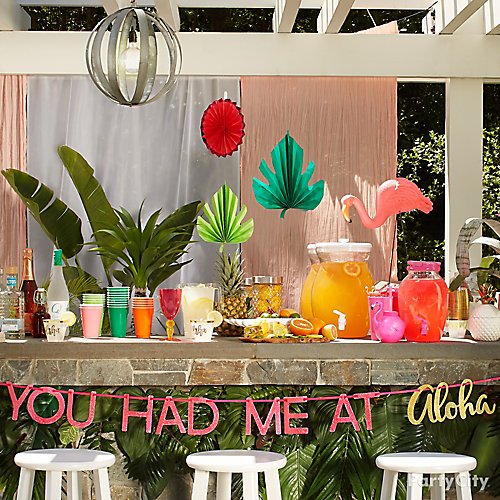 Idea 1: Trend tips for a stylish bar
All you need are a few key items to create a comfortable, colorful space for summer gatherings. Our recos: style a bar top with ceramic and real pineapples, retro lawn flamingos, clear drink dispensers and a mix of colorful cups. It's only fitting to include a "You had me at Aloha" garland decked out with fresh palm fronds and recreate the tropics with a backdrop of paper fans and leaves.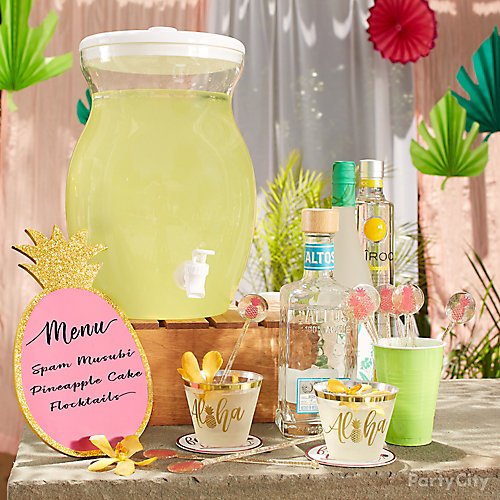 Idea 2: A pineapple party calls for the appropriate drink
Pineapple margaritas are the perfect summer luau party drink idea because they're refreshing and simple to make. Sweeten the presentation with a handwritten menu sign you can create using chalk marker pens. Combine in a blender: 4 cups pineapple juice, 1 cup tequila, ¼ cup fresh-squeezed lime juice, 1 tbsp. fresh-squeezed orange juice, 1/2 cup Cointreau or other orange liqueur and 2 teaspoons light agave syrup. Style with picks and flowers. Fill a dispenser for self-serve refills.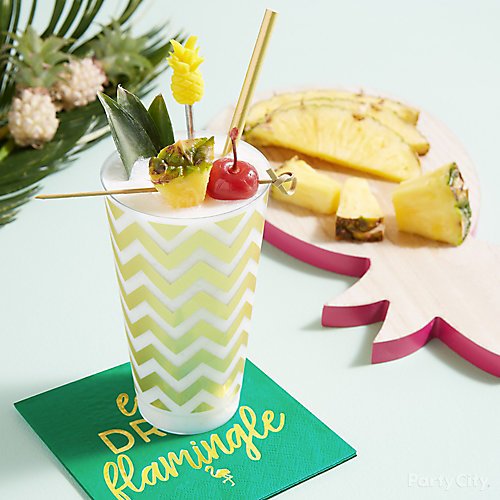 Idea 3: You're golden with this take on the classic tropical drink
A signature statement cocktail is a special touch that will make your gathering memorable. And, if one of your #summergoals is to bring the beach to your backyard, this drink needs to be in the mix. Recipe: rum, pineapple, coconut milk. Garnish: pineapple and cherry on a pick and natural leaves. Styling: gold metallic straw, pineapple drink stirrer, flamingle beverage napkin.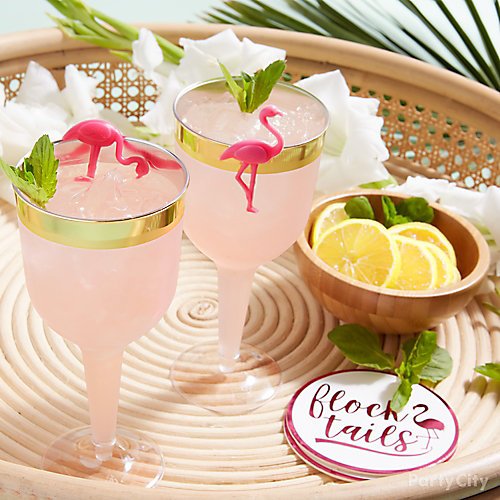 Idea 4: Flocktails poolside? We're in!
Separate yourself from the flock with a next level drink presentation that's Instagrammable. Up your style game with gold-rimmed glasses, clever coasters and matching drink charms. Take a cue from the retro flamingo theme with a Pink Flamingo: Pour Pink Moscato over crushed ice with a squeeze of lemon and sprig of mint. Other drink options: Prosecco with a splash of pomegranate or vodka-spiked pink lemonade.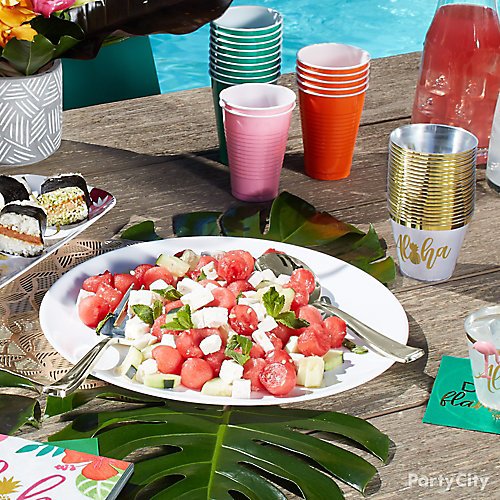 Idea 5: Keep salads light and fresh
A chopped fruit and veggie salad with cheese will balance out summer days filled with hotdogs and ice cream. Our version was made with watermelon balls, cucumbers, feta cheese and fresh mint. Choose a Feta in a jar and add all the contents to create a simple dressing. The color scheme is on point for a stylish Aloha party!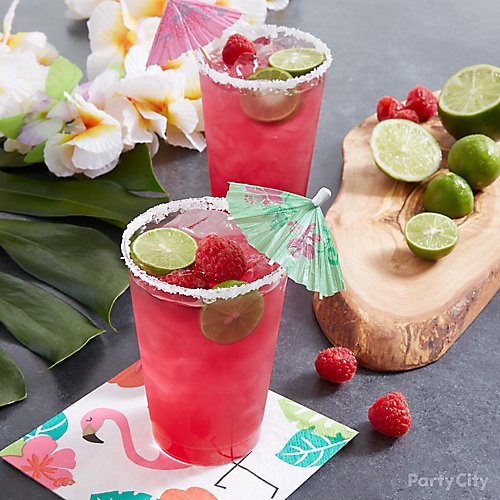 Idea 6: Fresh syrup makes this margarita berry delicious
Making a "simple syrup" for cocktails is really is just that, simple. It's fun to do and will be the subject of conversation at your summer luau gathering. Here's how: combine 1 cup raspberries and 1 cup strawberries with a cup of water and ¾ cup sugar, simmering for 5 minutes. Let cool, strain, set aside. Next, salt glasses by rubbing with lime and dipping in salt. Fill glasses ¾ with ice, then mix your drink in a shaker (make in batches of 2): ½ cup berry syrup, ½ cup lime juice,1 cup tequila and a handful of ice. Pour margaritas and garnish with mini lime rounds and paper parasols.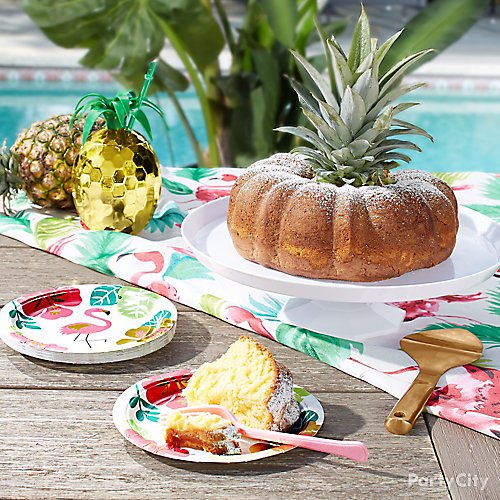 Idea 7: This Luau party hack will take the cake
Upcycle a fresh pineapple top by creating a pineapple icon Bundt cake. Keep it simple with a store-bought cake or go all out with a made-from-scratch creation. Sprinkle with powdered sugar and display on a cake stand for height. Colorful flamingo plates will complete this pin-worthy dessert station.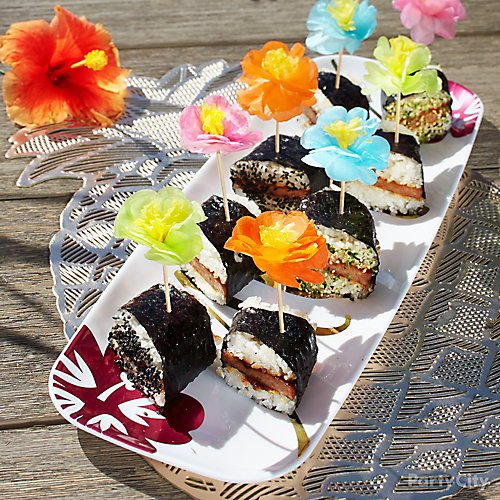 Idea 8: Impress with an authentic Hawaiian snack
Spam musubi is a popular food in Hawaii. Prep this clever luau appetizer day-of, chill, and serve on an Aloha tray styled with tropical flower picks. Recipe: to make a marinade for the Spam, mix ¼ cup soy sauce, ¼ cup oyster sauce and ½ cup white sugar until dissolved. Slice meat and marinate for 5 minutes; saute until lightly browned. Prep as you would any sushi: cook rice, layer with Spam and wrap with seaweed sheets.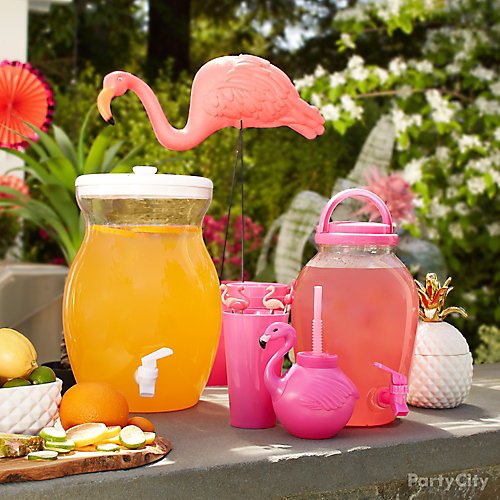 Idea 9: Add color to your luau with tropical drinks
Beat the summer heat with a chill display of fruit juice. Clear drink dispensers will show off summer colors of mango-orange juice and pink lemonade. Place dispensers at the edge of the bar or on rustic crates to add height. Include stacks of solid cups along with fun iconic sippy cups. Create a gorgeous display with bowls of whole limes, oranges and lemons and sliced fruits on cutting boards for drink add-in's.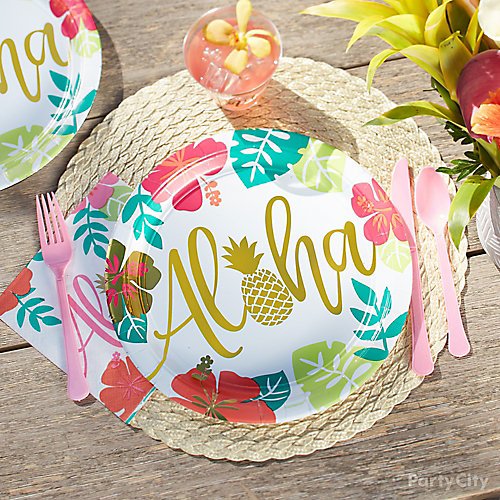 Idea 10: A new take on the luau tablescape
Your celebration will feel like an afternoon at a Hawaiian resort, but better – because every element of your party is curated with style and personal touches you've chosen with your family and friends in mind. Case in point: this simple, pretty place-setting that combines trendy plates, bright-hued cutlery and a refreshing pink drink in a tumbler that's styled with a tropical flower.