Creepy and classic drinks for a haunted Halloween party. A bewitching bar of shriek-worthy sippers! Brew up a table of boooos-y drinks your grown-up goblins will love! Here you'll find a cemetery full of Shocktail ideas and serve up a to-die-for bar that'll quench the thirst of all monsters, mummies and vampires.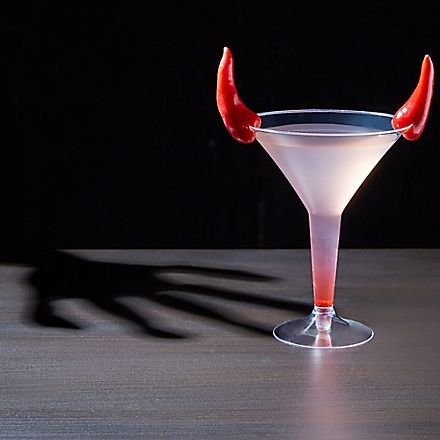 Devil Horn Cocktail
Serve up this cocktail with a devilish grin: the spicy kick will be a nod at the "trick" in trick 'r treat.
2 oz Grapefruit Jalapeno vodka
3 oz red grapefruit juice, freshly squeezed
1/2 oz simple syrup
Squeeze of lime
Grenadine and small red peppers for garnish
Combine first four ingredients in a shaker with ice. Shake until well combined, then pour. Add a few drops of grenadine to the bottom for an eerie red effect, then hint at this drink's sweet heat by garnishing with jalapeno pepper horns.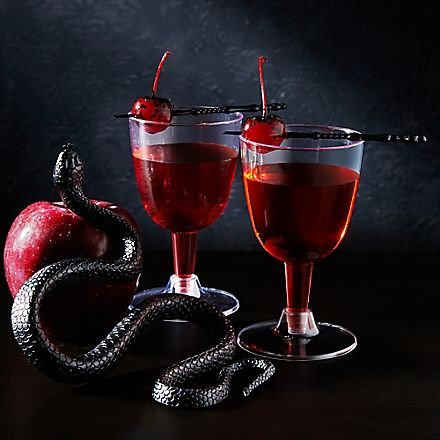 Cherry Poison Appletini
Every witch knows the story of the famed poisoned apple. This diabolically delish custom cocktail will be a hit on Halloween night.
2 oz apple-flavored vodka
1 oz maraschino cherry juice
Cherries and black sugar sprinkles for garnish
In a shaker, combine vodka and juice with ice and shake vigorously. Strain into a clear wine glass. Carefully slip a pitted cherry onto a stirrer and balance on the rim. The devil's in the details, so finish each drink with a pinch of black sugar sprinkles on the cherry.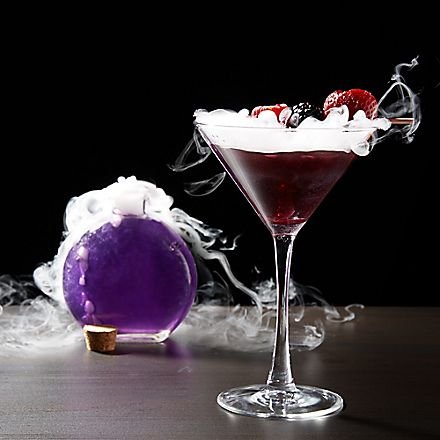 Unicorn Blood Gin Cocktail
One taste of this dark, magical potion will leave your friends convinced you're a sorcerer. It may not make you live forever, but it'll definitely be delicious.
6 blackberries
0.5 oz lime juice
1 oz simple syrup
1.5 oz gin
2-3 oz tonic water
Dry ice, block or powdered (optional)
Strawberries, raspberries, and blackberries for garnish
While wearing gloves, add about a teaspoon of powdered dry ice or a small chip of a dry ice block to the bottom of the glass.
Drop the blackberries and lime juice into a cocktail shaker and press the ingredients using a muddler. Fill with ice, gin and simple syrup and shake for 10 seconds. Use a fine mesh to strain the cocktail into your serving glass and serve immediately. Let your guests know the potion is ready to drink when the smoke dissipates.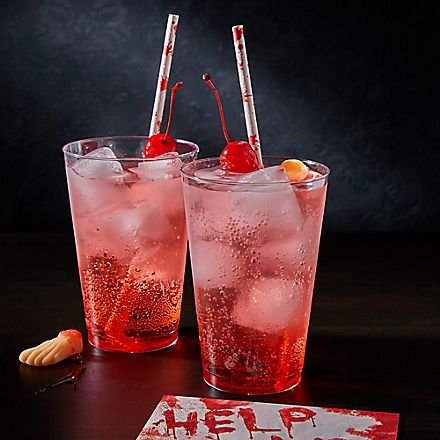 Gory Grenadine Cocktail
This sweet and fruity cocktail has an added gross-out factor when garnished with a straw printed with blood spatters.
1 oz grenadine
Ice
½ oz lime vodka
4 oz lemon-lime soda
Maraschino cherries for garnish
Pour grenadine on bottom of glass, then add ice. Pour the vodka slowly over the ice, then slowly add the soda. Garnish with cherries and a "bloody" straw.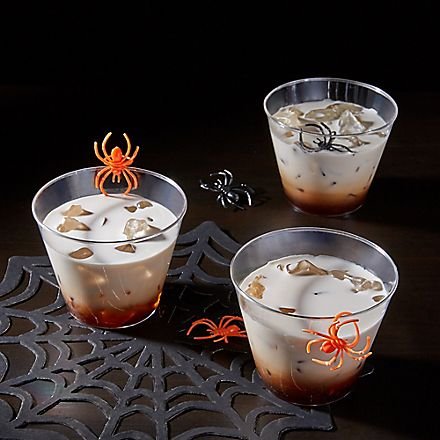 Spider Bite Cocktail
Serve a White Russian with a creepy-crawly twist for Halloween.
2 oz vanilla vodka
2 oz Kahlua
Half-and-half
Add ice to cup. Add vodka and Kahlua, then finish with half-and-half, pouring slowly to keep the layered effect. Garnish with an orange or black spider ring and serve on a web doily.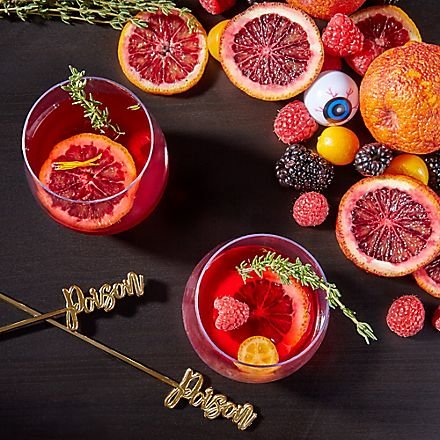 Blood Orange Rum Punch
This refreshing cocktail gets its shocking blood-red hue from raspberries and blood orange juice.
2 oz rum
3 mint leaves

2 oz simple syrup
Juice from 1 blood orange
Juice from 1 small lime
Juice from 1/4 cup raspberries, strained
Sparkling water
Muddle mint and rum for about 30 seconds, then remove mint leaves. Add simple syrup and juices, stir. Top with sparkling water and serve with a "poison" stir stick.
Inky Black Poison Cocktail
We love these "poison" cups so much (they're perfect conversation starters!) that we *had* to make a special cocktail for them.
Brush your cup's rim with simple syrup, then dip in gold and black sugar sprinkles and let dry.
1 oz black vodka
2 oz blueberry or cherry juice
1 cup ice
Lemon slice for garnish
Shake with ice in a shaker, then strain into your cup. We also added black gel food coloring to a slice of lemon to achieve that green-black color.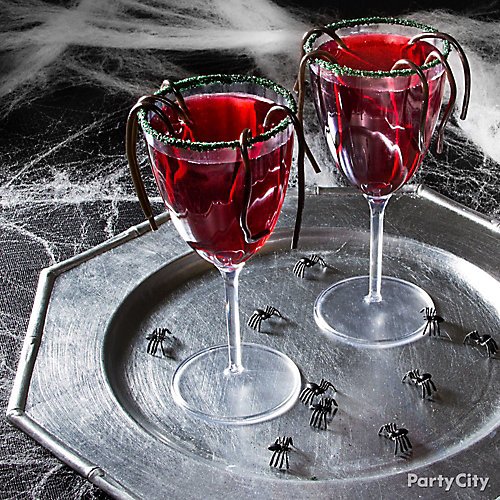 Idea 7: Black Widow Cocktail
Turn up the fright factor by placing mini spiders around your drinks display. To make a Black Widow mix 1 oz. of Anisette, 1 oz. of blackberry brandy, 1-1/2 oz. of vodka and 1 splash of Creme de Cassis together. Add Black Sugar Sprinkles around the rim of each glass and sling black licorice strips over the edges of your glasses to create "spider legs" and really creep out your guests.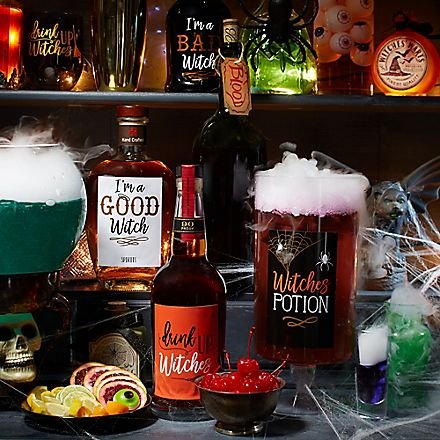 Ready to throw your own spooky soiree? Click here for more inspiration on how to throw this wickedly elegant Halloween party.