Holidays, Themes, Occasions
Holidays, Themes & Special Occasions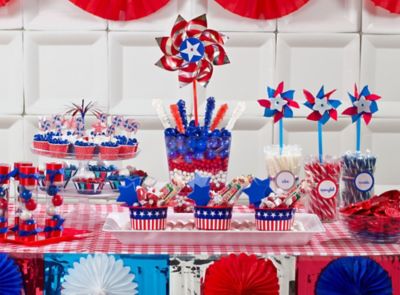 FEATURED ARTICLE
Patriotic Sweets and Treats Ideas
Star-spangled desserts and patriotic party treat ideas. Salute our sweet land of liberty with a candy buffet! A spread of treats is as American as apple pie! We have delicious dessert ideas to satisfy everyone at your patriotic party — whether it's at school, the park or your backyard. A sweet land of liberty, indeed!
Holiday Party Themes — Holiday Party Ideas
Let's admit it — we ALL live for the holidays, a break from the work-a-day grind and a chance to reconvene with family and old friends for another round of memories to last a lifetime. Maybe you're planning a traditional holiday dinner this year, or maybe you're decorating the office for a friendly competition with co-workers. No matter how you celebrate, our holiday party themes and holiday decorations set the tone for a season of family and good cheer. From affordably priced hanging decorations, table decorations, balloon bouquets, and themed pinatas, to deluxe Santa suits and Easter Bunny costumes made to last a lifetime, we offer holiday party supplies for every budget and taste, available in a broad range of colors and patterns. Does your family observe Hanukkah instead of Christmas? Passover instead of Easter? Yes, we carry an entire line of holiday party themes for Hanukkah and Passover, as well as other holiday supplies not found on many other sites.