Decorate your grad party with bold zebra stripes and bright pink everything! Let your grad and her BFFs enjoy their moment in style! They've worked hard for years. Now, it's time to celebrate! Get out your camera and snap pics of the graduating superstars wearing star sunglasses, sparkly tiaras and beads galore. Browse this page for more wild pink and zebra party inspiration. We have an unforgettable memory table, wildy adorable table decorating tips and tips for photobooth fun!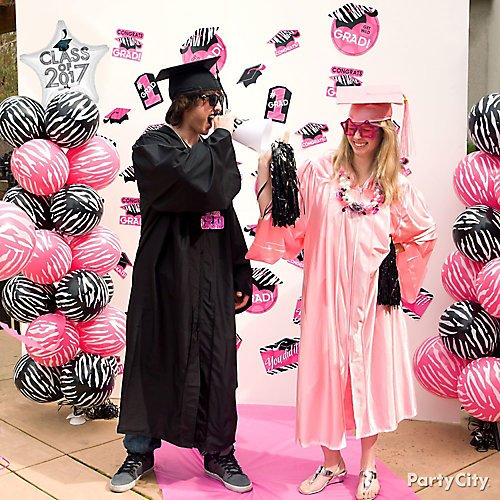 Idea 1: Set up a red carpet photo op for the grad VIPs!
Throw a party with decorations as bright as your grad's future! Start the party at the entrance with a "red" carpet photo op for your VIPs! Use a roll of pink tablecover for the "red carpet," and create a cool backdrop with paper cutouts and balloon columns. Tell them to pose for the paparazzi and shout School's out! (Sturdy poster board available at Party City stores.)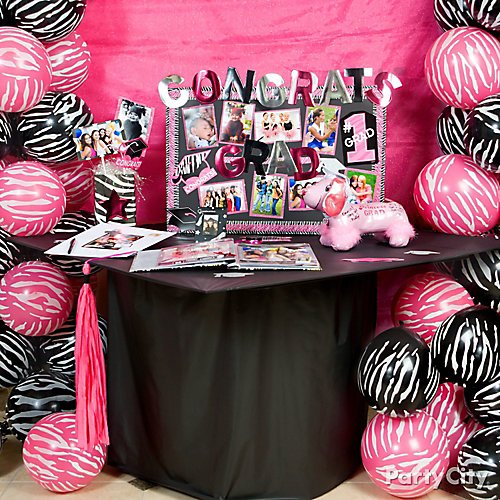 Idea 2: Fun memory station idea: Make a giant grad cap table!
Everyone can sign memory books and autograph dogs at this cute grad cap table with a pink tassel! It's easy to DIY: Use black plastic table covering (available in rolls) to drape a small table and a piece of sturdy cardboard for the mortarboard. For the tassel, cut long strips of crepe streamers, tie together with curling ribbon, and create a loop on the top out of ribbon. Make the "button" using a mini grad cap and hang your tassel from it! Hats off to this cool idea! (Sturdy poster board available at Party City stores.)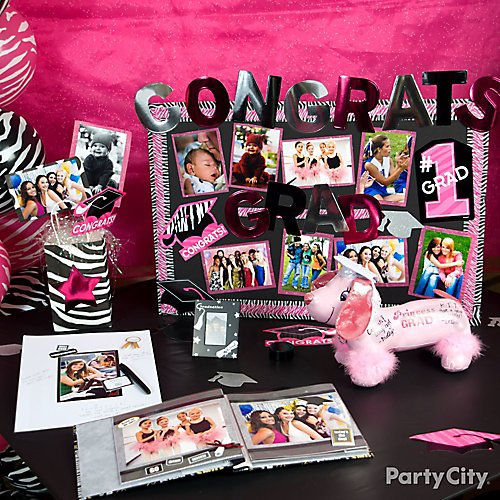 Idea 3: DIY a sweet School Days poster!
Remember all the fun – from grade school to good times with besties! To make a "through the years" poster, start with black sturdy poster board, fill with photos, and doll it up with crepe paper and grad cap cutouts. Metallic lettering looks fab – and our create-your-own banner kit lets you DIY any title or the grad's name. Your poster is the perfect backdrop for a table filled with happy memories – like scrapbooks, photo frame party favors, an autograph pup and a sign-able photo frame! (Sturdy poster board available at Party City stores.)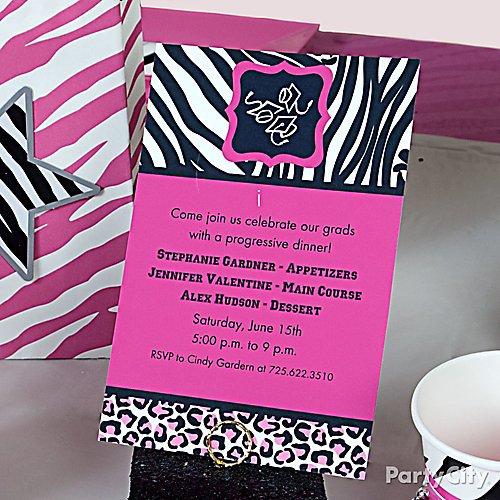 Idea 4: Throw a "grad crawl" party and share the fun!
The grads want to celebrate with family and friends – so make it a progressive grad bash! Have the appetizers at one grad's house, the main course at another's and finally the dessert! Pick out the invitation that most matches your wild pink theme, and have your custom message printed on the front at your Party City store or online. These cute cards look great on the table, too – display them on grad balloon weights that have a handy metal loop on top that's perfect for holding a menu card!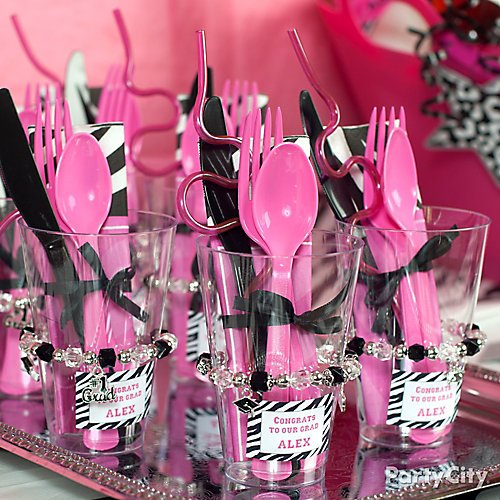 Idea 5: Make grab-and-go cutlery cups
Serve a buffet-style meal with cute cutlery sets that guests can grab on their way to their seats – no more juggling a plate of food and drinks while trying to grab a fork! Tie black ribbon around pink and black cutlery, a crazy straw and a zebra napkin. Pop them in a cup with a cute label in front and slip on a grad charm bracelet. Everyone will see where the grad gets her brains from! (Visit a Party City store for the best selection of customizable tags. We used Zebra stickers with a pink "school letters" font.)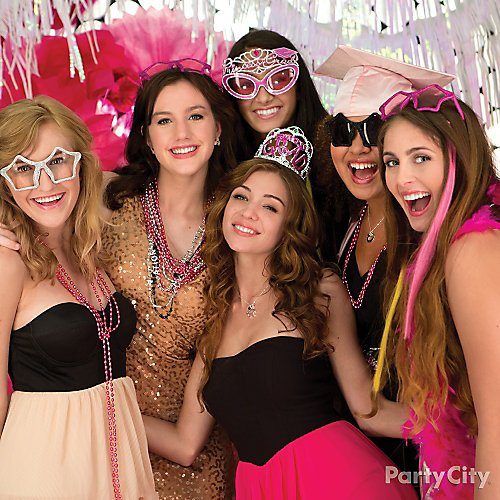 Idea 6: Your grad and her besties will love a pretty in pink party!
They've worked hard for four years, time to celebrate! Let your grad and her BFFs enjoy their Instagram moment in star sunglasses, sparkly tiaras and beads galore! We have an unforgettable memory table, wildly adorable table decorating tips and more ideas for photo booth fun. Layer it on, girls – it's your day to shine!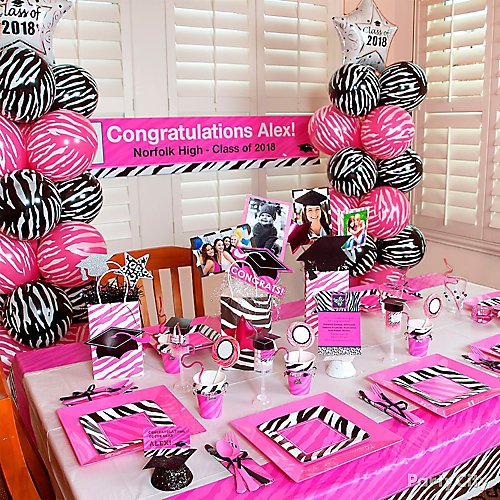 Idea 7: This year, style is taking over grad parties in a big way!
An A+ look for on-trend grads! She'll love you for it when you do a wildly adorable pink and zebra bash. Hang up a custom banner with her photo and graduating year and go to town mixing and matching balloons, tableware and favors in your party colors: black, white, pink and your fave animal prints. Then show off your diploma in decorating!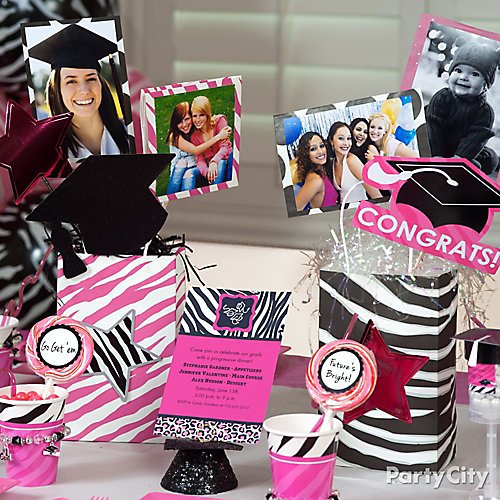 Idea 8: Need a centerpiece? Ace it with these easy photo bouquets!
Here's an A+ decorating idea that's definitely within budget! Make a custom centerpiece by taping school photos on bamboo skewers and sticking them into animal print favor bags. Add glitz by filling the bags with shiny tinsel and styling them with metallic star cutouts and grad cut-outs. You can cut up a few bags and tape them to the photos to create animal print frames. Perfect for filling a long table and decorating all over the party!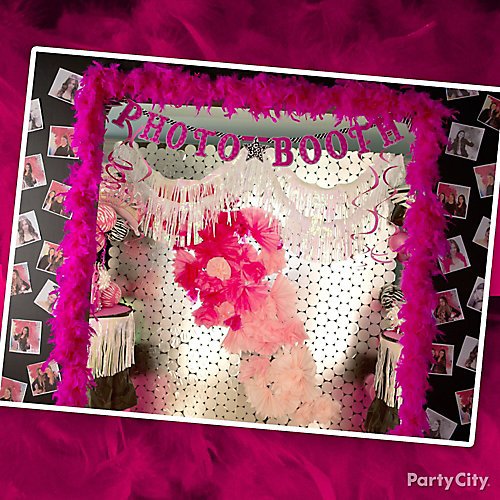 Idea 9: Your fashionista grad will love this photo booth!
Set up a grad photo booth with glam! Pink boas and irridescent foil garlands transform the party into a VIP hot spot! Make a photo booth sign using a pink and zebra create-a-sign kit, and create this amazing DIY silver reflective backdrop by cutting circles out of silver paper and mounting on sturdy poster board (both available at your Party City store). Fill the wall with DIY paper flowers made out of several shades of pink tissue paper… a picture-perfect ombr'e background for the grad royalty!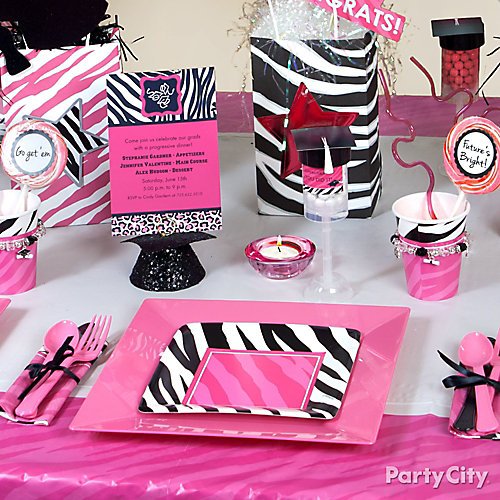 Idea 10: Pink and zebra is trending… your grad will love this tablescape!
She's earned her dream party, so go all out with pretty details like pink chargers under the plates, coordinating packets of cutlery tied up with black ribbon, votive candles at each place-setting and cute lollies labeled with grad messages like "future's bright!" and "go get 'em!" Make it memorable by setting out custom menu cards and unique DIY candy favors.
Idea 11: Grad funwear = Twitter-ific pics!
Hand out grad-theme swag and photo props like megaphones, glam boas, hats and funny glasses – for grad photos that score extra credit in the style department! You can find funwear in just about any school colors, so have a blast. Don't forget beads, pink tattoos and some super-sweet graduation leis made out of candy! See how we made it in our Grad Candy Lei How-To. #bestgradpartyever!