Spoil them with cupcakes, candy, cookies & smart ideas for drinks! She did it… sweet! They're graduating! Go all out with a diva-licious dessert table decked out in wildly adorable pink and zebra! She'll love a custom banner with her name printed on it and this crafty DIY garland made with school photos and fun grad paper cutout signs decorated with pink ribbon. Study our super-cute dessert and drink ideas and how-to's!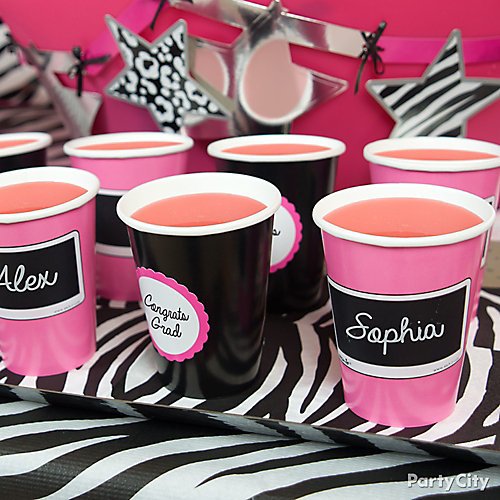 Idea 1: Neat ideas for labeling the cups!
Keep drinks with their rightful owners by putting these trendy scratch-off labels and colorful stickers on your cups! Your grad can "tag" the cups with her friends' names and fill them up with yummy pink lemonade. Try placing the cups on metallic trays lined with zebra napkins for a stylish statement!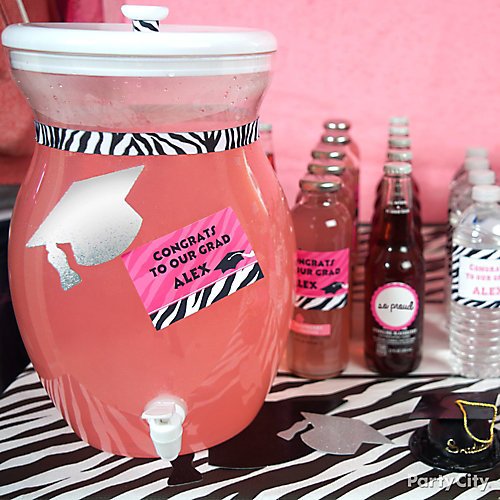 Idea 2: Make the drinks station pop with silvery touches!
Silver is the perfect accent for pink and zebra! To create a custom-look beverage bar, start with a plain transparent dispenser. Fill with lemonade (pink, of course) and add some zebra ribbon, a fun custom sticker and a silvery grad cap cutout. So simple to do and it looks like you used a party planner! (Zebra Grad sticker in size large available at Party City stores.)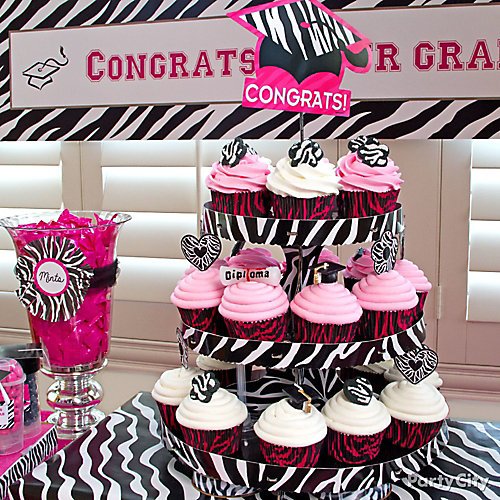 Idea 3: Stylish cupcakes + a touch of grad = A+ dessert tower!
A pink and zebra party gives you super-cute options for baking, creating an awesome dessert table, and giving your grad a stylish party she'll love! Mix and match a zebra cupcake stand with your fave baking cups, picks, sugar deco and themed candles (like teensy grad caps and diplomas!). To add height, cover a sturdy box with zebra paper. Top it off with a grad sign and you've really made the grade!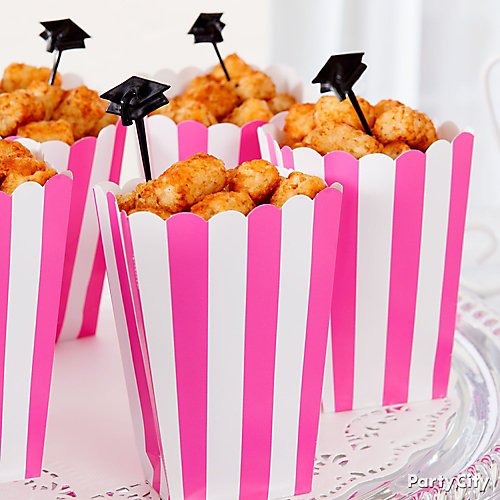 Idea 4: Toss back some tater tots!
Tater tots on a silver platter are cafeteria-styled genius. Make a large batch of tater tots (they're going to go fast), and fill striped popcorn boxes with them. Add a grad cap picks and place all of them on a platter with a doily. The grab-and-go boxes make this the perfect treat for mingling. Time to celebrate!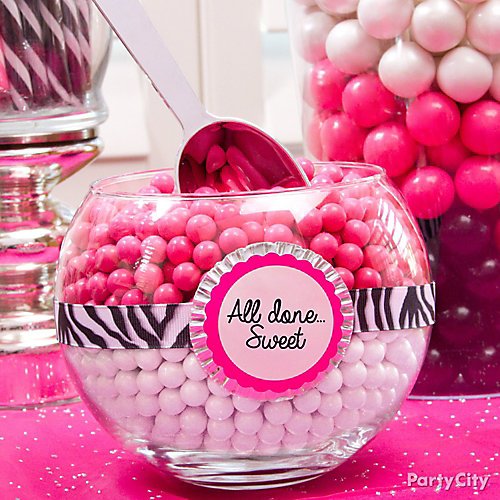 Idea 5: Display candy in a cute DIY zebra-striped display!
Just scoop on the Sixlets®! When partygoers are on the prowl for a yummy treat, have them scoop up their fill of candy! Styled with zebra ribbon, a silver baking cup and a DIY label, this treat bowl dishes up the fun. Tip: Everything on your grad's candy table can play off this super-chic take on pink and zebra!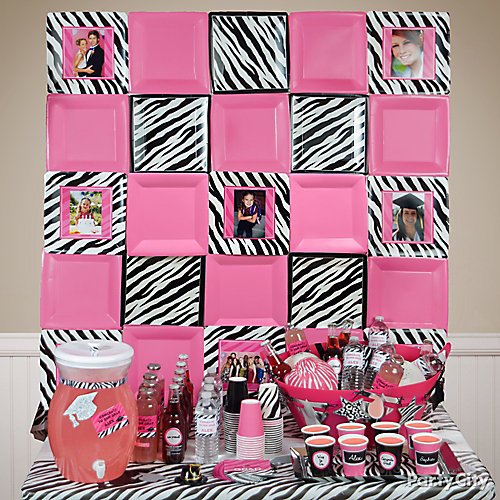 Idea 6: Make a wall of photos that says "cheers" to her school years!
This cool backdrop is made with paper plates and personal photos. Choose square plates in solids and patterns and tape them to a sturdy poster board (available at Party City stores). Add small photos of her school memories and you've created super-cool DIY photo frames that match the party! You can also invite guests to write messages to the grad on the plates. It will be a special keepsake she'll want to hold on to!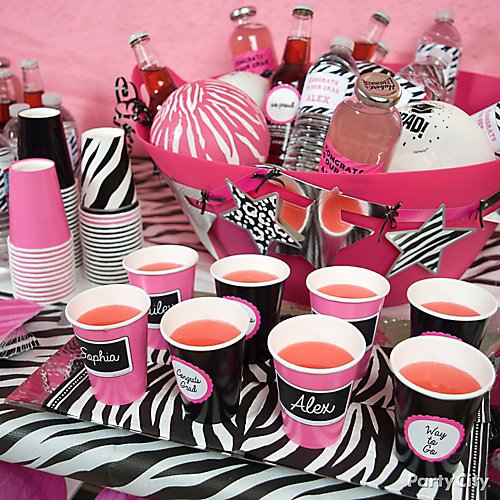 Idea 7: She passed! Go wild with a zebra print drink station!
We love this look! Pink drinks are fun, fresh and chic in a DIY party tub. A garland made from metallic paper cutouts looks perfect against pink (this one is made with stars from create-your-own-banner kits). Fill the tub with bottles of water, lemonade and berry juices along with frozen balloon "ice." The cute DIY drink labels give your party a little more pomp and circumstance! (Zebra Grad stickers available at Party City stores.)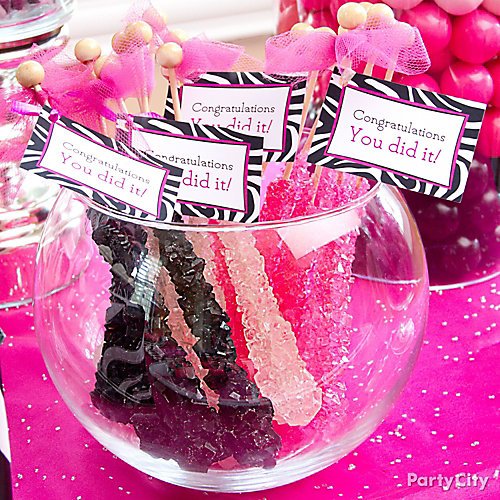 Idea 8: Say you rock with rock candy!
Custom tags make these sparkly sensations super-cute! Ideas for personalizing tags for grads: a congrats message, their school name, each grad's name, or Class of 2018 Rocks! Add little fluffy tulle bows to the handles and and put them out in a crystal clear bowl and these trendy treats will grab the spotlight… until they get gobbled up!. (Container and custom tags available at your Party City store. We used Cute Grad Girl tags.)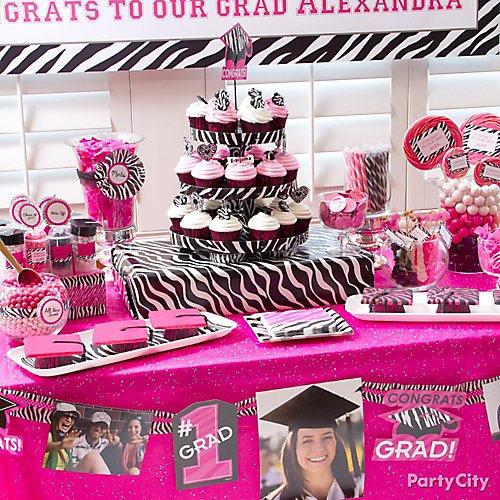 Idea 9: Go wild with a grad dessert table!
Your grad will go wild for this adorable pink and zebra theme! She'll love a custom banner with her name printed on it and this crafty DIY garland made with school photos and fun grad paper cutout signs strung together with pink zebra duct tape.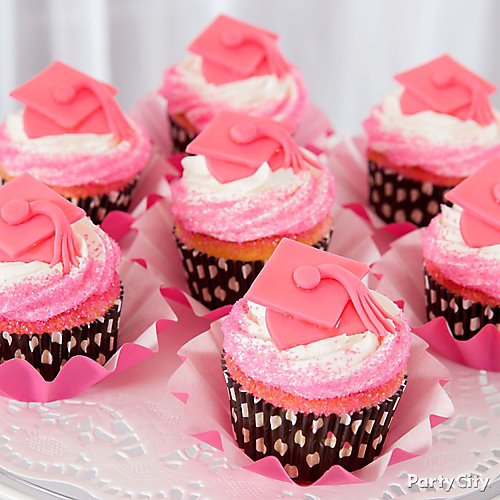 Idea 10: Grad cap and polka dot cupcakes
Design cupcakes as smashing as your grad! Just start with the polka dot baking cups, white icing, and pink sprinkles. Use pink fondant squares, strips and dots to assemble the hats, and place the cupcake on a large wave baking cup. Between these adorable fondant toppers and double-layered baking cups, they look as cute as they taste.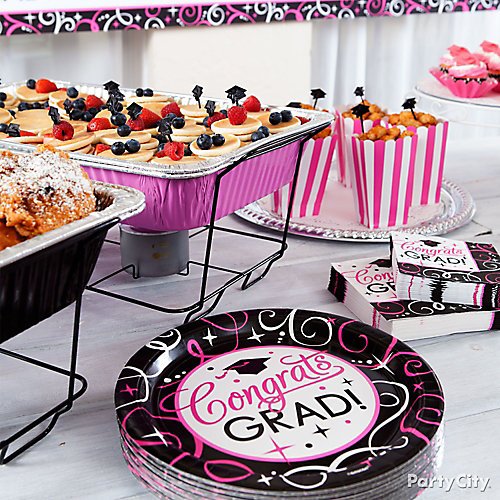 Idea 11: Serve bright colors and hot food!
Did your grad skip breakfast to make it to graduation on time? No worries, just serve pancakes and berries alongside chicken and waffles and the party will smell like heaven dipped in syrup! Everyone will get in line and gladly eat off these fun and colorful graduation plates. Choose coordinating pink and black chafing dishes to create a grad party buffet with A+ style.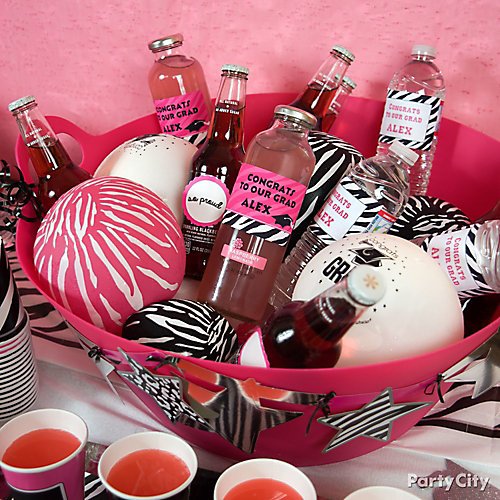 Idea 12: Let the drinks chill with balloon ice!
Here's a super-cool idea for your beverages – ice balloons! Fill balloons about 3/4 full with water, tie them off (leave an air pocket for expansion), and freeze them until solid. To keep their shape, set them in plastic cups in the freezer. Such an easy way to add personal style to any ice bucket! (Custom stickers available at Party City stores. We used Zebra and Zebra Graduation stickers.)