Build your own 1920's-style bubbly bar! Explore ritzy New Year's Eve drink recipes and glamorous ways to serve them. Sometimes it's best to focus on the important things, and in the case of New Year's Eve, we all know it's about the champagne. Create a display in mixed metallics with glamorous touches reminiscent of the Roaring Twenties. We bottled some of the best decoration ideas and New Year's Eve drink recipes so you can build your own elegant bubbly bar!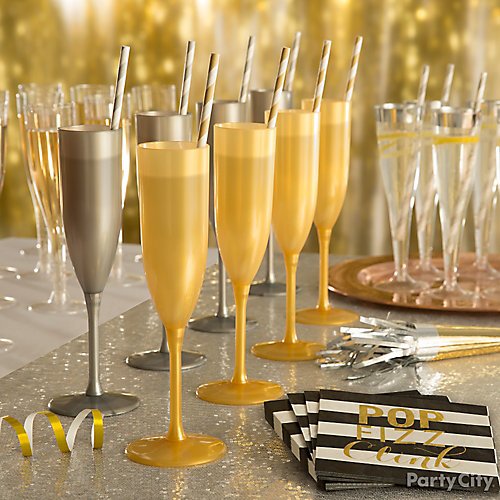 Idea 1: Sip, sip, hooray!
Mix and match sleek opaque flutes to serve up your libations, and style them with trendy metallic-print striped straws. Bold black and white striped napkins with Pop Fizz Clink written in gold draw eyes to your glitzy display, and remind your guests to toast to a new year!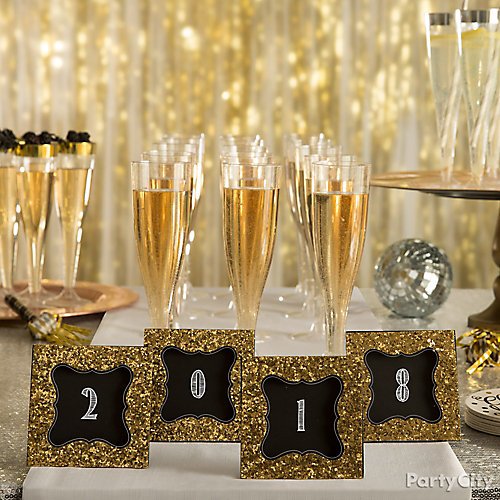 Idea 2: Use sparkly chalkboards as a swanky decoration!
Set out four sparkly gold framed chalkboards and write out the reason you're celebrating: 2-0-1-8! Place this New Year's decoration by the drinks to remind friends they're toasting to new beginnings! The gold will add another ritzy touch to make your party the cat's meow.