Hook them in with a stylish nautical celebration! Reel in our tasty sandwich, cupcake and snack ideas for your nautical bash. Swim over to fresh ideas for this year's cool party theme: nautical! Click on the ideas below for more details on our drink, decorating, food and treat ideas for a summer party with fresh style.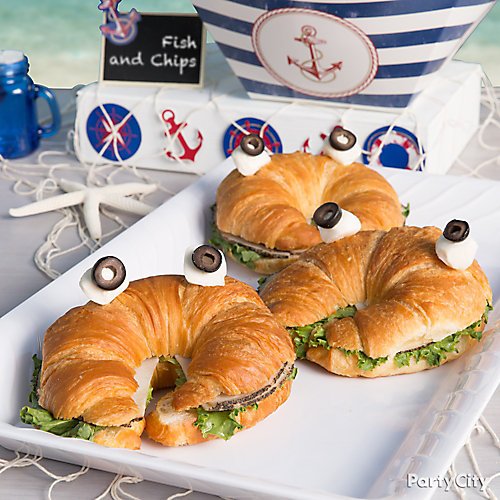 Idea 1: Catch a tasty crab croissant
Crab croissants will induce chuckles! Create the eyes by layering mozzarella balls and black olive slices. We made turkey and lettuce sammies but whatever type of sandwich you make these crabs will add a pinch of charm!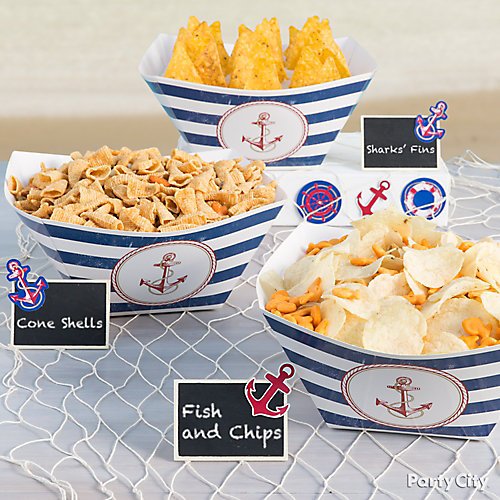 Idea 2: Reel them in with 3 clever snack ideas
A set of three bold serving bowls is perfect for clever edibles! Fill one with goldfish and potato chips with a "fish and chips" chalkboard sign. In a second bowl serve crackers that look like edible shells. And for the third bowl, stack chips on end to look like "shark fins". To make clever signs, use the small anchor cutouts that come with our nautical centerpiece kit (you'll want the kit to decorate the table!). Attach an anchor cutout to the chalkboard signs and write your clever phrase. Super fun!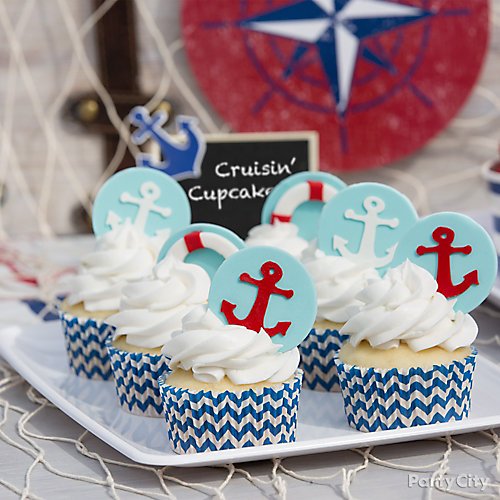 Idea 3: Chevron baking cups + anchors = sweet cupcake idea
Breezy blue and white baking cups are cute for this theme. Whip up toppers with fondant—use white fondant tinted with blue and red icing color for the anchors and life buoys. Chill the toppers in the fridge then stand them up in the icing "foam." Pick up the nautical centerpiece kit and you'll get small anchor cutouts that you can use to decorate a chalk sign that says Cruisin' Cupcakes. Anchors away!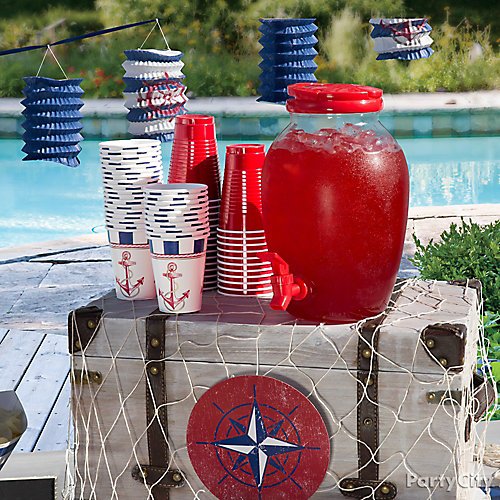 Idea 4: Water you waiting for? Try the punch
A drink dispenser and stacks of themed cups are easy peasy for larger parties. Fill it up with a bright tropical punch drink and a generous amount of ice for the thirsty sailors, and style it with a fish net, a nautical cutout and anchor's away cups. It's a cool refreshment for a hot party!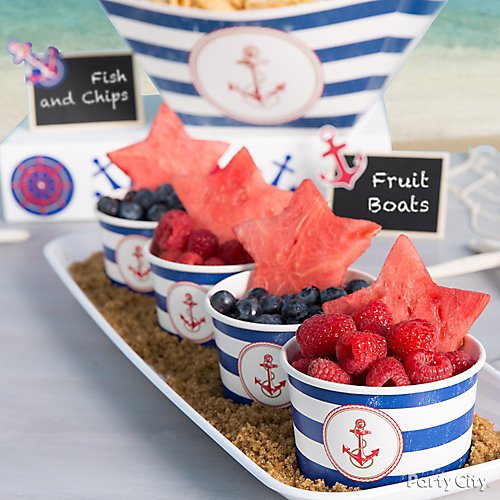 Idea 5: Healthful fruit boats in your party colors
The sailors love navigating with the stars! Have a healthy snack option with your choice of berries in treat cups, and top them off with watermelon stars. Display them on a bed of brown sugar "sand." Adorbs and healthful!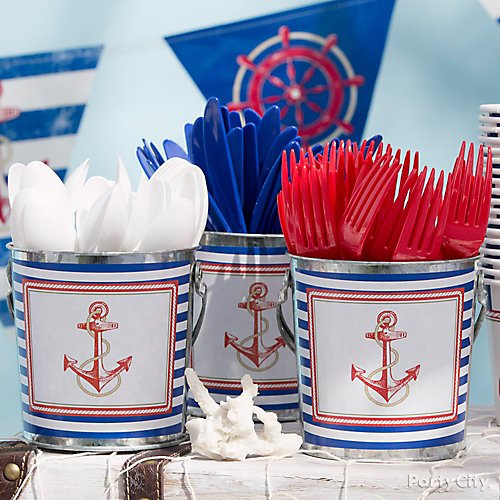 Idea 6: Plastic cutlery shore is easy
Dock your cutlery here! Use three metal pails to set out buffet utensils in your party colors. Using utensils in your party colors creates a decorative and functional display! Decorate the table with fishing nets and they'll feel the ocean breezes!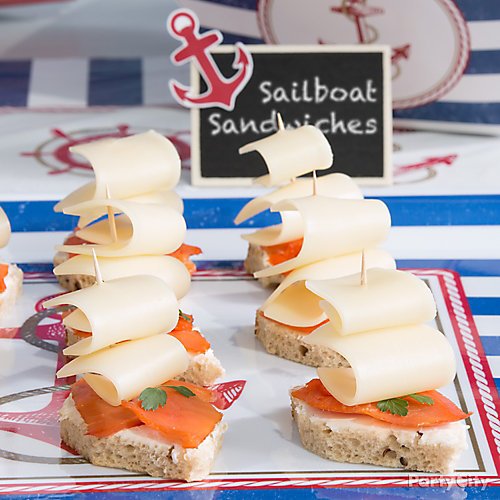 Idea 7: Sailboat sandwiches are a breeze
These little boats will be your signature nautical party food idea and let you get creative! Just layer salmon lox on sliced focaccia with a thin layer of cream cheese then use a toothpick and two small slices of jack cheese for "sails". Tuck in Italian parsley for flavor. The sailors will knot resist this savory treat!