Creepy and classic drinks for a haunted Halloween party. A bewitching bar of shriek-worthy sippers! Brew up a table of boooos-y drinks your grown-up goblins will love! Here you'll find a cemetery full of Shocktail ideas and serve up a to-die-for bar that'll quench the thirst of all monsters, mummies and vampires!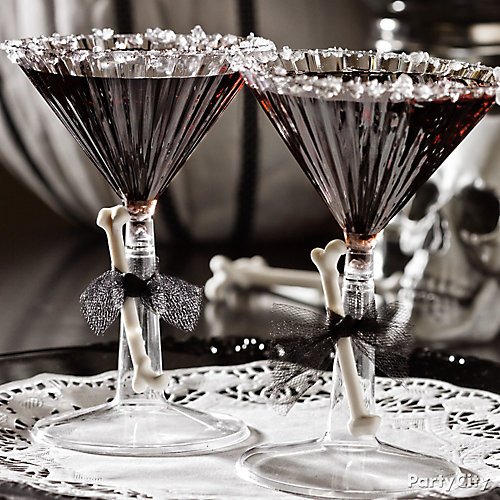 Idea 1: Bone Chilling Black Martini
Elegant Bone-Chilling Black Martinis are just the thing for blood-thirsty vampires, glam goths and crypt-dwelling ghouls of every stripe. To make: Mix 3 1/2 oz. black vodka with 1/2 oz. black raspberry liqueur in a cocktail shaker with ice. Rim the glasses with bits white rock candy, and tie on a single bone with a bit of black tulle to send shivers up their spines! Serve on an antique-looking tray for a chilling haunted mansion feel.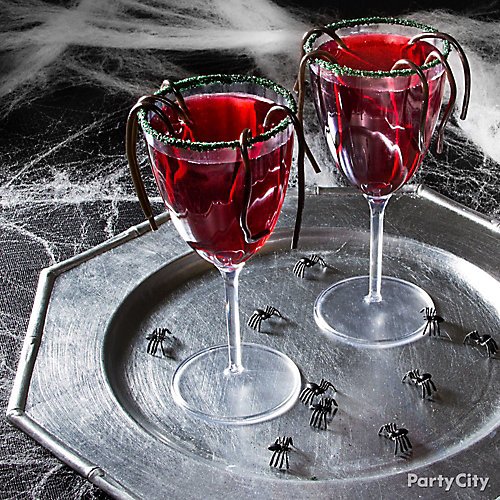 Idea 2: Black Widow Cocktail
Turn up the fright factor by placing mini spiders around your drinks display. To make a Black Widow mix 1 oz. of Anisette, 1 oz. of blackberry brandy, 1-1/2 oz. of vodka and 1 splash of Creme de Cassis together. Add Black Sugar Sprinkles around the rim of each glass and sling black licorice strips over the edges of your glasses to create "spider legs" and really creep out your guests.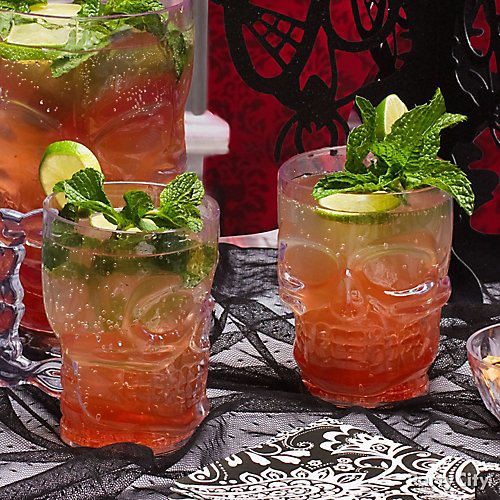 Idea 3: Bloody Moscow Mule
Give the bloody treatment to any popular cocktail like a mojito or a margarita by adding some grenadine syrup to the bottom of the glass. To make this Bloody Moscow Mule, fill a skull mug with ice, then add 1-1/4 oz. vodka, 1/2 oz. sugar syrup and 1/4 oz. lime juice. Top with 3 oz. ginger beer. Garnish with fresh mint and a lime wheel. Once you've got the recipe down, mix up a pitcher to keep bodies from piling up at the bar.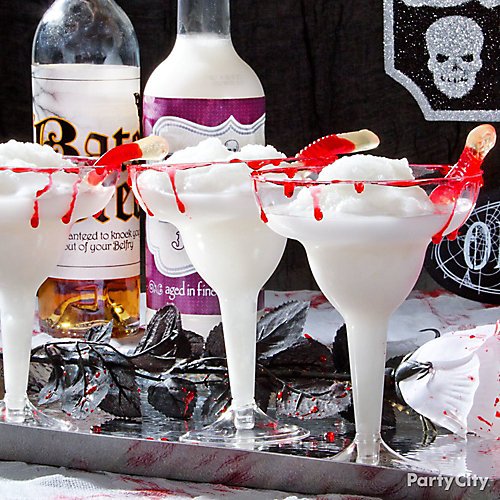 Idea 4: Pina Ghouladas
To make Piña Ghouladas, blend rum and ice with Piña Colada Mix according to package directions - or mix up your own by whisking together 20 oz. of pineapple juice, 15 oz. cream of coconut, 1/2 cup heavy cream, 1 cup orange juice and 10 oz. rum. Place about 2 to 2 1/2 cups ice cubes in a blender, and add 1 cup of the drink mixture. Stir a few drops of red food coloring into 3 T. corn syrup and dip the rim of each glass in the red syrup. Add some "bloody" gummy worms or tasty Twizzlers for more creepiness!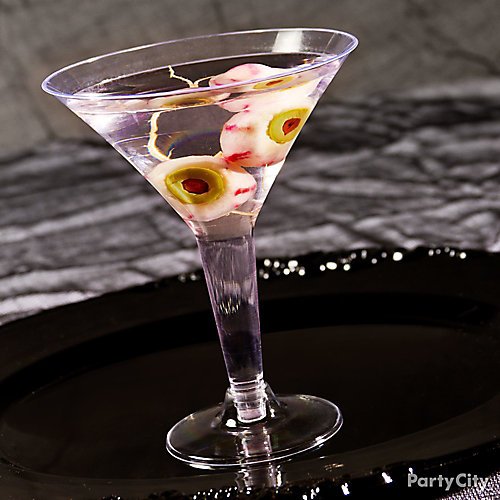 Idea 5: Eyeball Martini
To make an Eyeball Martini, peel radishes, leaving thin streaks of red skin on to represent blood vessels. Using the tip of a small knife, carefully scoop out a small hole in each radish. Stuff a green olive into each hole. Then mix 1 shot of gin or vodka with 1/4 shot of dry vermouth, and add a few "eyeballs" to your drinks.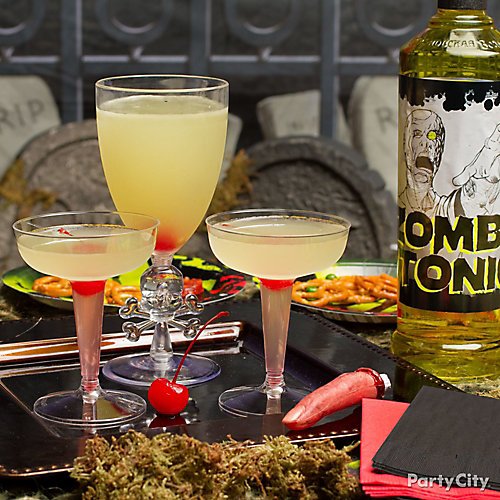 Idea 6: Corpse Reviver
Zombies are hot this year! Wake up a party for the undead with classic Corpse Reviver No. 2 cocktails along with bottles of spirits, wine or soda with wacky Zombie Tonic labels. To make a Corpse Reviver No. 2, mix 1 oz. each of gin, orange liqueur, Lillet and fresh lemon juice along with a dash of absinthe in a cocktail shaker filled with ice. Shake until well-chilled, then strain into a wine glass or a small champagne coupe. Garnish with a maraschino cherry.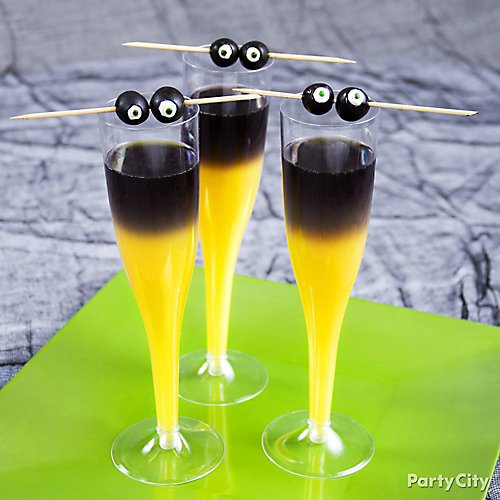 Idea 7: Goblin Mimosas
It's alive! Make cocktails that look like they've been created in a mad scientist's lab. When it comes to these little monsters, it's obvious that it's time to bring on the buzz. For Goblin Mimosas, place Candy Eyeballs inside olives or blueberries and insert bamboo skewers. Fill a glass halfway with orange juice, then pour black vodka carefully over the juice. (Pour the vodka slowly over the back of a spoon so that it runs down the side of the glass, to keep the liquids from mixing.) Top glasses with your skewered "eyeballs" and serve up your ghoulish goblins!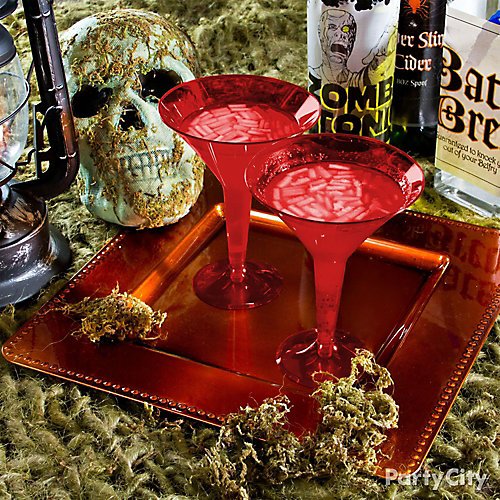 Idea 8: The Maggotini
Rotten to the core – and delightfully delicious! The Maggotini is definitely a treat if you can look past its tricky first impression of a decaying drink. To make a Maggotini, stir 2 oz. of gin, 4 oz. of tonic, 1 oz. fresh lime juice, 1 oz. of cucumber juice and 1 tsp. of Blue Agave sweetener. Peel a cucumber, and halve and scoop out its seeds with a small spoon. Finely dice your cucumber and add it to your drink with a splash of soda.