Parties take on spooky vibe during Halloween, so for a kid-friendly celebration, set the Halloween mood by having fun with fright. Make the holiday more than a day focused on costumes and candy by capturing the spirit of the season with trendy decorations, creative party games and clever food ideas.
You don't need to go hunting—ahem, "haunting"—too far for inspiration. We've conjured up kids' Halloween party ideas that are modern and absolutely *fab-boo-lous*. We punched up the holiday's signature look of orange and black by mixing in other bold colors, and we fused the tell-tale signs of the season with the latest party trends like balloon letters and balloon wall creations. As for Halloween games and food, we're ready with ideas that are the perfect blend of spook and cute. Want the recipe for a bewitchin' Halloween class party or a pre trick-or-treat bash at your home? Keep reading: spooky good times ahead!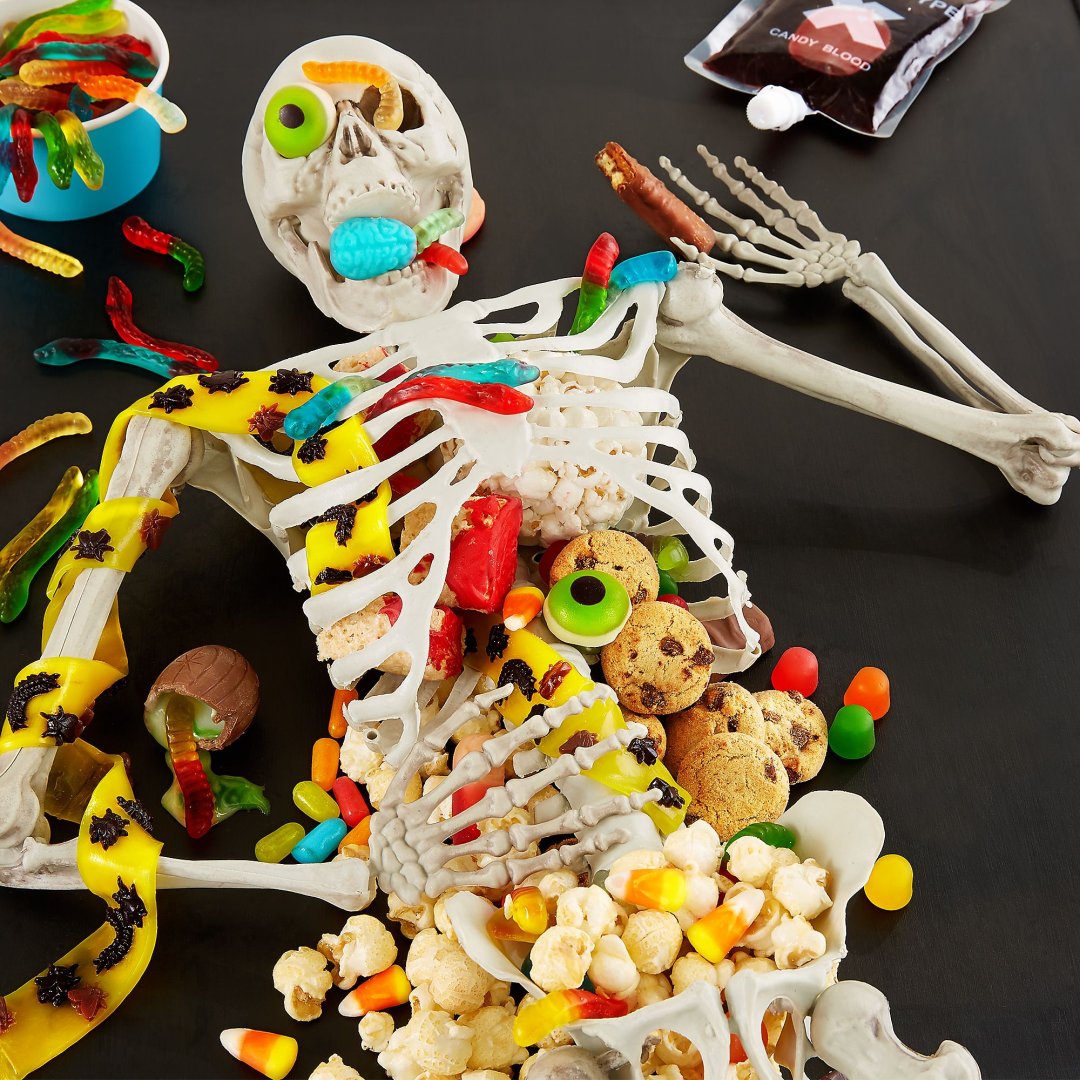 Idea 1: Candy Buffet Skeleton
Candy takes center stage on the spookiest night of the year, and that's precisely what it should be doing at your fab-boo-lous kid-friendly Halloween party. Here's how to make it frightfully fun: on your party food table, lay out a skeleton prop containing a smorgasbord of sweets ready for the taking. For a playful bone-chilling effect, adorn it with creepy confectioneries: think gummy candies in the shape of worms, bugs, eyeballs and brains.
Idea 2: Eek Spider Balloon Wall
When it comes to eye-catching decor, sometimes less is more. That's what this Halloween decorating idea is all about. It only takes a handful of props—a giant rope web, foil balloon letters spelling "eek!"and foil spider balloons—to create an ensemble that crawls with cuteness.
Idea 3: Boo-tiful Fan Wall
It's no secret that letter balloons are all the rage, and it's easy to see why: a clever quip instantly makes your party photo-worthy. Put your own spin on this trend by layering the balloon letters against other decorations like a paper fan arrangement. Since it is Halloween, add an element of surprise to your balloon wall arrangement like this green googly eyes photo booth prop. The young and not-so-young partygoers will love posing with this statement-making backdrop for selfies or group pics.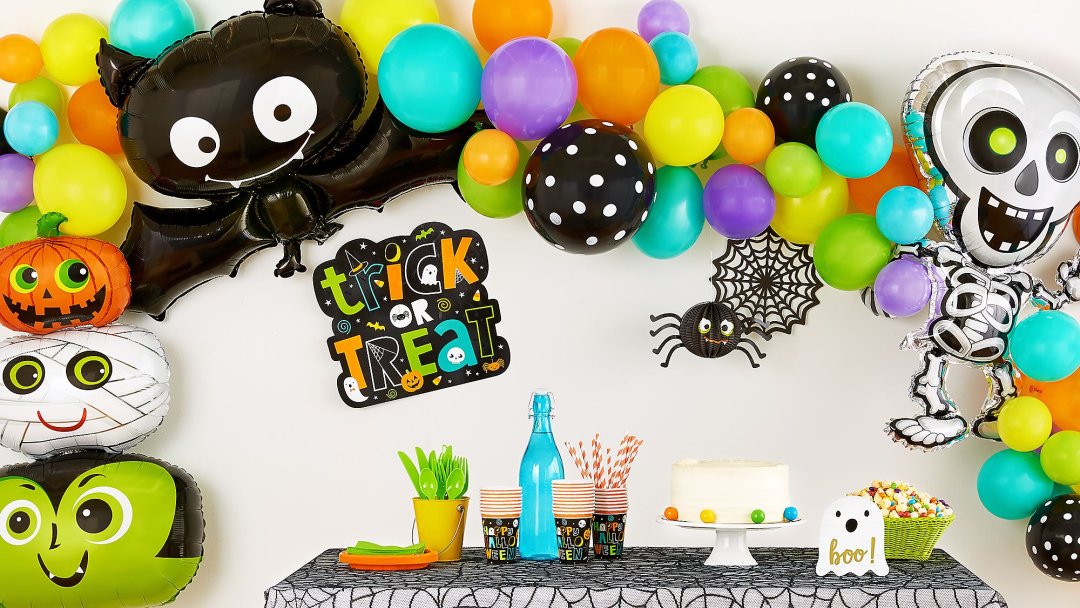 Idea 4: Fab-boo-lous Balloon Garland
It's not a party unless you have balloons. Airy accents make parties feel a bit more poppin', and that's exactly what a balloon garland will do for a kid-friendly Halloween party.
To create this balloon garland, attach different balloon sizes (ranging from 5-inch balloons to 12-inch balloons) to a balloon strip. Branch out from the holiday's orange-and-black color scheme by adding balloons in bold colors like yellow, teal and purple. Accenting it with foil-shaped balloons like a friendly bat or skeleton also offer a new take on the balloon wall trend. Tape the strip against the wall at a sloping angle to create the arch effect. If you notice some empty spaces, fill in those areas with mini balloons to make the arch feel fuller. See these steps in action with our Build a Spooky Cute Balloon Garland video!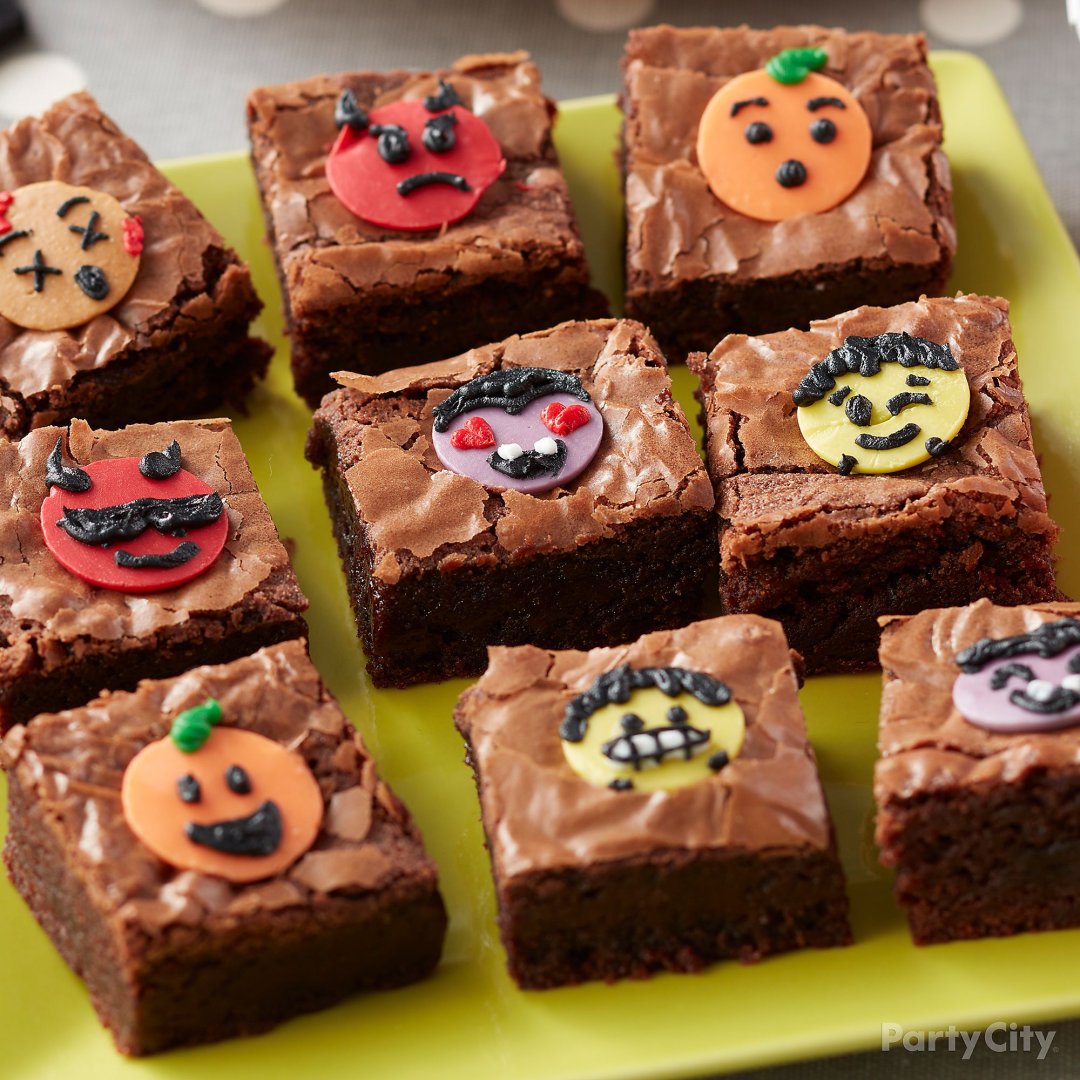 Idea 5: Halloween Emoji Brownies
Got kids that text more than talk? This Halloween treat idea will speak their language. Our friends at Wilton gave brownies a quick costume change with this easy decorating idea: use candy melts and icing to make Halloween emoji faces! Get this recipe and more at 5 Scary-Easy Treats that Will Spook and Delight. Then head over to Wilton for tricked-out Halloween treats.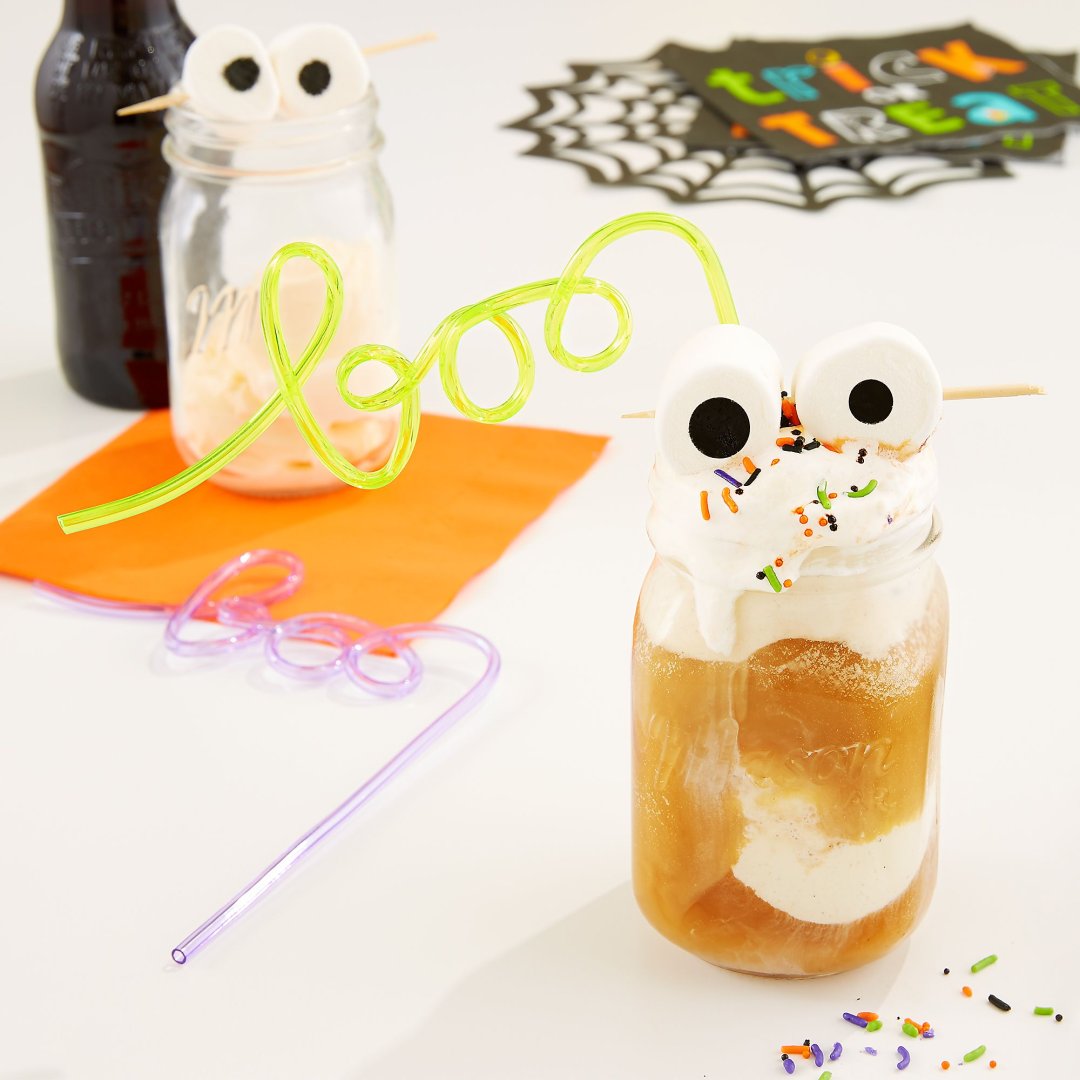 Idea 6: Monster-Eyed Root Beer Float
Quench the thirst of little monsters with a monster-eyed root beer float. We gave the classic dessert beverage a new look fitting for the Halloween season. After combining root beer soda with a scoop of ice cream in a Mason jar, add a dollop of whipped cream topped off with sprinkles and "monster eyes": two large marshmallows held together with a toothpick and pupils drawn with a black food marker. By now it's ready to get slurped up, but what's really going to make this drink scary cute is pairing it with a straw that spells out the word "boo."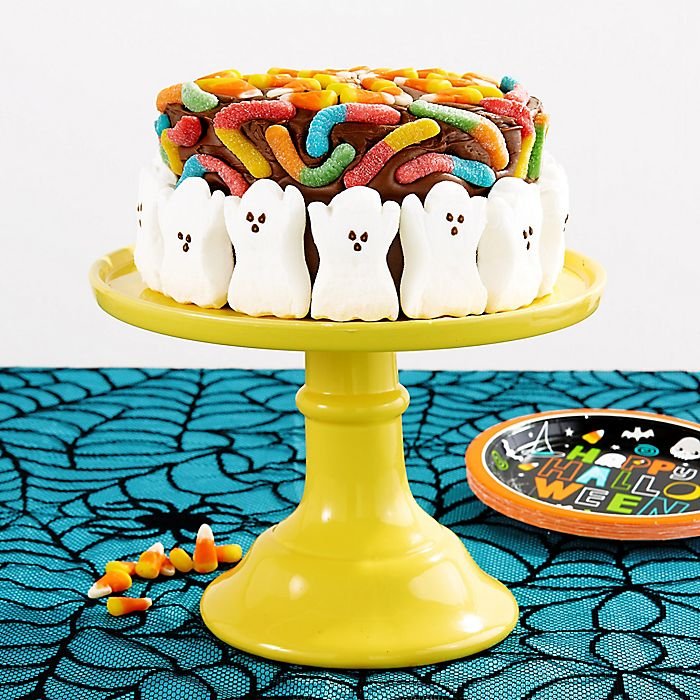 Idea 7: Spooky Cute Cake
It's clear that candy has the spotlight at Halloween time, but what takes the cake? Well… cake! As a decor and a dessert, cake can step up the spook in a deliciously delightful way. That's what this Halloween cake idea does best. The chocolate frosting and a simple arrangement of seasonal sweets—candy corn, gummy worms and ghost-shaped marshmallows—make this Halloween cake idea a sweet win.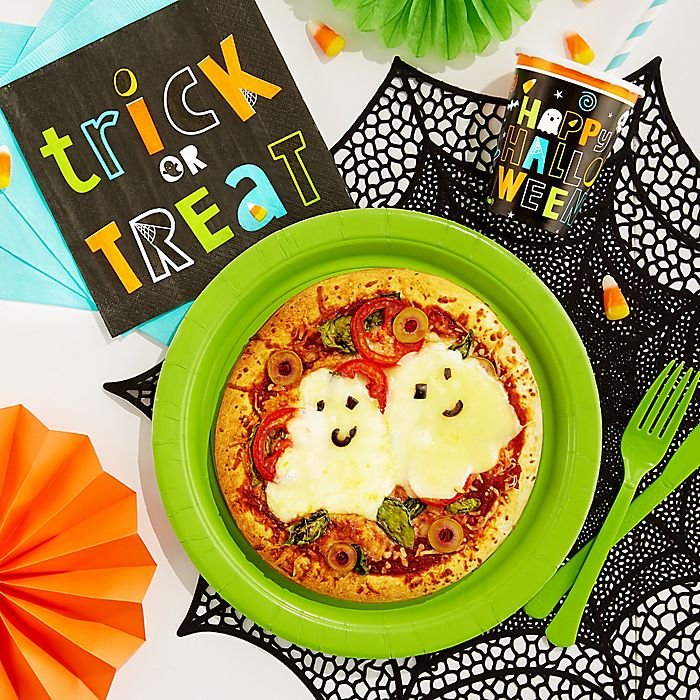 Idea 8: Ghoulishly Delightful Pizza
Pizza is hands down the easiest meal to serve hungry kiddos on a busy night. For a kids' Halloween party, invite little guests to turn this quick bite into a boo-tiful work of food art. Set out various toppings so they can create their own pizza, but make sure they save room for the so-called "cherry on top." Help them use a butter knife to cut out a ghost from a slice of mozzarella, and then the kids can create the eyes and mouth on their little boos with cut up pieces of olives.
Idea 9: Surprise Cupcakes
Your little boo crew will be in for a delight after biting into these surprise cupcakes. Also called pinata cupcakes, surprise cupcakes contain a delightfully unexpected filling like candies or Halloween sprinkles. Here's another surprise—they're so easy to create: after the cupcakes cool down from baking, use a small spoon to scoop out a hole in the center. Fill the opening with candy corn M&M's or other small candies and cover it with the carved-out cupcake piece and a layer of icing.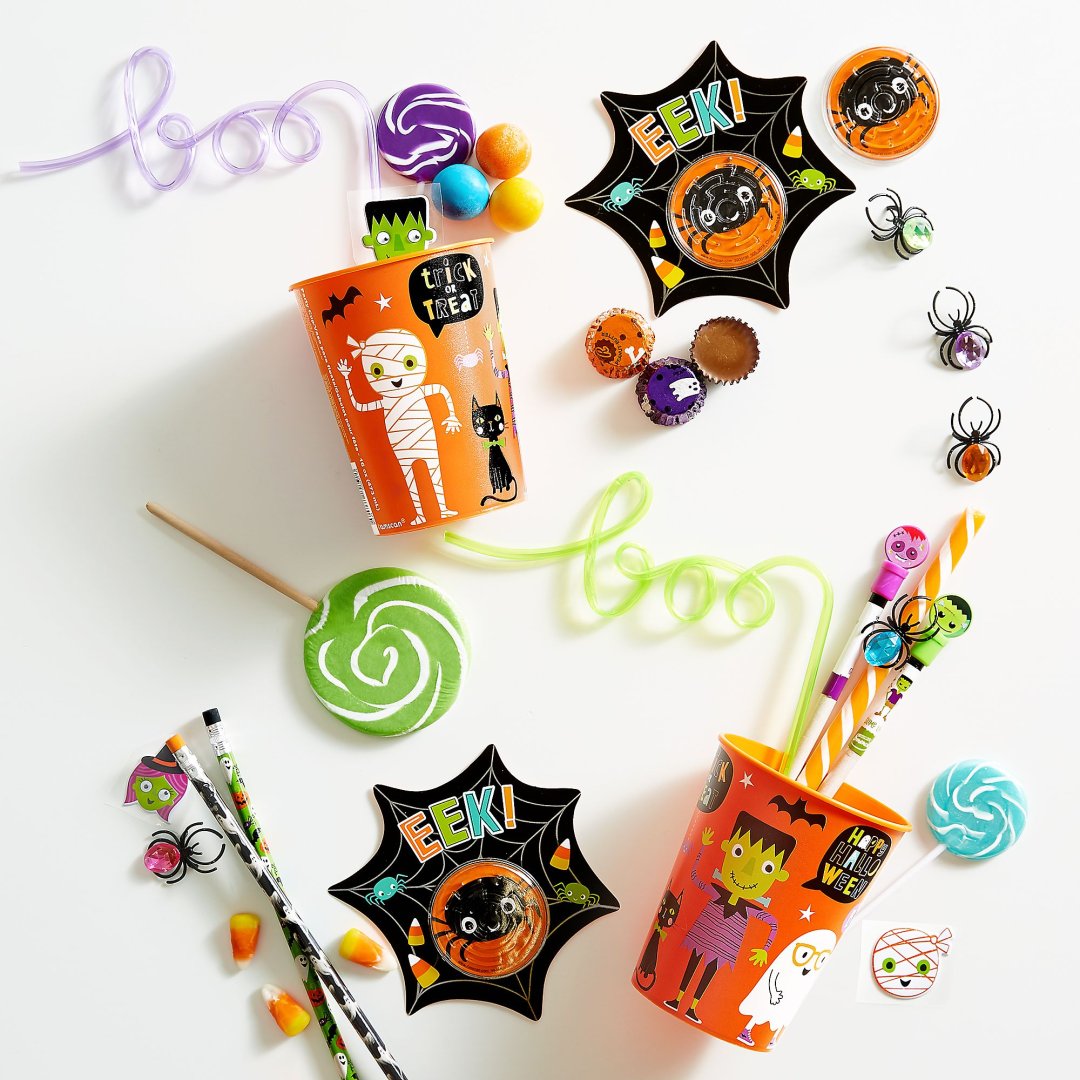 Idea 10: Candy-Free Favors
Need to pump the brakes on the sugar rush? Create a candy-free treat with favor cups, pencils and rings. With these goodies, kids won't feel that this treat is a trick.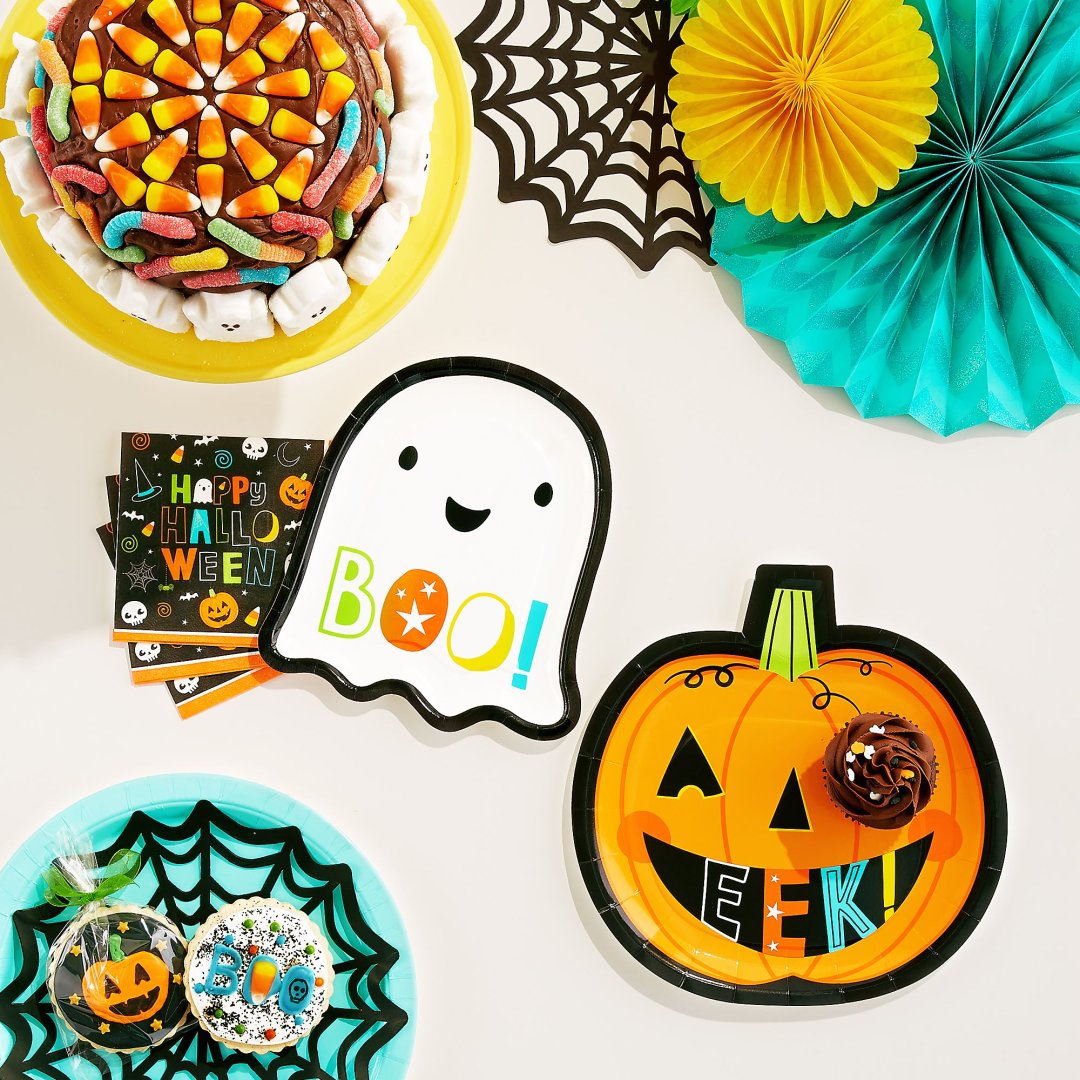 Idea 11: Spook-tacular Plate Setting
Let your plateware set the scene! The cutout shape of these ghost and pumpkin paper plates make them adorably unique and play up the too-cute-to-spook vibe.
Make All Hallow's Eve more than costumes and candy. These ideas and our kid-friendly Halloween party supplies will help you throw an absolutely fab-boo-lous kids' Halloween party that even adults will want to get in on the fun.