Wow partygoers with a jewel-toned celebration! Start 2018 on the bright foot! Host a New Year's Eve affair that will keep them talking all year long! Wow partygoers with jewel-tone favors that double as decor — like stacks of noisemakers, novelty hats, glasses and tiaras. Everyone's mind will be on the time, so deck out the table with NYE cutouts of clocks and top hats and a silver-fringe table skirt. Get more bright ideas like grab-and-go confetti, bubbly decorations and a chocolate fountain.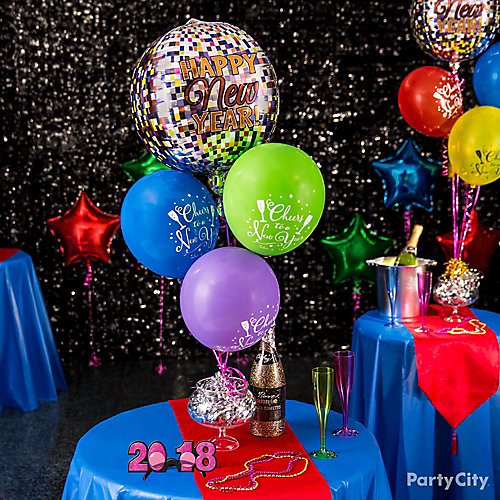 Idea 1: Balloons make a fun and eye-catching centerpiece
Bury a balloon weight in a candy container, and fly Happy New Year balloons as the table's centerpiece. Easy, huh? Then, for a little extra, scatter 2018 glasses and beads for your favorite people to wear when the clock strikes midnight. Now that's something to cheer about!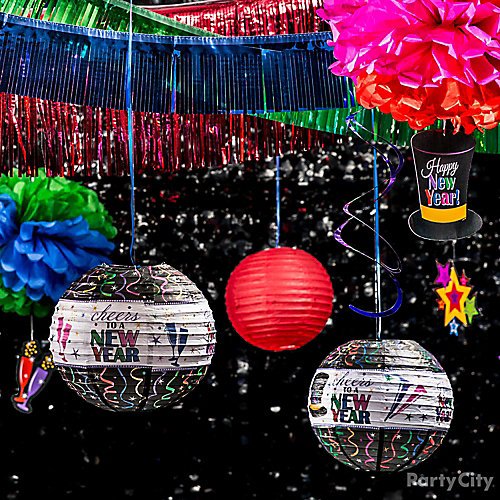 Idea 2: Get your party photo-ready!
Make the party room flashy for midnight photos! Start by hanging black floral sheeting for a subtle sparkle, and above it hang tinsel garlands, fluffy paper decorations and New Year's Eve swirls. It's a glamorous riot of colors and perfect for when you want to snap some photos with your guests.
Idea 3: Start 2018 on the bright foot!
Create a wearables table to get your New Year's Eve bash off to a festive start! Choose a spot guests will notice as soon as they walk in; it'd be hard not to notice with all these colors! Display multiples of each favor and let guests know they should grab what they like and pose for photos! With New Year's party hats, fluffy tiaras, 2018 glasses, boas and beads, each guest will find something they love to party in 'til the ball drops.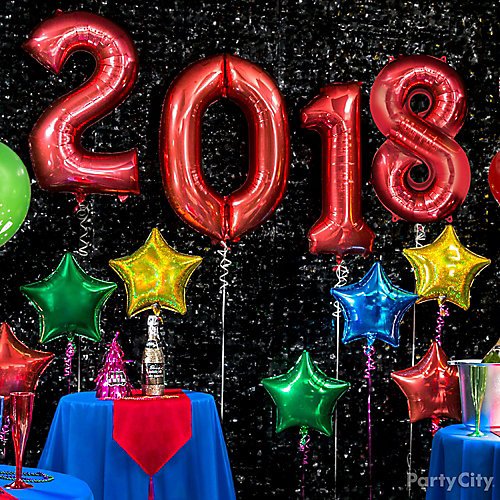 Idea 4: Create a colorful display with number balloons!
Bedazzle the party room with New Year's glitz and glam! 2-0-1-8 number balloons and a black floral sheeting backdrop look amazing with sparkling star balloons in red, green, blue and mixed in (just tie them to balloon weights…easy!).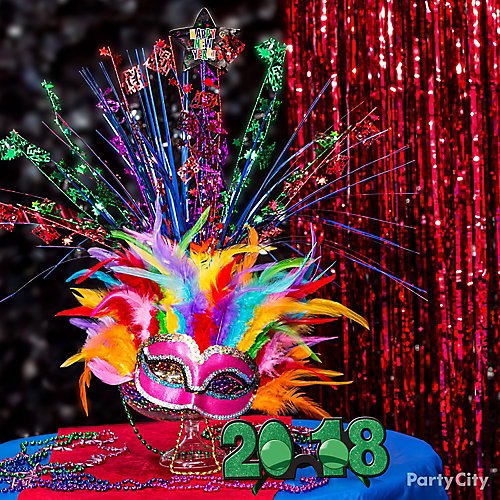 Idea 5: The New Year looks bright with this colorful centerpiece!
Embellish the table with a masked centerpiece and 2018 accessories! Just fill a candy container with a spray centerpiece and colorful beads, and add the rainbow mask. It's the perfect way to tell the partygoers to pick up a bit of wearable party flair!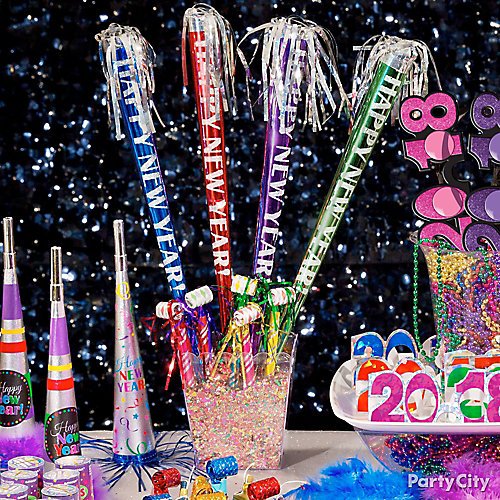 Idea 6: Create a New Year centerpiece with a BANG!
These noisemakers do double duty as an awesome centerpiece. Fill a container with confetti, then stand up noisemakers and blowouts, big and small, inside. Time to POP in the New Year!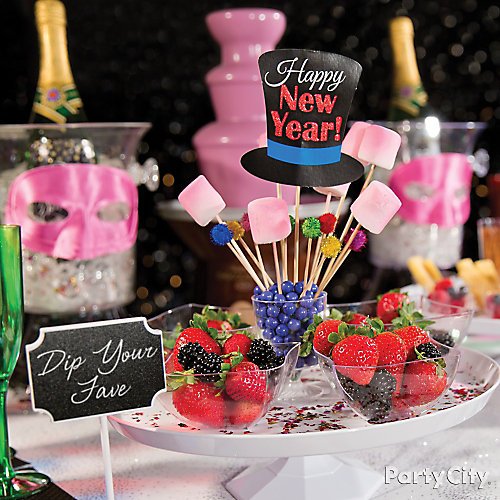 Idea 7: Ring in 2018 on a sweet note
Let everyone dip their favorite snacks in a melted chocolate fountain. Since it's going to be a bright New Year, try using pink melted candy in the fountain. Arrange your treats in clear bowls on a cake stand with a centerpiece of jewel-tone puff picks, blue Sixlets® and marshmallows pinkified with food-safe color mist. Announce it's time for dipping with a mini chalkboard sign – cheers!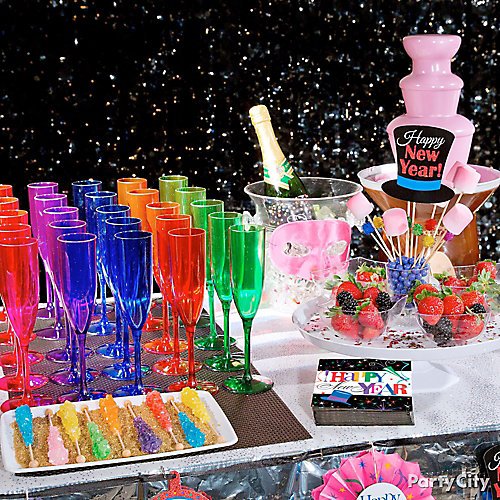 Idea 8: Champagne + a chocolate fountain = NYE decadence!
Set the table with yummy favorites to indulge in before the resolutions start. Keep the fare light and bright with colorful candy, a rainbow of champagne flutes and a decadent chocolate fountain with dip-ready fruit. There's more than one way to cheers to the New Year!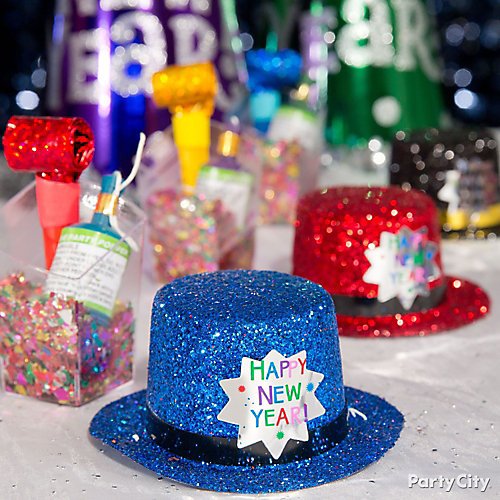 Idea 9: Mini hats + confetti cups = fun "kiss me at midnight" favors
Arrange confetti, noisemakers and party poppers in mini cubes for a party-in-a-cup! Continue the mini theme with tiny top hats glammed out in glitter. Keep them close by on a tray so everyone can grab one when the countdown begins!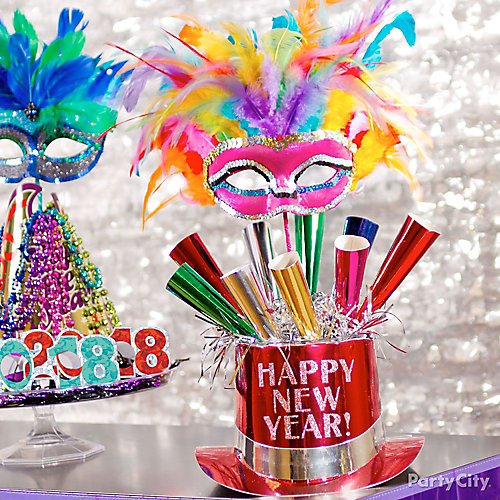 Idea 10: This DIY party horn display really pops!
To create this toot-ally gorgeous display, use a feather mask, bamboo skewers, tinsel and some pink ribbon in a NYE party hat! Just cut the top off of a hat and slip it over a clear container filled with craft foam. Decorate a fab feather mask by hot-gluing it to a skewer wrapped with pink curling ribbon – and stick it into the foam. Finish off your amazing creation with shiny tinsel shreds, along with horns that come in the party kit. Now sit back with a glass of bubbly and bask in the WOWs!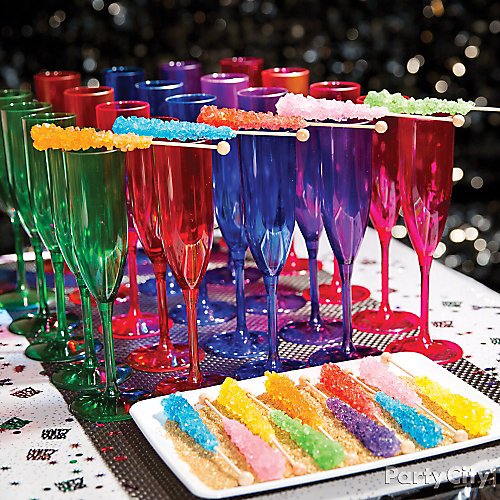 Idea 11: Cheers to the New Year with sparkling style
Make the midnight toast as colorful as the confetti! Line up a rainbow of champagne flutes with colorful rock candy as a sweet swizzle stick. Here's to a bright 2018!