Basic Balloon Column
Balloon columns are a party's way of dressing to impress, but many aspiring party planners are intimidated by the process. We totally get it, but there's good news! If you're feeling overwhelmed, start by reading our DIY Balloon Column tutorial. We'll show you how to create your very first balloon tower using a balloon column kit. Reading this in-depth tutorial will help you when creating all of the columns below, and might even inspire you to create your own unique design.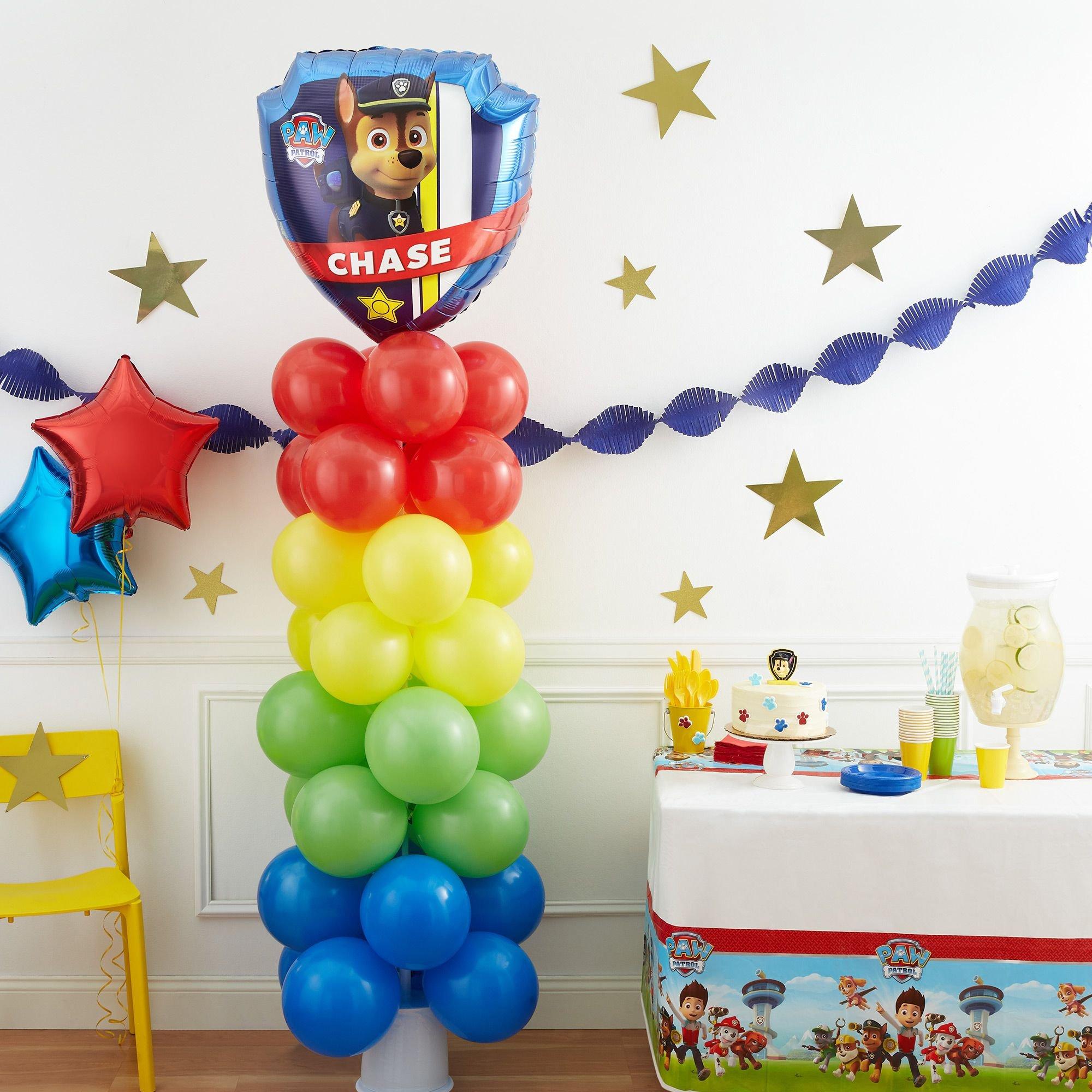 Pineapple Balloon Column
We've got all the juicy details on creating this sweet pineapple balloon column! In total, we used 20 yellow balloons, 16 gold balloons and six green twist balloons. You'll also need twine, scissors, and a hot glue gun.
Fill a single balloon to half capacity with water and it tie off; this will be a weight to keep your column from floating away in a summer breeze.
Next, tie two air-inflated yellow balloons together by the ends and repeat with another balloon pair. Then crisscross the balloon pairs to create a four-petaled flower shape.
Use twine or curling ribbon to tie a knot around the end of your water-filled balloon weight leaving additional length for attaching to your crisscross shape. Attach the remaining length of twine around the intersecting point of your crisscrossed balloon pairs. Orient the balloons so your weight is at the bottom, then continue building up your pineapple by adding more crisscrossed balloon pairs and securing with twine.
Inflate six green twist balloons and twist ends together to create a stem. Finish by adding a stripe of hot glue to the gold balloons and holding them against your pineapple until dry. Now you're ready to party like a pineapple!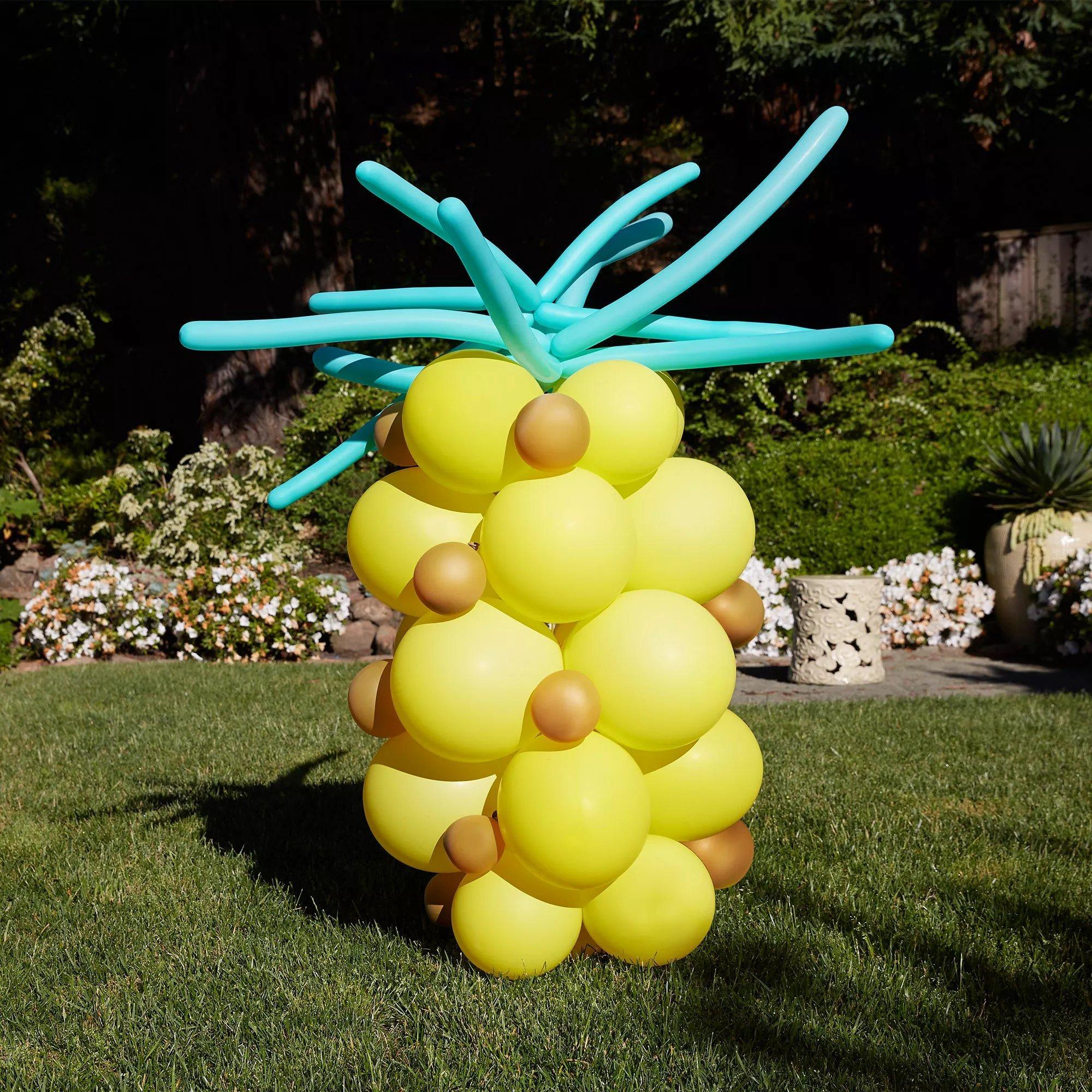 Mini Balloons Column
This cheerful balloon tower may cause squeals of surprise and delight from your youngest party guests! Instead of the traditional 12" balloons, this column uses white and clear balloons in smaller sizes. Use 9" balloons for your base layers, then switch to mini 5" balloons for the staggered effect. Top with a Super Shape balloon or 24" latex balloon. For the cascading ribbon effect (also known as a unicorn tail), cut colorful table cover into strips of different lengths. We like the shiny texture of table cover, but this can also be achieved with paper streamers.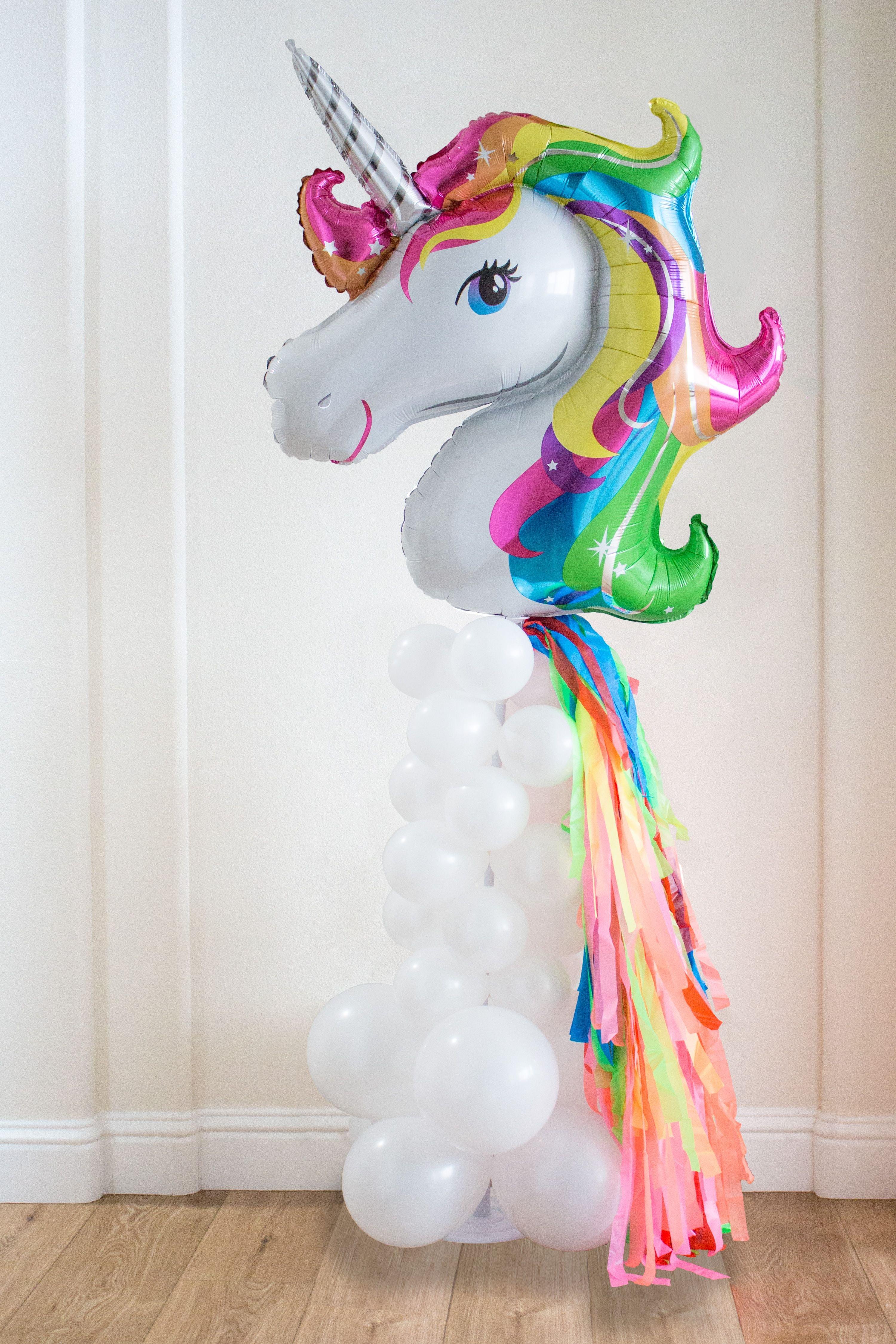 Outer Space Balloon Column
Wow, this column's out of this world! If you have a little birthday astronaut dreaming of exploring the starry sky, this balloon column will be the perfect addition to their outer space birthday party. Use the balloon column kit to create a column of black and silver pearl balloons, and inflate a 24-inch silver latex balloon with air to attach to the top. Use mini balloons in assorted colors as your planets, with twist balloons acting as the planets' rings! Finish off with silver star cutouts. This balloon column can easily become a Star Wars balloon column by switching out the top balloon for one featuring your favorite Star Wars characters.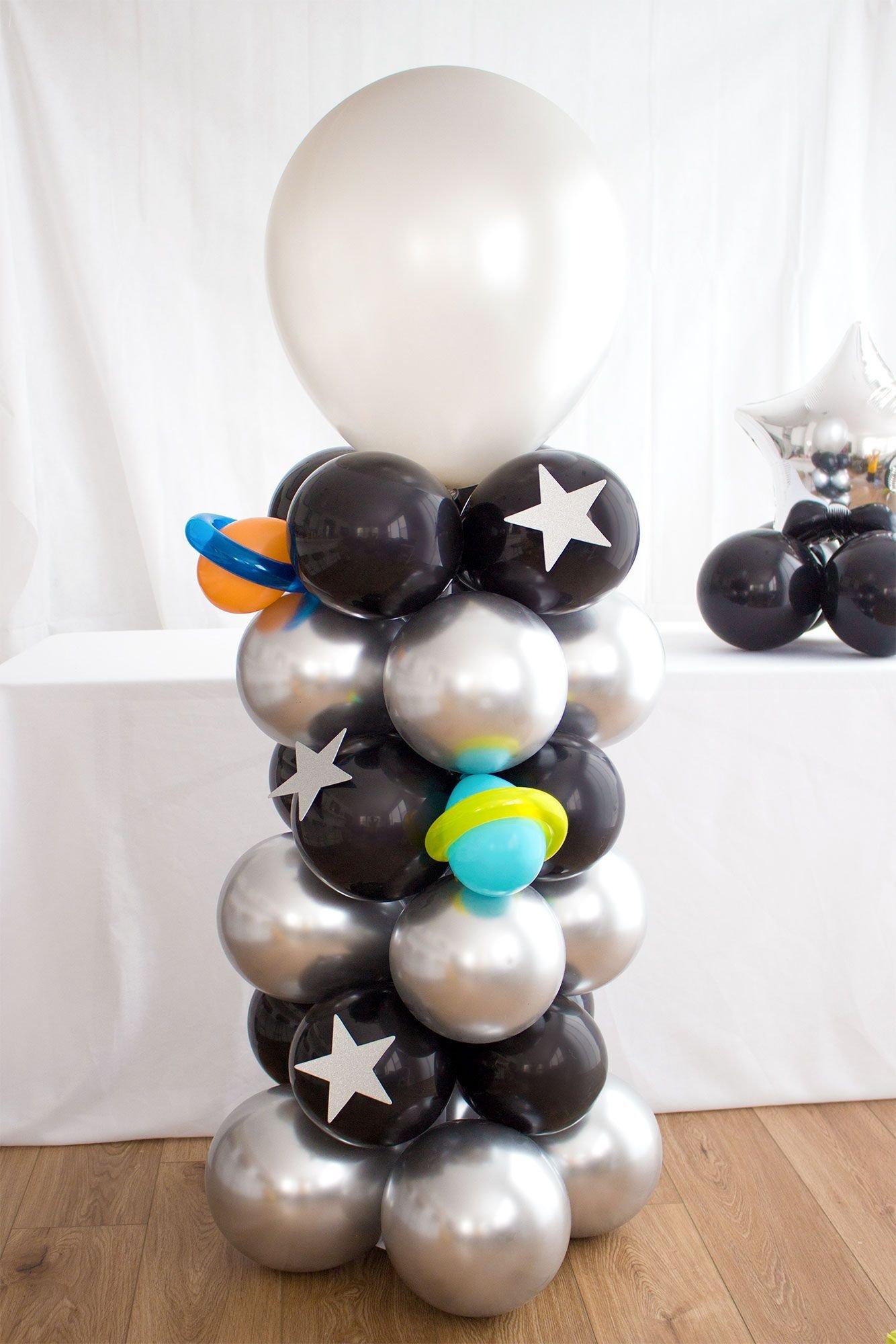 Foil Balloon Column
Eye-catching, isn't it? This column is a newer addition to the trend boards, which is exactly why you need it at your next party. Each layer consists of three round foil balloons tied together by their ends. We used three balloons in red, orange, pink, purple, green, blue and yellow to create a rainbow for our unicorn balloon on top, but this is the perfect design for a funky colorful disco party (just add a disco ball balloon on top of your column), or any celebration that needs a unique touch.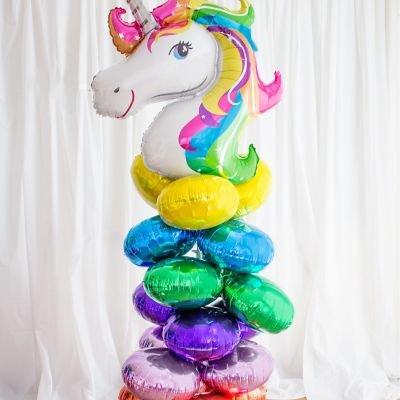 Spiral Balloon Tower
To create a spiral balloon column, you'll need 12" balloons in four colors of your choice (we used two packs each in festive green, orange, purple, and yellow). Tie your balloons together in pairs: for example, make green-orange pairs and purple-yellow pairs. Criss-cross the balloon pairs so they hold together on the balloon column stand. Stack these pairs, staggering the layers to create the spiral effect, until you reach the top and finish with a clear Orbz balloon.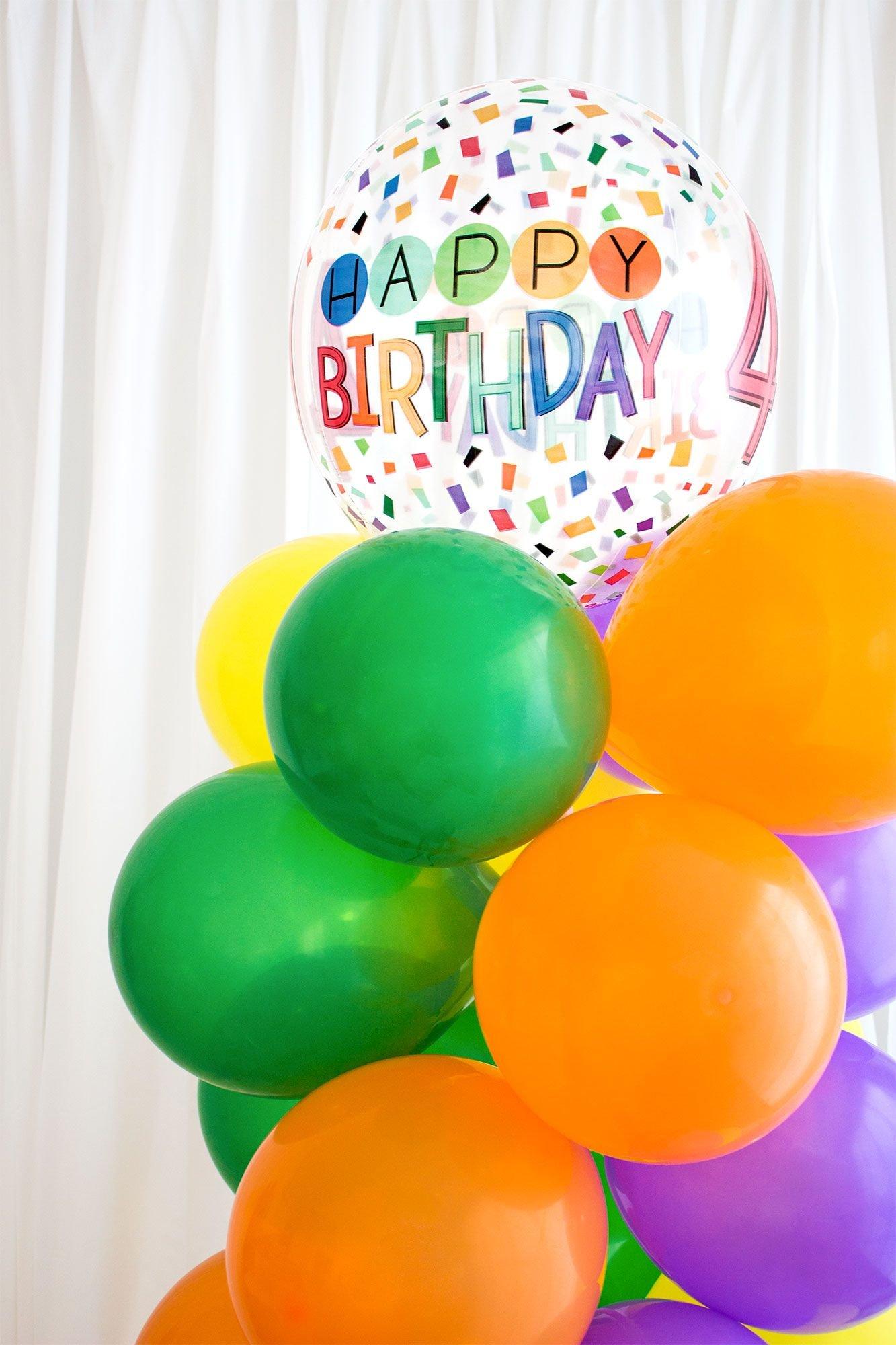 Rainbow Balloon Column
Go color crazy with this bright balloon column idea! Start with white pearl balloons as a cloudy base, then move up with all the colors of the rainbow. Since this column features Rainbow Butterfly Unicorn Kitty at the top, we went for a pastel rainbow and incorporated pink instead of red. Swap out RBUK for a rainbow shape balloon or heart and this would fit right in at a Pride event or rainbow-themed birthday party.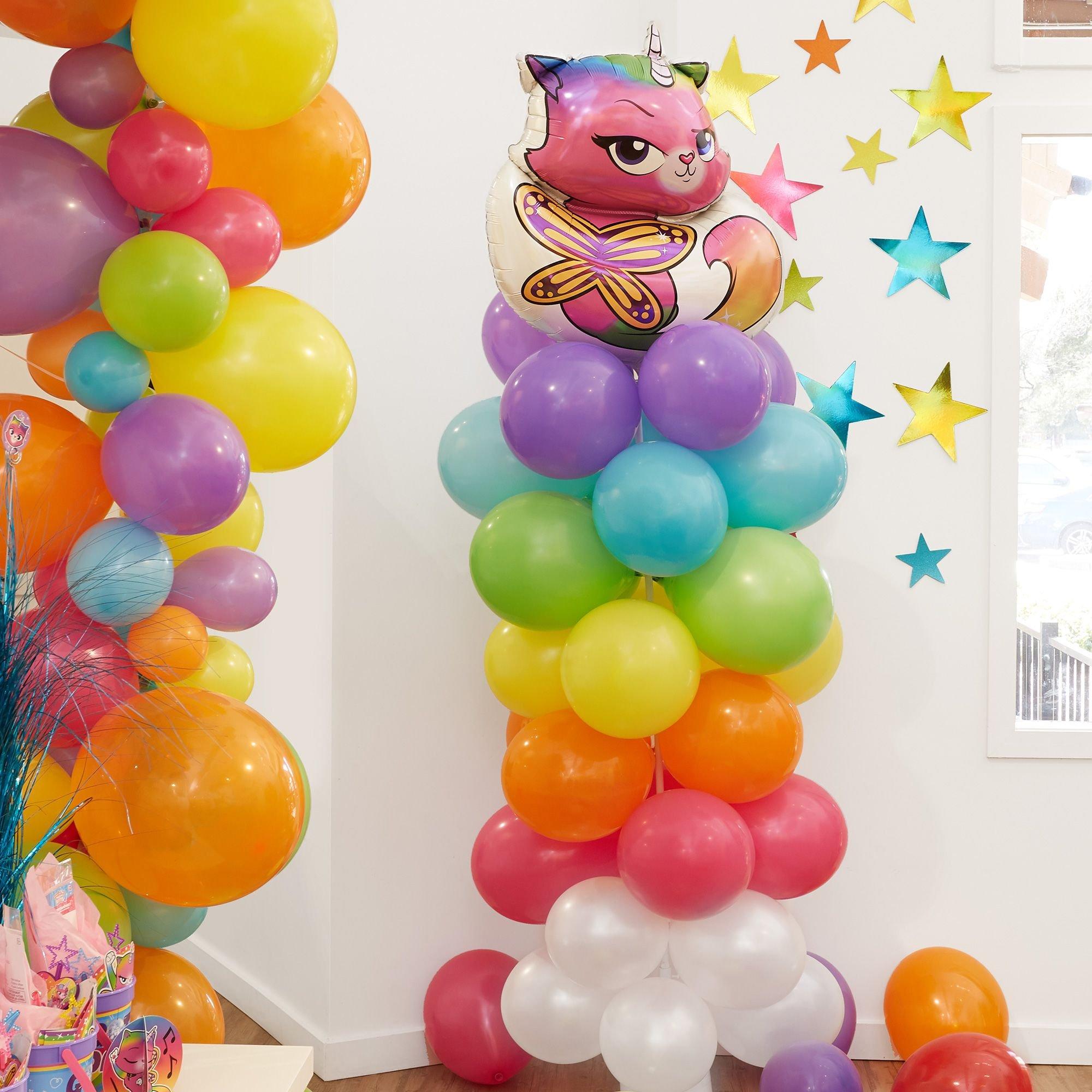 Milestone Birthday Balloon Column
Know someone celebrating the big 5-0 or another important milestone birthday? Create a balloon column that gives a silly shout-out to their shiny new age. Speaking of shiny, we used pearlized balloons in silver and black and topped the column off with a scrunched piece of iridescent cellophane to make it extra special.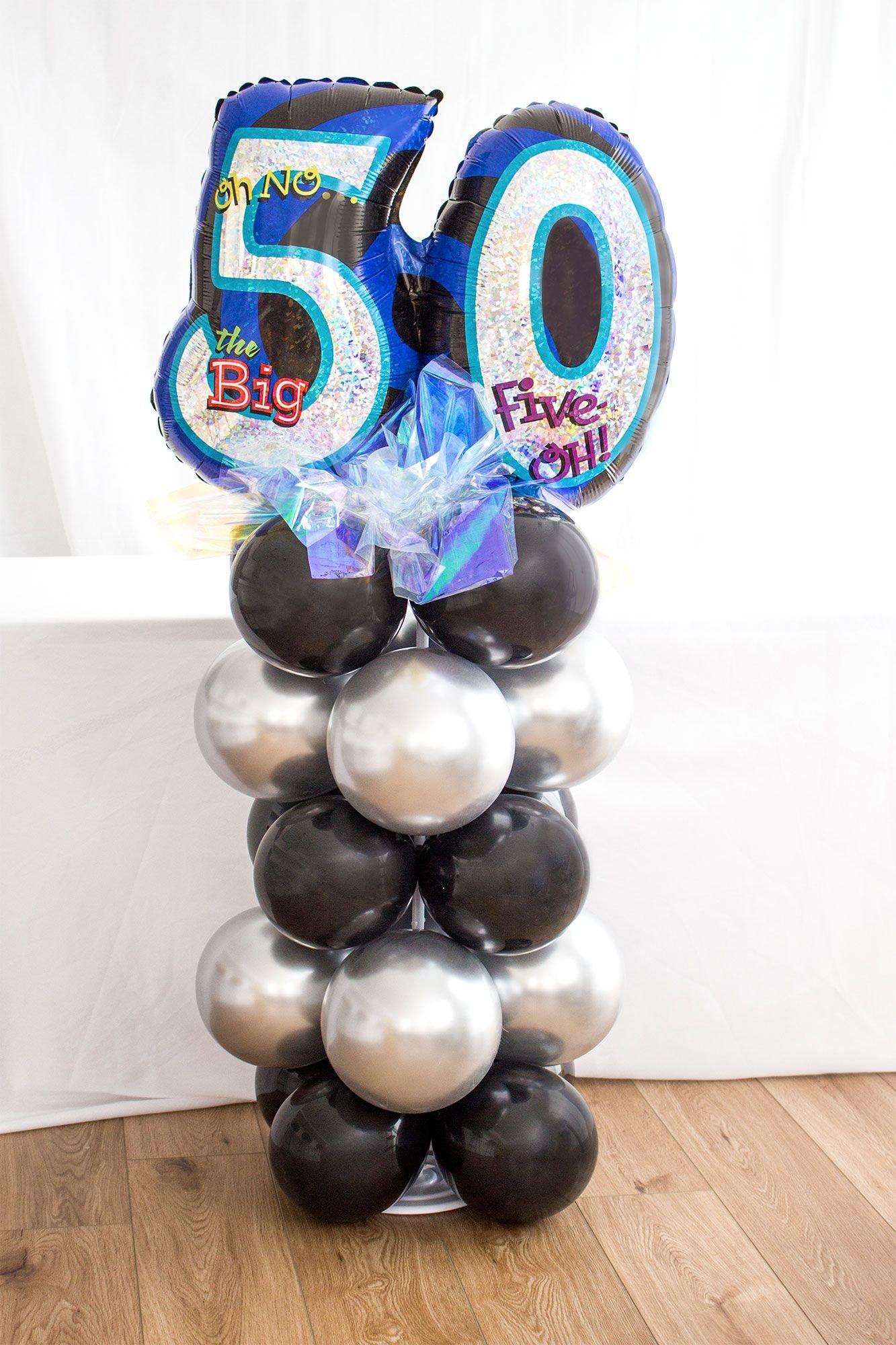 Mini Balloon Column
Your guests will race on over to the party table when you decorate with a mini balloon column! These scaled-down versions of your traditional balloon column can be made without a balloon column kit.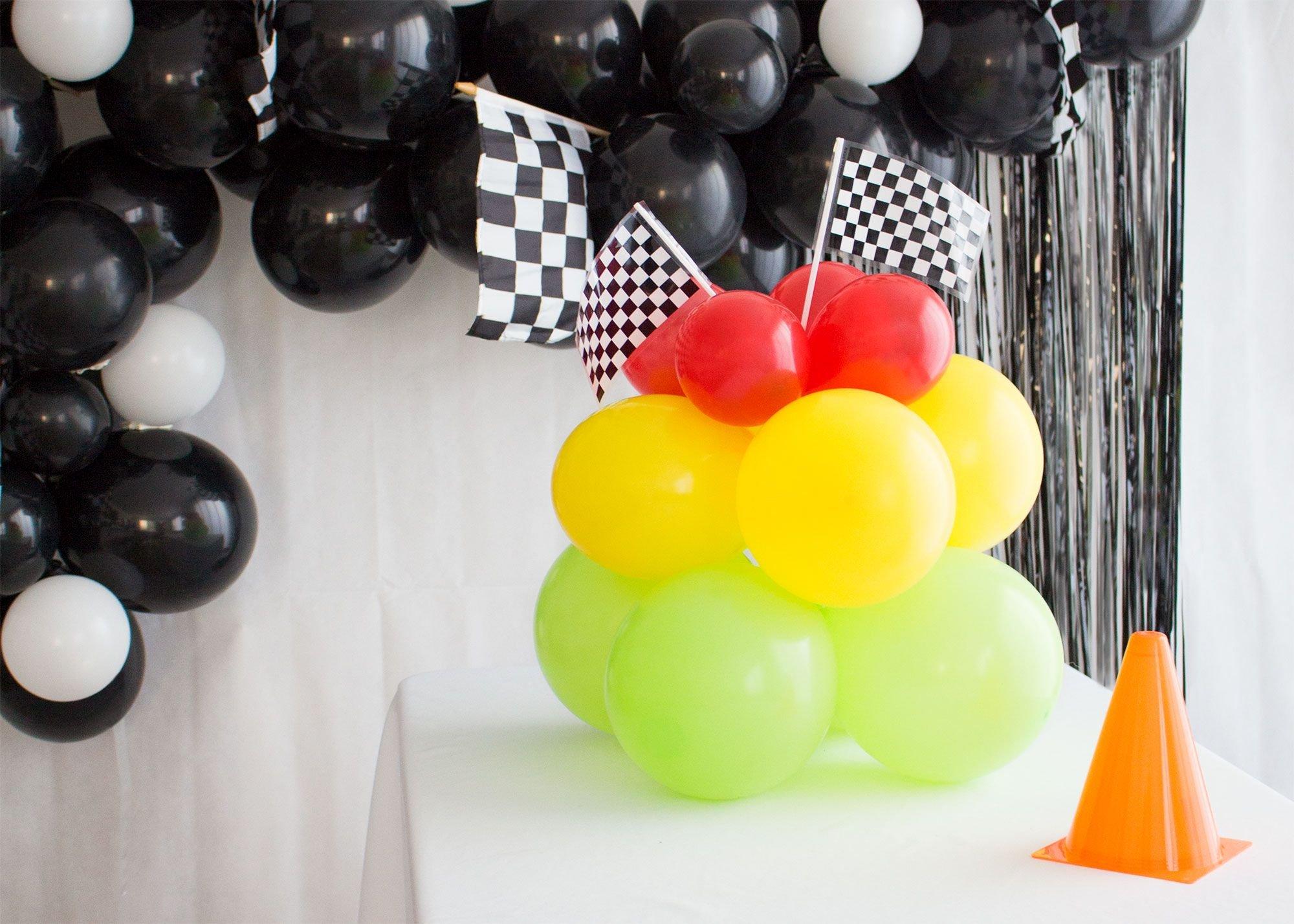 Team Colors Balloon Column
Whether you're throwing a Super Bowl party or an end-of-season party for a youth football league, this balloon column is full of team spirit. The mini balloons create a forced perspective illusion, making this balloon column appear extra-large! We covered the base of the balloon column with four 12" balloons at the bottom and four 9" balloons as the next layer. The remainder of the column uses red and gold 5" mini balloons in a spiral pattern.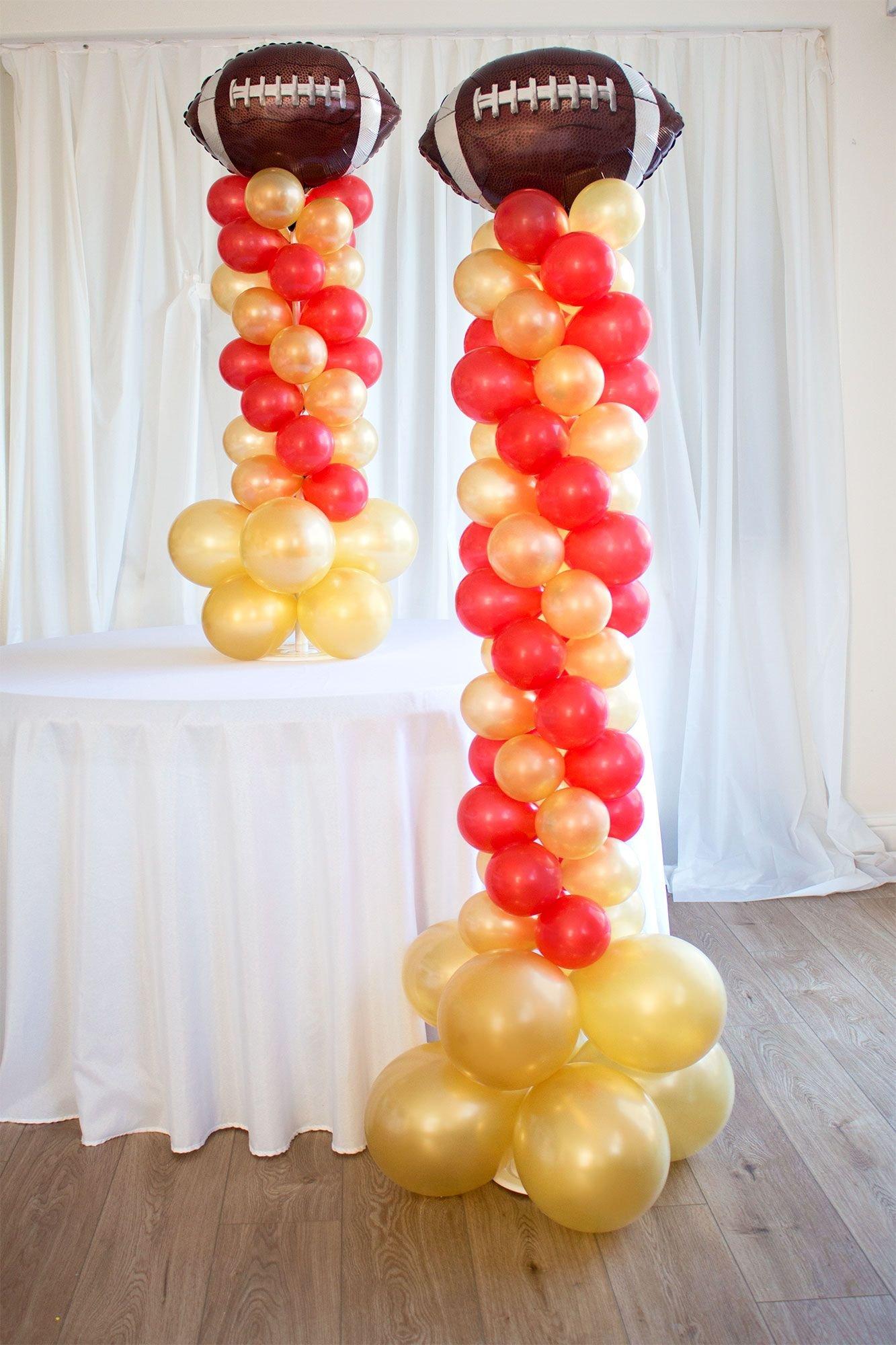 Palm Tree Balloon Columns
Transport your party guests to a tropical paradise with these cute balloon columns! These palm trees would be a perfect welcome to your summer pool party or luau. If you want to display these outdoors, make sure to pick up balloon weights or garden stakes to keep them tethered in case of inclement island weather! With this fun summer balloon display, everyone will feel like they're on a tropical vacation!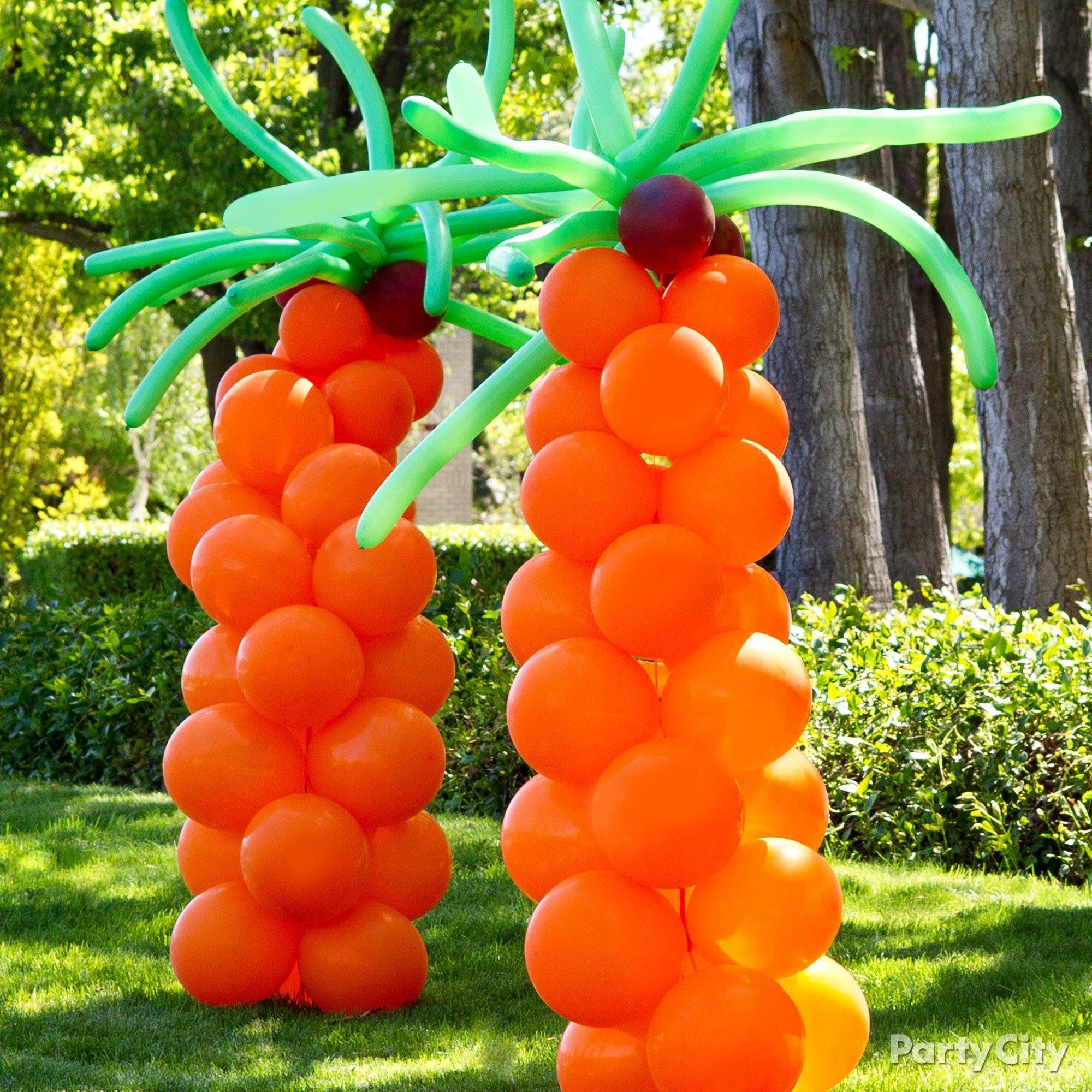 Baby Bottle Balloon Column
Oh, baby! This aww-some baby shower decoration is dressed to impress with clear filigree balloons layered over the solid color balloons of your choice. Swap to pink for a girl baby shower, alternate pink and blue for a gender reveal, or choose a different color completely for a gender neutral baby shower.