Balloon centerpieces inflate your party design with whimsical delight. Centerpieces generally require less time to put together than arches, backdrops or columns, while packing a powerful visual punch.
Choose a centerpiece to highlight your party theme, adorn your party table and pull your decor together. Try a balloon centerpiece as the finishing touch for your party design! No helium on hand? No problem, none required for these DIY designs. Get your balloons to get started!
Magical Mermaid Balloon Centerpiece
Swim in inspiration with this mermaid themed balloon arrangement. Start with a base of foil lavender round balloons, then add a layer of 5-inch blue latex balloons. Top the centerpiece with a translucent Mermaid balloon to complete this magical look. Have you seen our complete list of Mermaid party ideas?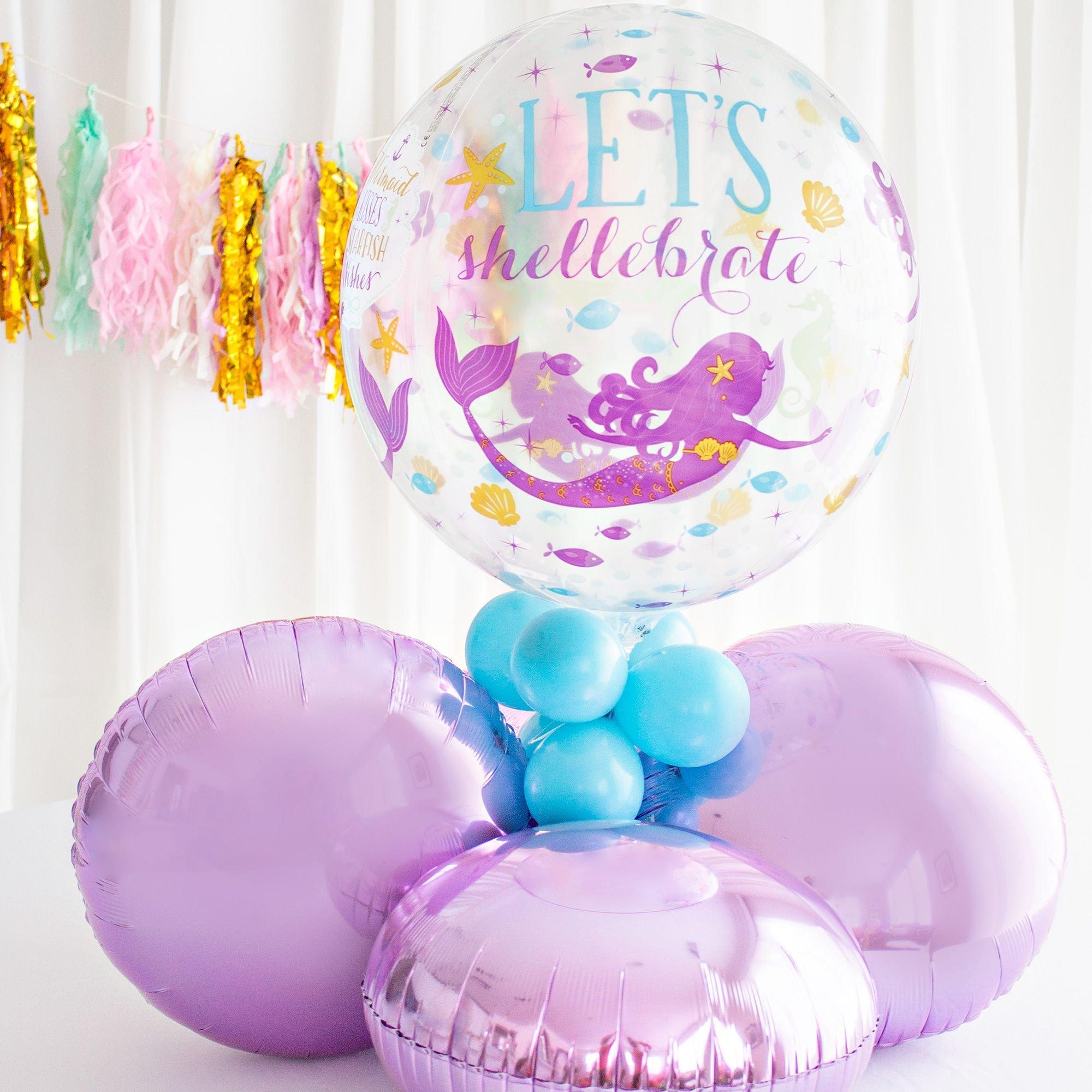 L.O.L. Surprise! Balloon Centerpiece
A foil purple and pink L.O.L Surprise! balloon is the cherry stacked on top of this birthday party eye candy. Mini purple latex balloons dressed with dark pink curling ribbon create the second layer of this centerpiece. The bottom layer is made using pink latex balloons with white polka dots. The centerpiece is weighted with a water balloon at the base.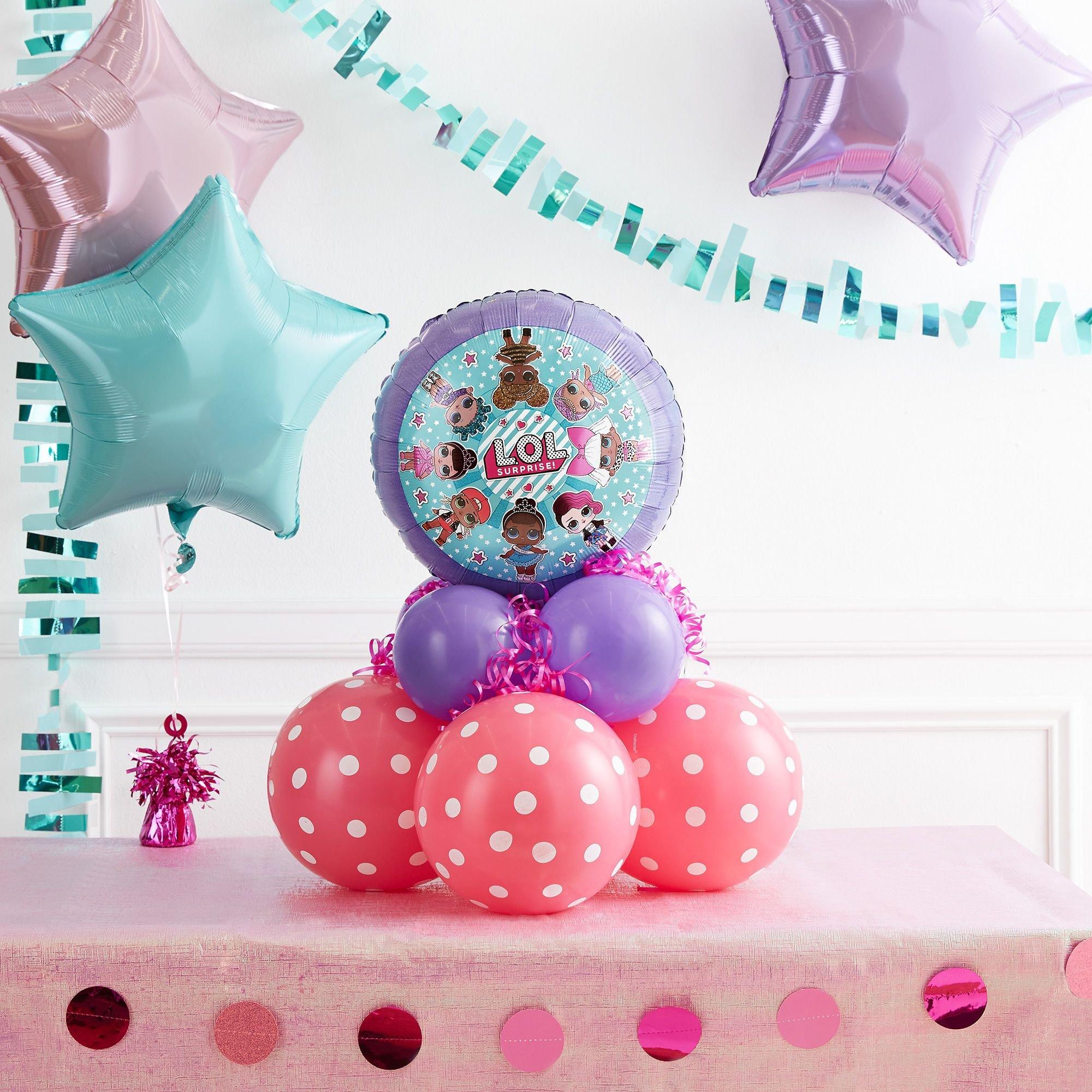 DIY Light-Up Balloon Centerpiece
Brighten up the party mood with a light-up centerpiece. Adding lights to the balloons is a simple way to make a big impression. "Oohs and Ahhs" not included—but guaranteed when your guests arrive!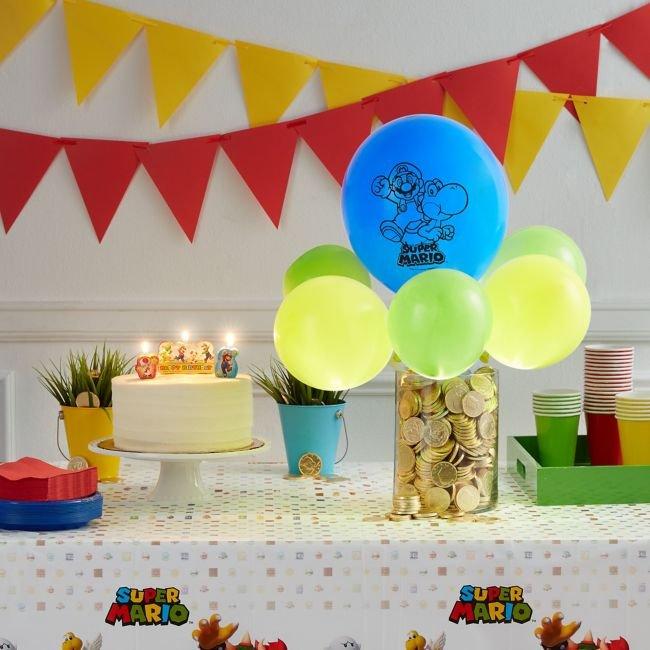 Splish-Splash Baby Shower Balloon Centerpiece
Make a splash with this bubble bath themed centerpiece. A foil baby balloon sits in a plastic tub surrounded by 5-inch clear balloons to craft this fresh balloon centerpiece idea. This centerpiece lasts for a while after your party ends, so you don't have to throw the proverbial baby (centerpiece) out with the bathwater.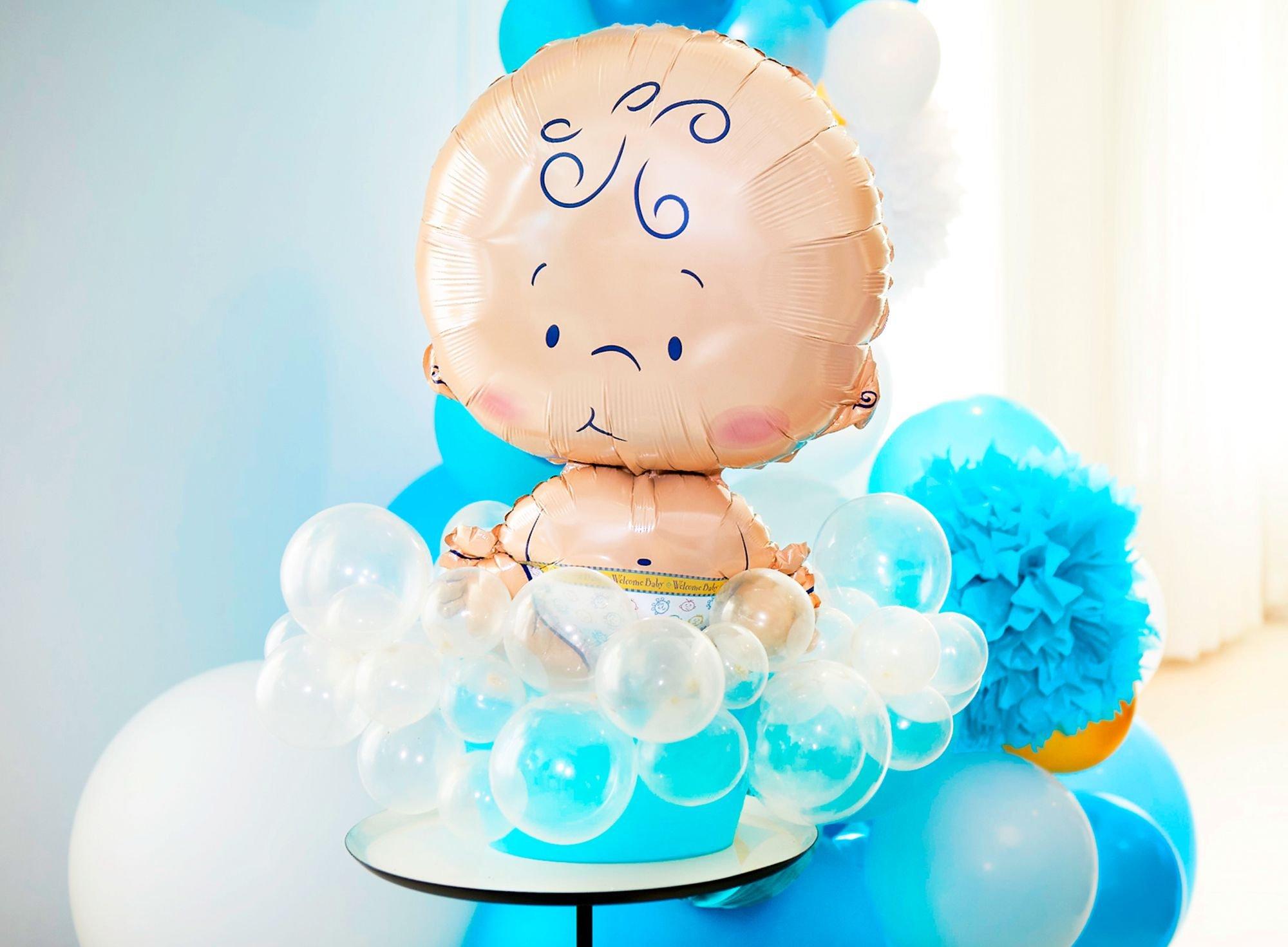 Pastel "Congrats Grad!" Balloon Centerpiece
This pastel balloon centerpiece sets off your uplifting pastel party color palette. Delicately vibrant, this easy to assemble creation requires a few colored latex balloons and a foil "Congrats Grad! balloon that tops the piece.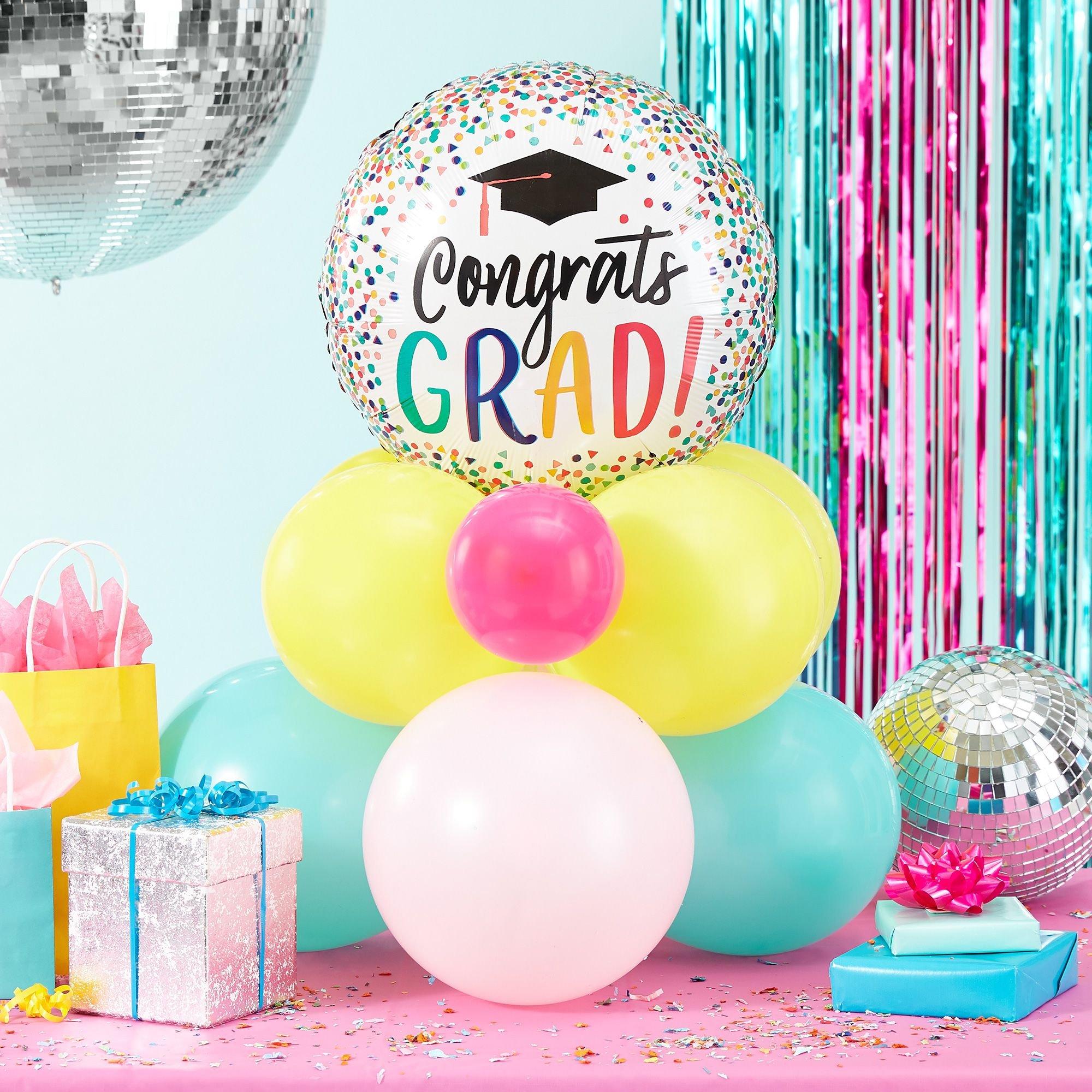 Racecar Balloon Centerpiece
Have a need for speed? This racecar themed balloon centerpiece can be assembled in no time! Head to the party decorating finish line with a couple of checkered flags and colored latex balloons.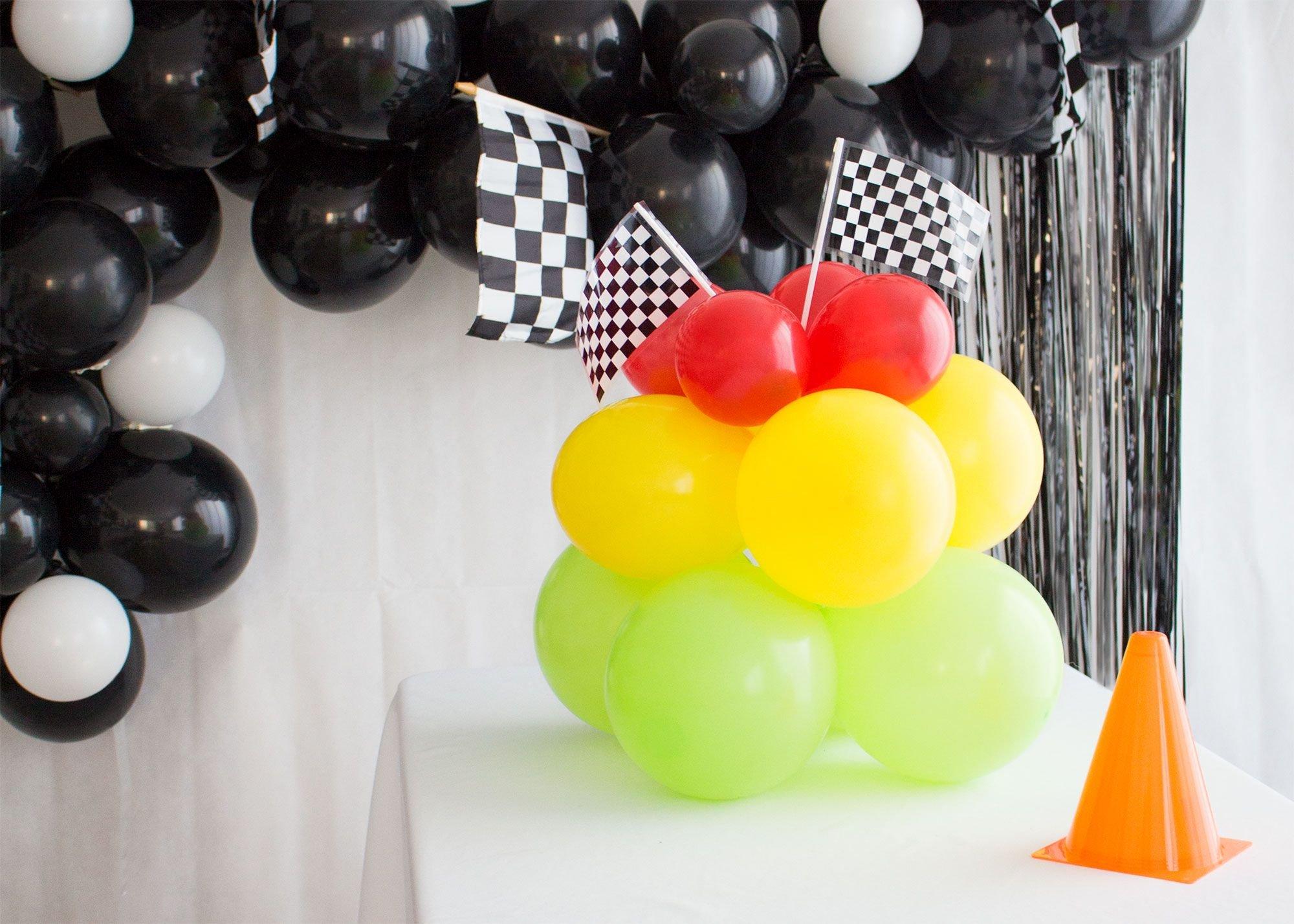 Darling Daisy Balloon Centerpiece
This centerpiece is blooming with beauty. A silver tub, some green tissue paper and 5-inch yellow and white latex balloons are all that you need to add flower power to your party decorations. This make a great centerpiece for a birthday, anniversary, Easter or Mother's Day celebration.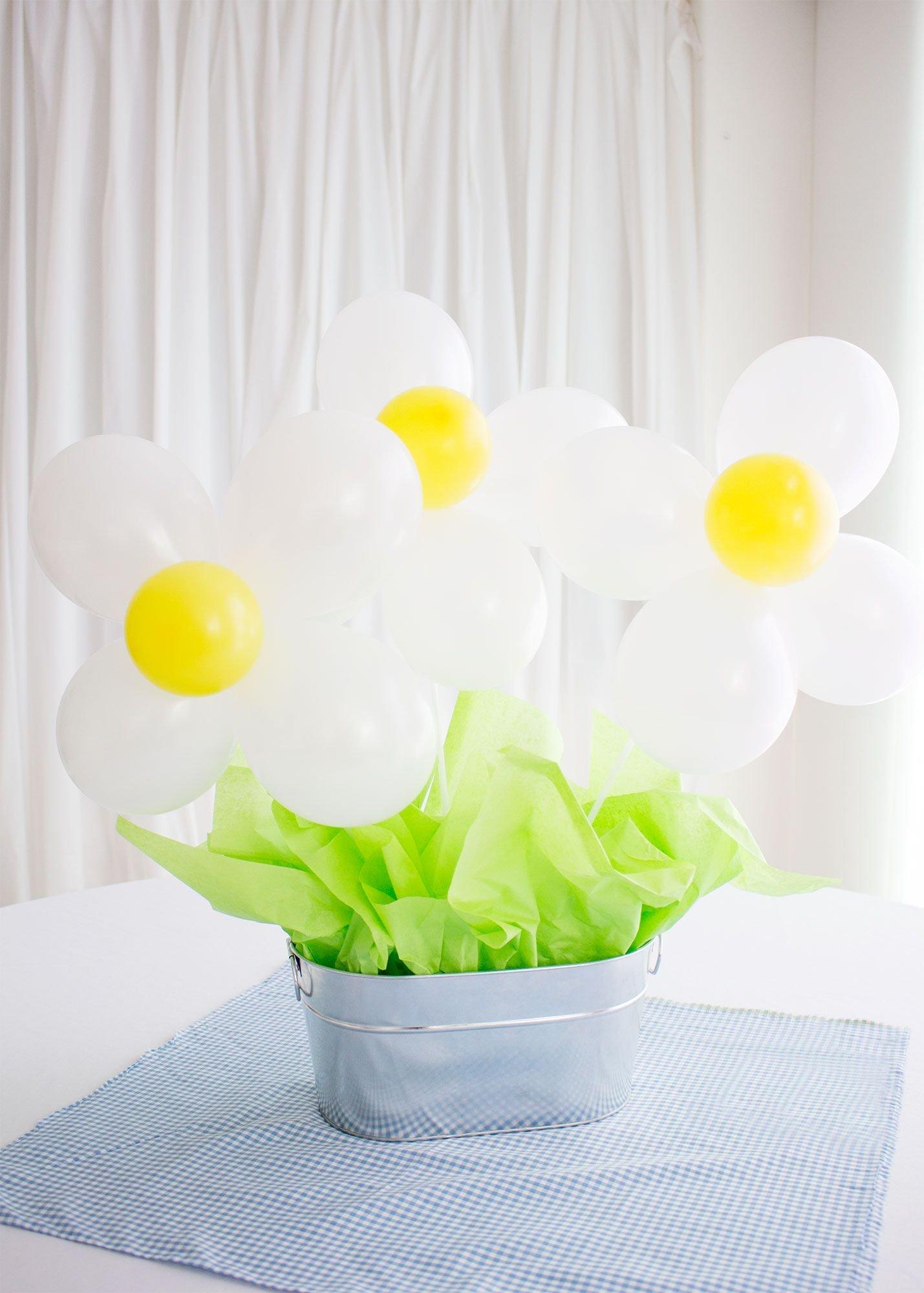 Birthday Gift Bag Balloon Centerpiece
This colorful take on a centerpiece is a gift that keeps on giving! A small gift bag, tissue paper, curling ribbon and an assortment of colored latex balloons creates this unique design. It's easy to transform a few items into this eye-catching decoration that can be used for graduations, birthdays, and more! No helium needed, balloon sticks do all the heavy lifting in this arrangement.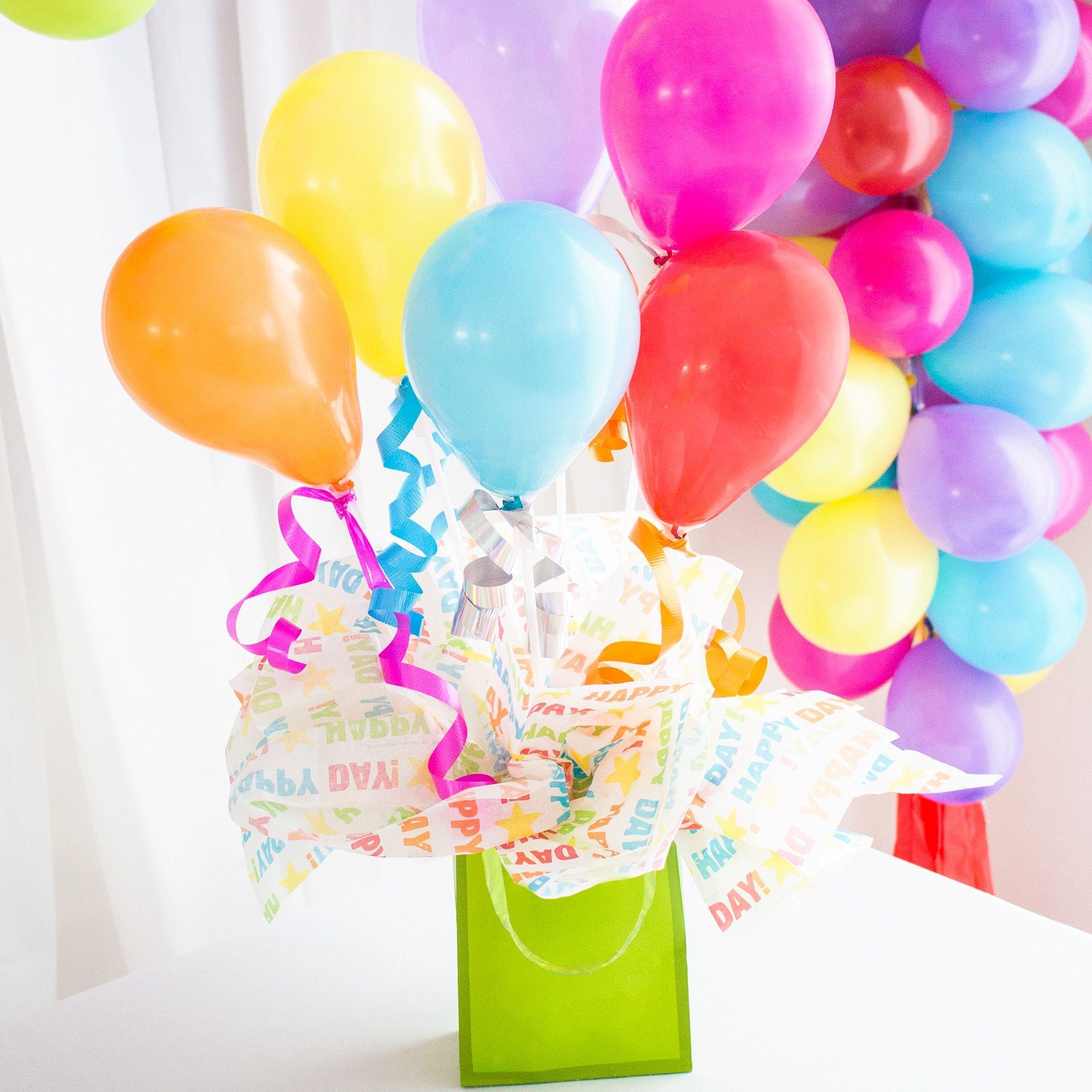 Rainbow Balloon Garland Centerpieces
When is a balloon garland not just a garland? When it's also a centerpiece! Color your party happy with this rainbow garland. Mix and match colored latex balloons, or group mini and regular latex balloons of the same color, to create a decoration perfect for long tables. Tie a few helium filled balloons to the garland using curling ribbon to really make your party table pop! Find a balloon garland for your theme or occasion.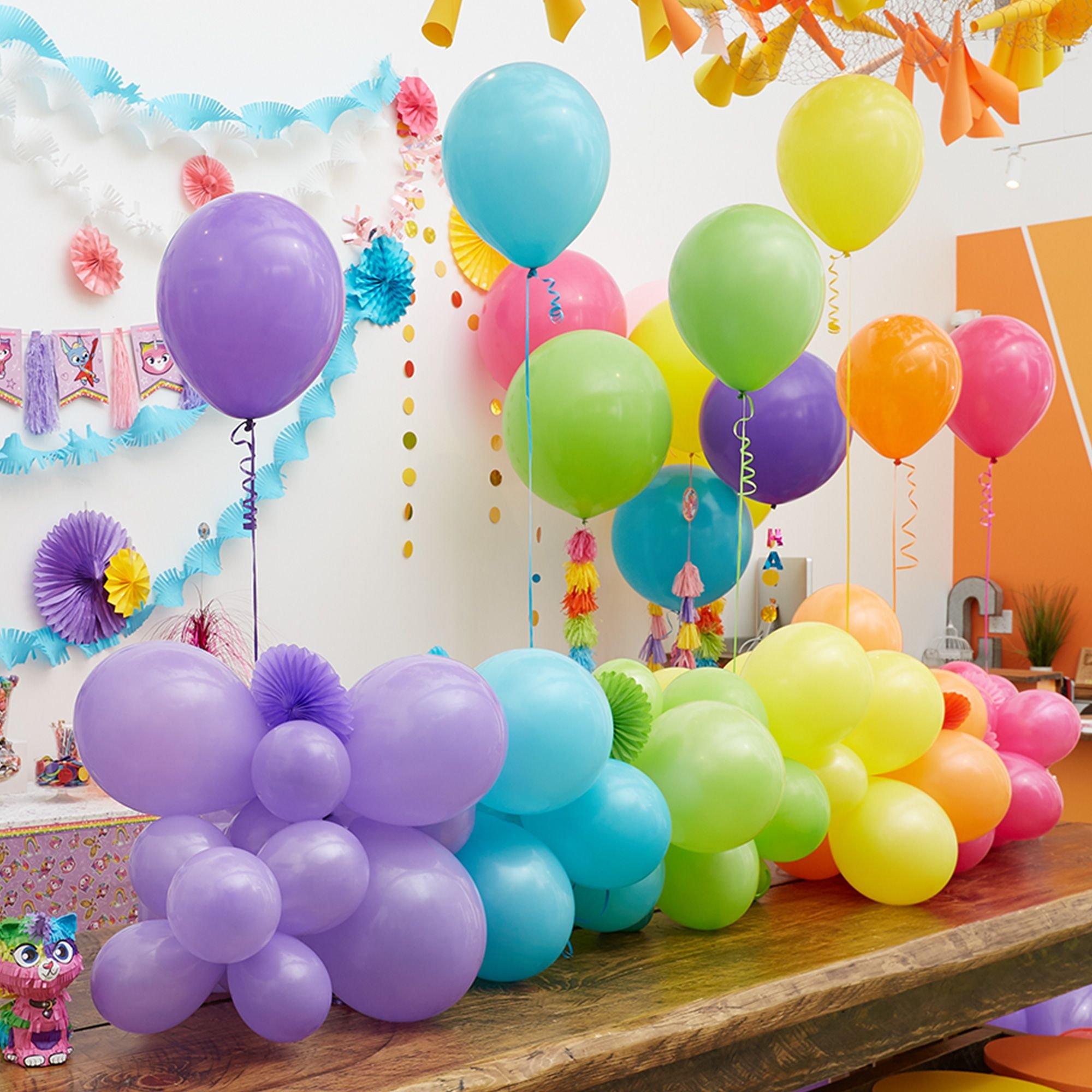 Tulle Balloon Centerpieces
Feature this unique and chic centerpiece for your baby shower or birthday celebration. Attach a balloon to a balloon stick and plunge into a Styrofoam block. Cover the entire centerpiece in tulle to dress up the look. Adorn your masterpiece with bows, shells, or other decorations that fit your theme. No helium needed, the balloon stick does the lifting!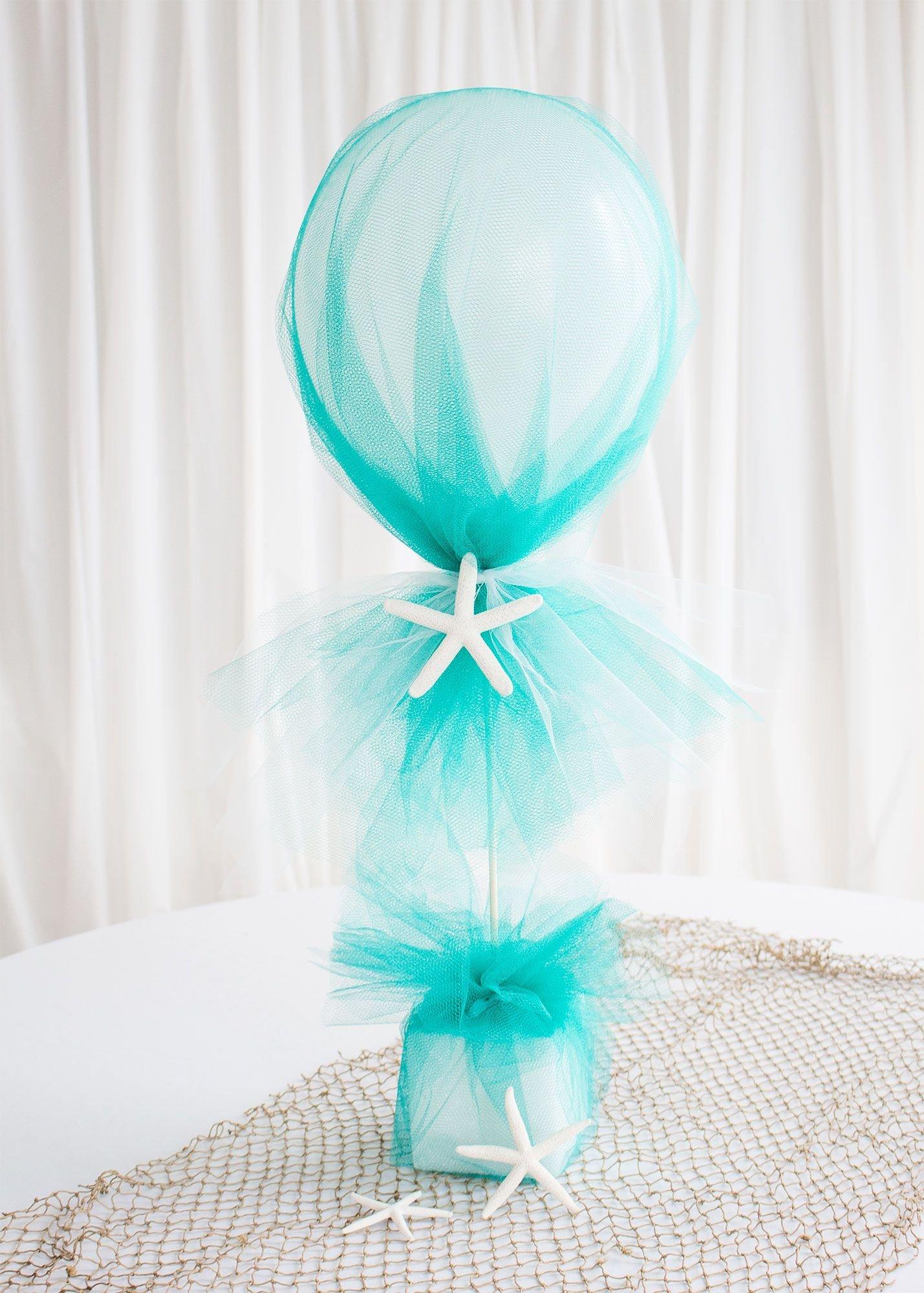 Mini Rainbow Balloon Centerpiece
Mini balloons make an oversized impression in these balloon centerpieces! These bright rainbow 5-inch balloons make a bold statement. Choose a clear See Thru Orbz balloon with complementing rainbow colors to top off this vibrant decoration.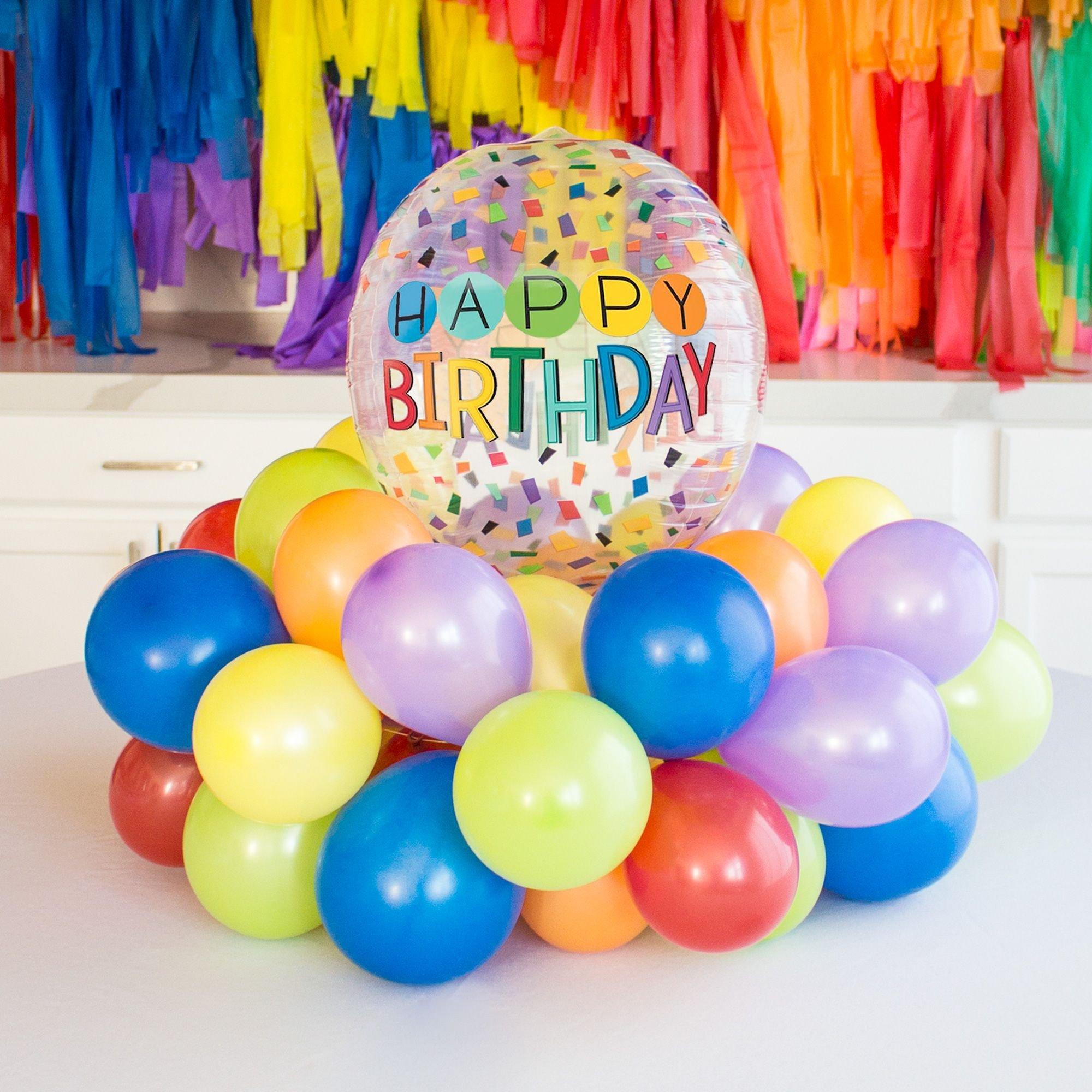 DIY Hula Hoop Balloon Wreaths
Hoop wreaths are trending—and for good reason. These hoop balloon wreaths add a striking design element to a balloon centerpiece. Place your anchor balloon or balloon design in the center then arrange balloons around the wreath to give a multi-dimensional look. Spray-paint your hoop to complement your party colors then drill it into a wooden base. Keep the base and reuse it for your next party!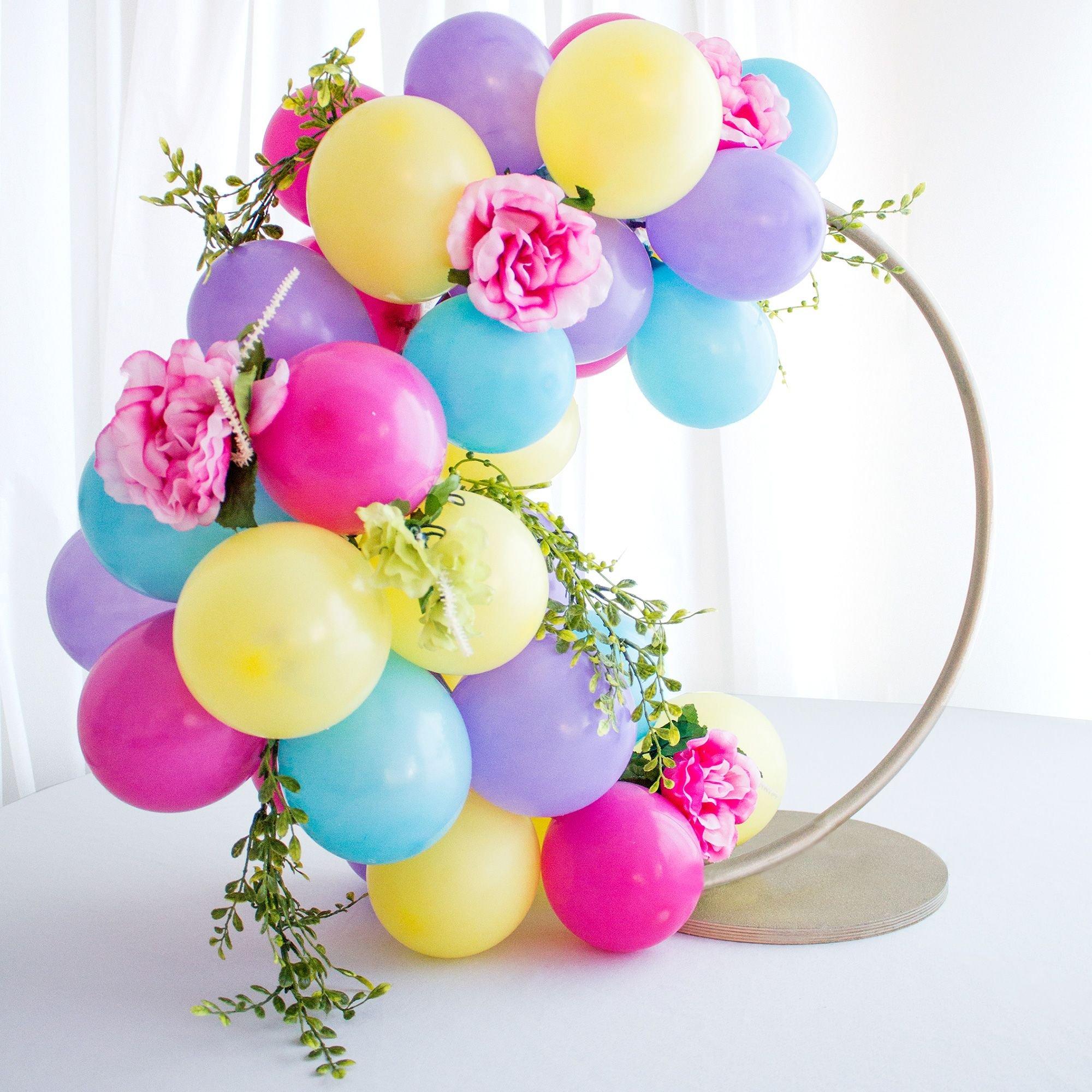 Soccer Ball Balloon Centerpiece
Score major party planning goals with a soccer ball centerpiece fit for a champion. A few white and black latex balloons are all that you need. Forget the helium fuss, none needed!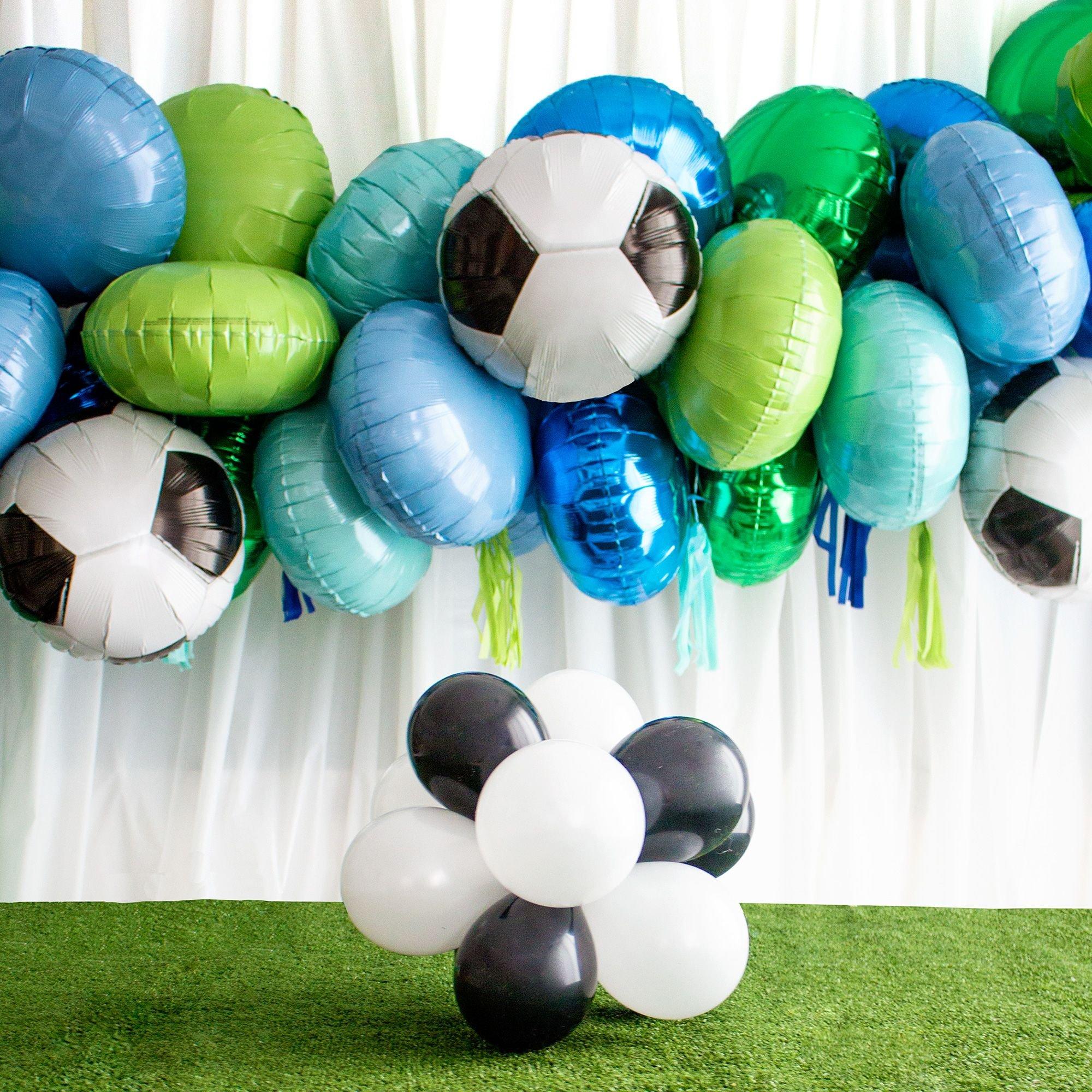 Milestone centerpiece
You only turn 50 once, so make it count with this 50th birthday centerpiece. It's easy to assemble this 50th birthday balloon centerpiece with a foil "Big 50" balloon and latex balloons in silver pearl and black pearl. While 50 is fabulous, you can use the same centerpiece for any milestone birthday, just swap out the foil balloon!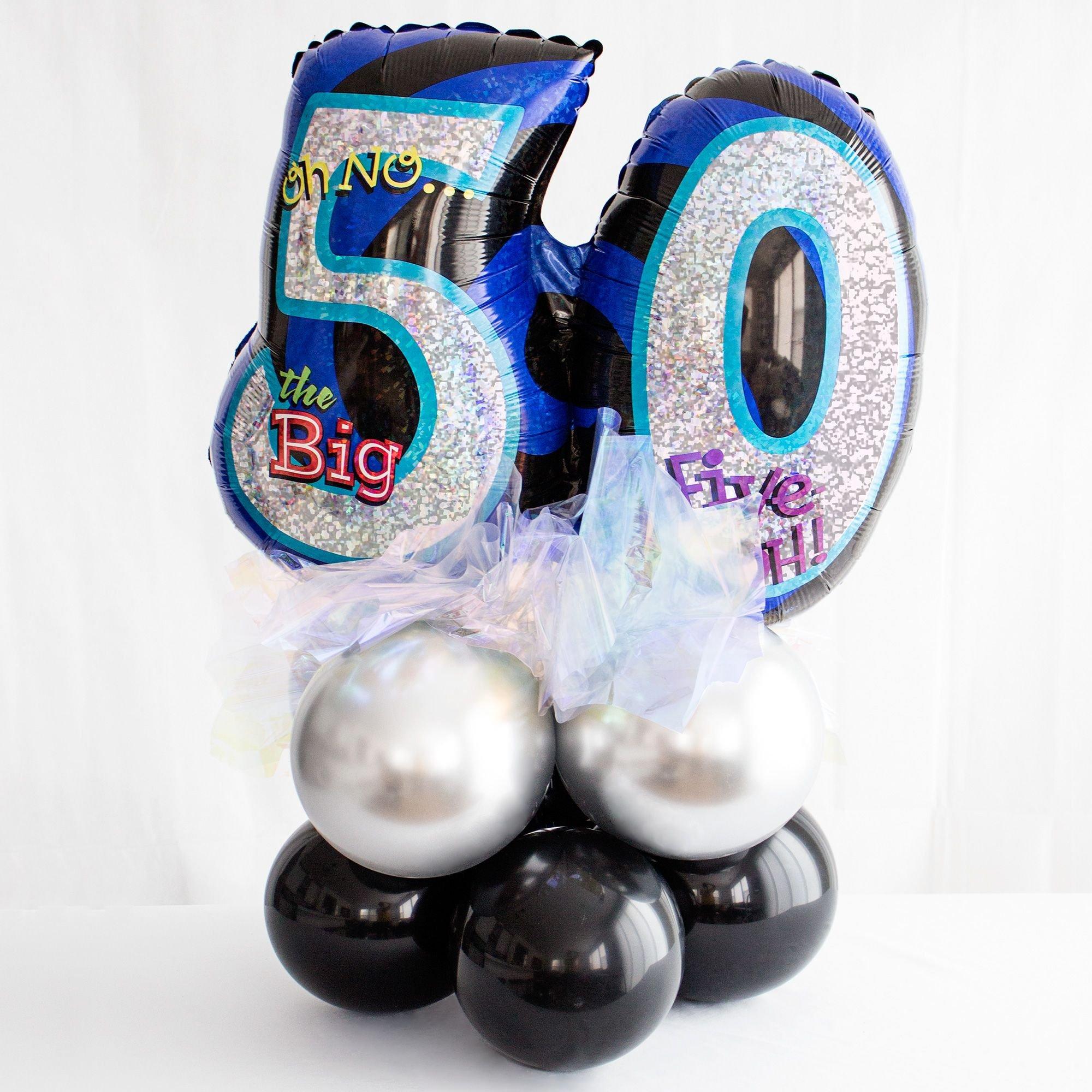 Soccer Cluster Centerpiece
Be a party planning champ with this soccer themed centerpiece. Win big with this easy to assemble centerpiece that only requires a balloon stick, a few white and black latex balloons, tissue paper and a soccer themed container or a vase. No helium is required but bring your party decorating "A" game!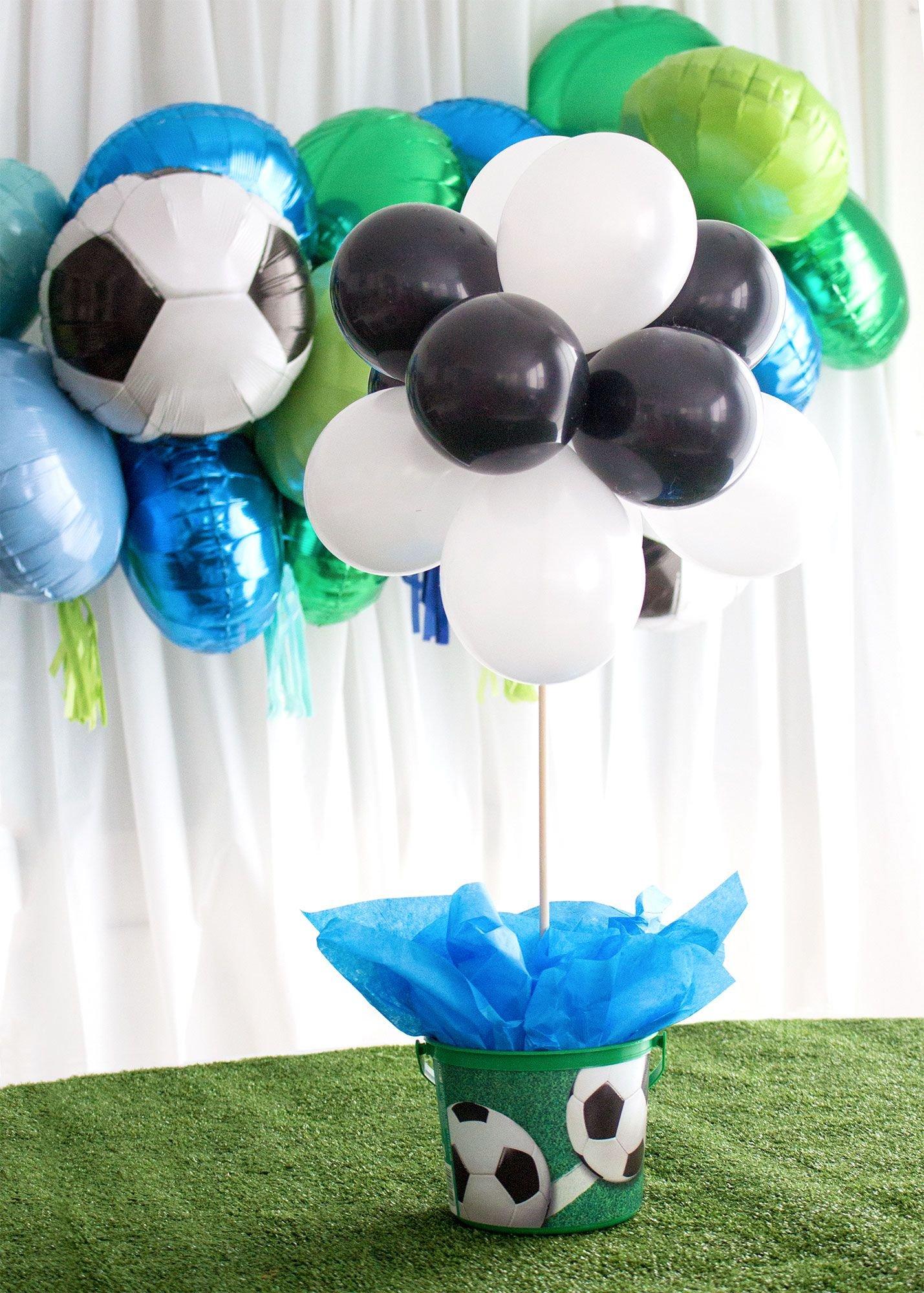 Lemon Balloon Centerpiece
Sweeten your party table with this refreshingly fruity centerpiece. Mini and regular yellow latex balloons and a few leaf cut-outs are all you need for this arrangement. No helium needed. Add this lemon balloon garnish to your summer indoor and outdoor parties!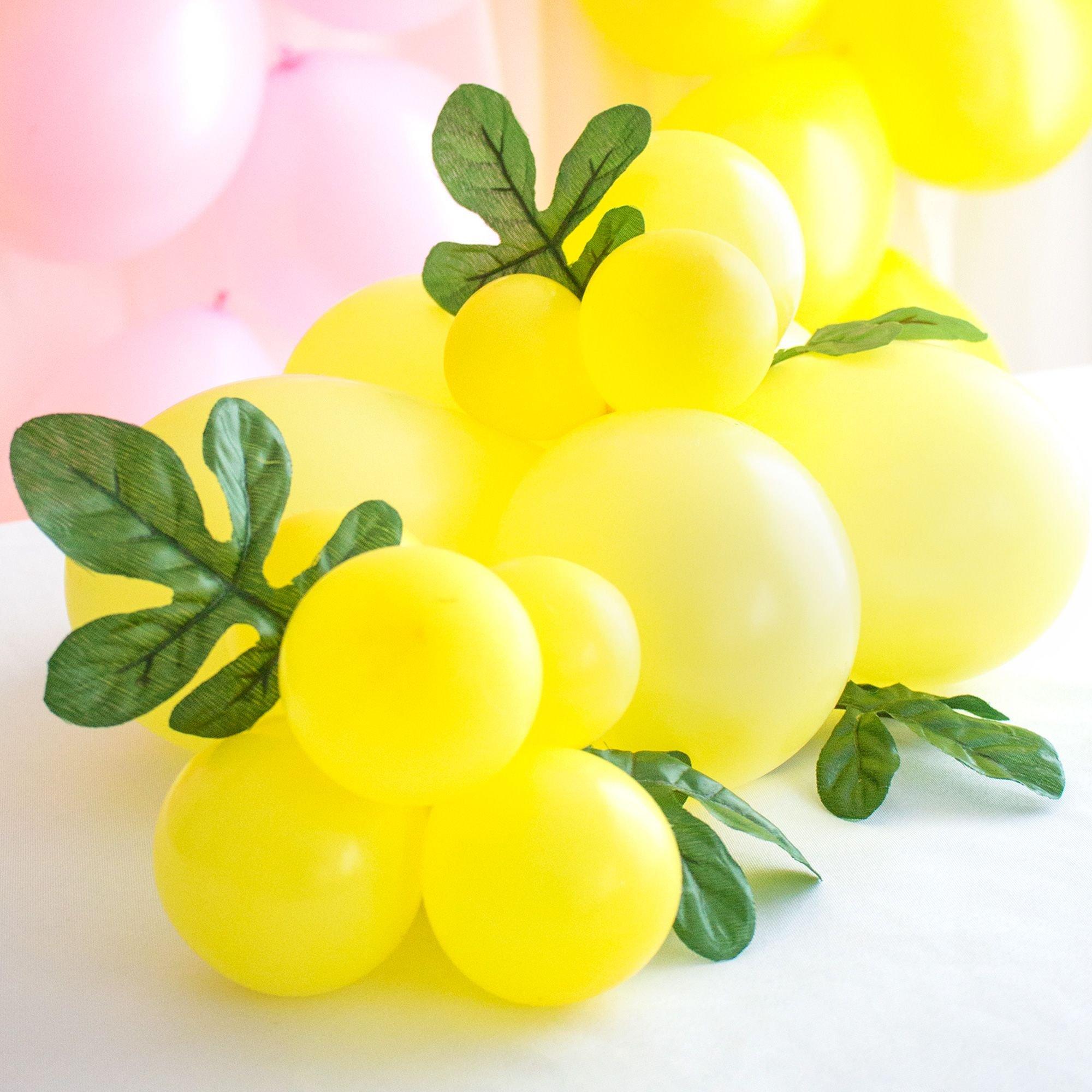 Jungle Balloon Centerpiece
It's a jungle out there! This jungle centerpiece brings out the wild side of your summer, jungle, tropical, or dinosaur themed parties. A few mini and regular green latex balloons and some leaf decorations (or use real leaves!) composes this simple to assemble garland centerpiece.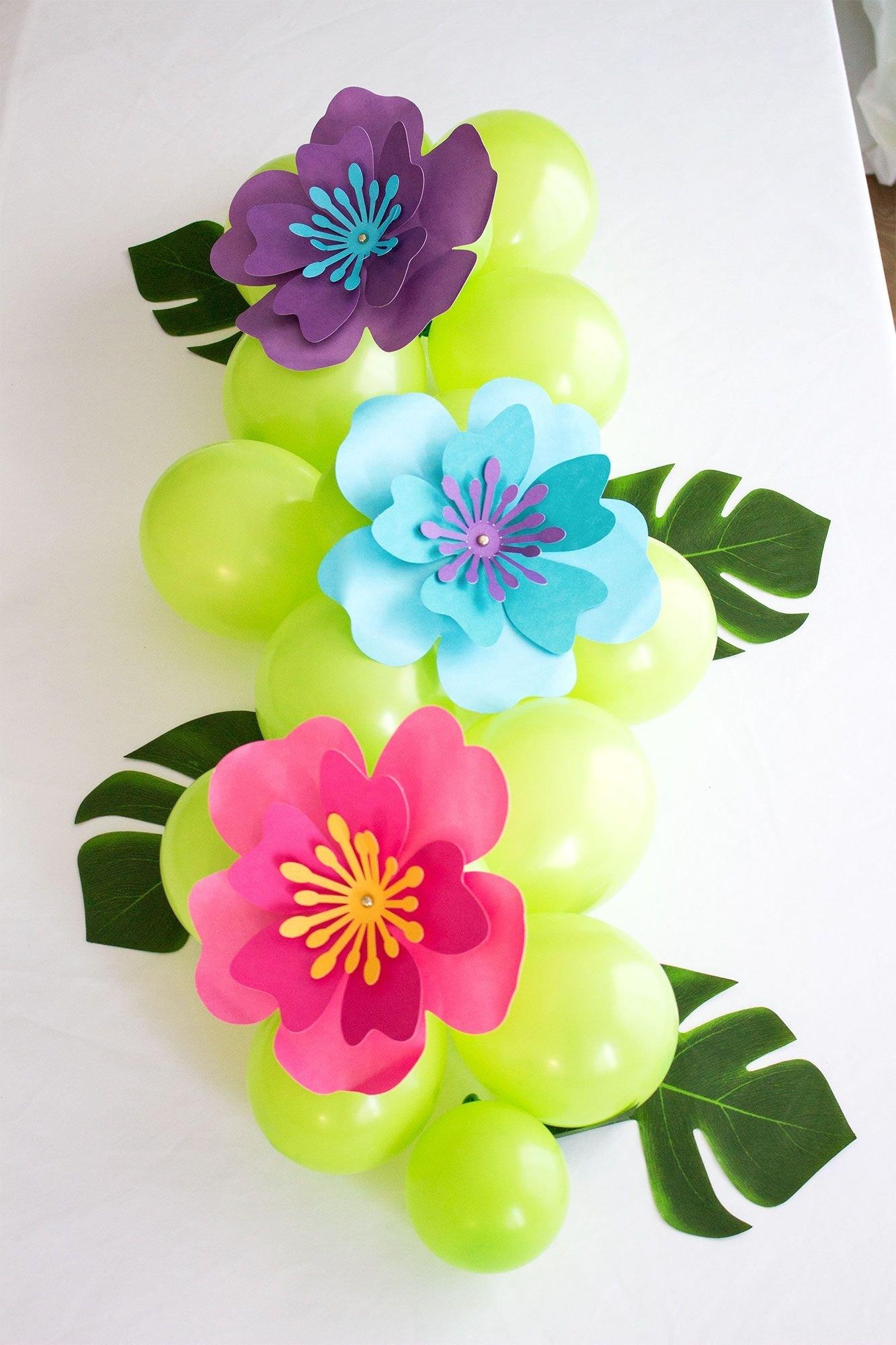 Superstar Centerpiece
This star centerpiece really shines! A foil star shaped silver balloon sitting atop four black latex balloons creates this supernova centerpiece. No helium needed to create this classy look.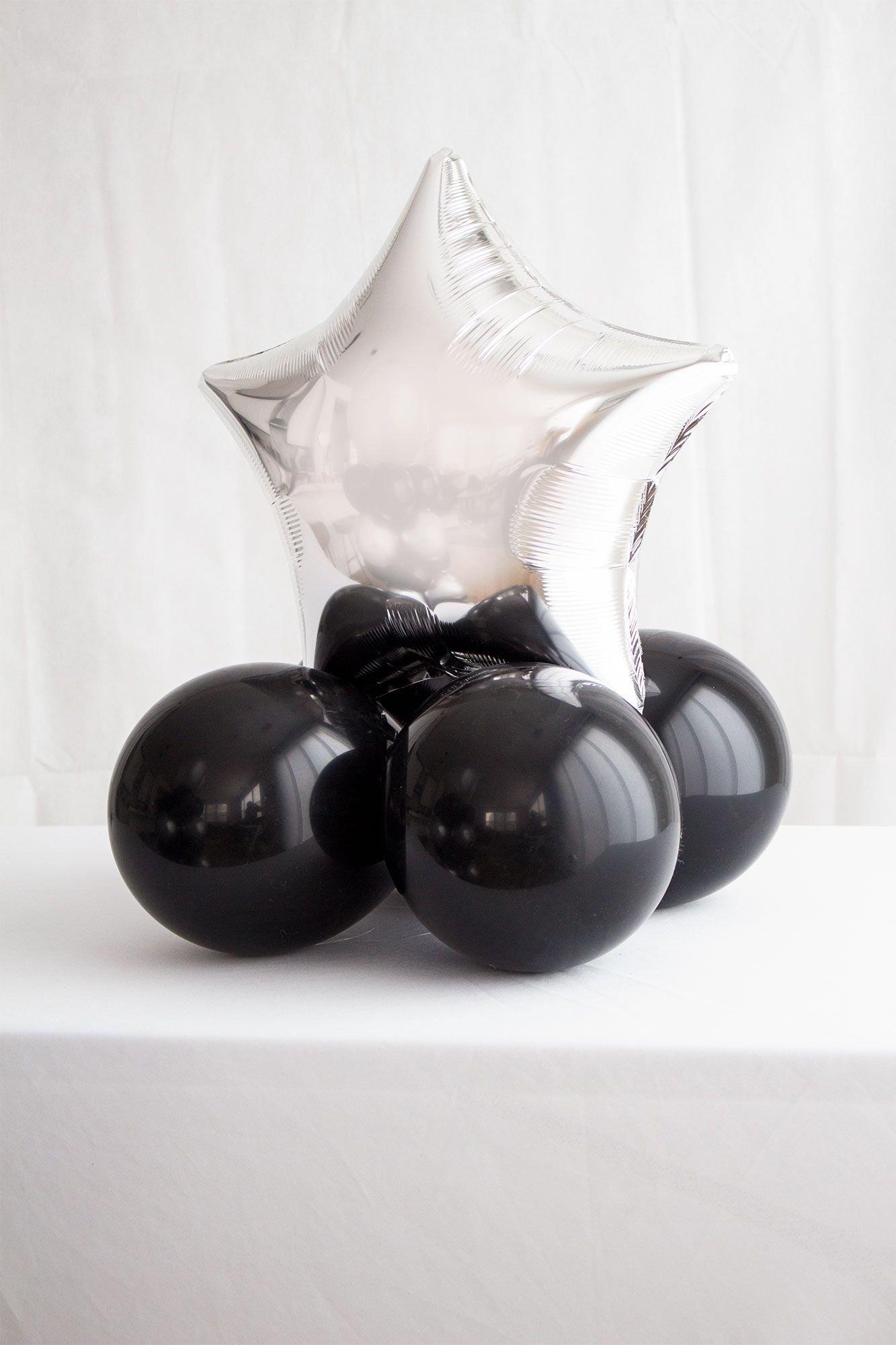 Barnyard Balloon Centerpiece
Bring farmhouse fun to your party table with this super simple centerpiece. The featured foil balloon shows adorable farm animals in birthday hats celebrating on the farm. Use this as the final touch!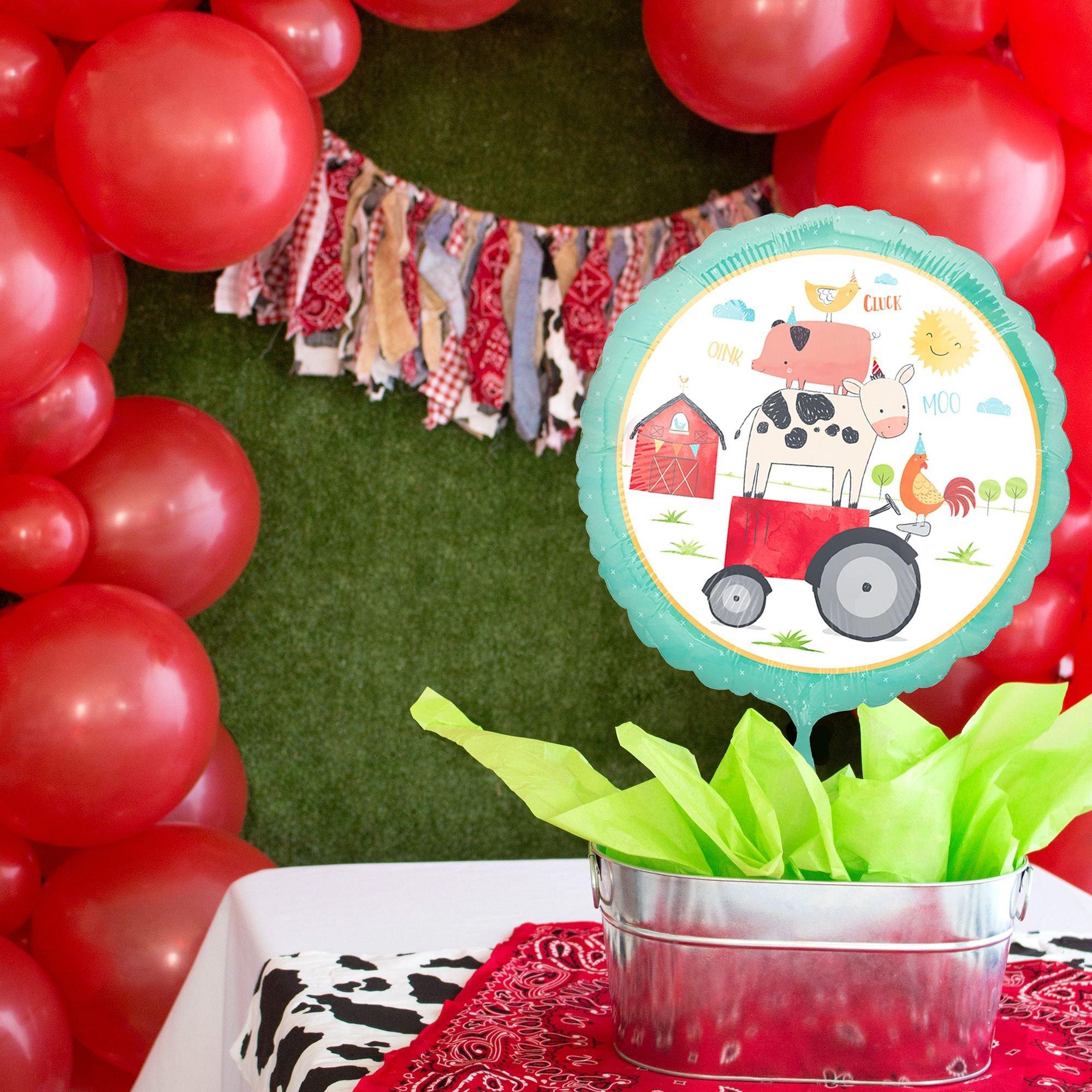 Balloon Flower Centerpieces
Freshen up your party design with flowers. Choose your petal color and arrange four latex balloons around one 5-inch yellow balloon. That's some major flower power for your party. And it won't trigger your allergies!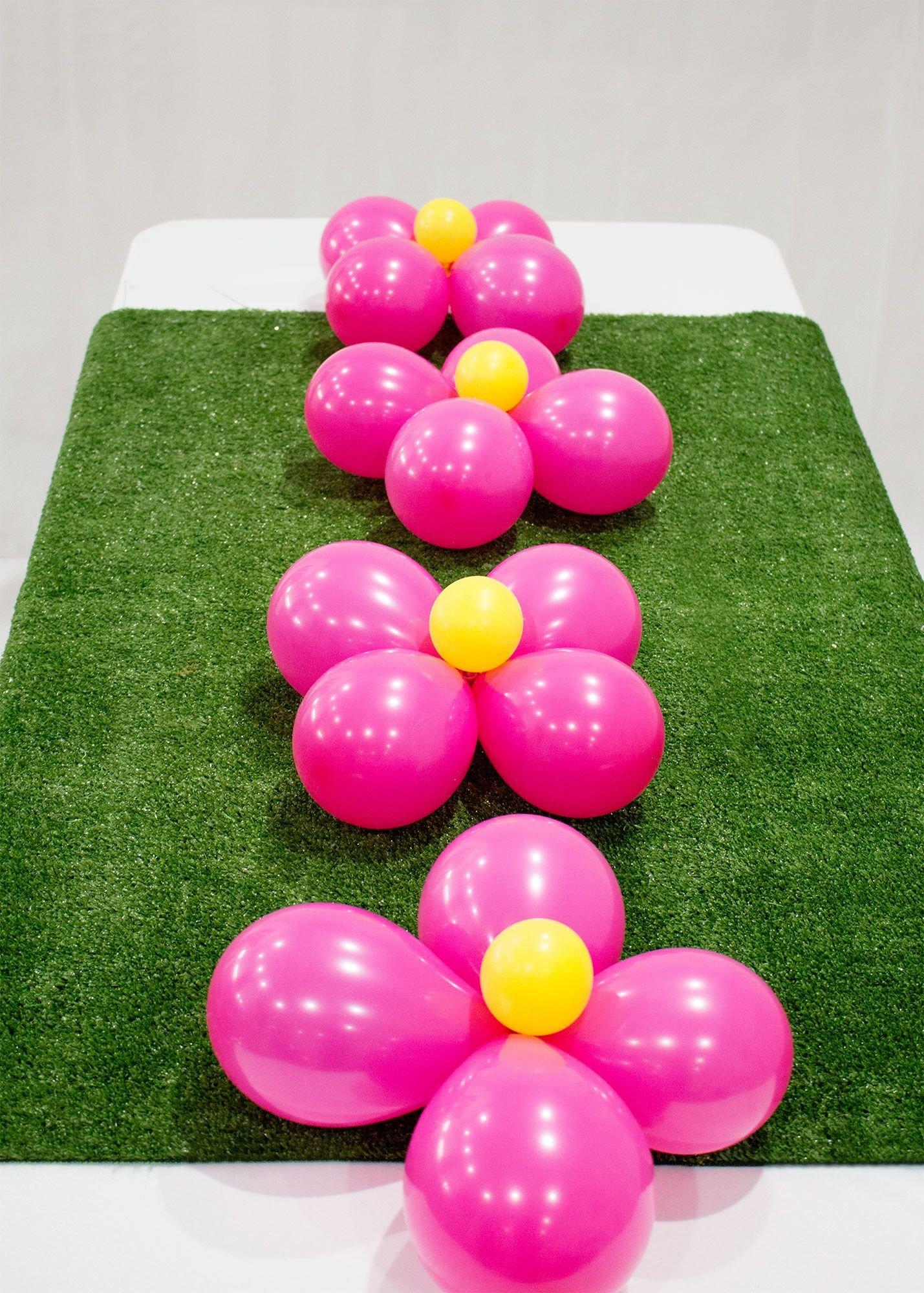 Ladybug Balloon Centerpiece
This red and black centerpiece pairs perfectly with your ladybug themed party. A few red latex balloons lay the foundation of the balloon portion of the centerpiece. Add a second layer of mini black latex balloons. Then top with a red mini latex balloon! Use a lady bug themed cut-out on the top balloon for extra flair. The base of the centerpiece is a flower planter or box filled with grass. No helium needed for this lovely ladybug themed centerpiece that complements a garden party, al fresco brunch, or birthday celebration.