Womens Pennywise Costume - It
Womens Pennywise Costume - It

Select Size:
Product Details
It Womens Pennywise Costume includes:
Dress
Collar
Boot toppers
Leg warmers
Officially licensed Warner Bros. IT Movie costume.
More on It Womens Pennywise Costume: We all float down here! Everyone at the Halloween party will be spooked when you show up in an It Pennywise Costume for women! The costume includes a gray dress, a collar, boot toppers, and leg warmers — perfect for dressing up as Pennywise. Wear this costume and clown makeup to complete the look. Show up to the costume party as the twisted clown of everyone's nightmares! Review the size chart for additional sizing information. Shoes and balloon not included.
Costume #522
Product Warnings & Disclaimers
Intended for adult use only.
Materials
Fabric
Spot clean only
Frequently Bought Together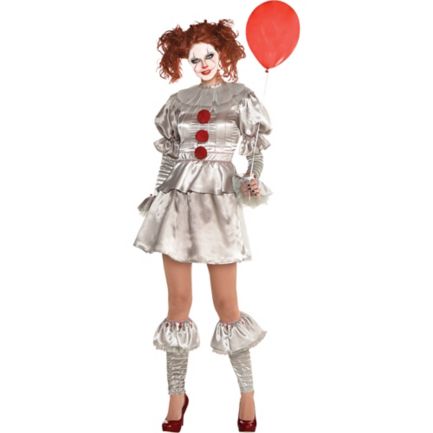 Bring the fright this Halloween with this Pennywise Costume for women. It includes a silver clown-style dress with a lace collar, puffed shoulders, fluted sleeves, and three red pom poms down the front. Accessorize with makeup, deep red shoes, and finish it off with the included boot toppers. Whether you're trick-or-treating, attending a themed party, or participating in a haunted houses, just make sure not to forget your iconic red balloon (sold separately).

Additional Details
Long-sleeve dress
Lace and pom pom details
Ruffled organa collar
Boot toppers
Hand wash cold; line dry
Does not include shoes, makeup, or balloon
Officially licensed Warner Bros. costume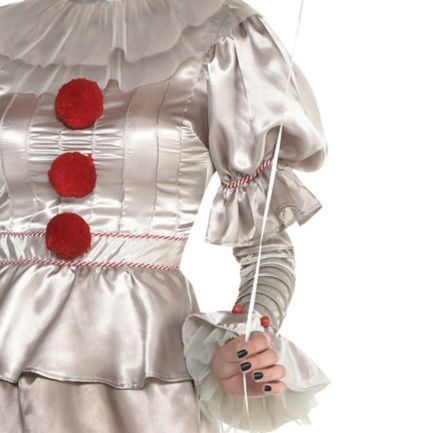 Intricate Details
Along with a ruffled organza collar, the jumpsuit features exaggerated shoulders, fluted sleeves, red pom pom buttons down the center, and a peplum waistline.
Straight out of the Movie
Use makeup (sold separately) to give yourself that realistic Pennywise look, with eerie eyes a menacing smile.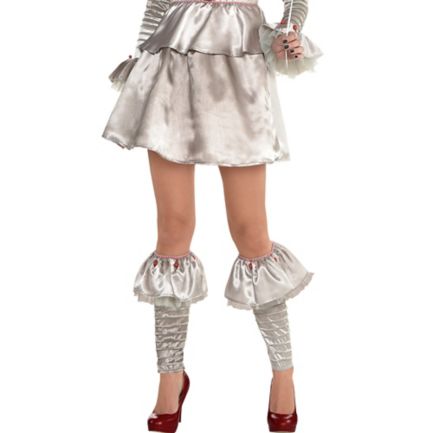 Cohesive Construction
The flared, ruffled leg warmers have red pom poms along the opening to match the ones on the bodice.
Show us your look with #PartyCity on Instagram!
ADD YOUR PHOTO