Toddler Boys Classic Spider-Man Muscle Costume
Toddler Boys Classic Spider-Man Muscle Costume

Toddler Boys Classic Spider-Man Muscle Costume
Select Size:
Product Details
Transform into a web-slinging superhero with this Classic Spider-Man Muscle Costume for toddler boys! A polyester red and blue jumpsuit features muscles molded into the arms and torso, Spidey's iconic web print and a large spider symbol on the chest. Hook-and-loop closure in the back makes it easy to get in and out of the suit in the flash. A red half-mask covering the head and top half of the face completes this striking Spider-Man costume.
Toddler Boys Classic Spider-Man Muscle Costume includes:
Officially licensed ©Marvel costume.
Costume #185
Product Warnings & Disclaimers
CAUTION: Use with proper adult supervision. Do not use when unobscured vision is needed.
Not for children under 2 years.
Frequently Bought Together
Show Off Your Spidey Sense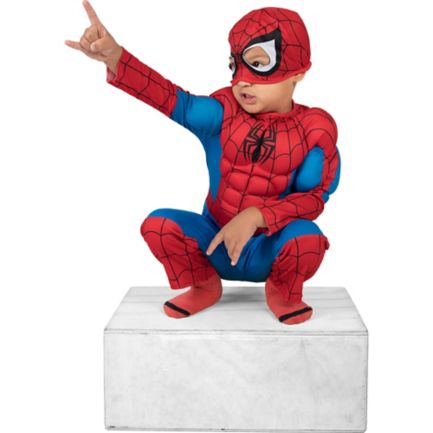 This long-sleeved jumpsuit is made of a soft polyester material for ultimate comfort. The arms and abs are padded to give your child the super strength they need to face any villain. The comfortable half-face mask protects their identity and ties everything together so your little one can look just like their favorite superhero.

Additional Details
One-piece polyester jumpsuit
Padded chest, arms, and abdomen
Rear hook-and-loop closure
Over-the-head half mask
Large eye cut outs for visibility
Hand wash cold; line dry
Does not include socks
Officially licensed Marvel costume
Keep Their Identity a Secret
The fabric half-mask covers the top of the head and half of the face, leaving the eyes, nose, and mouth uncovered for maximum comfort.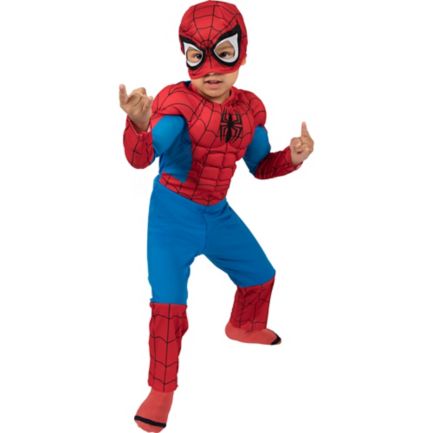 Spot-On Design
The jumpsuit's design includes red and blue panels, the iconic black spider symbol on the chest, and a webbed pattern printed throughout.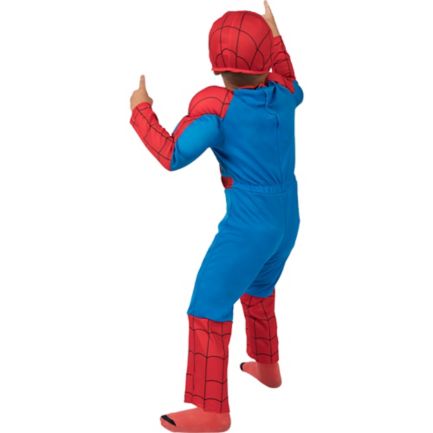 Ultimate Convenience
A rear hook-and-loop closure makes outfit changes easy, so they can get to trick-or-treating and saving the city in no time.
Show us your look with #PartyCity on Instagram!
ADD YOUR PHOTO