A baby shower with forest friends on the favors, decorations and cake! Owls, foxes and more cute critters make this baby shower awww-some. A woodland theme lets you get creative with your food, favors and decorations. Nibble on our sweet ideas for a hedgehog cheese and crackers appetizer, an amazing rock candy favor idea and decorations and tableware in the cutest pattern ever. We'll show you the essentials you'll want for a baby shower everyone will "ooh" and "aah" for.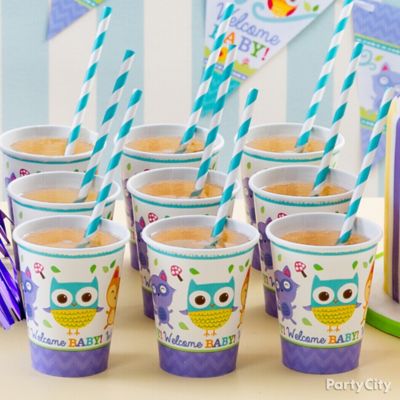 Idea 1: Style the drinks with striped straws
Woodland baby shower cups look super-cute with Caribbean blue striped straws. Line them up in rows next to a drink dispenser to create a drink station area where guests can mingle. Serve apple cider to match your woodsy theme!
Idea 2: Invite woodland friends to the baby shower!
Create a sweet favors and treats table by hanging up a baby shower banner along with decorative paper fans and fluffies. Hanging swirl decorations with paper cutout owls are a hoot! See if you can find the owls, raccoons and foxes!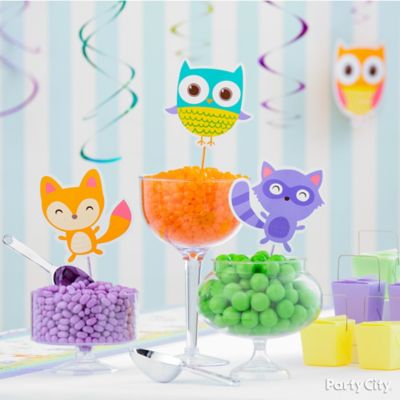 Idea 3: Create a mini candy buffet
Have fun making your own custom candy buffet! Choose a few containers that you like, then choose candy for each container. Tie in your Woodland baby shower theme idea by decorating the containers with paper cutouts (from a swirl decorations kit). We hot-glued them to bamboo skewers, and tucked the skewers in the candy. Don't forget candy scoops and candy boxes for guests!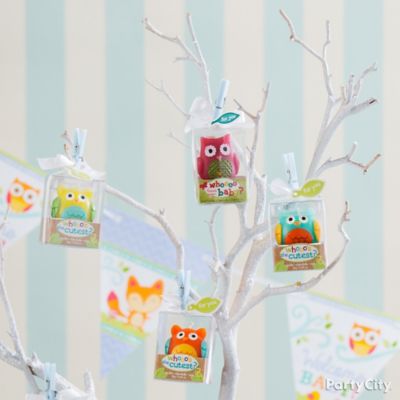 Idea 4: Hang favors from a natural branch painted white
Here is a fun decorating idea that is perfect for a woodland or rustic theme. Use a natural branch and spray-paint it white to give it a baby shower feel. Use tiny blue clothespins to clip favor boxes onto the branches. It's so easy and really looks fabulous! Secure the bottom of the branch in a pail or container of natural rocks.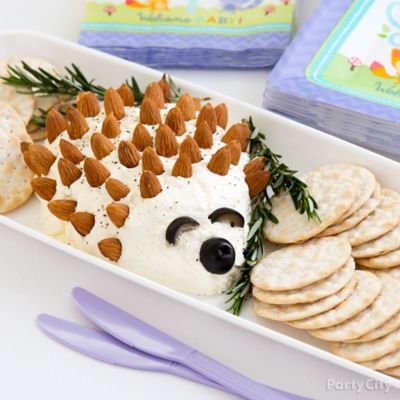 Idea 5: Your hedgehog cheese and crackers will steal the show
For this woodland baby shower appetizer, you'll need two 8 oz. packages of cream cheese. Form into a ball and place on a platter. Add almonds to create the spines. Cut an olive in half for the nose, and then cut a slice of olive in half to make the eyes. Season with pepper and garnish with rosemary sprigs. Serve on a tray with water crackers and cute napkins!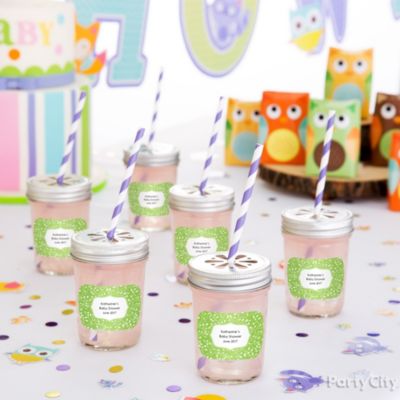 Idea 6: Pink lemonade in mason jars is too cute!
Serve pink lemonade in mason jars. These jars have holes in the lids so you can slip in a striped straw. Line the drinks up in rows on your treats table. Woodland themed confetti looks adorable on the table as well!
Idea 7: Owls are adorable on favor boxes and photo frames
Display a flock of too-cute owl favor boxes on a wood round and fill them with Sixlets® or jelly beans (or nuts for a natural theme). Another fun baby shower favor idea is using a picture frame to make a "thank you" sign for the favor area. Use the rest of the frames that come in the set on the dinner table, or make signs for the food and drinks.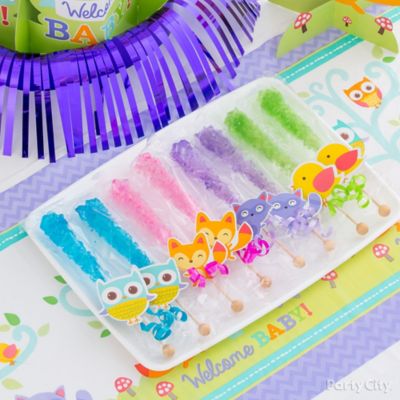 Idea 8: Make DIY rock candy favors decorated with li'l animals!
Here's a way to make your centerpiece kit do "double duty". Use the small paper cut-outs that come with it to create these custom candy favors. We taped the wee animal cutouts to rock candy in the party colors! For a sweet touch, add a snippet of curling ribbon in each color, to match. They look adorable laid out on a white tray.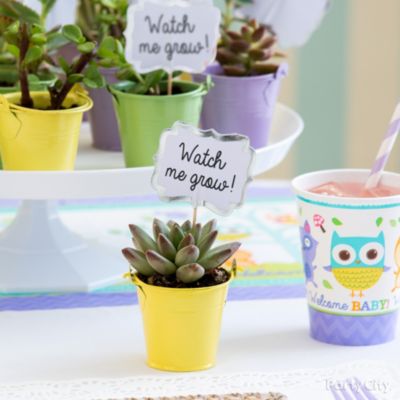 Idea 9: Mini succulents in pails bring nature to the party
Get a set of pastel-hued mini metal pails and fill them with mini plants. Succulents are super cute and hardy too. Add a little sign with a hand written message or each person's name. These look fabulous displayed on a cake stand!