Candy, treats and decorating ideas to fill your Valentine's Day with love! Share the love with treats! This irresistible candy and treats buffet will be the darling of your Valentine's Day party. Make it unique and all-yours by starting with some clear containers, and your favorite candy sticks and gumballs in pink, purple and red (and don't forget conversation hearts... a must-have!). Stand bouquets of cake pops and cookie pops in the candy, and place a cupcake tower in the center.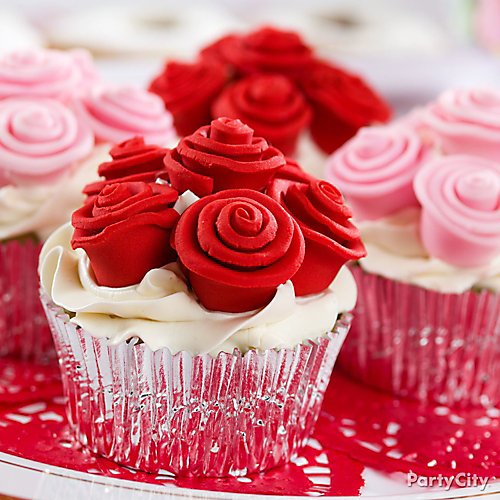 Idea 1: A sweet arrangement of rose cupcakes
Give your sweetheart the best kind of roses: edible ones! Top your cupcakes with these rolled rose decorations that are so easy to make: Roll pre-tinted red and pink fondant flat, cut uneven strips, then start at one end and roll into roses. Place several on top of each cupcake and arrange on a platter with red doilies underneath for a beautiful cupcake bouquet. Love is in bloom!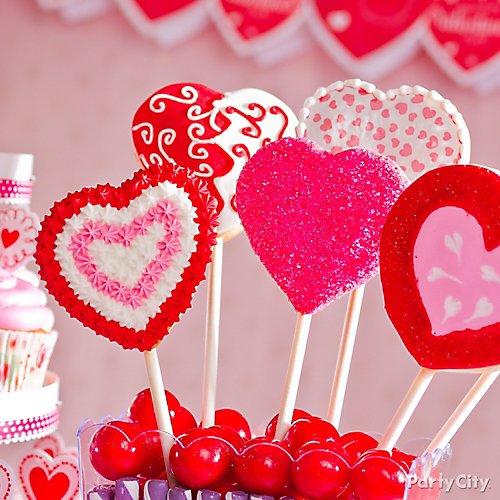 Idea 2: Woo them with cookie pops
Make their hearts skip a beat with heart-shaped cookie pops! To make these creative confections, you'll need Valentine sprinkles, red and pink icing tint, decorating bags, piping tips and cookie sticks. Try piping icing on some and dipping others in sprinkles – the possibilities are endless. Experiment with different techniques and ideas for a delicious sampling of unique cookies – a different one for each of your Valentines!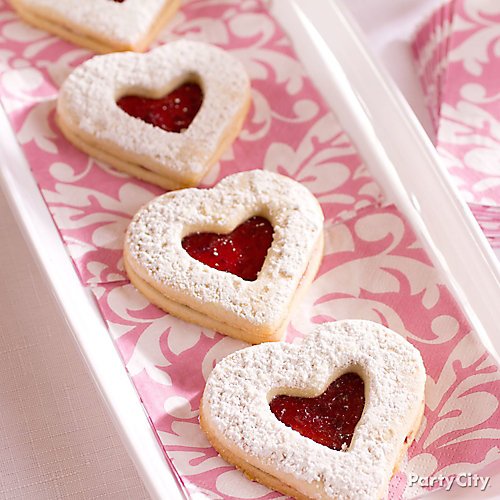 Idea 3: Try this très magnifique treat!
After a romantic dinner for two, surprise your sweetie with a dessert from the heart. To make, you'll need heart-shaped cookie cutters and a linzer cookie cutter with a heart attachment. Cut out a heart "window" on half of the cookies and bake. After they cool, sandwich strawberry jam in between and sprinkle some powdered sugar on the tops. For a beautiful presentation, layer pink beverage napkins on a tray and place your cookies on top – ooh la la!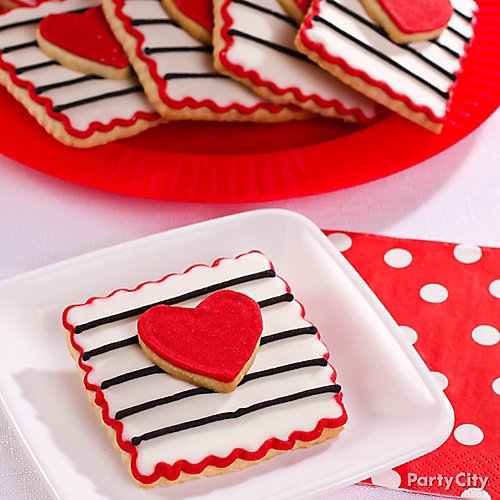 Idea 4: Love at first bite!
Make his heart go pitter-patter with patterned 3D cookies! To make these layered cookies you'll need cookie icing, piping bags, decorating tips and royal icing. For a sweet presentation, pair your treats with coordinating plates and napkins. The stripes on this double-decker cookie really stand out when paired with red polka-dot beverage napkins. Stripes and polka-dots – a pattern match made in heaven!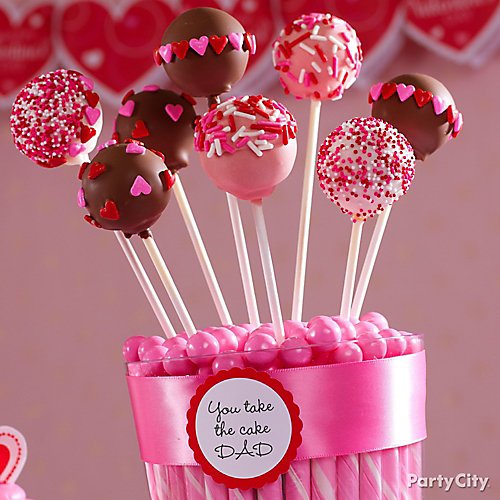 Idea 5: Make a cake pops valentine
Create cute desserts with Candy Melts®, sprinkles and cake pop sticks. Kids can help decorate the treats for Dad with the included sprinkles. When they're done decorating, make a cake pops bouquet by arranging them in a clear container with pink candy sticks, gumballs, ribbon and a favor sticker on the front with a cute phrase. The kids will love giving a cake pops bouquet they decorated themselves – and Dad will love eating it!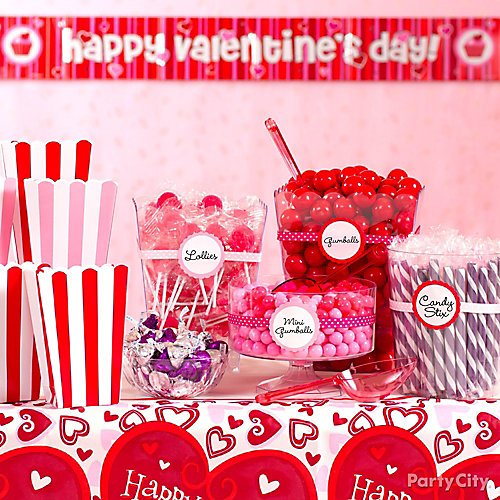 Idea 6: Give 'em a dream-come-true candy land!
They'll shower you with hugs when you set up a candy buffet with all kinds of chewy gumballs, sweet candy sticks and yummy chocolate kisses! Get candy containers in different sizes, label with cute stickers, and don't forget the treat boxes and candy scoops!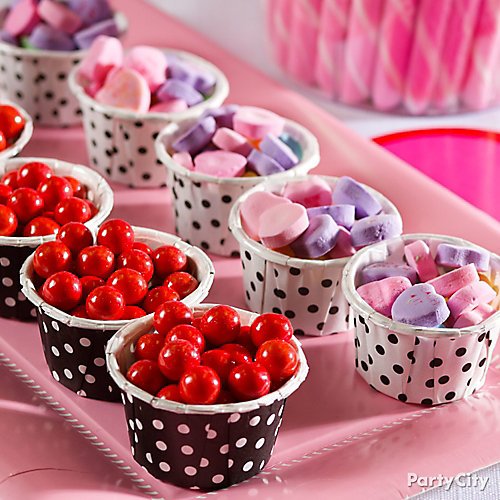 Idea 7: Kid-sized candy cups
Spice up your child's Valentine's Day party with fun candy containers. Fill polka-dot party cups with Valentine favorites like Sixlets® and conversation hearts. The party cups hold just a handful of candy – the perfect amount to keep kids content without having them bouncing off the walls! Kids will love the sweet treats these party cups contain, and you'll love the way the contrasting polka-dots look on a table full of pinks and reds.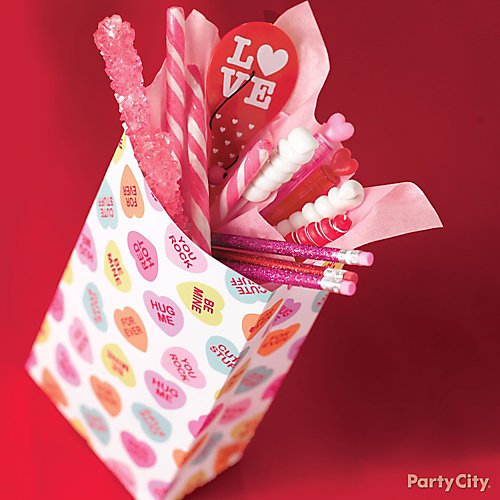 Idea 8: Start a heart-to-heart with a Valentine treat bag!
Give your little doodler Valentine the best gift ever – candy and pencils! Take glittery pencils, rock candy, candy sticks and themed pens and put them into a cute treat bag. Line it with pink tissue to make them feel extra-special!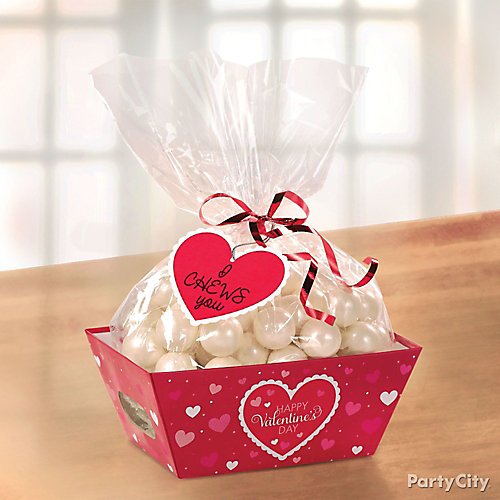 Idea 9: Put a clever tag on a candy Valentine!
No time to DIY? We've got a sweet Valentine's Day hack for you. Just stick white gumballs in a cello bag, tie off with ribbon and add a clever tag that says "I chews you!" Pop the candy bag into a valentine's gift tray and you're good to go!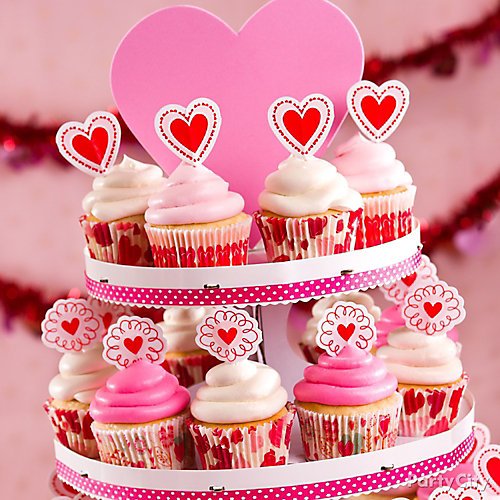 Idea 10: A pretty pedestal of cupcakes
Make a stunning cupcake tower that's a treat for eyes and tummies! Customize this reusable cupcake stand with pink ribbon and a large pink heart from construction paper as the tower topper. For the cupcakes, make decorating even easier with a cupcake decorating kit: Bake a batch of your favorite cupcakes in Valentine's Day baking cups, then add the finishing touch with coordinating heart picks. Perfect for Valentine's Day class parties!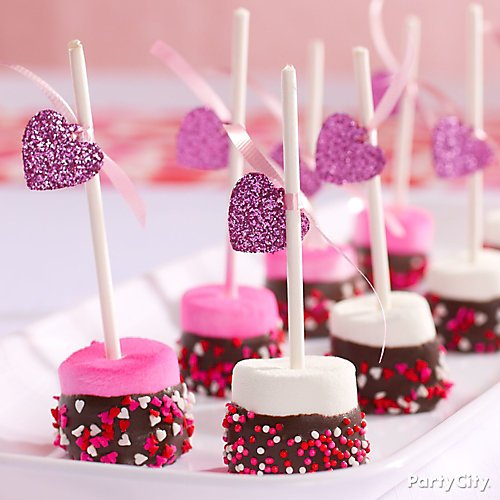 Idea 11: Make cute marshmallow morsels
This adorable spin on cake pops makes a fun Valentine's Day activity for kids – with delicious results! Insert cake pop sticks into white and pink marshmallows and help kids dip them in Candy Melts®. Set up bowls of candy and sugar sprinkles and let the kids decorate to their heart's content. When the pops are dry, tie glittery heart tags on each stick with pink ribbon and arrange on a tray so everyone can admire them before diving in!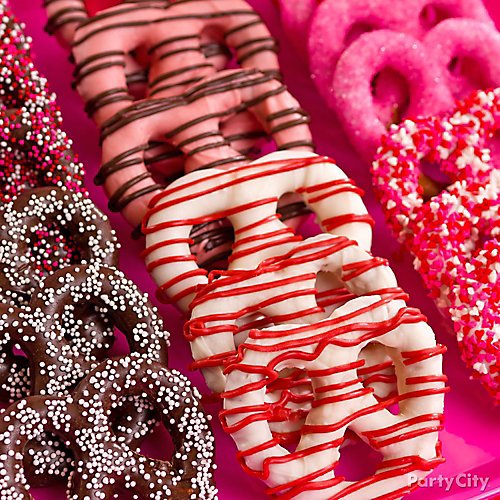 Idea 12: Sweet and salty!
Tempt your Valentine with candy-covered pretzels! These fun snacks are scrumptious and easy to make: Dip pretzels in Candy Melts®, then decorate with sprinkles or melted candy drizzle. Have several kinds of sprinkles, colored sugar and Candy Melts on hand for endless decorating possibilities. Arrange pretzels on a hot pink tray for a Valentine's Day party, or package them in cello bags with ribbon as sweet gifts for your loved ones. So good, they won't be able to eat just one!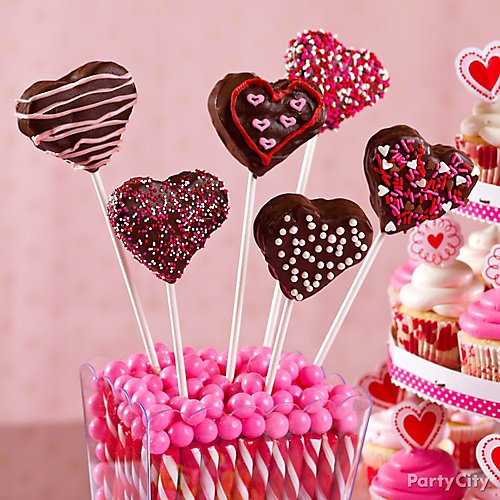 Idea 13: Brownie pops for the choco-holics
Celebrate with a Valentine's Day tradition: chocolate! Brownie pops are easier to make than cake pops, and just as delicious. Bake your favorite brownie recipe, cut out heart shapes, insert a cookie stick and dip in Candy Melts® that have been heated in a chocolate melting pot. Decorate with sprinkles, melted candy drizzle and icing, then arrange in a cute container filled with candy sticks and gumballs for a brownie bouquet that will melt hearts.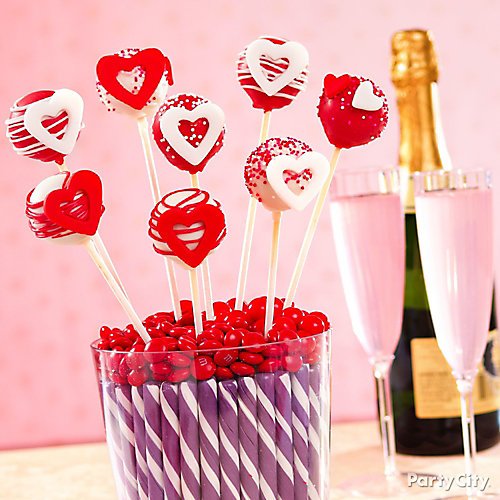 Idea 14: A toast to love!
Impress your sweetheart with lavish cake pops that prove love is in the details. To make: Dip cake pops in red and white Candy Melts, then decorate with sprinkles and candy drizzle. Cut out hearts from fondant and attach to the front of each cake pop for a decadent touch. Pair a cake pop with a glass of pink bubbly and raise a toast to Valentine's Day!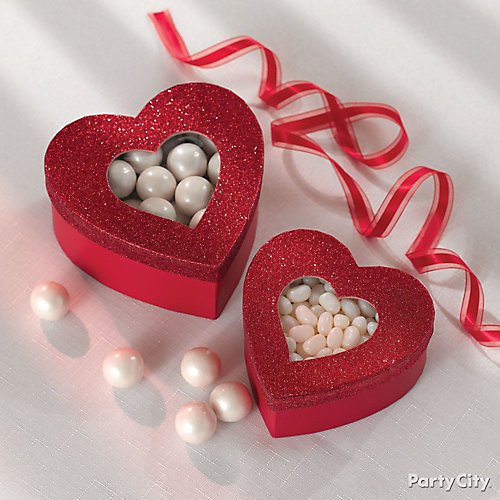 Idea 15: Fill your Valentine's heart with sweetness!
These hearts are filled with sweet love! Glittery window heart boxes are a lovely way to contain white gumballs or jellybeans. Tie a bit of red ribbon on for presentation and give it as a heart-felt surprise!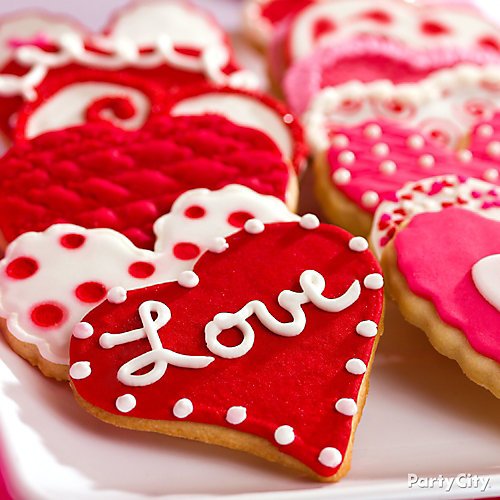 Idea 16: Capture hearts with cookie art
Create cookie masterpieces for your Valentine! Choose from our wide selection of dessert decorations: Try tinting icing pink and red, adding sprinkles and piping cute designs with a decorating bag. Whether you're a master decorator or a kitchen novice, your Valentine will see the love and creativity put into every delicious morsel!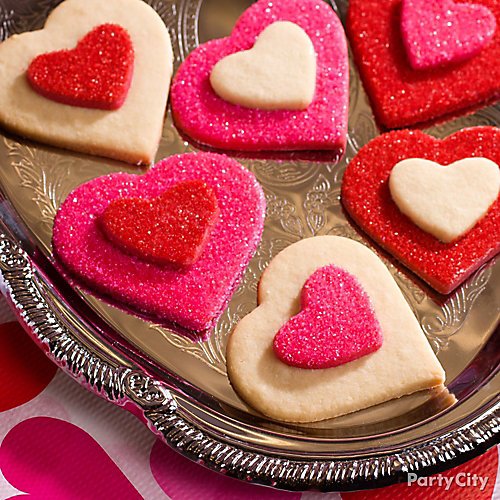 Idea 17: Make hearts go pitter-patter
Tantalize their taste buds with heart sugar cookies! Make your favorite sugar cookie dough, cut out large and small hearts, and bake. Decorate your cookies with red and pink sprinkles, leaving some cookies plain, then attach the small hearts to large ones in different color combinations. Dial up the decadence by presenting them to your loved one on an ornate silver tray with matching heart napkins. Swoon!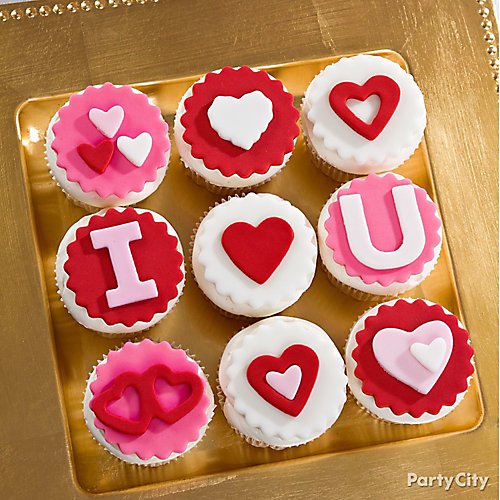 Idea 18: Say "I ♥ you!" with fondant
Tongue tied? Let your cupcakes do the talking! Bake a batch of your sweetheart's favorite cupcakes, then cut out circles, hearts and letters from red, white and pink fondant. Spell out sweet sayings like, "I ♥ you" or "Be Mine." So sweet and unique!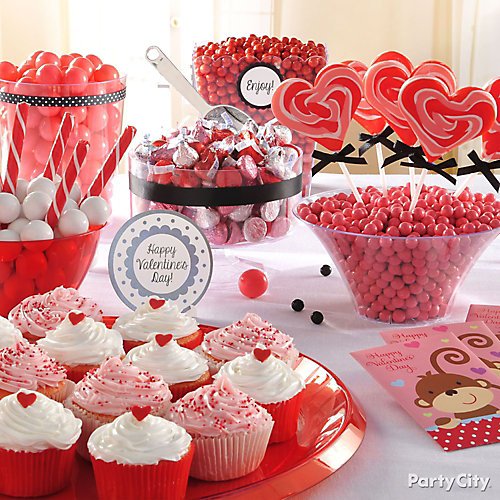 Idea 19: Create a super-sweet Valentine's treat buffet!
Surprise your little munchkins with a buffet of sweetness! Cupcakes, kisses, candy sticks, gumballs and lollipops make the perfect spread for the sweet tooth. Set out frosted cupcakes on colorful platters and take fill pretty clear containers with gumballs, chocolate kisses and Sixlets®. To add height, put your fave candy sticks and heart-pops into the candy containers. Love!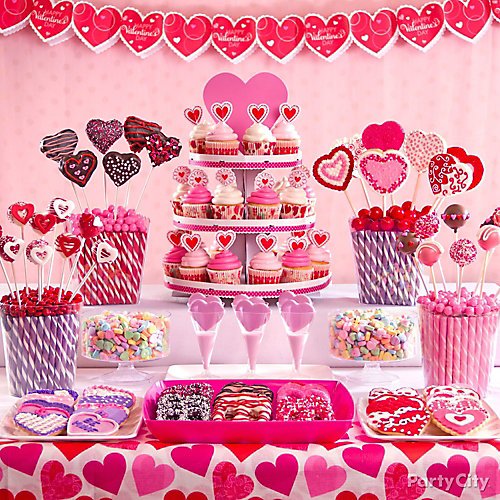 Idea 20: Share the love with treats!
This irresistible candy and treats buffet will be the darling of your Valentine's Day party. Make it unique and all-yours by starting with some clear containers, and your favorite candy sticks and gumballs in pink, purple and red (and don't forget conversation hearts… a must-have!).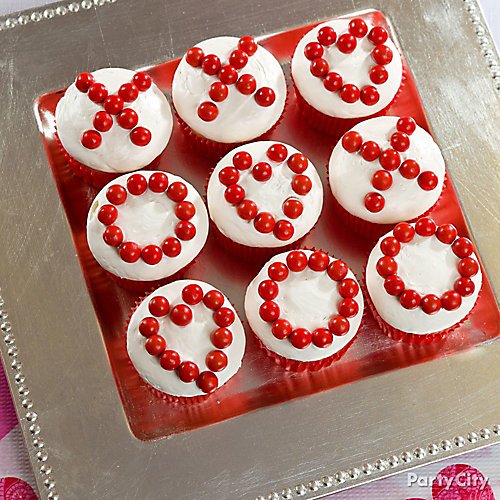 Idea 21: Hugs, kisses and cupcakes!
Indulge your valentine's sweet tooth with XOXO cupcakes! After frosting your cupcakes, decorate them with X's, O's and hearts made of red Sixlets®. Make them even more impressive by lining your cupcakes in red baking cups and arranging them on a silver charger – a fancy tray of treats! Your special someone won't be able to keep from smiling when they see these special treats.