Ideas for a sweet hot air balloon themed baby shower! Mom's on cloud 9, so give her a baby shower inspired by balloons. An Up, Up and Away themed baby shower is an adorable gender-neutral theme with decor elements like fluffy white decorative clouds and clever treats like "balloon" cake pops. Fly through our ideas to see how to personalize your party with creative decorations, themed treats and easy baby shower favors.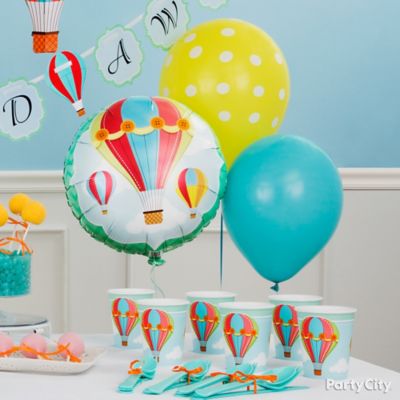 Idea 1: Mix a pattern balloon with polka dots and solids
When you're decorating with balloons, try mixing a thematic one, like our sweet hot air balloon, with your favorite polka dot and solid color latex balloons in your party colors. Get creative and customize your own unique party look!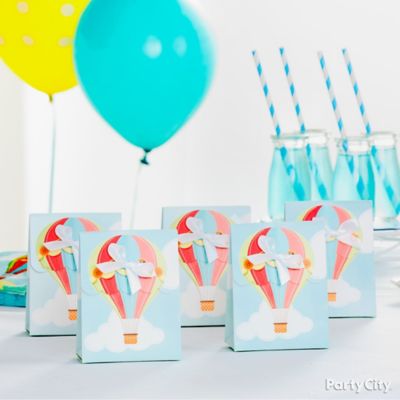 Idea 2: A grouping of favors looks sweet on display
Thank everyone for coming with a sweet favor. Create a display of these adorable favor boxes with candy or small favors and guests can easily pick them up as they float on home!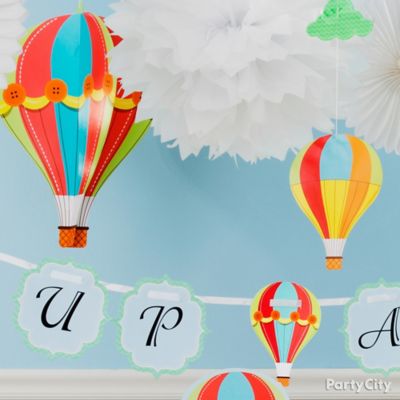 Idea 3: Create a sky full of hot air balloons and fluffy clouds!
To create this magical look for your hot air balloon baby shower, start with white fluffies and fans for the "clouds". Hang up an "up, up and away" baby shower banner and dangle string decorations with clouds and hot air balloons. Top it off with a large 3D paper hot air balloon.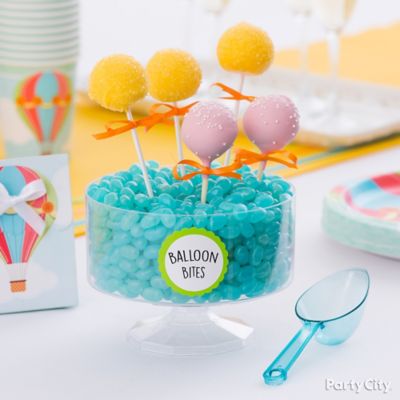 Idea 4: Clever balloon cake pops!
The perfect treat for your hot air balloon baby shower? Fluffy balloon cake pops in your baby shower colors! Prop them up in a container of jelly beans, add tiny ribbons to each, and add handwrite your treat title on a candy buffet sticker. Everyone can munch and mingle on these tasty bites!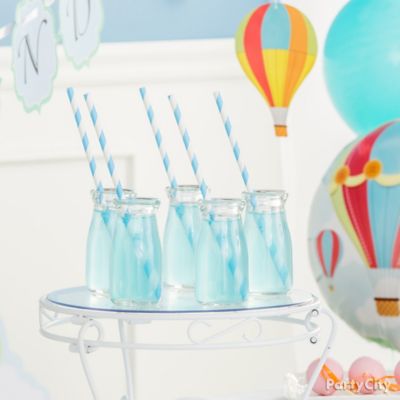 Idea 5: Sky-blue sippers for your hot air balloon baby shower
Style glass milk bottles with striped straws for your drinks. Make a sky-blue drink by adding a splash of blue sports drink to lemon-lime soda or mineral water. Set the drinks on a scrolled cake stand and your display will be as bright and happy as a sunny day!