Photo booths aren't just for weddings anymore. With Instagram-centric art installations like The Color Factory and 29Rooms popping up across the country, everyone's craving unique selfies. If you want to make sure your party makes everyone's social media feed, create a photo booth backdrop that'll give your guests a reason to grin. Get inspired to make your own creative balloon wall (no helium required), DIY table cover backdrops and more.
Create a letter balloon wall
Use letter balloons to create a phrase wall. Letter balloons arrive in new colors every day, but you can also spray paint these balloons if you need a more specific hue to match your party. Write a poem, share a line from your favorite song, or repeat a FUN word to create a unique pattern.

All things shimmery backdrops
You know what your party needs? More sparkle. Combine iridescent balloons, stars and fringe to make an ultra-glam backdrop that matches almost any theme. This photo booth would be perfect for a disco or NYE party!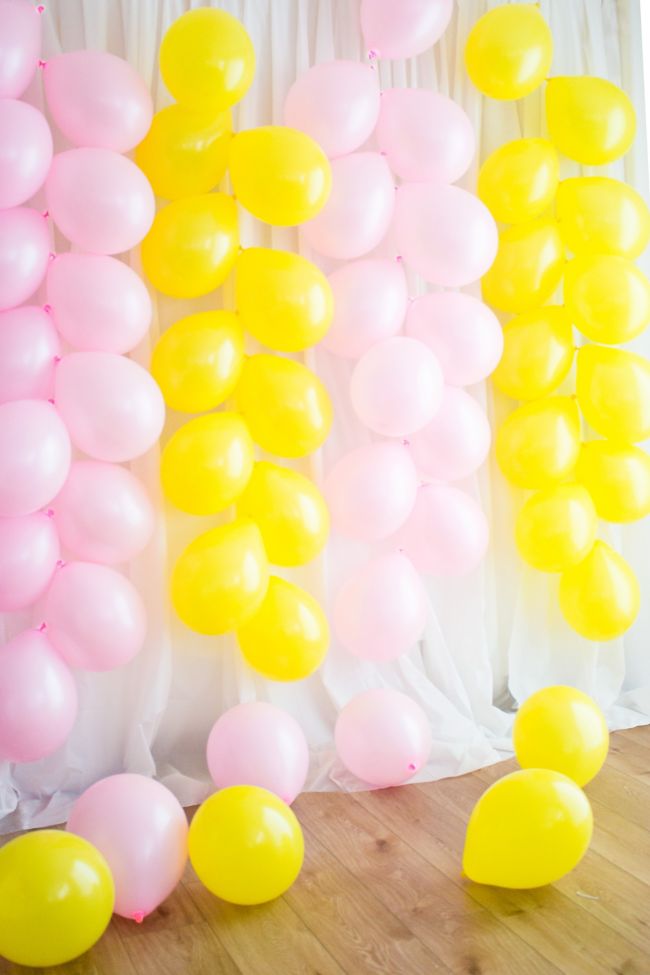 Balloon stripes backdrop
These pink and yellow balloons remind us of pink lemonade—how cute would this be for a bridal shower or summer party photo booth? Hang a plain white sheet or curtain as a base, then choose latex balloons in your party colors and attach them with strong tape. Make sure to choose colors that look good side-by-side for a colorblock effect. Pro tip: save yourself a breath and grab an electric balloon pump.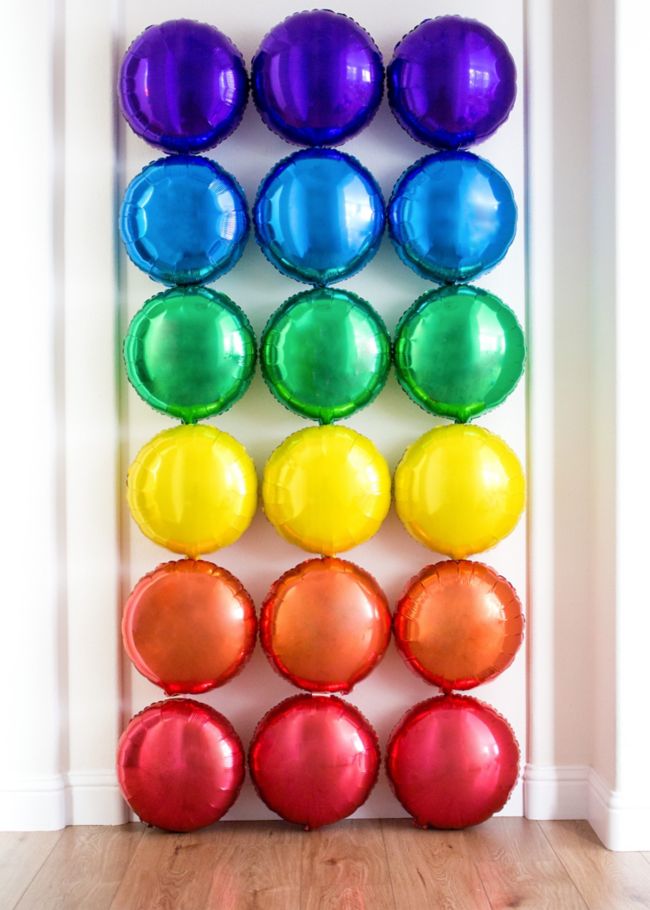 Mylar rainbow balloon backdrop
One look at this rainbow photo booth and your guests will know the party has started! Attach mylar balloons to a blank white wall (hang tablecover or a sheet if you don't have a solid color surface). We used 18 balloons total, but you can make this span as far as you'd like and incorporate more colors or patterns. From rose gold to berry, our huge selection of colors make this an easy backdrop idea for any event.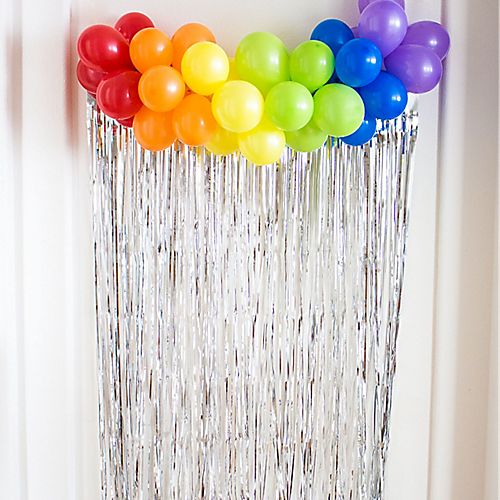 Balloons and fringe backdrop
We can't get over how easy it is to create this backdrop!
1. Hang door fringe in your choice of color (hint: silver and gold go with almost everything).
2. Inflate five balloons each in rainbow colors: red, orange, yellow, green, blue and purple.
3. Tie the balloons off and slip the ends through a balloon strip to create an easy mini balloon garland.
4. Hang the mini garland on top of the fringe for a dash of rainbow cuteness.

DIY table cover backdrops
Easy? Check. Affordable? Check. Adorable? Double check. Table cover backdrops are a super trendy DIY party decoration, and it's easy to see why. Cut table covers into strips, then hang using tape. Experiment with different lengths and colors to create a pattern, like a rainbow waterfall (decorated again with our mini rainbow balloon garland) or a pastel paradise.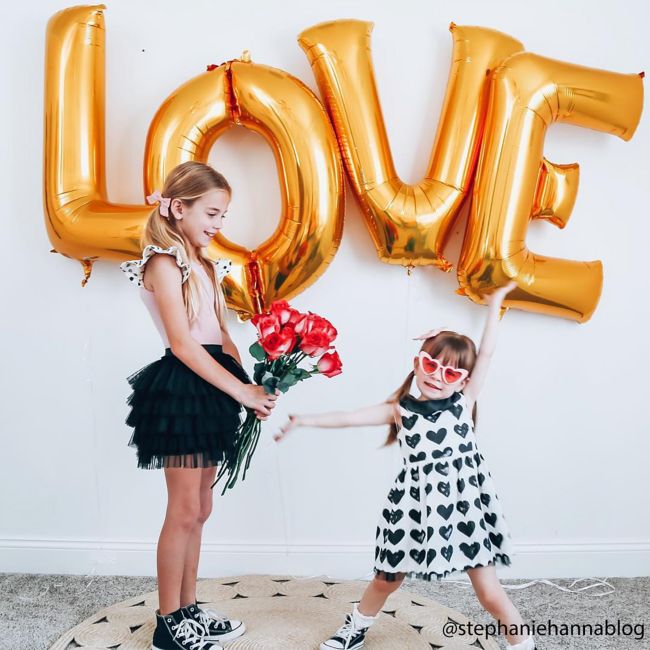 Giant letter balloon statement wall
LOVE is in the air with this easy photo backdrop idea! But it doesn't have to be love…you can use giant air-filled balloons in various colors to write out any short phrase that fits the occasion: YAY, PARTY, or the name of the birthday guest of honor. We even have giant balloons shaped like ampersands (JEN & ANDY for an engagement party), question marks (PROM? or MARRY ME?) and hashtags (#WINNING!). Fill 'em with air and stick 'em to the wall using strong tape. Awesome and easy photo booth…done!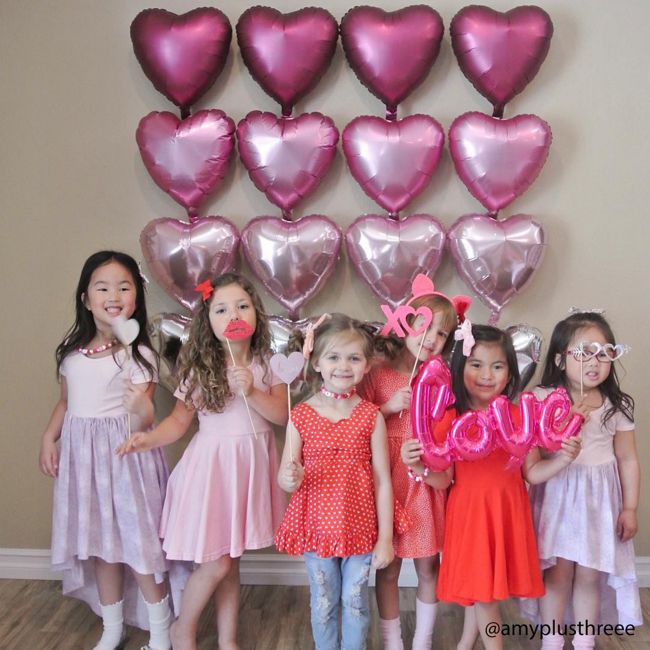 Patterned ombre balloon backdrop
Trend alert! Create an ombre balloon backdrop by using balloons in very similar colors to create a gradient effect. We used satin heart balloons in bright pink, pink and rose gold, but choose a color scheme that matches your party! Shop balloons by color.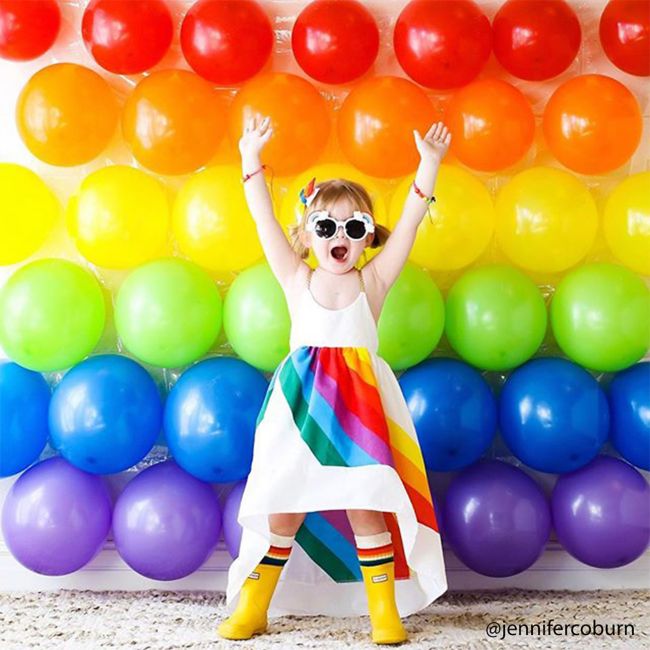 Balloon backdrop kit
If you're looking for an out-of-the-box solution, go for a balloon backdrop kit. This set comes with all the balloons you need, plus a plastic sheet that acts as a template. After you inflate and tie your rainbow balloons, pull the balloon knots through the holes in the plastic sheet. Then hang the backdrop on the wall for an easy DIY look!
Pastel balloon wall
If you haven't noticed, we have a thing for balloon backdrops. We can't help it—they're so easy! For this 90s-inspired balloon wall, hang pastel latex balloons halfway up your backdrop, then cut out letters on pastel paper to spell out "I'm totally buggin'" — or a phrase of your choice.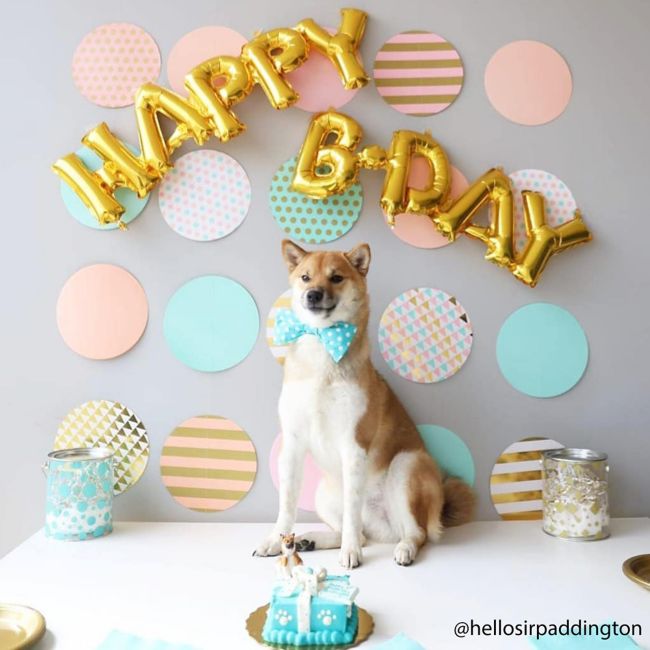 Use garlands or hanging decorations
Garlands and string decorations make fantastic photo booth backdrops! We used oversized pastel and gold string decorations paired with Happy B-Day air-filled balloon banners, but you can mix and match air-filled letter balloons with a variety of doorway curtains and garland decorations.
Just hang and you're done:
Don't forget the photo booth props!
Now that you've got your photo backdrop all figured out, set up a "Selfie Station" and provide photo booth props nearby. These will help convince your camera-shy guests to get in on the photo shoot fun: no more wondering what to do with your hands!