Lei pineapple flowers on cupcakes!
Add some aloha to cupcakes with dried pineapple flowers. These edible decorations are the perfect finishing touch for cupcakes bursting with pineapple flavor – and they're easier to make than trying to limbo! Check out our sweet instructions.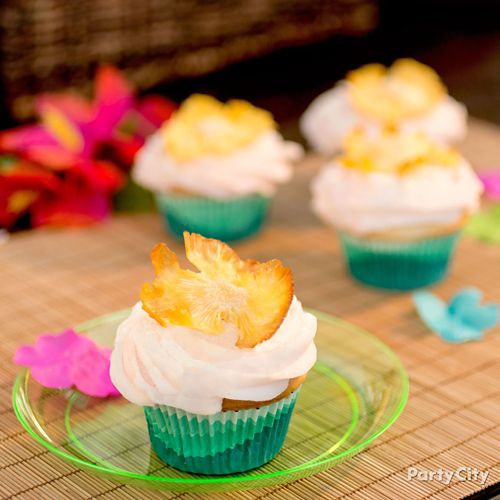 How-To
Ingredients:
Favorite cupcake recipe or mix
1 20 oz. can pineapple chunks
1 large pineapple
® White Decorating Icing — 16 oz.
Shredded coconut
Supplies:
Standard Muffin Pan
Cooling grid
12-Pc. Cupcake Decorating Set (disposable decorating bag, Tip #2A used)
Food-safe scissors
Parchment paper
1) Prepare the cupcakes
Prepare cupcake batter according to package or recipe directions, substituting pineapple juice in place of the water called for in your recipe, and incorporating the pineapple chunks. Pour batter into paper baking cups in pan. Bake and cool cupcakes on cooling grid.
2) Create pineapple "flowers"
Peel the pineapple, then remove the "eyes" and slice into thin slivers (the thinner the slivers, the faster the "flowers" will dry). Place your pineapple slices on a baking tray lined with parchment paper, then pop them into the oven for 30 minutes on each side at 225°0 until they are dry.
3) Decorate cupcakes
Use tip #2A, a cut disposable decorating bag and white decorator icing to cover cupcakes with a swirl. Sprinkle on some shredded coconut, then position a pineapple flower on top. Aloha!