You don't need to go away to have the perfect getaway. It's easy to create your very own tropical oasis in your backyard with these tiki party ideas. Get delicious luau food inspiration, tiki bar party ideas, game suggestions, and more. Whether you're kicking off your staycation or ending your summer, these ideas will keep your tiki themed party bright and breezy!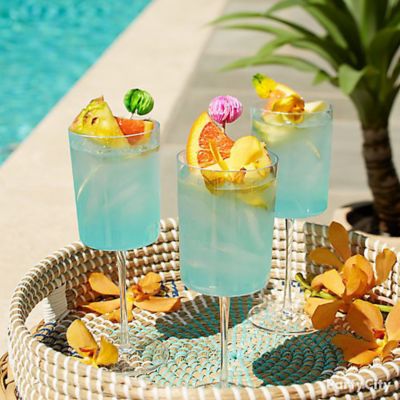 Idea 1: Hawaii is one drink away with this recipe
You'll be singing praises of how easy it is to make this Blue Hawaiian drink! Blend together 1 ounce light rum, 1 ounce blue curacao, 2 ounces pineapple juice and 1 cup crushed ice. Serve in a simple wine glass garnished with an orange slice and a pineapple chunk. For a simple touch that speaks volumes, add a colorful honeycomb paper pick for tropical flair. Your guests can't help but hula over to the tiki bar for a sip of this classic cocktail.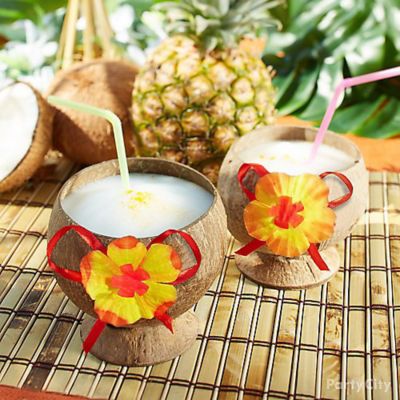 Idea 2: Get the "skinny" on this light summertime drink
Serving drinks in hollowed-out coconuts is a must for hosting a luau with a tiki bar. They're perfect for serving, well, coconut-flavored drinks. Here's one to try: a skinny coconut slushy. The simple recipe will leave you guilt-free from the calories you get from alcohol. Blend together 1 cup of coconut cream, one-and-a-half cups of ice and 5 tablespoons of lemon concentrate. Add water—start with a one-eighth cup—until drink reaches your desired consistency. Sprinkle a dash of turmeric as a garnish.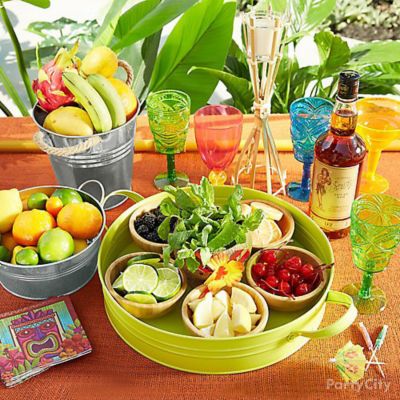 Idea 3: Flawlessly pull off a put-together look in more ways than one
When guests come for drinks at your backyard tiki bar, invite them to make cocktails to their own liking by infusing them with a hit of freshness—mint, limes, lemons, blueberries or cherries will work. By keeping toppings all together in a caddy, you got a solution that's pretty and practical. It goes to show that simple and stylish is the perfect recipe for a tiki bar setup.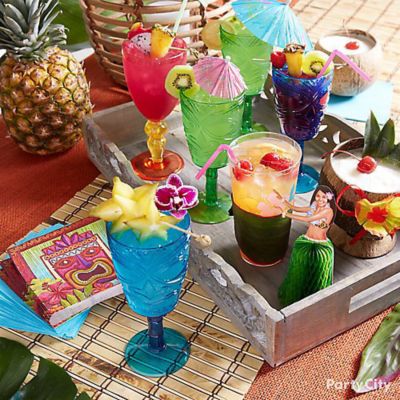 Idea 4: You'll love this colorful way to drink to aloha!
When it comes to luau tiki drinks, how they look is as important as how they taste. Colorful, tiki-shaped goblets and fruit garnishes—pineapple, cherries, raspberries, or star fruit—are easy ways to give your cocktails a couple pops of color.
Idea 5: Deck out your luau drinks in style!
Dress up your drinks with flowery accents! Start with colorful cups and add a tropical bloom to each drink. Arrange them on the table with tropical leaves and you've got beverages that are blooming with style!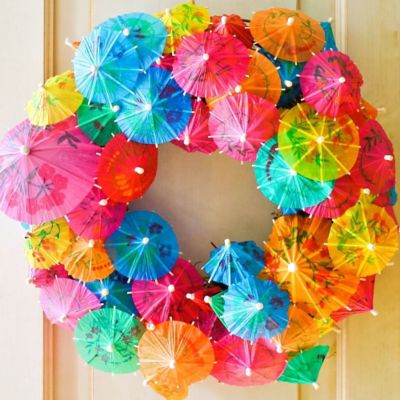 Idea 6: A wreath of drink umbrellas creates an exotic, islandy feel!
It isn't a luau without umbrella drinks! Create that staycation vibe with a vibrant paper parasol wreath, a fun way to add tons of tropical color to your summer party. Start with a foam craft wreath or vine wreath, and cover it with 40 to 50 small and jumbo-sized parasols. How easy is that?! Instant tropical paradise! (Special thanks to Family Chic by Camilla Fabbri for sharing her inspiration and photo.)
Idea 7: It's a sign that it's luau time!
Welcome guests to your outdoor oasis with a pot full of aloha! This simple idea is a quick and easy way to tell everyone where the luau is. Take one of your flower pots and add bright tropical signs. We used a festive hula girl and "aloha" signs for a look that evokes the islands.
Idea 8: Get your luau on!
If you need an excuse to throw a party like a hula dancer, look no further than a luau! Stock up on colorful hula skirts, vibrant flower leis, novelty sunglasses and hibiscus hair clips for your guests to have fun with. Make sure you have your camera ready!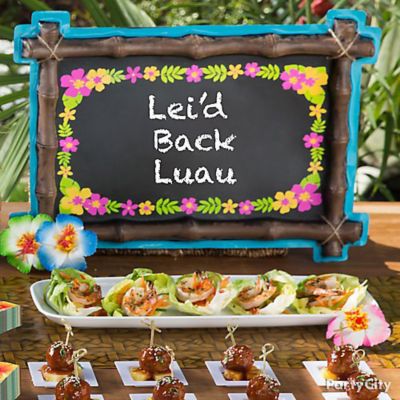 Idea 9: This sign will have them saying lu-WOW!
Tell them what they want to know – what's on the menu! A tropical chalkboard adds extra punch to your party table, and is a fun way to tell guests what you'll be serving. Write up your menu and place it behind the scrumptious dishes you're serving. One look and guests will be ready for the luau feast! Alternatively you can write something on-theme in lieu of a menu, like "Lei'd Back Luau!"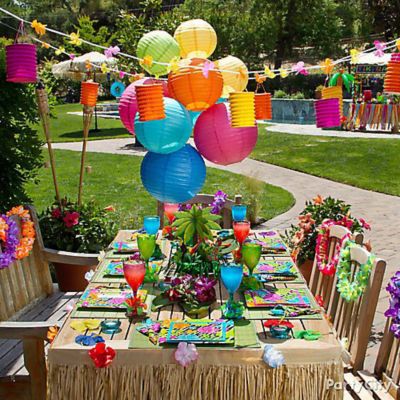 Idea 10: Create a tropical oasis at your table with bright decorations
Transform your patio with affordable decorations that create an island vibe with vibrant tropical hues. Mix colorful garlands with lanterns and decorate chairs with fluffy fabric leis to make the most of your space.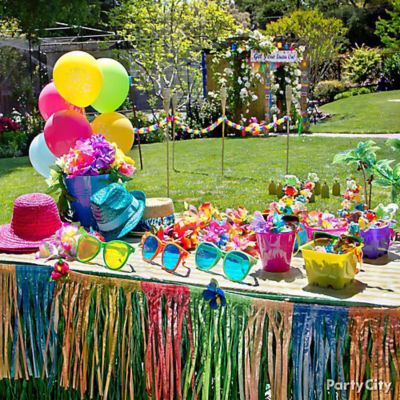 Idea 11: Lei it on with a table of wearable luau favors
Set up a favor station stocked with grass skirts, leis, fun party glasses and beachy-keen hats to get guests geared up for your luau when they arrive. A table spread lets guests easily see and grab the accessories they ♥!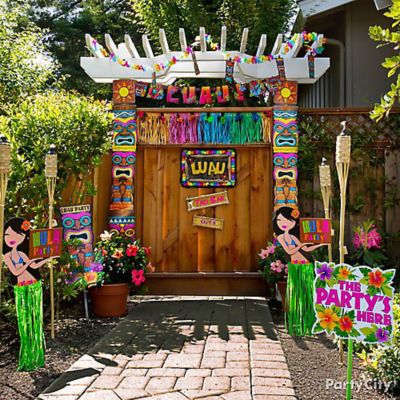 Idea 12: Let tiki time start right at your party entrance
Say Aloha with a grand entrance to your luau party! It's easy to make your front walkway look islandy and to get your guests ready for the Hawaiian paradise they're about to enter. Have fun with hula girl signs, giant tiki cutouts and fringe garlands that will get everyone in the mood to limbo!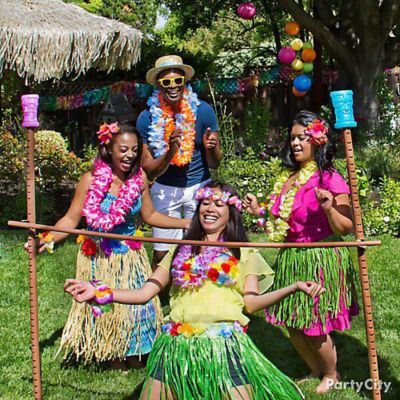 Idea 13: Get low with the Luau Limbo Game
A luau just wouldn't be complete without a round or two of limbo! This exciting luau game is easy to set up and comes with two light-up pole toppers, so your guests can put their flexibility to the test even after the sun goes down. Be sure to have grass skirts and leis for everyone to get the island groove going.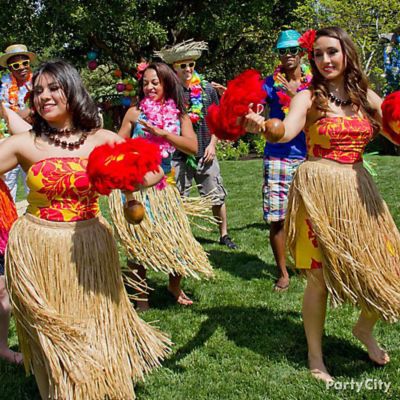 Idea 14: Shake it up with a dance session of hula lessons
Get 'em all doing the hula with lessons that let them learn all the waves and hip-movin' they need to look like pros. Set the stage by playing luau party music, or have authentic Polynesian dancers show your party guests how it's really done.
Idea 15: Go bowling for pineapples!
Ditch the pins and get ready to knock down some toy pineapples! Set up a fun game for all the bowling fans with cute plastic pineapples, then let the guests swing a special "coconut" bowling ball down the lane. Time to get a strike!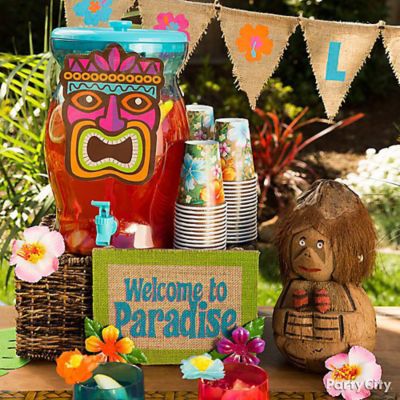 Idea 16: The perfect setup for a party in paradise!
Turn up the heat on your tropical party table! Start with flowery plates and coordinating cups then scatter colorful hibiscus flowers to accent. Add height with a decorated drink station flanked with tiki decorations. Now the party is ready to go – island style!
Idea 17: Time flies with a tiki bar station
A tiki bar is fun to set up and creates a drink station for your luau party that really gets guests in the groove! Station someone behind the bar as the main bartender, or let guests mix up their own tropical creations. Coconut cups, colorful glasses and drink umbrellas will make them feel like they're on island time!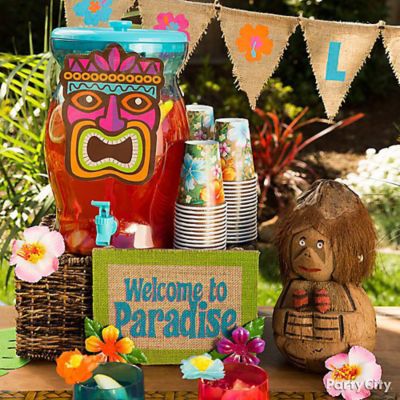 Idea 18: This drink setup says it's tiki time!
Refresh your outdoor oasis with a tropical drink station! Add some punch to your beverage dispenser by decorating it with a tribal tiki cutout. Place coordinated cups nearby, along with a coconut statue and bright welcome sign. Finish it off with a luau banner and colorful hibiscus flowers scattered throughout.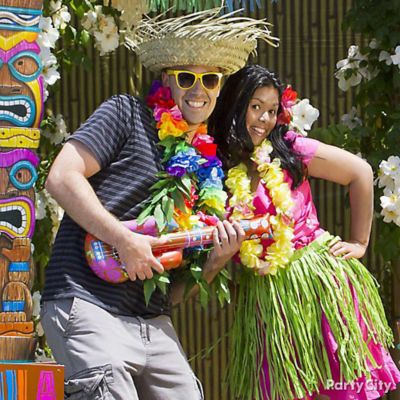 Idea 19: Party on with a photo booth
Set up a backdrop for getting guests dressed up in gotta-have luau gear for guaranteed smiles in your party photos. Keep your photo booth open during your entire party so all your guests will have a chance to steal time for a snapshot when they're not too busy hula dancing or filling up at the tiki bar! Visit our Luau Party Photo Booth Gallery for cool luau photo ideas.