Training hard? Take a break with these shell-tastic treats!
Whip up a batch of these shell-tastic treats for the ninjas-in-training! Just cut out turtle shell shapes and decorate using green icing pouch with tips and black Color Mist food color spray. Show your turtle pride with a green platter of purple jelly beans - Donnie's favorite colors!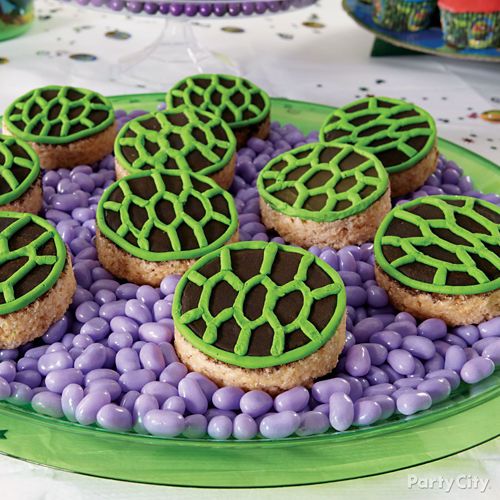 How-To
Ingredients:
Favorite crisped rice cereal treats recipe
Green Icing Pouch with Tips
Black Color Mist™ Food Color Spray
Supplies:
11 in. x 15 in. Sheet Pan
Waxed paper or parchment paper
Cake board
3 in. round cookie cutter
Spatula
1) Make crisped rice cereal treats
Prepare crisped rice cereal treats following recipe directions. Press into pan, about 3/4 in. deep. Allow to cool. Release from pan onto waxed paper-covered cake board. Cut treats.
2) Cut treats
Use 3 in. round cutter to cut cereal treat circles.
3) Decorate treats
Use green icing pouch with round tip to cover top of treat. Use spatula to smooth. Use black food color spray to cover green icing. Let set, about 10 to 15 minutes. Use green icing pouch with round tip to pipe shell lines on top of treat.