Your little ninjas will be shell-cited at this totally rad cake!
Get pumped up with a birthday cake that captures the Teenage Mutant Ninja Turtles in all their power! Create the turtle shell pattern with Decorator Preferred fondant and top the cake with a shiny manhole cover and a Teenage Mutant Ninja Turtles birthday candle. Display your masterpiece on a cake stand with purple jelly beans or Sixlets®.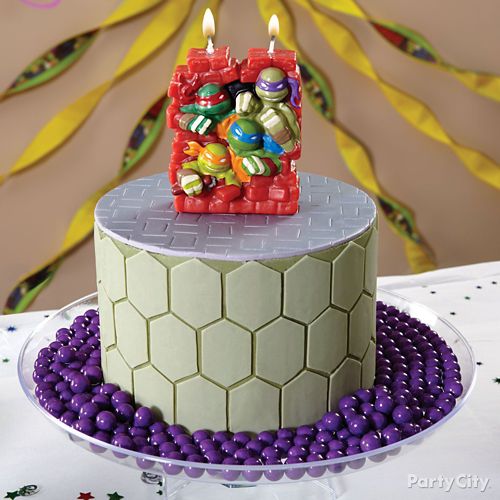 How-To
Ingredients:
Favorite cake mix or recipe (4 1/2 cups batter needed)
4.5 lb. White Ready-To-Use Decorator Icing
Juniper Green Icing Color
Black Icing Color
White Decorator Preferred™ Fondant (8 oz. used)
Silver Color Mist™ Food Color Spray
Supplies:
6 in. x 2 in. round pan
Cooling grid
Spatula
Cake platter
Plastic ruler
9 in. Fondant Roller (purple guide rings used)
Knife
Decorating Brush
Teenage Mutant Ninja Turtles Birthday Candle
1) Make cake
Prepare 4 1/2 cups batter, following recipe directions. Bake and cool two 6 in. cake layers. Tint icing green juniper green icing color. Level, fill and stack layers on cake platter for a 2-layer cake, 4 in. high. Use spatula and green icing to ice cake smooth.
2) Decorate sides of cake
Tint 5 oz. of fondant light green. Use fondant roller with purple guide rings to roll out fondant, about 1/16 in. thick. Use pattern and knife to cut out 56 to 60 hexagons. Use damp brush to attach hexagons on cake sides in 3 rows, 1/16 in. apart.
3) Make sewer cover
Tint 3 oz. of fondant light grey (use black to make gray). Use rolling pin with purple guide rings to roll out fondant about 1/8 in. thick. Use knife and bottom of round pan as a guide to cut a 6 in. circle from grey fondant. Use knife to lightly score two horizontal and two vertical lines, 1/2 in. long and 1/2 in. apart, to form a square shape without connecting corners. Spray manhole cover with silver Color Mist food color spray. Let dry, about 10 to 15 minutes. Position sewer cover on iced cake. Position candle on cake top.