Yummy TMNT marshmallow pops
Turtle-ize marshmallows into colorful candy-covered treats! Simply dip them in dark green Candy Melts® candy, and add a Teenage Mutant Ninja Turtles icing decoration. You'll be able to make these faster than you can say "Booyakasha!"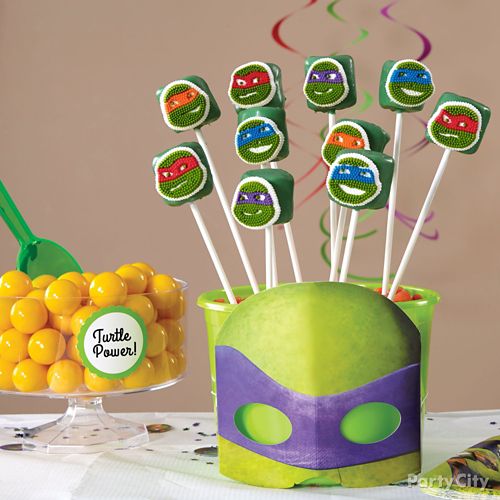 How-To
Ingredients:
Dark Green Candy Melts® Candy (12 oz. makes 36 to 48 treats)
Large marshmallows
Teenage Mutant Ninja Turtles Icing Decorations
Supplies:
Microwave-safe bowl
6 in. Lollipop Sticks
Craft foam block
1) Dip marshmallows
Melt dark green Candy Melts candy in microwave-safe container according to package directions. Dip end of lollipop sticks in candy. Insert stick into flat side of marshmallow. Chill until set in craft foam block, about 3 to 5 minutes. Dip marshmallows completely into melted candy. Tap gently to smooth and remove excess candy. Chill until firm in craft foam block, about 10 to 15 minutes.
2) Attach icing decorations
Use melted green candy to attach icing decoration to front of marshmallow. Chill until firm, about 3 to 5 minutes.