Present a TMNT cake that'll knock their shells off!
If there's anything the Ninja Turtles love more than pizza, it's birthday cake! For step-by-step decorating instructions using fondant and gumballs, see our Teenage Mutant Ninja Turtles Fondant Cake How-To. Your little ninjas-in-training will be thrilled to dig into this Michelangelo cake with edible nunchucks – and they'll be calling you the (cake) master!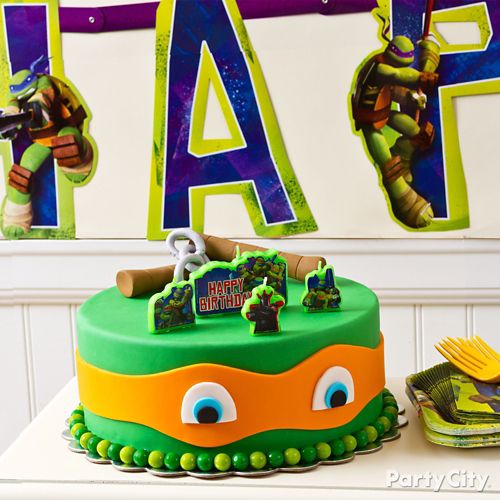 How-To
Ingredients:
2-layer round cake, 9 in. in diameter
Buttercream icing
Pre-rolled green fondant
Pre-rolled white fondant
Orange icing color
Sky Blue icing color
Black icing color
Brown icing color
Silver Color Mist
Kiwi green Sixlets® (about 60)
Supplies:
Teenage Mutant Ninja Turtles birthday candles
Fondant roller
Fondant smoother
Pizza cutter or paring knife
Toothpicks
12 in. cake platter
1) Prepare cake
To prepare your cake rounds for the fondant, ice them with a layer of buttercream icing.
2) Cover cake with fondant
Knead green fondant until soft, and then roll out and cover the cake. Trim off the excess with a pizza cutter or paring knife.
3) Create bandana
Time to give your cake some TMNT personality! We chose the sharp ninja eyes and orange bandana of Michelangelo, but you can easily pick another Turtle brother. Draw out the bandana on a piece of paper, making sure it's long enough to wrap around the cake.
4) Attach bandana
Color white fondant orange, knead until evenly distributed and roll out the orange fondant. Lay your bandana drawing on top and cut out the fondant with a paring knife or pizza cutter. Use water to "glue" the bandana to the cake.
5) Create eyes
For the eyes, first color a small amount of white fondant black and another small amount sky blue. Knead and roll out a little bit of white, black and blue fondant. Cut semicircles from the white fondant and circles in two different sizes from the blue and black fondant. Trim slight edges off the circles, making them all even, for the pupils and irises. "Glue" on the eyes with water. Tip: The backs of piping tips in two sizes work perfectly for cutting out circles!
6) Make nunchuk chain
Now give Mikey his nunchucks! To make the chain, roll some white fondant between your hands with a rubbing motion to form a rope, cut three lengths and join them with dabs of water. Spray with Silver Color Mist and let dry.
7) Finish nunchuks
For the handles, dot some white fondant with brown icing color and knead until mixed. Mold into handles with your hands and lightly score them with a knife or toothpick for a realistic appearance.
8) Attach Sixlets
Decorate the cake with kiwi green Sixlets® at the base!
9) Top with candles
Top off your masterpiece with Teenage Mutant Ninja Turtles candles. Master Splinter would be proud!