Everyone knows that luaus are all about the food, but that doesn't mean you should cook all day. That's why you'll say "aloha!" to these finger food ideas! They are not only quick and easy to make but also packed with flavor. Pair them with tiki party decor, and then you've got a party that's the hottest destination of the summer.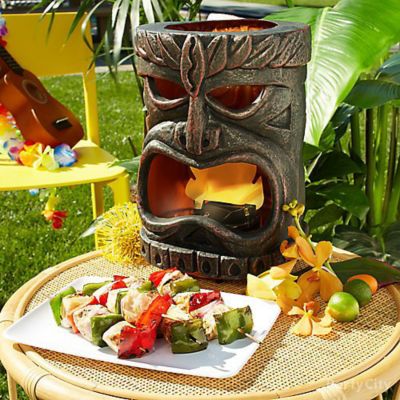 Idea 1: Savor the summer—on a stick!
It's hard to go wrong with kebabs. Whether it's all vegetable or mixed with your favorite meat, kebabs are easy to prepare, grill and then eat! The secret to making this dish a summer hit at your party is the sauce. A simple Hawaiian-style marinade is the trick to making your grilled chicken and vegetable skewers perfect for the tropics: mix together 3 tablespoons soy sauce, 3 tablespoons brown sugar, 1 tablespoon sesame oil and one-fourth teaspoon salt. Marinate cubes of chicken overnight. Place on a skewer with vegetables like green and red bell peppers or your favorites. Add a battery-powered tiki head decoration to complete the setup!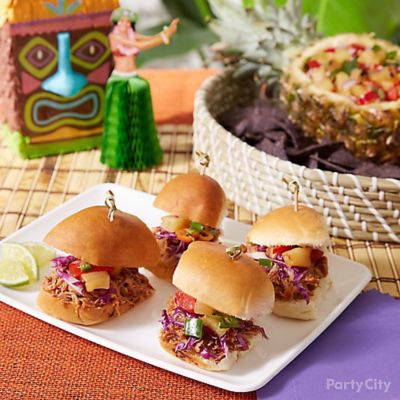 Idea 2: You'll love how this easy pulled pork recipe packs a flavorful punch
A must-have at every luau, pulled pork is an easy-to-make dish for the masses. But you'll need to plan for at least eight hours of cook time—it's the low temperature and slow cooking method that makes pork tender and juicy. The low-key food prep and the simple savory flavor make this recipe a favorite for the host and guests: Take a pork butt—any size will do—and cover it with liquid smoke and sea salt. Wrap the pork with a couple of layers of foil, and then place on a cooking sheet. Bake in oven 250 degrees Fahrenheit for eight hours. Afterward, place the pork in a chafing pan. Remove foil and shred pork meat with forks. Have bread rolls and mango salsa on the side so guests can make their own pulled pork sliders.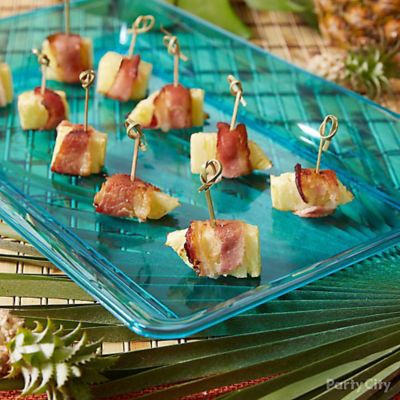 Idea 3: The perfect pairing of sweet and savory wrapped in one bite
Your luau food spread should be the perfect mix of sweet and savory, so here's an easy appetizer that puts those flavors in one bite. Pineapple-bacon appetizers are the perfect pairing of sweet and salty. Just wrap pineapple chunks with strips of bacon and set on the grill! For an extra pop of flavor, coat bacon in brown sugar before covering up the pineapple chunks.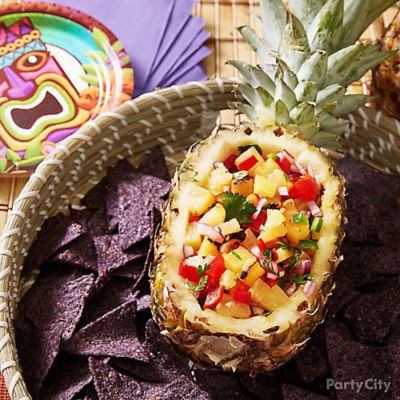 Idea 4: Sail into summer with this pineapple boat and salsa recipe idea
Pineapple in all its forms make for a refreshing treat, but did you know that pineapple also works as a mouthwatering take on summer serveware? Halved and hollowed, a pineapple boat puts a fresh face on party platters, perfect for dishing out delectable summer favs. Don't leave your pineapple boat hanging dry! Pack it with a grilled pineapple salsa made of red onion, cilantro, red bell peppers, green bell peppers, and, of course, cooled-down grilled pineapple. Add lime, salt and pepper to taste. Now you have a dish that looks as good as it tastes!
Idea 5: Whip up the taste of summer with this chilled pineapple treat
Pineapple in all its forms—diced, sliced, whipped—make for a refreshing treat on hot days. You'll love chilling with this chilled pineapple whip, which only calls for three ingredients: 2 cups of frozen pineapple chunks, 1 cup vanilla ice cream and one-half cup of pineapple juice. Blend together until smooth then pour into a bowl. Get this refreshing treat looking even more like a perfect summer getaway by adding a couple of garnishes—like a cherry on top or a pineapple slice and leaf on the side.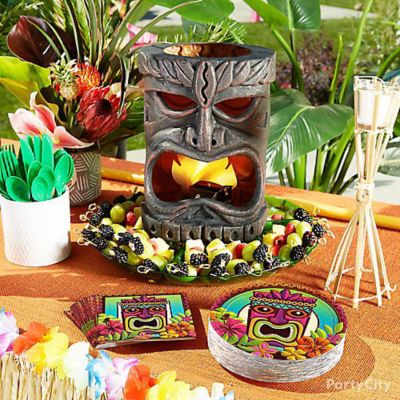 Idea 6: Appease the party masses—and the tiki gods—with a fruit offering
Has the universe got you down? It's probably time to pacify the tiki gods with an offering of fruit. But even if everything is fine in your world, you still won't mind "sacrificing" some time to making these fruit kebabs. All it takes is your favorite fruit combination—blackberries, raspberries, grapes and pineapples would work great! Place the kebabs on a platter with a battery-powered plastic tiki head in the center. Even if the "sacrificial" fruit doesn't placate the tiki gods, your guests will bestow compliments for your creative display of dessert fruit skewers.