Throw a shell-kicking shindig with our Teenage Mutant Ninja Turtles party ideas. From pizza to awesome party decorations and everything in between, these party ideas will make you the birthday master – go ninja, go ninja, GO!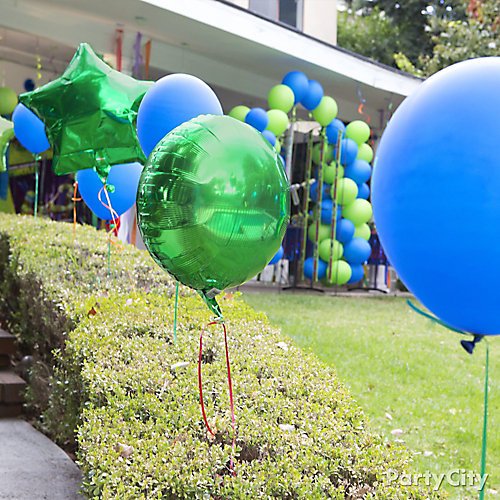 Idea 1: Mark the entrance of the party dojo with balloons!
Make a big impression on your party dudes before they even walk in the door! Create a walkway of blue, green and Teenage Mutant Ninja Turtles balloons, leading up to a too-cool balloon arch around the entrance.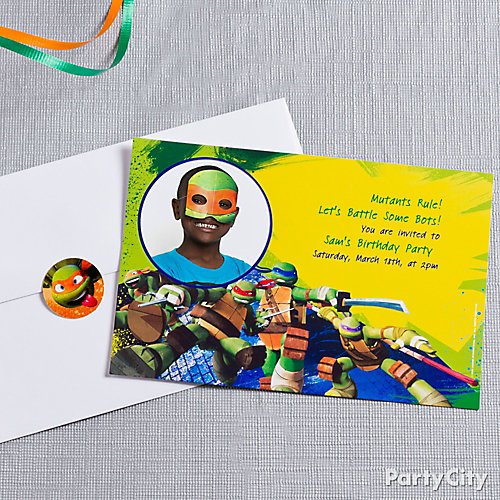 Idea 2: Invite your fellow ninjas with a custom photo invite
Add a photo of the birthday star to Teenage Mutant Ninja Turtles custom invites! His ninja pals will be pumped for the party when they read a personalized message under the photo like, "Mutants Rule! Let's battle some bots!" Order in stores or online and the invites will be ready to ship in five days.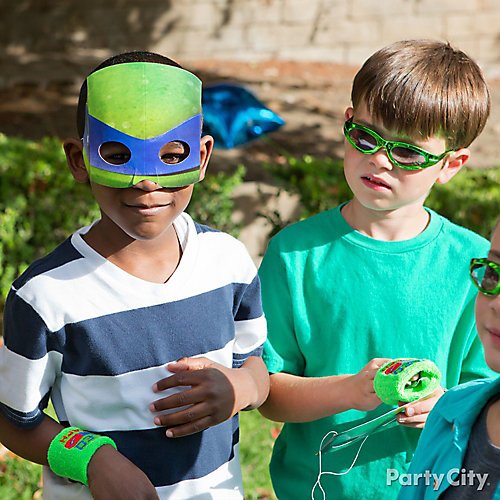 Idea 3: Let him dress up like his favorite ninja turtle!
Give the birthday boy special ninja gear to wear on his big day! Teenage Mutant Ninja Turtles masks and sweat bands are fun accessories he can wear with an outfit he picked out himself.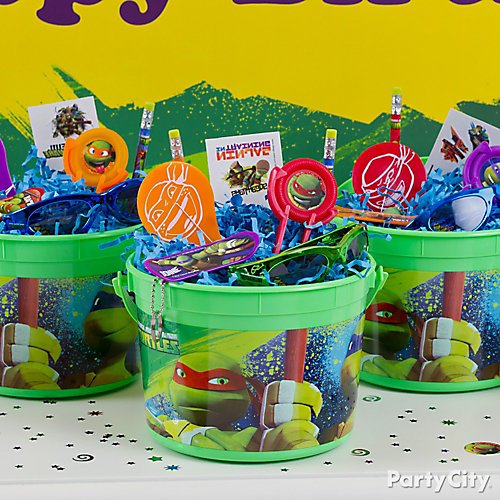 Idea 4: Hand out TMNT favor buckets that pack a punch!
Send your turtle-lovers home with Teenage Mutant Ninja Turtles favor buckets brimming with action-packed favors like sunglasses, tattoos and disc shooters!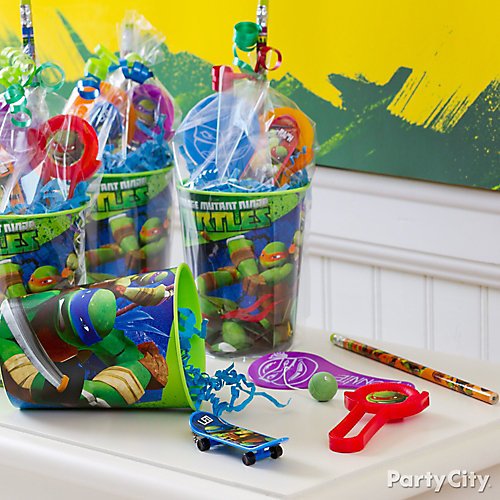 Idea 5: Give your heroes awesome TMNT favor cups!
Make take-home favors full of turtle power! Fill Teenage Mutant Ninja Turtles favor cups with paper shred then pile on cool favors, slip the cups in clear party bags and tie off with some ribbon. The best part is the kids can use the containers again and again as drinking cups!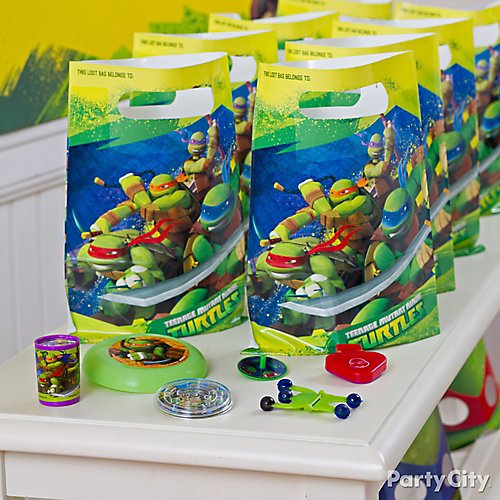 Idea 6: Whip up fast favor packs
Even Donnie wouldn't be able to invent a better way to create fun-filled favor bags! Just grab a Teenage Mutant Ninja Turtles favor pack with goodies like mazes and whistles for all your ninjas. Stuff the loot in matching TMNT favor bags with a space for each ninja to write in their name. Now you have more time for pizza!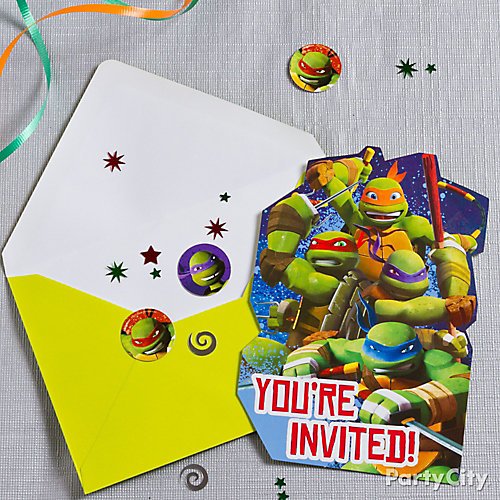 Idea 7: Enclose secret party passes with your invites
Sprinkle Teenage Mutant Ninja Turtles confetti and tattoos inside your invitations to get your ninja crew pumped for the party! Tell your guests the tattoos are secret passes they need to wear to the birthday lair.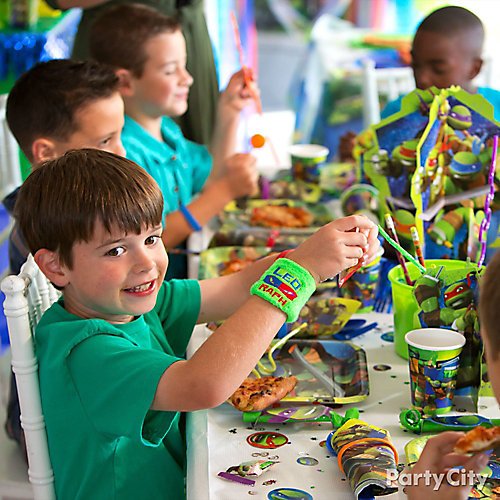 Idea 8: Table in a half-shell – turtle power!
Turtle power comes in the form of rad centerpieces featuring Leo, Donnie, Mikey and Raph. Display them on a white table cover and sprinkle table scatter, confetti and small party favors all about. Master Splinter would be proud!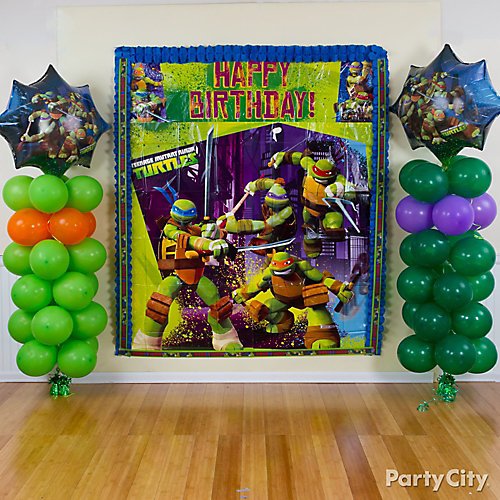 Idea 9: Set the scene for birthday battles and fun photo-ops!
Make a dojo in the living room for the birthday ninjas to practice their moves with a Teenage Mutant Ninja Turtles scene setter and streamers. Add green balloon columns to either side of the scene setter with balloon bands the color of the birthday star's fave turtles. All that's left to do is strike a fierce ninja pose!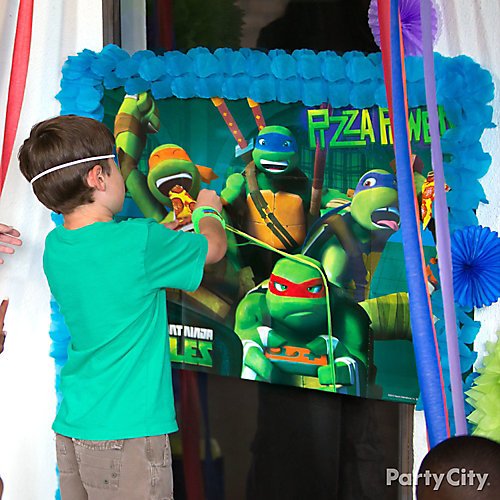 Idea 10: Help Michelangelo grab a slice!
Help Mikey get a pizza slice in this tubular Teenage Mutant Ninja Turtles party game that puts a ninja spin on the classic Pin the Tail on the Donkey. Instead of pinning a tail, each player gets to put on a blindfold and slap a pizza sticker as close to Mikey's mouth as possible. Pizza power!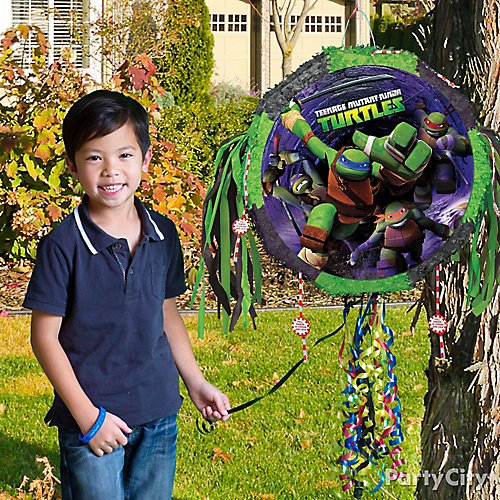 Idea 11: Let them show off their moves on a TMNT pinata!
The kids will love showing off their ninja strength on a Teenage Mutant Ninja Turtles pinata! Older kids can use a traditional pinata bat, while littler ones will enjoy taking turns pulling the strings to see which one releases a flood of candy and toys!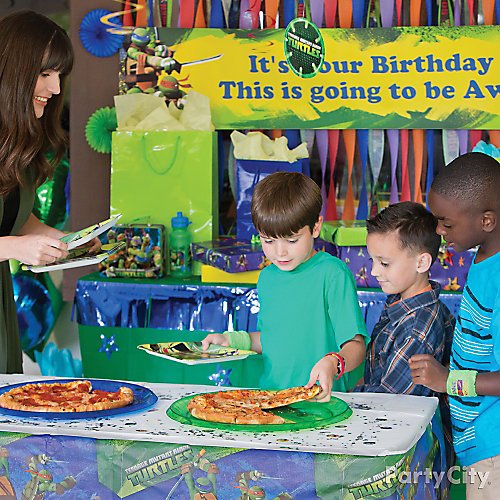 Idea 12: Dish out pizza on turtle-powered tableware!
For a team of lean, mean ninja turtles, pizza is a must! Serve up all-you-can-eat pizza pies on blue and green platters and Teenage Mutant Ninja Turtles tableware. Then let the birthday boy and his friends help themselves!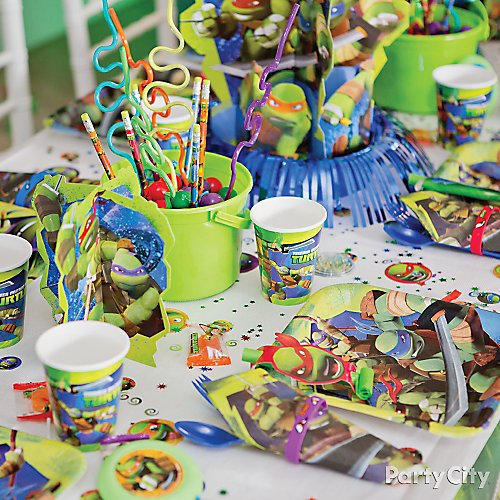 Idea 13: Cool place-settings to pump up your party turtles!
Set a turtle-powered table for your birthday dudes with Teenage Mutant Ninja Turtles tableware, centerpieces and confetti. They'll drop their nunchucks for fun favors like blowouts and flying discs, and pencils and krazy straws sticking out of green favor bucket centerpieces. Make cool pizza-slicing packets by wrapping cutlery in a napkin and a TMNT wristband they can wear for the rest of the party – go ninja!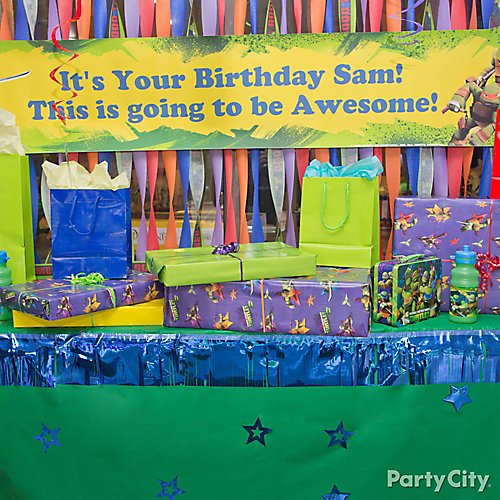 Idea 14: Create a prime spot for presents!
Deck out the party room in cool ninja style! Start with a custom Teenage Mutant Ninja Turtles banner featuring the turtle brothers and a personalized message to the birthday boy. Dangle streamers and swirl decorations above a table designated for gifts – turtley awesome!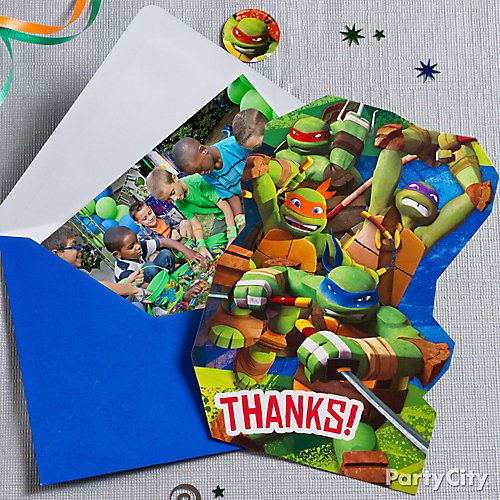 Idea 15: Include a party memento for ninjas and their moms!
Make your Teenage Mutant Ninja Turtles Thank Yous even more memorable by including a photo of the heroes in action!