Host a chic and sweet soirée. Ooh la la is what this French-themed party is all about! A Day in Paris-themed party brings together all that's pretty and pink with a Parisian touch. From bridal showers to sweet 16's, or anytime you want to create an in-home getaway, our Paris party ideas have the makings of a celebration gone ooh la la! Stroll through our food, drinks and decoration ideas to get inspiration for your perfectly Parisian party!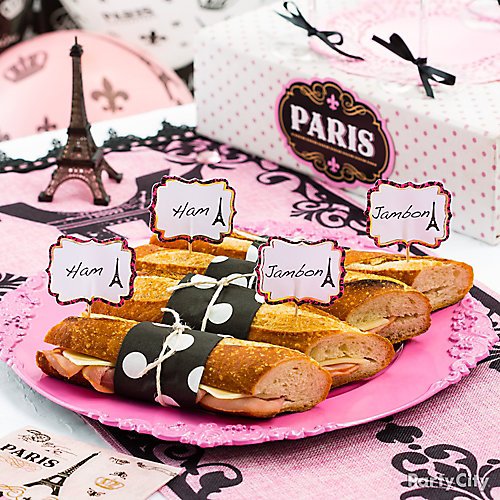 Idea 1: Ham up your French feast with baguette sandwiches
Ham and cheese baguette sandwich is a French classic that packs a flavorful punch. Create your own version with layers of French ham, cheese, butter and Dijon mustard, for a sandwich that's authentically Parisian. For a pretty grab-and-go look, wrap them up with napkins and twine, and serve on a pink charger!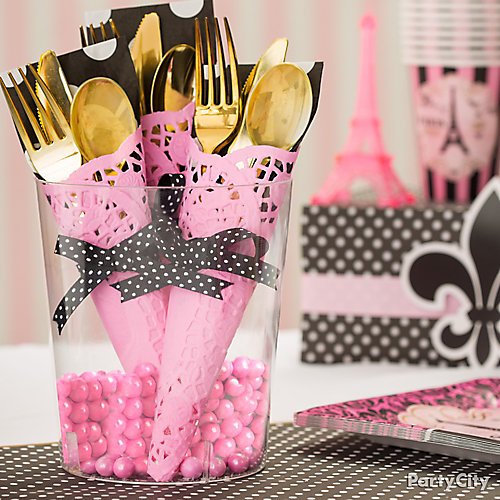 Idea 2: Get wrapped pretty in pink
Keep a table tidy and pretty by using doilies as cutlery pack holders. Shaping the doilies into a cone brings out the lace detail, dressing up your utensils for a posh Paris party. Place them in a small cylinder container as a sleek way for guests to grab and go!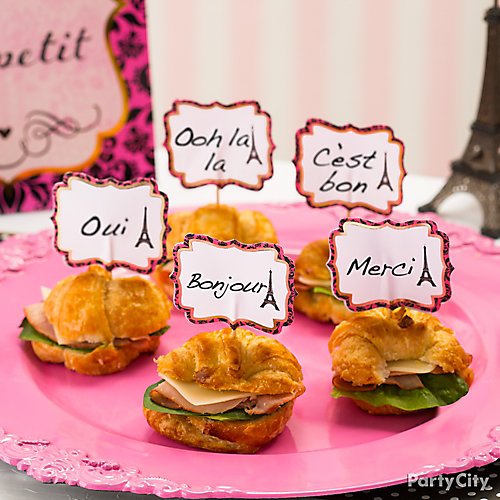 Idea 3: Eat up this French twist on sandwiches
Fluffy and flaky, croissants are the perfect complement to any meal. Make them the main course by offering your guests croissant sandwiches. Place on a pink scroll charger to add a pop of color to your food table. Charming label picks keep sandwich toppings intact and you can write in welcoming French sayings—bon appétit!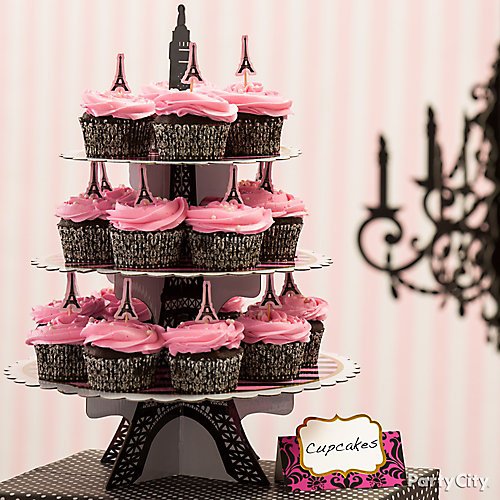 Idea 4: The Eiffel Tower makes for a sweet setting
Nothing says Paris more than the Eiffel Tower. Incorporate the Parisian icon in your party by placing desserts on an Eiffel Tower cupcake stand. The black and pink tiers make your cupcakes or other tasty treats easy to spot this from afar!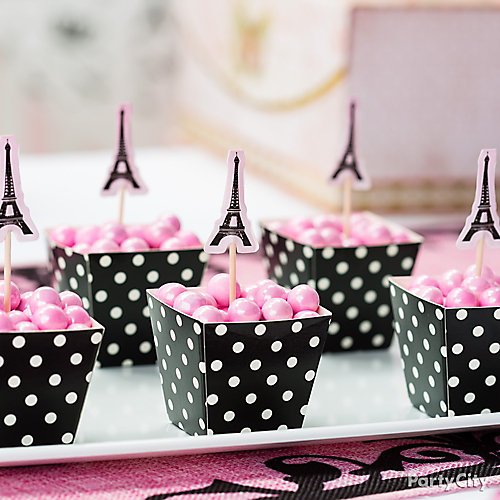 Idea 5: Turn mini morsels into sweet and stylish Paris party favors
Make a big impact with bite-sized nibbles! Petite candy boxes are sweet and stylish—perfect for a Paris-theme party that's all about modern chic. Add a mini Eiffel Tower cupcake pick on top of pink chocolate Sixlets for a perfect Parisian look!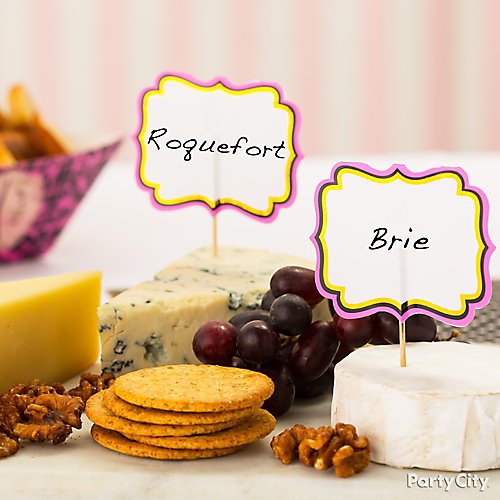 Idea 6: Say cheese to this easy and delicious party appetizer
Get your guests talking about cheese instead of just saying cheese! A French cheese platter instantly elevates any party, and fancy pick labels on each morsel make it easy for guests to select from the assortment and note their favorite! Pair cheese selection with walnuts, crackers or grapes to create more flavor combinations!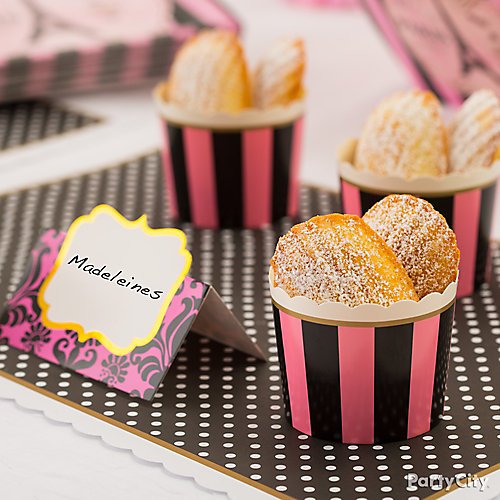 Idea 7: Munch and mingle with madeleine cookies!
Your party guests will love snacking on this cake-like cookie. Make the treat look as sweet as they taste by placing them in a striped cupcake container. Add a polka dot placemat and voilà—you have a look that pops with Parisian chic!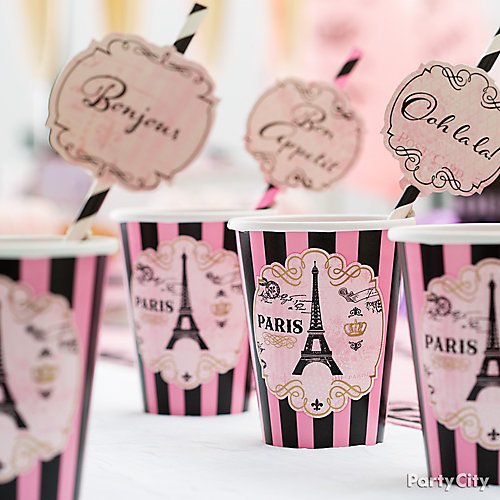 Idea 8: Drink up these charming decorative accents!
No need to pardon your French with this idea! French greetings on straws are cute details that anyone can drink up. They also make for charming decorative accents to a refreshing beverage like sparkling water, lemonade or your drink of choice. Add thematic beverage napkins for good measure as a stylish serveware pairing!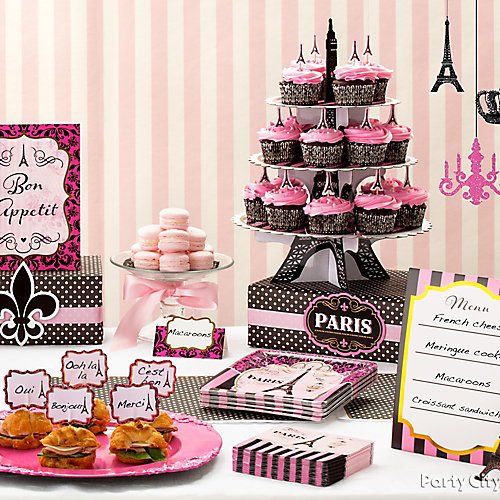 Idea 9: Savor bliss with every bite
Bakeries and cafés dot Paris streets, so give your guests a taste of what it's like in the City of Lights with an ensemble of French delicacies. Among the assortment of pastries and sandwiches on your food table, include a "Bon Appétit" sign to have guests sample what makes Paris shine!