Sunny's classic 7-layer dip!
Keep scrolling for Sunny's Classic 7-Layer Dip Recipe! Pair this dip with snacks and small bites that taste great at room temperature and you're in the red zone. Remember, the Infladium™ "field" is large and can be divided and filled on one side with this dip and the other side with other dips or chips.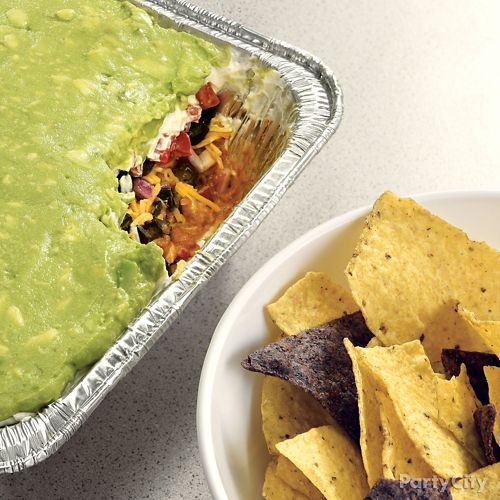 How-To
Ingredients:
Refried beans & taco seasoning
Shredded cheese
Chopped tomatoes
Chopped scallions
Sliced black olives
Sour cream
Avocados
Extra layers of your choice!
1) Start at the bottom
Add refried beans and taco seasoning: 1 pack taco seasoning per 16 ounce can beans. Stir them, then spread on the bottom.
2) Add shredded cheese
Sunny prefers Mexican blend or cheddar/jack.
3) Add chopped tomatoes
Roma, plum or seeded beefsteak tomatoes. Store-bought salsa is a perfect substitute.
4) Add chopped scallions
Use the white and green parts.
5) Add sliced black olives
The can is the best buy.
6) Add sour cream
Stir it first!
7) Add avocados
Just mash them up, season with salt and fresh lime juice. Store-bought guacamole is a perfect substitute.
8) Bonus layers
Try cooked ground beef or sausage, cilantro, shredded lettuce, shredded chicken, pickled jalapeños, corn, chopped steak fajitas, even cooked rice! Think burrito and you're on your way to fun layers!