Score big and fill up a crowd with Sunny Anderson's Infladium! This inflatable snack stadium is the new way to buffet—from tailgating to football parties and more! Ready, set, eat! All eyes are on you as the quarterback of your tailgating cook-off or game day gathering, and Sunny Anderson's Infladium is game for anything you're ready to dish out—appetizers, entrees, snacks, candy, desserts and even drinks with ice. Here's the playbook to get your signature dishes or favorite snacks #winning!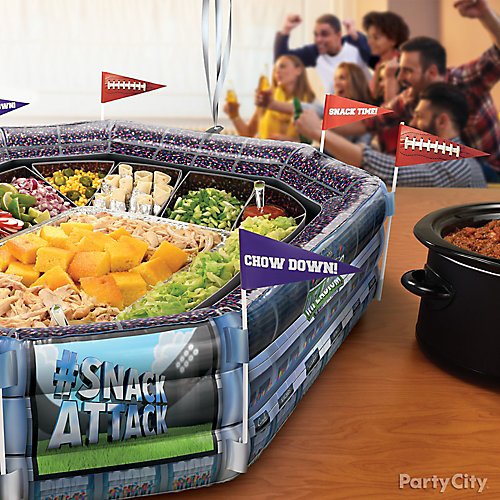 Idea 1: Turn your Infladium™ into carnivore central
Make one or two things the focus, like chili and chicken, then surround them with toppings to create several dishes. This allows your guests to build their own perfect plate or bowl of nachos, chili, tacos, etc. Fill the field with shredded rotisserie chicken, corn bread, baked potatoes, and taco shells. Fill the stands with tortillas, corn chips, tortilla chips, chopped scallions, tomatoes, onions, salsas, sour cream, hot sauce, lettuce, corn, jalapeños and shredded cheeses.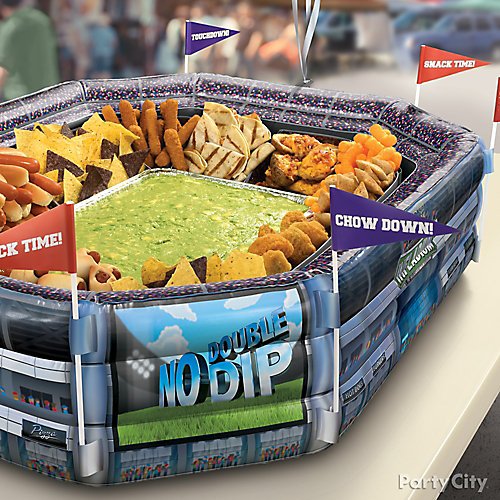 Idea 2: Fill your Infladium™ with classic snacks and small bites
Your Infladium™ feeds a crowd, so think about dividing the field and serving more than one fun dip, or using the field space for more snacks. Start with Sunny's recipe for 7-Layer Dip, then fill the stands with pigs in a blanket, sliders, mini quesadillas, assorted chips, loaded tater skins, tots, chicken nuggets, meatballs, jalapeño poppers, or tiny pizzas. Remember, no double dipping!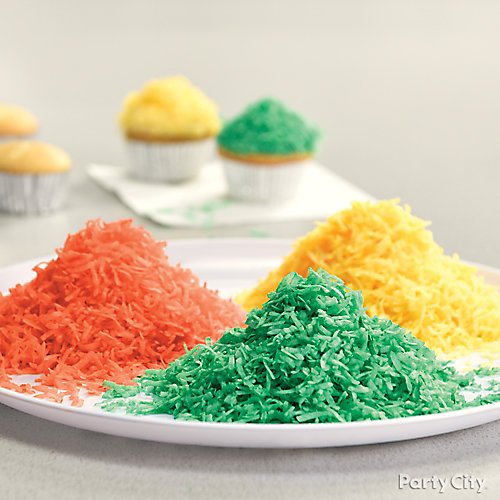 Idea 3: Sunny's how-to for perfectly colored cupcake toppings
The name of the game is to have a green field for the center of your Infladium™, or forget the green all together to rep your colors. Here's a sweet way to top off your field in style: use shredded coconut and colored frosting.

Colored shredded coconut: Add a tablespoon of water, desired food coloring, and the coconut in a plastic bag and shake. Spread out on a sheet to air dry. Tip: chop pre-shredded coconut even further to disperse color evenly.

Colored frosting: Add four drops of food coloring into white frosting. Stir and use.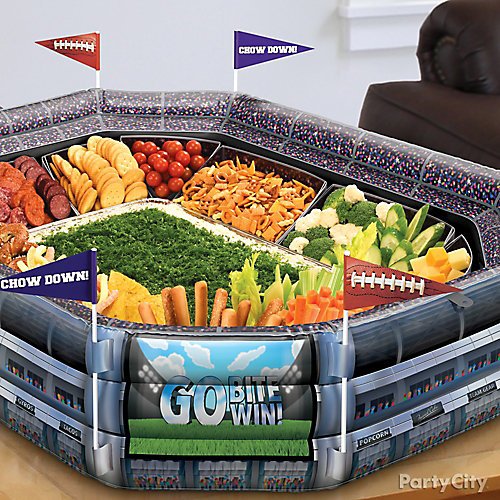 Idea 4: Pack your Infladium™ with a field of greens
Just think cheese plates, charcuterie and crudité and you're in formation. Fill the field with Sunny's Easy Cheesy Spread, various mixed lettuces (let them eat salad!), hummus, fruits, pesto, spreads, cheese balls, nuts, and sour cream based dips. Fill the stands with assorted crackers, pretzels, party mix, broccoli and cauliflower florets, carrot, celery, bell pepper spears, cherry tomatoes, zucchini slices, breadsticks, crostini, hard salami, pepperoni, cheese cubes, salad dressings, jams, honey, or mustard.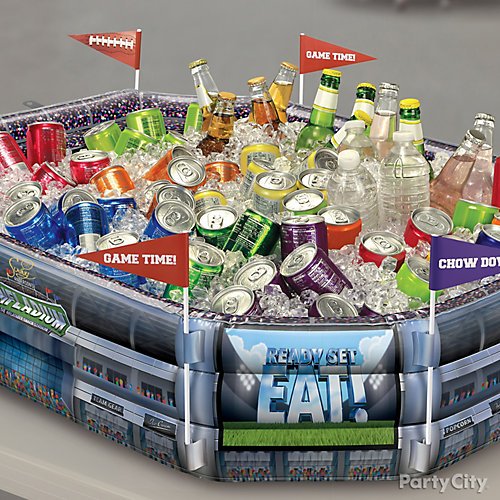 Idea 5: Chill out!
This is simple. Get some ice, get some drinks, and fill'er up. Just remember to have some ice on the side if you're mixing drinks. Never use "cooling" ice as drinking ice. Your Infladium™ fits 72 bottles or cans, PLUS ice! That's plenty. Enough to actually fill one side with drinks and the other side with a container holding the "clean" ice to chill drinks. Plan for 4-5 cans or bottles per guest.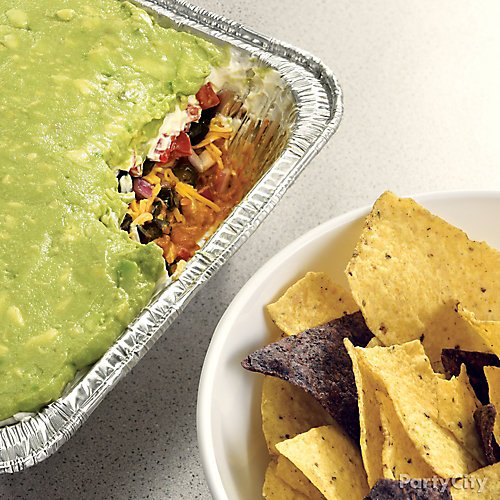 Idea 6: Sunny's classic 7-layer dip!
No offside penalty here! Since the Infladium™ "field" is large, you can set up dividers for multiple sides and dips. This 7-layer dip will fit right in!

7-layer dip: Spread refried beans mixed with taco seasoning on the Infladium field. Add shredded Mexican blend or cheddar and Monterrey jack cheese. Continue to build layers of the following ingredients in order: salsa or chopped tomatoes (roma, plum or seeded beefsteak tomatoes), chopped scallions, sliced black olives, sour cream, guacamole or mashed-up avocados (seasoned with salt and free lime juice).

Bonus layers: try cooked ground beef or sausage, cilantro, shredded lettuce, shredded chicken, pickled jalapeños, corn, chopped steak fajitas, even cooked rice!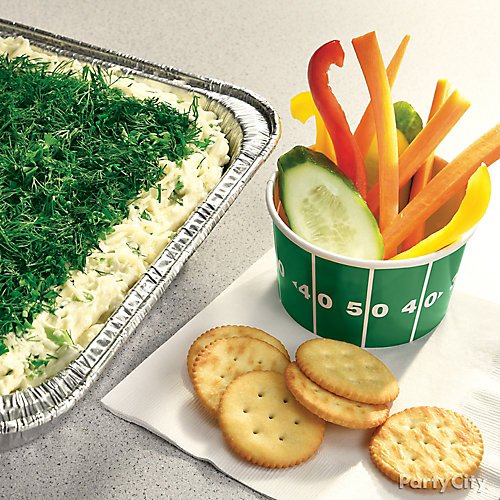 Idea 7: Sunny's Easy Cheesy Spread recipe
If you plan to fill the stands of your Infladium™ with light snacks or vegetarian options, this cheesy spread is a must-make! Check out Sunny's super easy recipe:

Easy cheesy spread: In a large bowl, combine 48 ounces shredded white cheddar, 48 oz shredded Monterey Jack, 48 oz scallion cream cheese, 4 cups mayonnaise, 2 Tbs onion powder, 2 Tbs garlic powder, 1 cup drained and chopped pimentos, and one-half cup drained and chopped pickled jalapeños. Spread into pan. Sprinkle 32 oz white cheddar over top. Layer bunches of dill, parsley, and cilantro over the spread but leave a 1-inch border of white cheddar.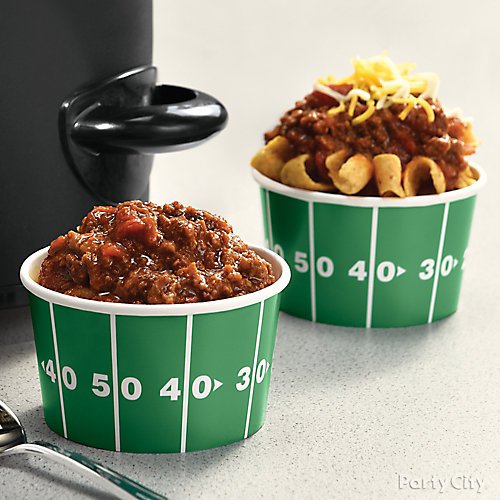 Idea 8: Sunny's Easy-Win Chili recipe
Fill your Infladium™ to the brim for your carnivore crew! Follow Sunny's easy recipe below to make an easy chili that'll make the crowd go wild.

Chili: Use a medium pot with a heavy base or Dutch Oven. Set on medium high heat add 1 lb chorizo (casing removed), 1 lb beef, 1 large onion chopped, 1 tsp kosher salt and a pinch of pepper. Once the chorizo is mostly cooked and the onions are tender, add 4 cloves minced garlic, one-fourth cup chili powder, 1 tsp chili flakes, 1 tsp dry whole leaf thyme, a pinch of cinnamon, salt and a few grinds of black pepper. Cook a few minutes while stirring to combine all the flavors. Add 14 oz crushed tomato and 14 oz beef stock. Raise the heat until the pot boils, then lower to a low simmer and cover. Cook stirring occasionally for about 40 minutes. Serve with a toppings/pairings bar.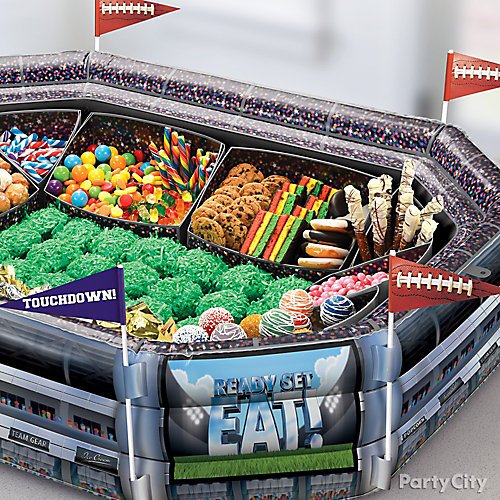 Idea 9: Your new fave theme: Sweet Victory!
You might call it a cupcake game because it's just that easy! Here are some ideas for you and your guest's sweet tooth. Fill the field with cupcakes, pies and brownies, decorated sheet cake, donuts, cookies, or ice with various ice cream containers. Fill the stands with cake pops and lollipops, cookies, sandwich cookies, gumballs, gummy candies, donut holes, candy bars, pastries, hard candies, novelty candies, or chocolate-covered anything!