Rein in your sweet tooth with candy melt strawberries!
Deck your chocolate-covered strawberries with a nose, eyes, ears and antlers for an adorable sprinkle-sledding team. All it takes are strawberries, decorations, Candy Melts® and a little Christmas cheer – our Strawberry Reindeer Faces How-To says so! Include an honorary Rudolph by giving one reindeer a red Sixlet® nose rather than green.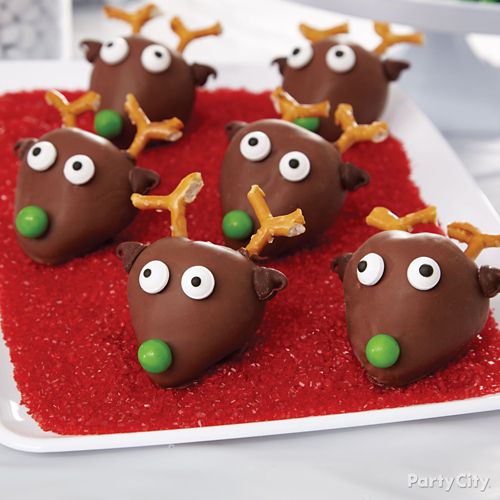 How-To
Ingredients:
Fresh strawberries, washed and dried completely
Light Cocoa Candy Melts® Candy (12 oz. makes 14 to 16 treats)
Mini pretzel twists
Chocolate chips
Candy Eyeballs
Green Sixlets® round candies
Supplies:
Knife
Microwave-safe bowl
Candy Dipping Set (spoon used)
Waxed or parchment paper
Cookie sheet
12 in. Disposable Decorating Bags
Food-safe scissors
1) Dip strawberries
Use knife to remove stem from strawberry. Melt light cocoa Candy Melts candy in microwave-safe bowl according to package directions. Use dipping spoon to dip entire strawberry in melted candy. Tap to smooth and remove excess candy. Place on parchment paper-covered cookie sheet. Chill until firm, about 10 to 15 minutes. Place remaining light cocoa candy in disposable decorating bag. Use scissors to cut small point off of bag.
2) Decorate strawberries
Use knife to cut mini pretzel twists for antlers. Use melted candy to attach antlers to strawberry. Chill until firm, about 3 to 5 minutes. Use melted candy to attach chocolate chip ears, candy eyeballs and green Sixlet nose. Chill until firm, about 3 to 5 minutes.