You won't need the Force to plan an epic Star Wars party. Get easy and awesome ideas for an out-of-this-world birthday bash—from balloons and favors to games and costume ideas. Rey and Poe would approve!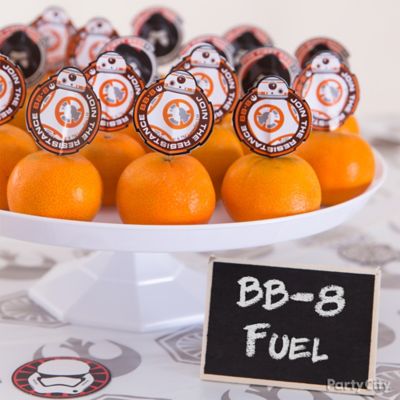 Idea 1: BB-8 sweet treats!
Expertly navigate the goodie galaxy with this nutritious treat! Stick adorable BB-8 picks on mandarin oranges and stack them on a cake stand. Complete the look with a mini chalkboard stand and watch guests battle it out for this wholesome snack.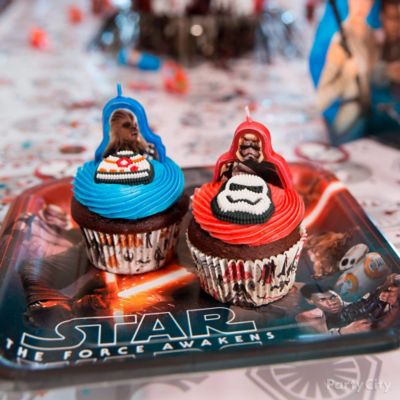 Idea 2: Cupcakes for both sides of the Force!
Your whole party is in red and blue, so make it a cool theme for the treats too — and nothing is easier than cupcakes! Create a special cupcake for the birthday hero using Star Wars baking cups, icing decorations, and cool, themed candles! Fun tip: We iced our dark side treat red and topped it with a Stormtrooper candle and sugar deco, while our blue light side cupcake is topped with BB-8 and a Chewie candle.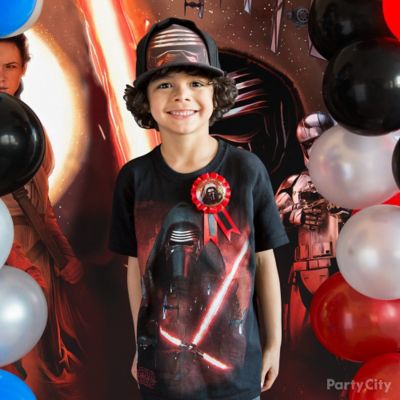 Idea 3: A cool outfit that shows off their dark side!
Your little one will feel the power wearing a Kylo Ren T-shirt and baseball cap! Top off the look with a Star Wars ribbon and your mission is accomplished &mdash this birthday outfit is party-ready!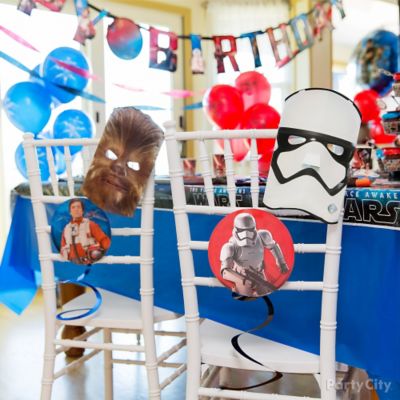 Idea 4: Make a hero or villain party chair!
Kids will love our hero or villain chair decorating idea! These decorations are easy to make. Simply add a mask and paper cutout swirl decoration to each chair with tape and watch the fun unfold! For a party of eight, be sure to pick up two packages of swirl decorations so you have plenty of cutouts. Use any extras to decorate the room!
Idea 5: Send personalized invites for all the young Jedis
Custom invitations and thank you notes are the way to go in this galaxy! Have the birthday boy or girl's name printed on Star Wars custom invites and add their photo to make it even more special. We have several options to choose from — something for every little Jedi or Stormtrooper.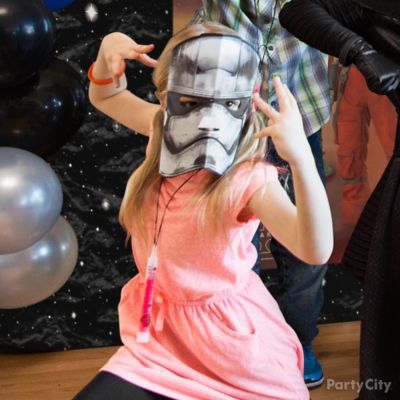 Idea 6: Give young Stormtroopers cool accessories!
Stormtroopers never looked this cute! Kids love dressing up in party gear, so load them up with accessories — they also make great favors! We used glow sticks, Star Wars wristbands, and cool character masks to bring out the light side in our partygoers.
Idea 7: A decorating idea that covers all the basics!
You don't need to be a Jedi Master to ace your space! Instantly transform your room into a party with a birthday banner, decorative swirls, confetti, and a Star Wars centerpiece. Use our pre-made kit and presto — your party's ready for blast-off.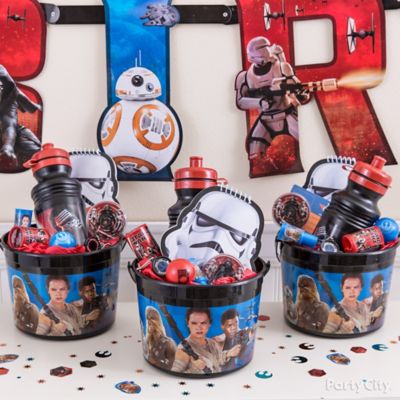 Idea 8: Give friends all the goodies from the party galaxy!
Leave them wanting more with an ultimate party finale! Party buckets can fit loads of favors decked out with their favorite Star Wars characters. Fill Star Wars buckets with notepads, water bottles, and other fun goodies. Our favor kit has everything you need — check it out!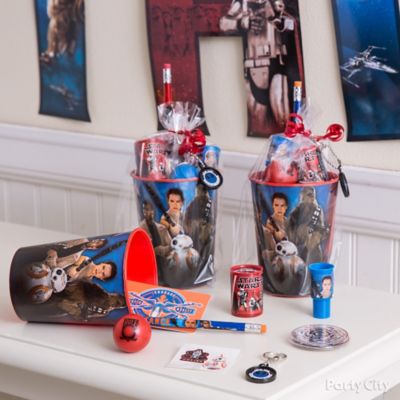 Idea 9: Favors worth fighting for!
Favor cups do double duty! They're perfect for intergalactic goodie holders and to re-use at home to keep the party going. Best of all, they're easy to make with our pre-made kit! Just fill the favor cups with awesome Star Wars goodies such as pencils, tattoos, and more. Place the favor cup in a clear plastic bag and tie it off with a bow. Easy!
Idea 10: Goodie bags that will leave them starry-eyed!
No need to send BB-8 on a mission — fun favor pack kits have it all! To make, simply fill the treat bags with fun Star Wars favors. Our kit includes enough goodies for eight guests. What's even better is that they don't take light years to make.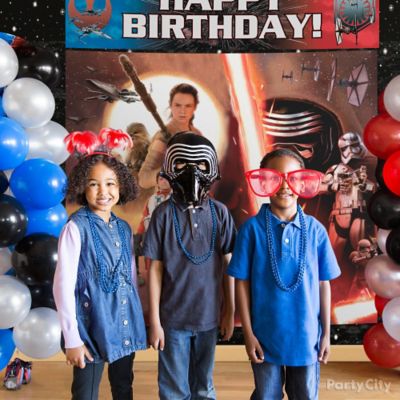 Idea 11: A starry room roll on the wall = an instant galaxy!
Make your Star Wars party room epic for lightsaber battles and shareable pictures of the kids! You can easily cover the walls with sheets cut from our "starry" room roll. Next, add an awesome Star Wars scene setter and statement-making balloon columns. Top them with double-sided hero and villain balloons.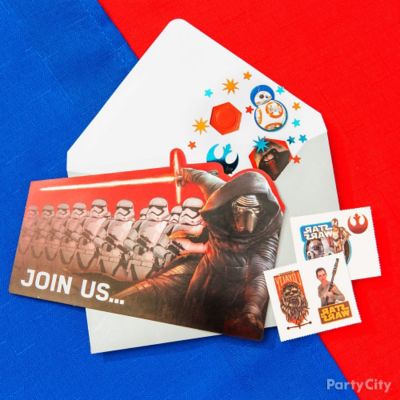 Idea 12: These invitations pack a starry punch!
Little Padawan faces will light up once they see the starry surprise in their invites! We've added cool tattoos and confetti to official Star Wars invitations to get the kiddos excited for party day. Have guests wear their new tattoos to the party for even more fun!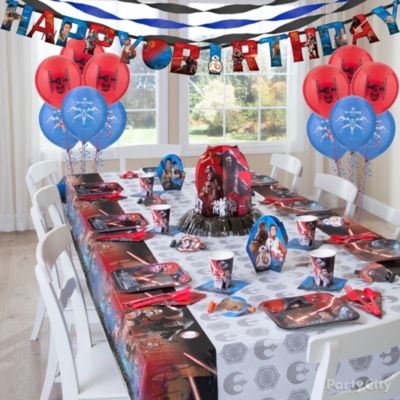 Idea 13: This action-packed party table has it all!
Make the table epic at light speed! Use a red and blue theme to capture both the dark and light side. Decorate with Star Wars tableware, a cool centerpiece, and a birthday banner featuring their favorite characters. Finish it off with red and blue balloon bouquets for instant awesome! Or, use or pre-made party kit to make decorating even easier.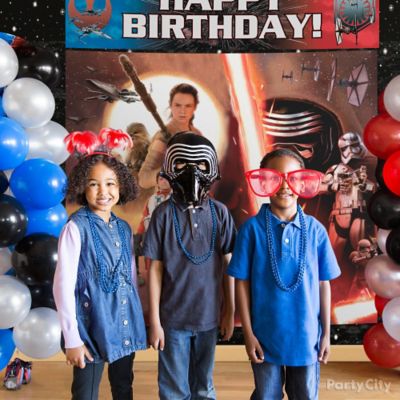 Idea 14: A cool backdrop + galactic gear = a fun photo booth!
Make your Star Wars party room photo-ready. This easy photoshoot idea doubles as an epic decoration! Start by covering the walls with sheets of starry room roll. Next, add a Star Wars scene setter to the photo backdrop. With this photo booth-inspired idea and Star Wars accessories as photo booth props, you'll have no problem capturing awesome pictures of all the little Jedis!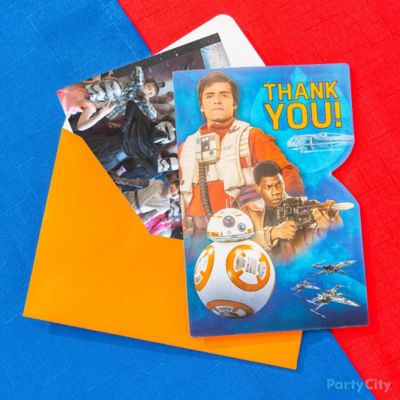 Idea 15: An epic way to say thanks
Remind them how they ruled the party galaxy with a fun memento! Slip an action-packed photo from the party into a Star Wars thank you card for a cool post-party souvenir. Pro-tip: add confetti to give 'em a starry surprise!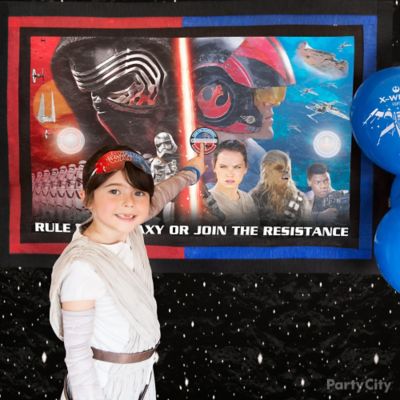 Idea 16: Choose the dark or light side with this party game!
Rule the galaxy or join the Resistance with this pin-it game! Like the classic Pin-the-Tail game, give each player a spin and see which side the Force draws them to. The player closest on each side wins! Don't forget fun Star Wars prizes for the winners.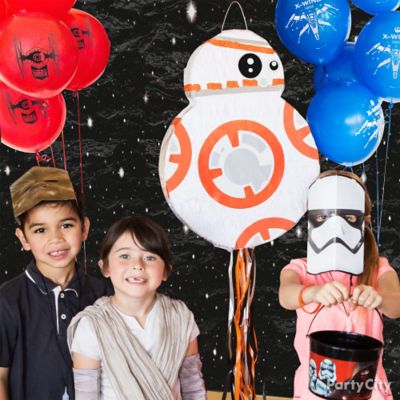 Idea 17: This BB-8 pinata has the goods!
BB-8 is joining the party! Gather the young Jedis around for pinata time and hand out Star Wars buckets to help them scoop up the goodies. For a fun twist, divide the group into two teams – light side and dark side. Which side can collect the most goodies? Use one of our pinata kits to make it even easier, or build your own!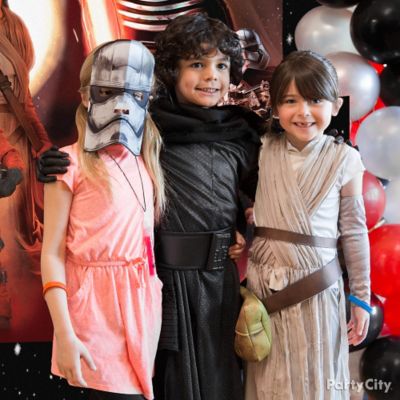 Idea 18: Intergalactic birthday outfits that show off their character!
It's a Star Wars party, so why not dress up the birthday boy or girl as their favorite movie hero or villain? They'll feel ultra-cool dressed up in Rey or Kylo Ren costumes at the party! Deck them out in our costumes, dress-up gear, and other epic accessories.