DIY centerpieces with glow sticks!
Here's a cool way to display favors that doubles as a centerpiece! We used red and blue glow sticks — they look like mini lightsabers! Kids will love these intergalactic favors, and you'll love how easy they are to make. Just follow the simple How-To.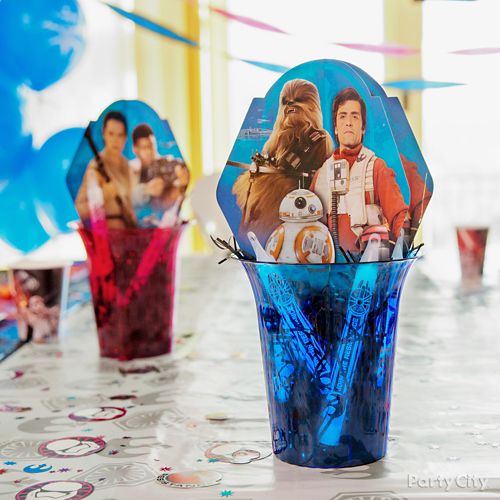 How-To
Supplies:
1 Star Wars Table Decorating Kit (includes 3 centerpieces & table scatter)
1 Red Plastic Container
1 Blue Plastic Container
1 pack Black Metallic Shreds
2 packs Star Wars Glow Stick Necklaces
OR 1 Star Wars Centerpiece Kit (includes all supplies listed above)
1) Fill Containers
Fill the red and blue containers with the black shred.
2) Top Them Off
Top each container with one of the small centerpieces from the kit. Use any leftover decorations around the party room.
3) Add Glow Sticks
Finish them off by tucking red and blue glow sticks into each container.